For the past 14 years, Flying Fox Vineyard has been a staple in the Nelson 151 wine scene, and in 2022 took home the gold medal at the Virginia Governor's Cup for their 2017 Petit Verdot.
In 2019 the winery reemerged with a bold new look and feel. The powerhouse behind the rejuvenation? None other than the Hodson family. The team of Emily Hodson, her brother George Hodson, sister Chloe Watkins, brother-in-law Elliott Watkins and sister-in-law Tralyn Hodson refreshed the vineyard's image and expanded with dynamic new projects including its popular Vermouth series, the first production of the fortified wine in the area.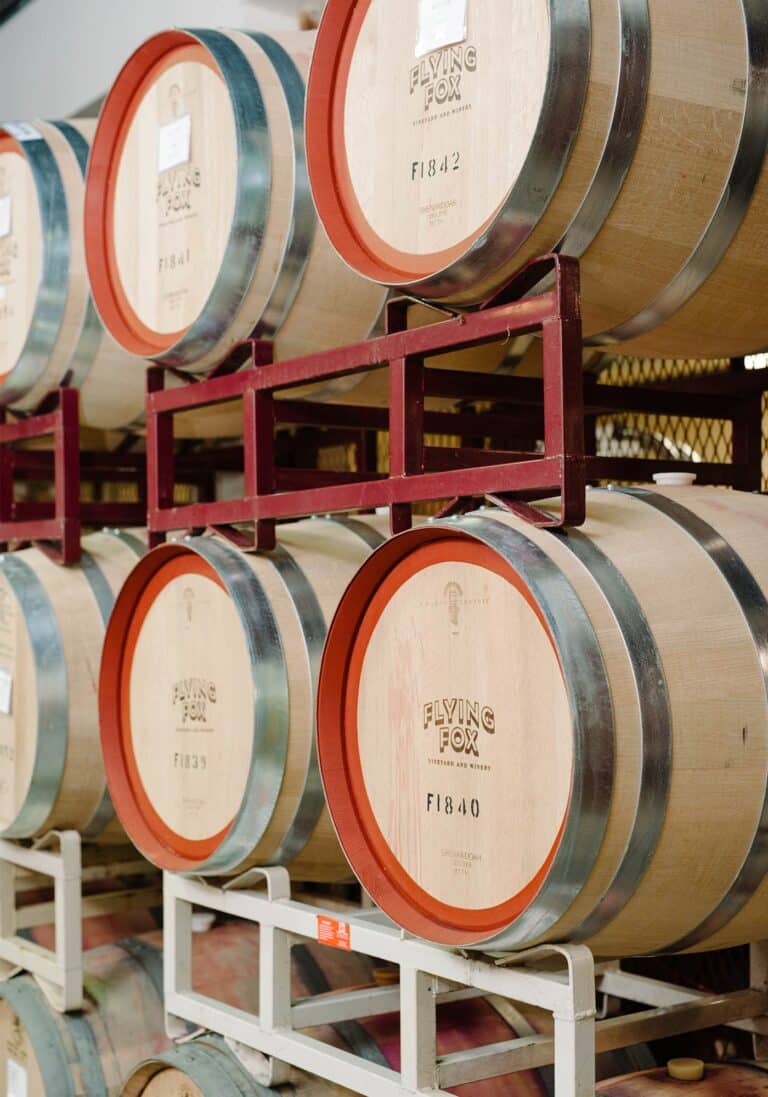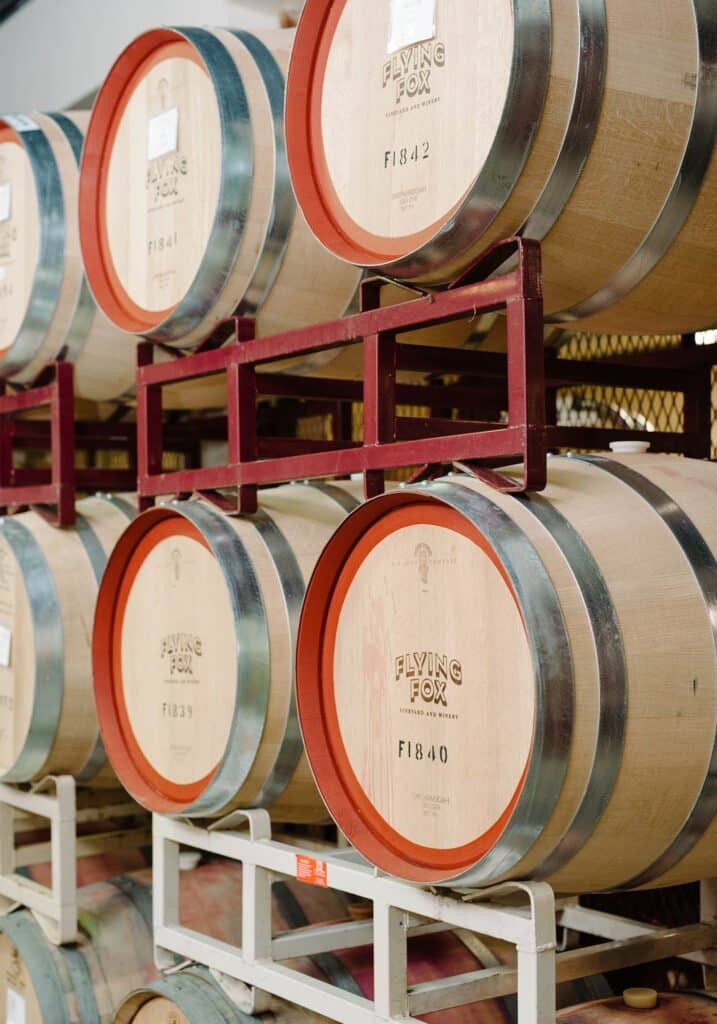 Veritas Winery Family Gets Creative at Flying Fox Vineyard
A unique addition to the area's wine offerings, the Vermouth series was the brainchild of Emily who was looking to augment the tried-and-true wines that Flying Fox Vineyard has perfected over the course of its existence. "I was looking at ways to put our thumbprint on the winery as our own as well as on the wine I've made throughout the years," says Emily.
A self-proclaimed Vermouth proponent, the answer seemed straightforward. "I have always loved Vermouth. I like the reverse cocktail—a lot of Vermouth and splash of something else." It seems that customers and the industry agree, too. Only in the second year of production, all four of the seasonal vermouths sold out in 2018.
So what is Vermouth exactly? Simply put, it is fortified wine comprised of three main ingredients: wine, botanicals and brandy. At its very core, Vermouth is an aromatized wine … the perfect starting point for an established vineyard. Back in the 16th century, Vermouth was used for medicinal purposes before the first commercial Vermouth—an Italian red variety—was released in the 18th century. Once a desired wine has aged, botanicals are added to fortify it. Each combination is chosen meticulously in order to complement, enhance and enrich the wine's flavor portfolio. This is a great opportunity for winemakers to work some creative magic. For experienced winemakers like Emily and Elliott, the associate winemaker, this was what drew the family to creating Flying Fox's Vermouth line in the first place.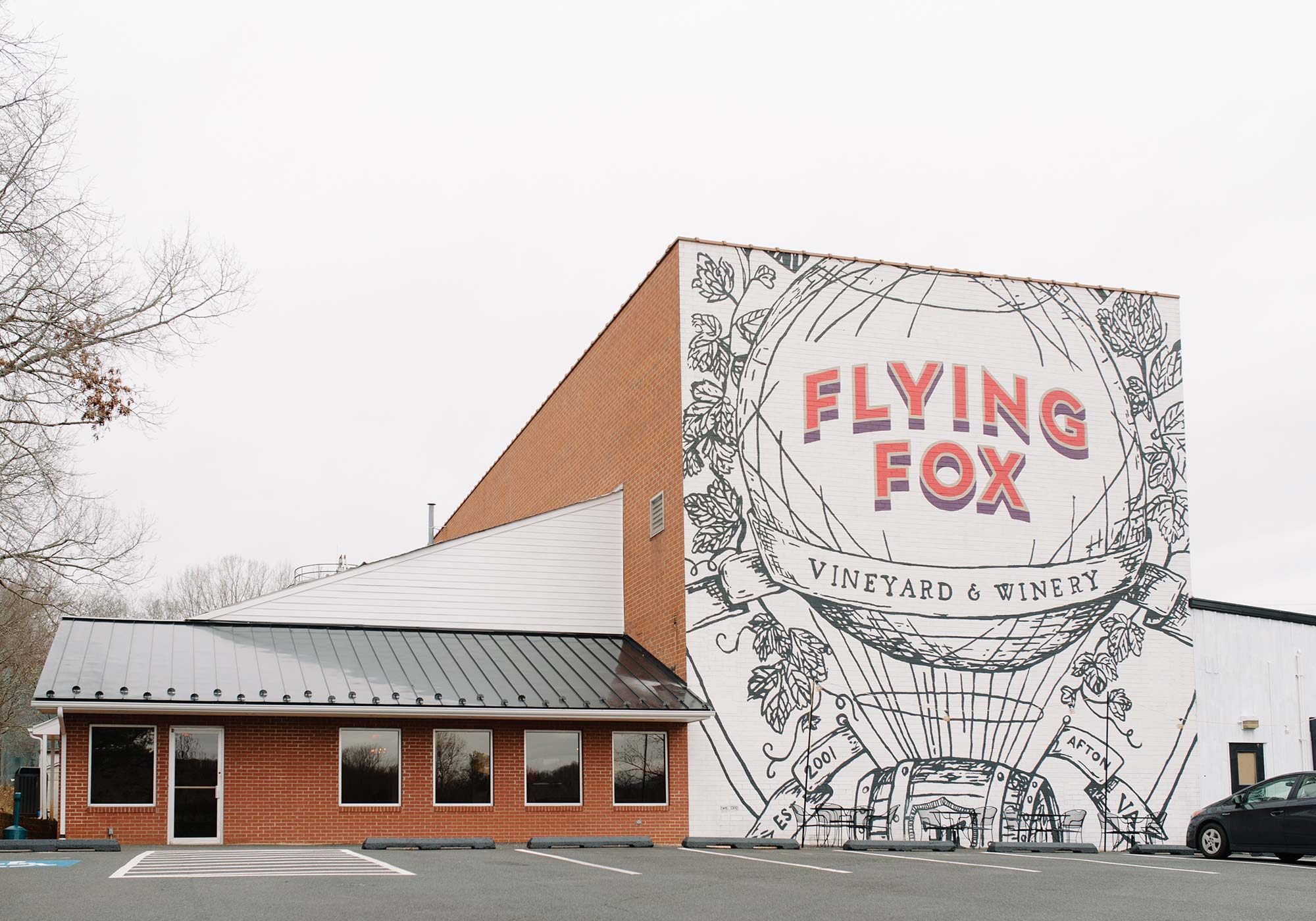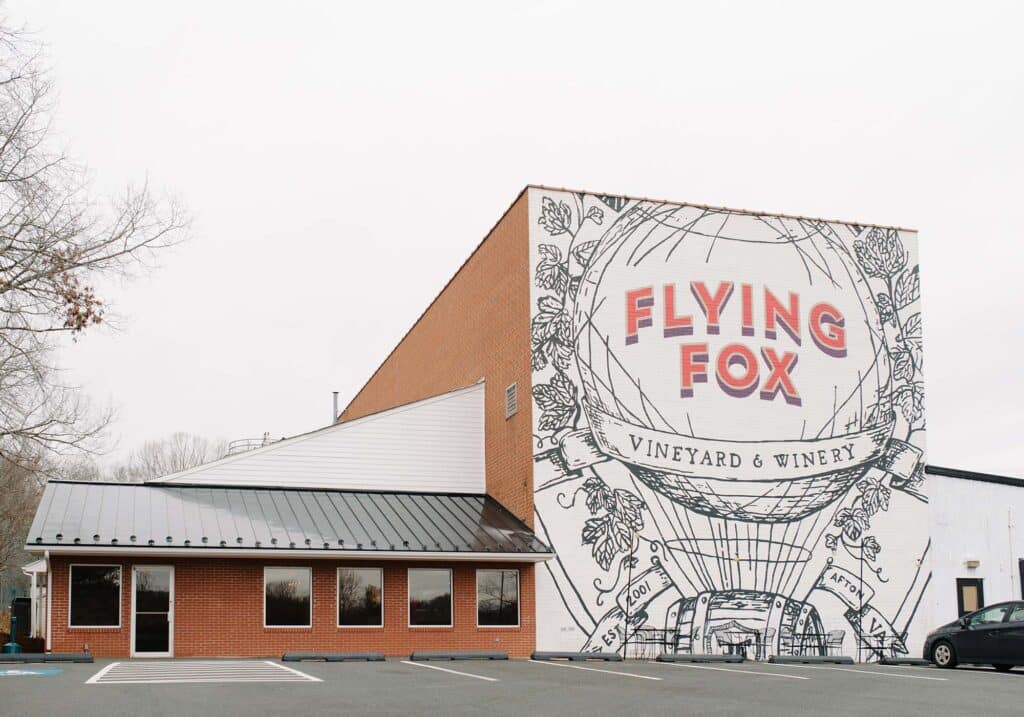 Flavoring Vermouth at Flying Fox Vineyard & Winery
"This was the first time I've ever had the opportunity, and time, to stop and taste things, and have the ability to change things," Emily says. "It's a different beast than standard winemaking. You should've seen our refrigerator when we were running wine tasting trials. There were at least 32 different containers of wine infused with different things, from red pepper or green pepper to black pepper, cardamom, turmeric or persimmon."
While Emily and Elliott are now experts on the subtle variances of herbs, roots and produce in fortified wines, Emily admits that wasn't always the case, saying, "Now I speak about it as though everyone should know the difference between angelica and wormwood, but it took us quite a while to figure out the difference between porous root and all the bitters."
The Basis of Vermouth and Fortified Wine
Bitters are what most people associate with Vermouth and the basic flavor that it brings to a traditional cocktail, which makes it an essential part of the botanical profile. That being said, bitters aren't typically consumed by most people. So, while it was a learning curve, it was a welcome one. "All the bitters are very distinct. It trained our palates a lot and taught us a great deal about different flavors we usually don't see anymore, which was really fun," Emily says. "As we were going into this, the design element was really important to us because not a lot of people know what Vermouth is. So, we felt like we really had to be expressive on the label, and not in words."
"ALL THE BITTERS ARE VERY DISTINCT. IT TRAINED OUR PALATES A LOT AND TAUGHT US A GREAT DEAL ABOUT DIFFERENT FLAVORS WE USUALLY DON'T SEE ANYMORE, WHICH WAS REALLY FUN."
Anyone who has had the pleasure of experiencing Flying Fox' s Vermouth series firsthand knows that the packaging for their fortified wines is not only informative but also striking and downright artistic. After determining the direction they wanted their labels to go, the family reached out to local artist Dani Antol of Rock, Paper, Scissors to make their vision tangible. Each vermouth bottle pleasingly displays the logo, surrounded by a bouquet of the all-important botanicals included in each edition. They were all delighted with the results. "It actually helps us to remember what's in each one, " Elliott says. "It's great because you already know what you're getting that you might like, and what might surprise you."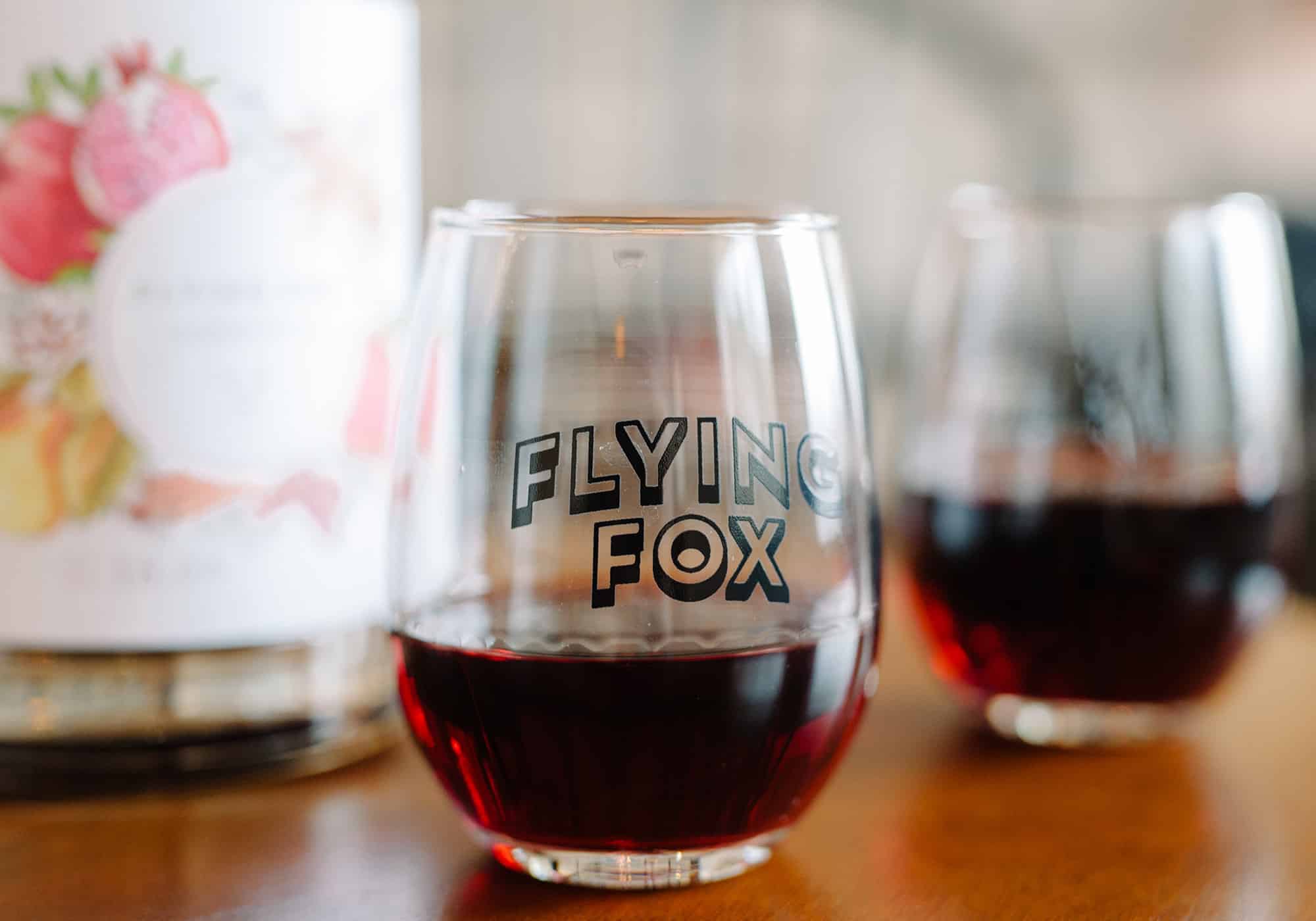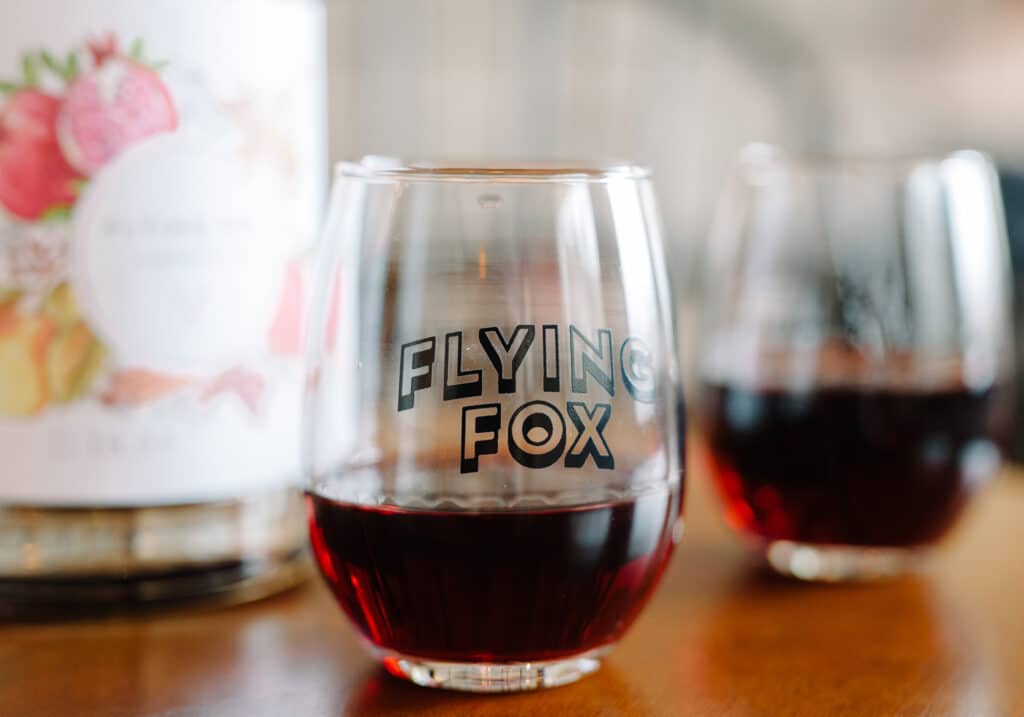 Fortified Wines, Flying Fox Vineyard and New Concepts
But, if you thought that the considerations over the label ended there, you' d be wrong. The "V" that is present front and center on every bottle doesn't just stand for Vermouth. " When we were researching ideas to create this label, we ended up looking at alchemy symbols," Emily says. "The symbol for alcohol is actually three circles forming a triangle. So, we used that idea and then connected the circles as a 'V' to stand for 'Vermouth,' which is pretty perfect. A subtle detail that we like to play on."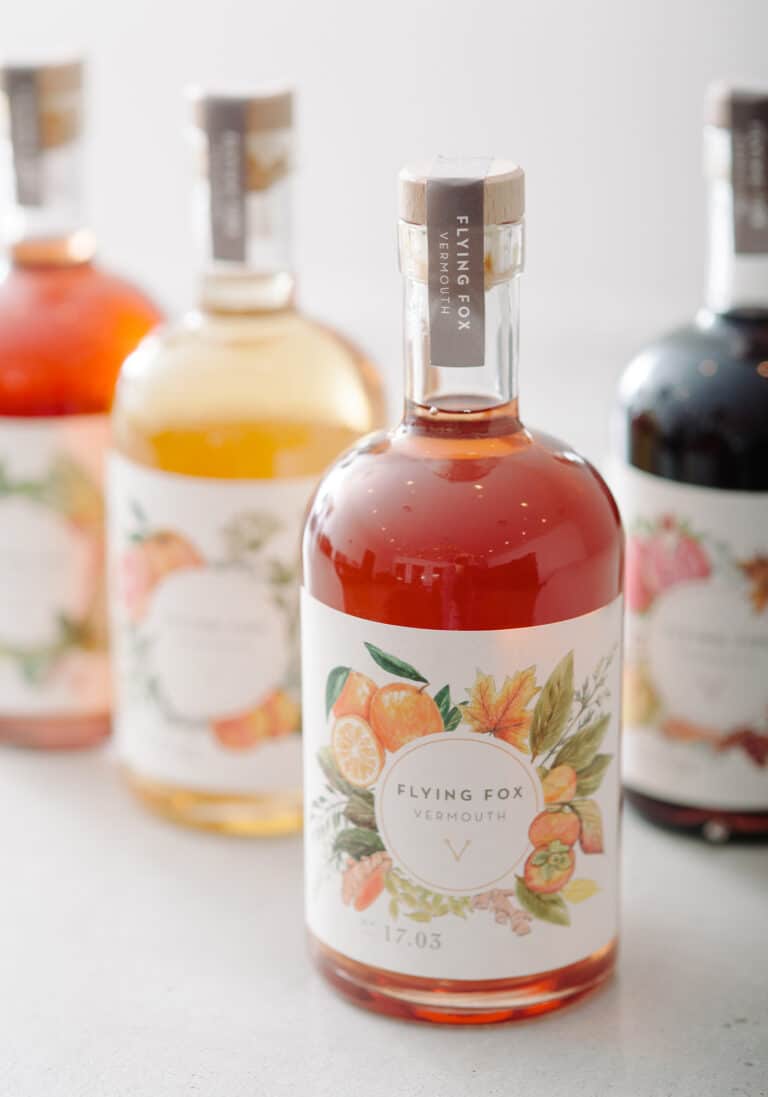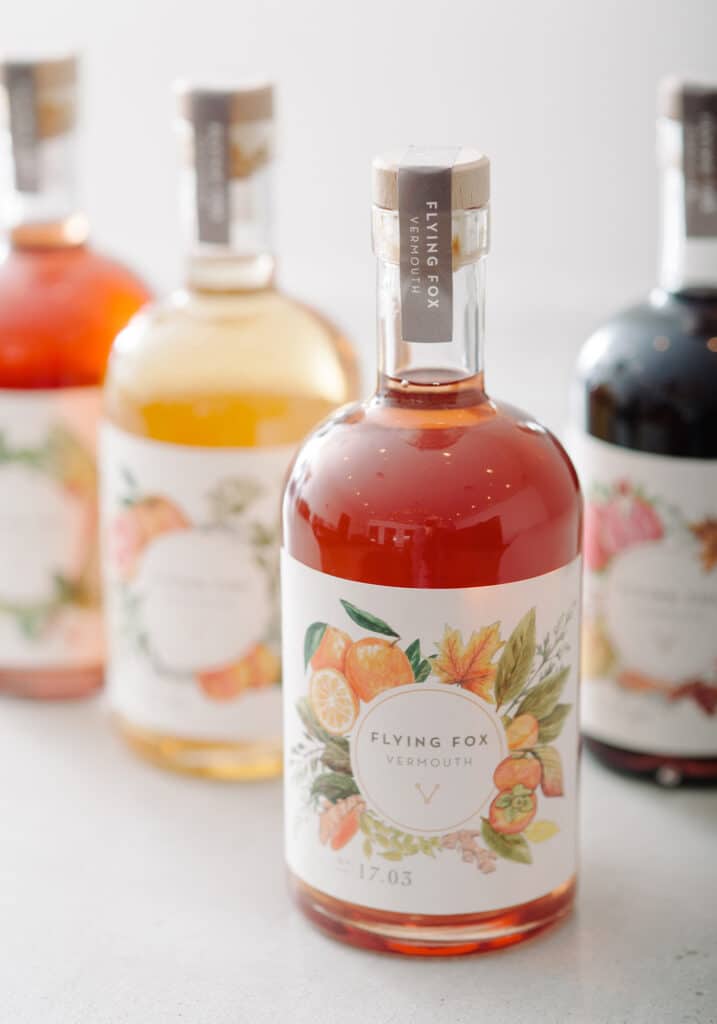 These aren't the only labels that the siblings and their spouses have taken into consideration recently. While the emblematic debonair fox in a top hat and tails is easily recognizable today, he is a recent addition to the vineyard. Since their acquisition of Flying Fox Vineyard, one of the first projects the team tackled was rebranding in a way that spoke to them. The first step was to find the right person for the job, so they reached out to Blake Suarez. "We didn't want it to look like any other wine label," the family shares, "And, in fact, it doesn't really look like a wine label. He did a fantastic job giving it some punch."
The last piece of the puzzle was the new tasting room. The new space almost sneaks up on patrons driving down the pastoral mountain road of Route 151.
Nestled among the trees, the fiber mill-turned-winery rises, adorned with an unexpected and intriguing piece of art that is worth a trip just to see. In the design and decoration of the new space, they were also looking to make their mark in an untraditional way.
Like a hot air balloon, the vineyard is going places. Along with the Vermouth, the family has launched its Sly Fox series. This new series is an ongoing project in which a new concept in winemaking is explored every year. Emily says, "Every year, we're trying to experiment with something new, whether it's trying a new technique or just trying to push the boundaries on 'normal' winemaking while questioning what we do and how we taste that. Last year, the project was a skin-contact Pinot Gris." But this year? "To be determined!" she says.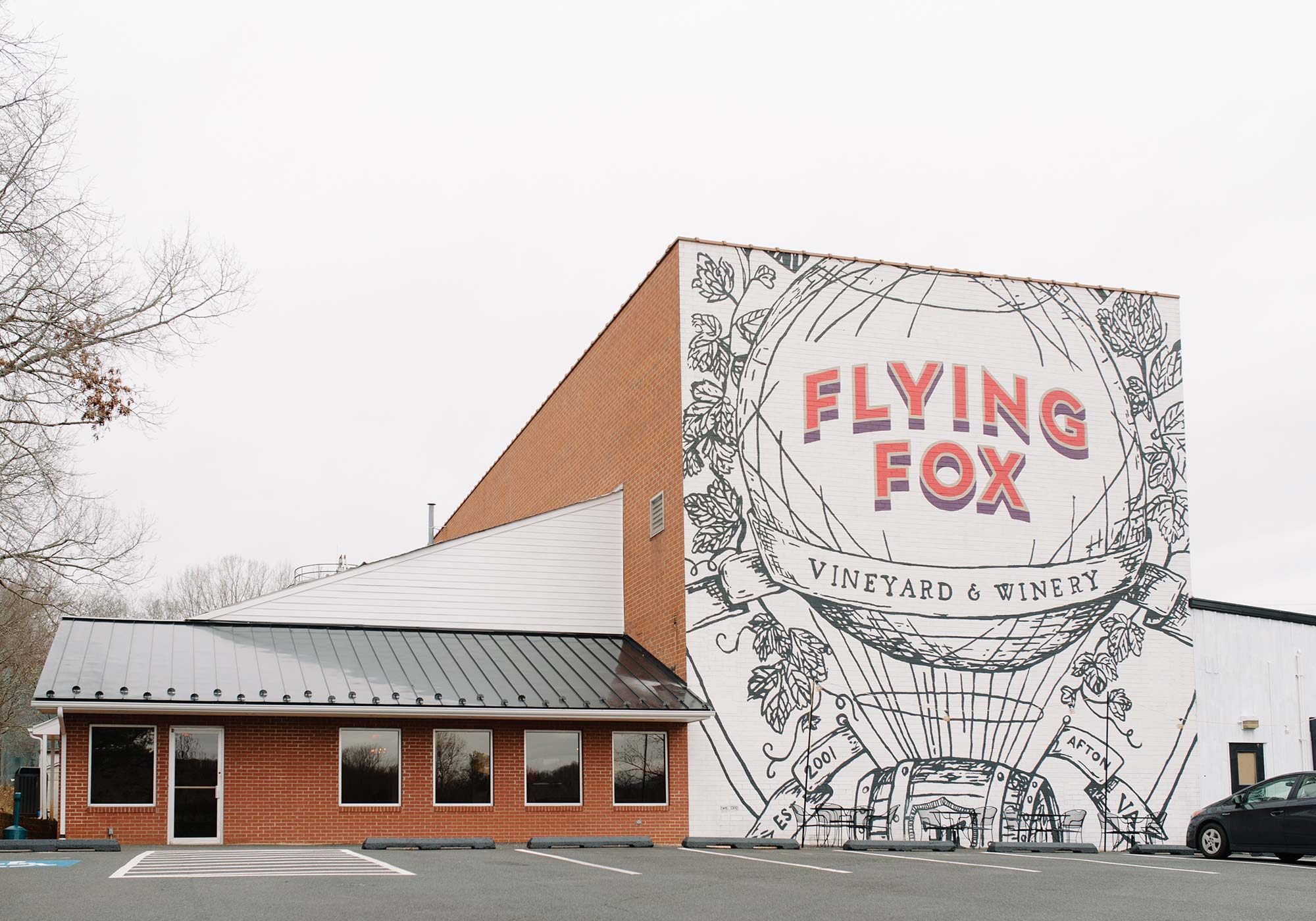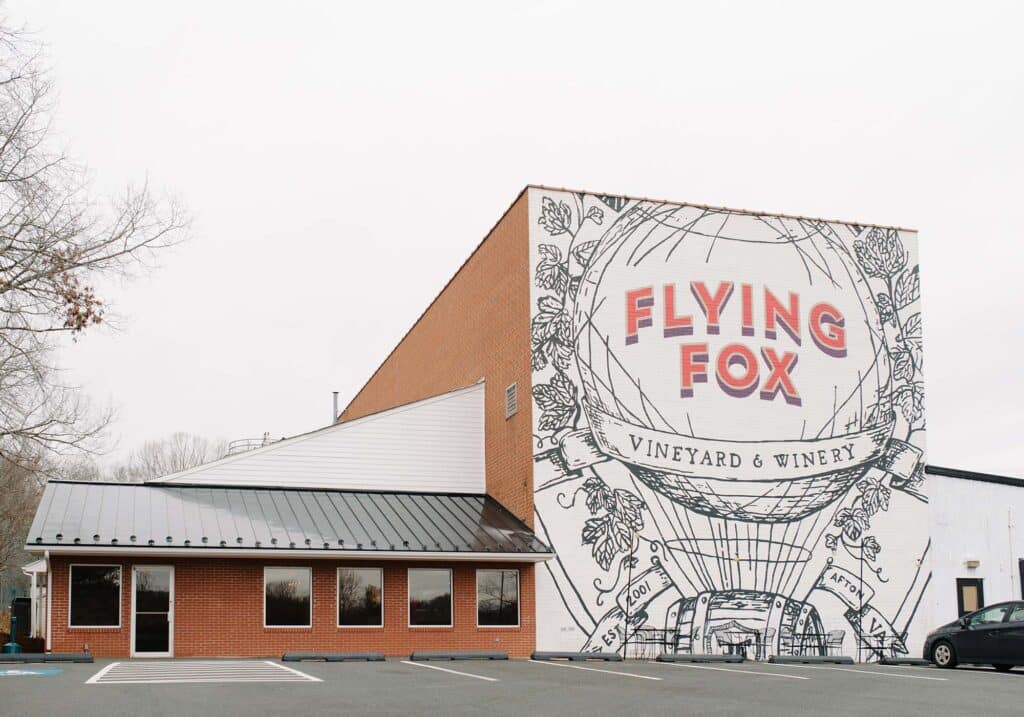 As for the future of the Vermouth, they are pleased with how the series has been received and have no plans on slowing down. "We're definitely going to do all four seasons again with plans to continue fine-tuning the recipes. We're not going to change these drastically from where we started, at least not this year. But playing with ideas and flavors in the future? Certainly ." ~
This article first appeared in print in Wine & Country Living. You can get W&C Life delivered to your mailbox on inbox by subscribing.
Flying Fox Vineyard's new tasting room is open 7 days a week from 11am to 5:30pm and is dog friendly. Visitors are welcome to sample the Vermouth series, as well as from their two wine series: Flying Fox and Sly Fox. The Flying Fox series includes the vineyard's standard portfolio of 8 premium wines, while the Sly Fox series offers a line of more experimental and smaller batch wines. All of the red grape varietals—Cabernet Franc, Petit Verdot, and Merlot—used in their wines comes from the Flying Fox Vineyard, located in the Monticello AVA. All of the white grape varietals—Viognier and Pinot Gris—used in their wines comes from their second vineyard, Ridge Run Vineyard, located on the other side of the mountain ridge in the Shenandoah Valley AVA.
They are located off Route 151, in Nelson County just west of Charlottesville, a beautiful drive through the Virginian countryside studded with local artisans, craft beverage producers, orchards, restaurants, and more. 7 wineries, 5 breweries, 3 cideries, and 2 distilleries sit just off the route and are easily accessible year-round. Hit a couple favorite spots on a sunny Saturday, or make it a weekend trip and enjoy the outdoor activities and charming lodging options among the Blue Ridge Mountains.
MANDY REYNOLDS has a master's in arts management and a bachelor's in history, enjoys reading and is an avid traveler. Growing up in the Shenandoah Valley, she appreciates how much the area has to offer.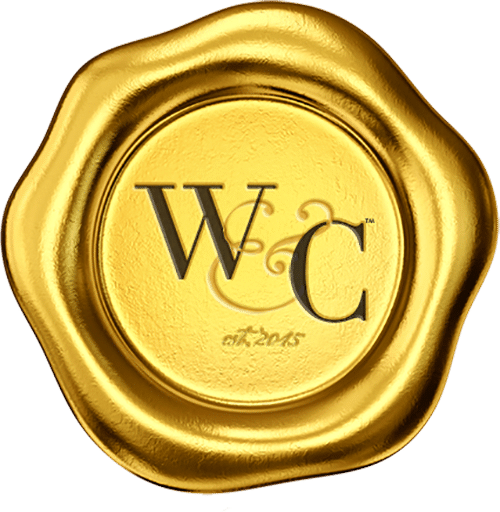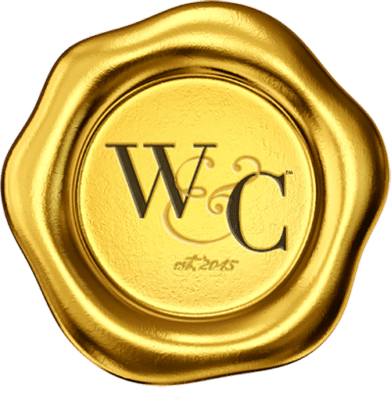 Virginia Wine & Country celebrates elevated living in Virginia Wine Country. Virginia Wine & Country Life is a semi-annual luxury print magazine with a full digital presence. The Virginia Wine & Country Gold Book is an annual guide to the top award-winning wines, wineries and experiences in Virginia Wine Country. The annual Virginia Wine & Country Wedding Planner is an art book of elegant Virginia weddings. The brand includes the Virginia Wine & Country Shop in Ivy, Va. It is a beautiful lifestyle boutique that brings the pages of the magazines to life. Virginia Wine & Country tells the stories of Virginia wineries, the farm-to-table movement, luxury travel, entertaining, art and the elegant country lifestyle. Ivy Life & Style Media also provides branding, web design and PR services for the wine industry.