Caitlin Horton, Head Winemaker at Horton Vineyards and the youngest Winemaker in Virginia, grew up on the property. Her grandparents Dennis and Sharon Horton founded Horton Vineyards. It has gained national acclaim for its signature Viognier vintages and was one of the first Virginia vineyards to make fortified dessert wines like Port. Today, Horton is headed in exciting directions with Caitlin at the helm. She plans to follow in her grandfather's footsteps by maintaining the quality of Horton's traditional wines while creating her own legacy with experimental wines such as her steampunk-themed Gears & Lace line.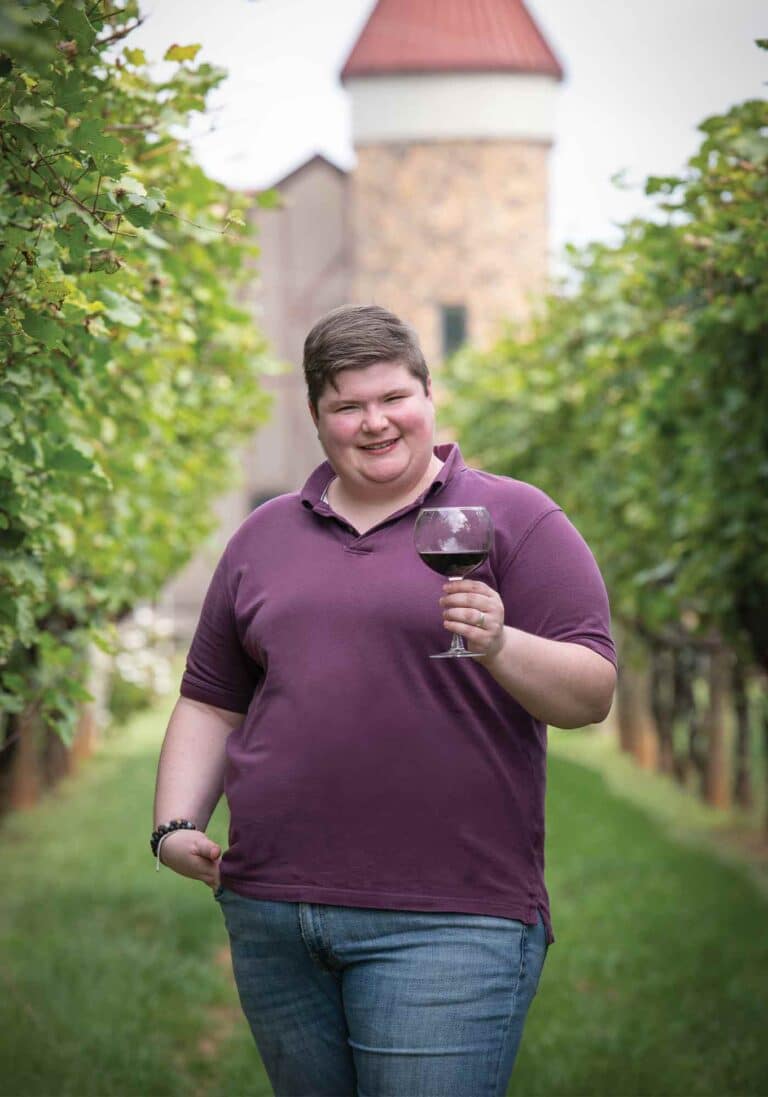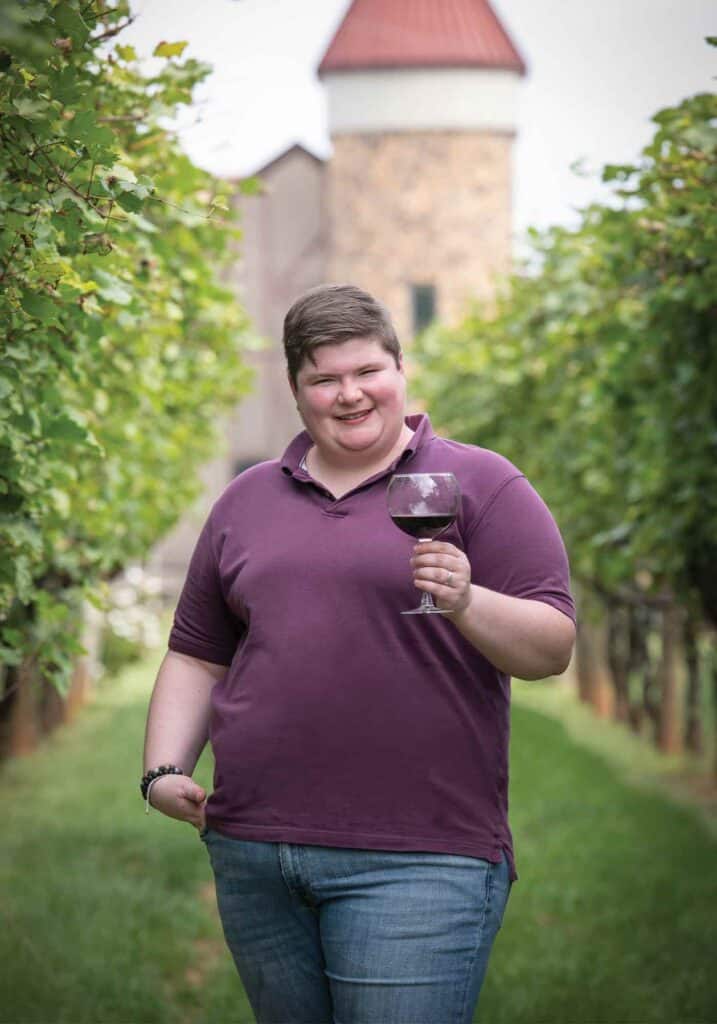 Joining the Family Business at Horton Vineyards
What was it like to grow up as a third-generation winemaker on the family vineyard?
I never really knew it was different from other kids' lives when I was younger. There were no vacations during the summer. When school started in September my classmates would talk about traveling over summer vacation while I had mostly been in the field. I also didn't really think about the fact that I was growing up around people who are very influential in the wine industry. I have personal cell numbers and call them for advice. I didn't realize how lucky I was.
What do you hope will be your unique contribution to the vineyard and cellar at Horton Vineyards?
I hope to continue the Horton legacy. My grandfather focused on bringing grapes to the state that would survive and thrive in the Virginia climate. I want to focus on using those same grapes in different ways. For example, I'm really proud of my Pinotage Rosé, which I spent 10 days cold soaking and then aged in Syrah barrels for 3 months. I have a Certificate in Winemaking from Cornell University and that has greatly added to my knowledge of oenology and viticulture. I am excited for the future of winemaking at Horton Vineyards and throughout Virginia.
What is unique about the terroir at Horton Vineyards?
We have three vineyard locations. The location, slope and the weather all impact how our grapes grow. Our grapes are also exceptional because of my grandmother, Sharon. She really understands the plants and the fields that she has walked and tended for years.
What are your goals for Horton Vineyards?
My goal is to take the grapes my grandmother grows and experiment with how they can be expressed in different ways. For example, last year we co-fermented Syrah and Tinta Cao.
Winemaker Caitlin Horton Experiments with Flavor
Tell us about Gears & Lace.
Gears and Lace is a steampunk-themed line of wine. I am a dry red drinker through and through, but I was tired of drinking reds during the summers when it was basically 800 degrees outside. I convinced my parents there was a market for a new wine, and they encouraged me to run with the idea. I first designed and blended a barrel-aged Rkatsiteli. Pinotage is really my obsession, though. I went on and made a Rosé. The reds came later — we discovered treasure in a forgotten 2013 fortified Tannat wine in the cellar, so I claimed it and put it in my line. I also love sparkling reds so I designed one.
What is your favorite part of the winemaking process?
I love seeing the raw grapes turn into a finished product that can be bottled and sold to customers. Grapes change from year to year, and you have to be able to pivot and deliver a good product no matter the condition of the grapes. I love thinking through those problems and figuring out the best solution.
What is your favorite wine to make?
I am not sure what my favorite is yet, but a new skill I have recently learned is how to make a Port. Since Port is a dessert wine, the brix is going to be higher than most wines. It is a pretty cool process. You ferment it until it reaches the desired brix—the percentage of sugar per volume. Once it reaches the correct level, you put the free-run wine into a chilled tank. Then you soak the separated skins overnight in brandy at 32 F. The final step is to press the brandy-soaked skins and add that juice into the chilled tank.
Caitlin Horton is Shaping the Future of Virginia Wines at Horton Vineyards
What do you see in the future for Virginia wine?
Finding and experimenting with grapes that thrive here. Virginia weather is fickle, so having grapes that can handle the weather helps when it comes to winemaking. I know that sometimes customers are not as familiar with varieties that we tend to grow here in Virginia, so incorporating education about why we grow certain grapes helps make it a more rounded experience.
As a young winemaker, what do you find sets you apart?
I feel like I have a greater appreciation of the grapes than a lot of young winemakers because I have spent the better part of my life in the field. I grew up watching all the hard work that goes into cultivating the grapes, so I make sure not to mistreat them when they enter the cellar.
Do you have any exciting new projects coming up?
I'm excited to learn how to lay down traditional sparkling. It is not new for Horton Vineyards, but it is new for me.
Winemaker Caitlin Horton's Final Thoughts
As a woman in a field dominated in Virginia by men, what is your advice for other women looking for a career among the vines?
Start somewhere. Do not be afraid to speak up or ask questions. Just stick with it and take every opportunity to learn. You've got this!
What Virginia wine is currently open in your kitchen at home?
My most recent bottle was Brent Manor 2019 Chambourcin Reserve.
Is there anything else that you would like to share?
Virginia's wine industry is always growing and changing, so grow with it. If you have a cool idea, go ahead and try it. It might work or it might not, but you should try it and see. There is always room for everyone and their ideas.
Winemaker Caitlin Horton
Caitlin Horton has been immersed in the world of wine from her earliest days, growing up at Horton Vineyards. Her grandfather, Dennis Horton, is credited with bring Viognier to Virginia while her grandmother, Sharon Horton, has accrued a number of awards as a viticulturist including the prestigious Monteith Award. Her mother Shannon is active in the winemaking business but it is now Caitlin at the lead. Caitlin completed her certificate of winemaking at Cornell University and has great plans for the vintages of the future. Caitlin Horton is Virginia's youngest head winemaker, and a woman in a field dominated by men. She is leading the way with innovative wines, sharing research and knowledge at conferences such as the recent Eastern Wine Conference hosted by the Atlantic Seaboard Wine Association and participating in Rhone Rangers and Women of the Vine & Spirits.~
You can find winemaker Caitlin Horton at Horton Vineyards, managing and overseeing the winery, tasting room and vineyards, while also making award-winning wines. Read about more of Virginia's finest winemakers in the Food & Drink section.
Learn more about the life and work of winemakers with Wine & Country Life's editors. Maya Hood White is the winemaker at Early Mountain Vineyards. Gabrielle Rausse has made wine at many Virginia wineries and is considered the father of the modern wine movement. Get to know Nathan Vrooman of Ankida Ridge Vineyards, Stephen Barnard of Keswick Vineyards, Doug Fabbioli of Fabbioli Cellars and the most awarded winemaker, Luca Paschina of Barboursville Vineyards. The annual Governor's Cup Awards honors the best Virginia wines each year. ~
JENNIFER BRYERTON, our co-publisher, holds a masters degree in education and grew up in a family of farmers and storytellers. She enjoys visiting exquisite gardens and vineyards, cooking, travel and decor and time at home, where beehives and a chicken coop dot the lawn, and borders overflow with roses, peonies and lavender.
R. L. JOHNSON is our co-publisher and creative director, Robin Johnson Bethke, who began her career as a professional photographer in Los Angeles before moving into graphic design and art direction when she relocated to Charlottesville in 1994. As our company's co-founder and visionary, she enjoys all aspects of the publishing process from story conception to graphic design to photography. Her work is often seen in many of our publications.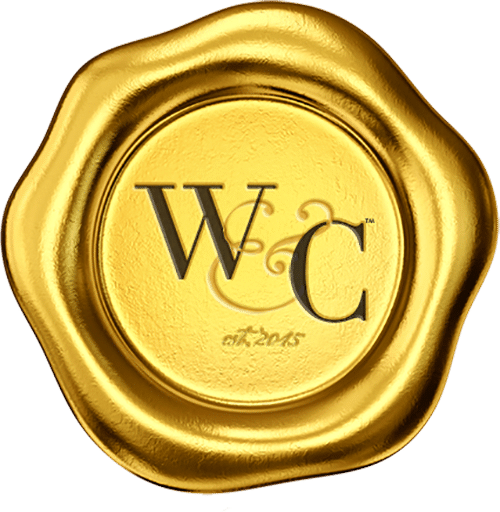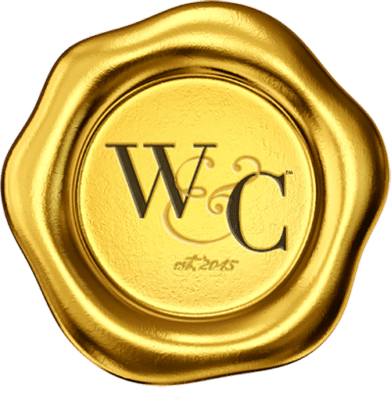 Virginia Wine & Country celebrates elevated living in Virginia Wine Country. Virginia Wine & Country Life is a semi-annual luxury print magazine with a full digital presence. The Virginia Wine & Country Gold Book is an annual guide to the top award-winning wines, wineries and experiences in Virginia Wine Country. The annual Virginia Wine & Country Wedding Planner is an art book of elegant Virginia weddings. The brand includes the Virginia Wine & Country Shop in Ivy, Va. It is a beautiful lifestyle boutique that brings the pages of the magazines to life. Virginia Wine & Country tells the stories of Virginia wineries, the farm-to-table movement, luxury travel, entertaining, art and the elegant country lifestyle. Ivy Life & Style Media also provides branding, web design and PR services for the wine industry.