Ankida Ridge Vineyards, founded by Christine and Dennis Vrooman and located in the Blue Ridge Mountains in Amherst, is proof of the love and dedication that surrounds Virginia's winemaking industry. Determined to help his parents, co-founder and now Winemaker Nathan Vrooman of Ankida Ridge Vineyards traded his mutual funds officer position in Colorado for a vital part in the family's ridge vineyard. Devoted to crafting Virginia's finest wines, he ensures that all wines are made on-site in French oak barrels. At this boutique winery, Vrooman creates a beautiful tribute to the quality of Virginia grapes and craftsmanship.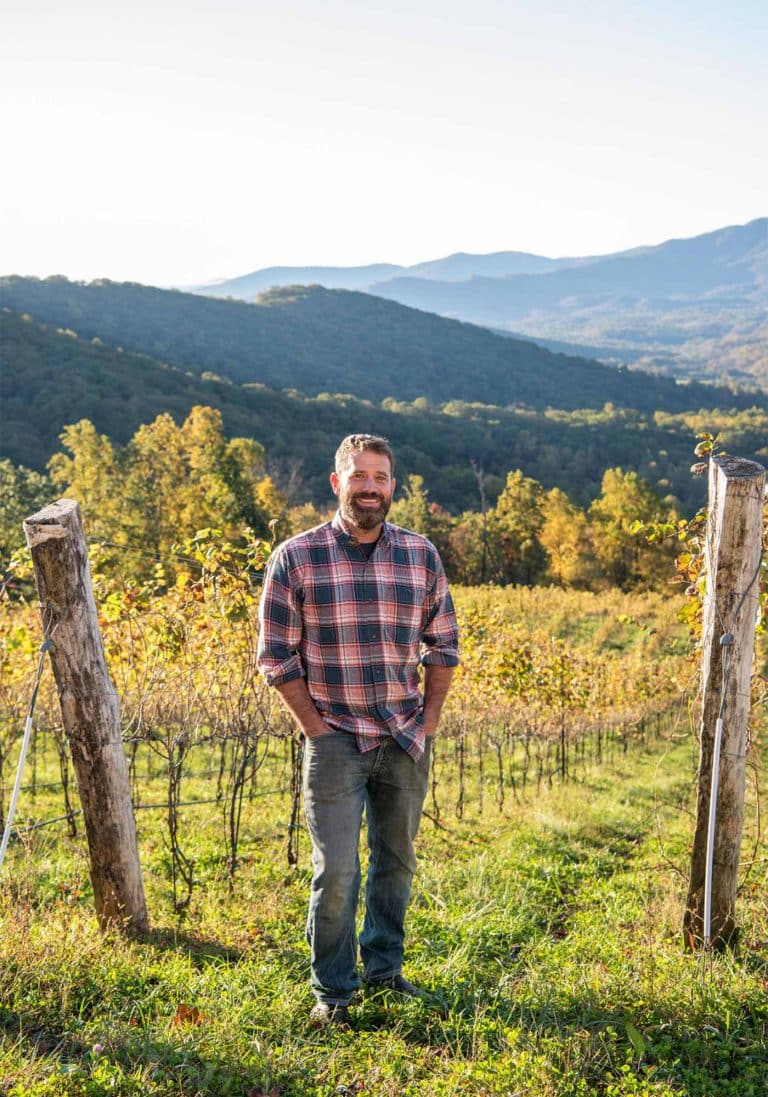 Ankida Ridge Winery and How Nathan Vrooman Became a Virginia Winemaker
What inspired you to leave your previous career and join the family winemaking business in 2009?
At the time, I was not sure that it would turn into a career. Making wine seemed like a very interesting challenge, so I was more than willing to jump in and start learning the process. As we approached our first harvest at Ankida Ridge, we sat down to discuss our options for the fruit. The only option that made sense was to make the wine ourselves, so I took the lead.
Can you share a little about your education and path to becoming a winemaker at Ankida Ridge?
Ninety-nine percent of my education is outside of a classroom. I have taken a couple classes at PVCC [Piedmont Virginia Community College], but other than that, I have learned everything from our local winemaking colleagues, books and the internet. When we started, we hired Matthieu Finot from King Family Vineyards. He was instrumental in teaching me the foundation of what we do and why we do it here at the Ankida winery.
Was there anything in particular that Matthieu Finot taught you that really stuck?
Thankfully, there are many things that Matthieu taught me that stuck. I still make wine with most of the principals that I learned from him. Sometimes, I tweak things and experiment here and there, but providing a healthy fermentation environment and recognizing when to play it safe and when to take risks is extremely important when creating quality wine year after year.
What is your favorite wine or grape to grow at Ankida Ridge Vineyards?
My favorite grape at Ankida would be Pinot Noir. This has been our focus since the beginning. A tremendous amount of energy and focus goes into growing the grape and making the wine, so I have an attachment to that grape. I really enjoy experiencing how Pinot evolves from fermentation to maturation in the barrel.
Would you describe winemaking as more of an art form or science?
For me, winemaking is more of an art form. There are just a few occasions that I rely on science and numbers to drive a decision in the cellar.
How is it working alongside your parents?
Working with my mom and my dad at Ankida Ridge has been amazingly rewarding. We have some wonderful memories and accomplishments that are irreplaceable. But, we also have times of frustration when we don't see eye to eye, but those times give perspective on our lives and we recognize how fortunate we are to be working together and sharing this experience. I will cherish it forever.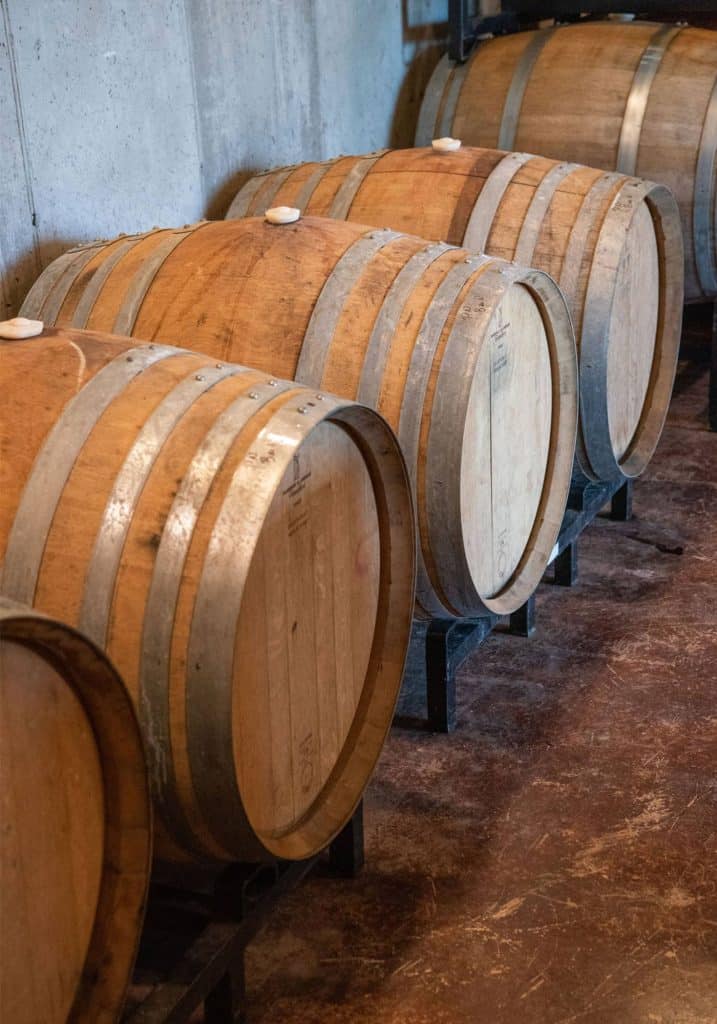 What It's Like to Be A Winemaker in Virginia
What sets Ankida Ridge Winery apart from other vineyards?
For the most part, all vineyards are unique and all winemakers and owners are passionate about what they do. What sets us apart is our vineyard site. We have a high elevation of 1,800 feet, ideal relative altitude, rocky soils and great exposure to the sun. The vineyard dries quickly after rain, has great spring frost resistance and sees minimal morning dew. This allows us to consistently grow healthy fruit that ultimately turns into quality wines.
What does an average day in the life of a winemaker look like?
I don't think an average day exists! It is always changing. During the harvest season, there are a lot of early mornings, late nights, wet feet and aching backs. Late in the year is hopefully a vacation, then early the following year, it is preparing for bottling and pruning. After that, it is a lot of time on the tractor at Ankida Ridge before the next harvest.
"What sets us apart is our vineyard site. We have a high elevation of 1,800 feet, ideal relative altitude, rocky soils and great exposure to the sun."

To you, what's unique about the Virginia wine industry?
The Virginia wine industry is unique for its diversity of wines. We have everything from traditional French vinifera and to American hybrids to native varietals and fruit wines. All of these different grapes are grown on a variety of terroir with different trellis systems and a wide array of vineyard philosophies. It is kind of like the wild wild West of wine.
What do you enjoy most about being a winemaker?
The job is always changing. There is always more to learn. While 10 years of experience seems like a lot, that really means that I have made Pinot Noir only 10 times. It is a high-pressure career with so much riding on each vintage and so many decisions are made along the way in order to create a bottle of wine.
What have been some of the hardest challenges of being a winemaker in Virginia?
Dealing with our weather on the ridge vineyards is probably the biggest challenge. The growing season always seems to throw us a few curveballs. It forces us to make judgement calls in the vineyard that will ultimately impact wine quality. This is always a stressful time, even after you accept the fact that it is out of your control.
The Future for Ankida Ridge Vineyards
What is the difference between the Rockgarden and Ankida Ridge labels?
Rockgarden is our second label that we created when we opened our tasting room. We wanted to expand our wine lineup, so we made the Rockgarden wines from various local vineyards' grapes other than Pinot Noir and Chardonnay. Because of this, we wanted to differentiate those wines from Ankida Ridge.
Why Pinot Noir and Chardonnay grapes?
Our original vineyard is very small at around two acres. With such a small vineyard, we wanted to plant something unique to the area. Based on the analysis of the site, we decided with the guidance of Lucie Morton, our vineyard consultant, that Pinot Noir could be a great fit. And, of course, if we were going to plant Pinot, we needed to put it alongside some Chardonnay.
What does the future hold for Ankida Ridge Vineyards?
We now have approximately six acres of vineyards, and we hope to plant more in the coming years. Also, we are working to enhance our Ankida tasting room experience for those who make the journey to Ankida Ridge. We are always brainstorming different fun ideas, so stay tuned.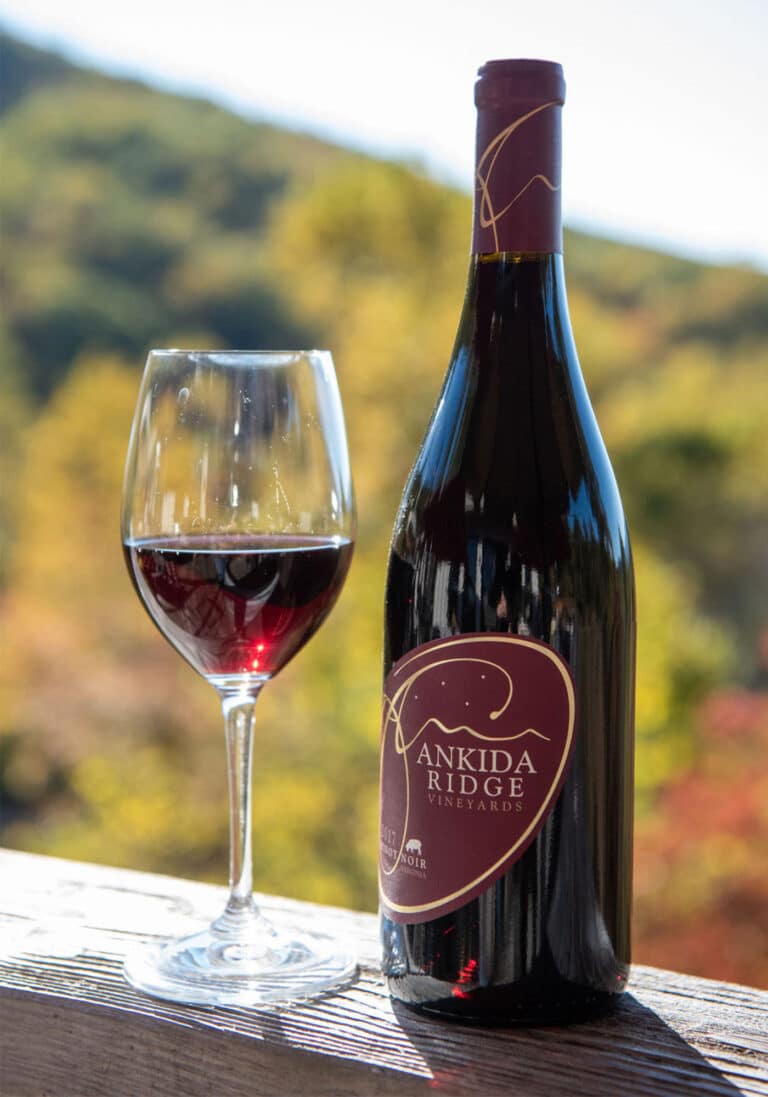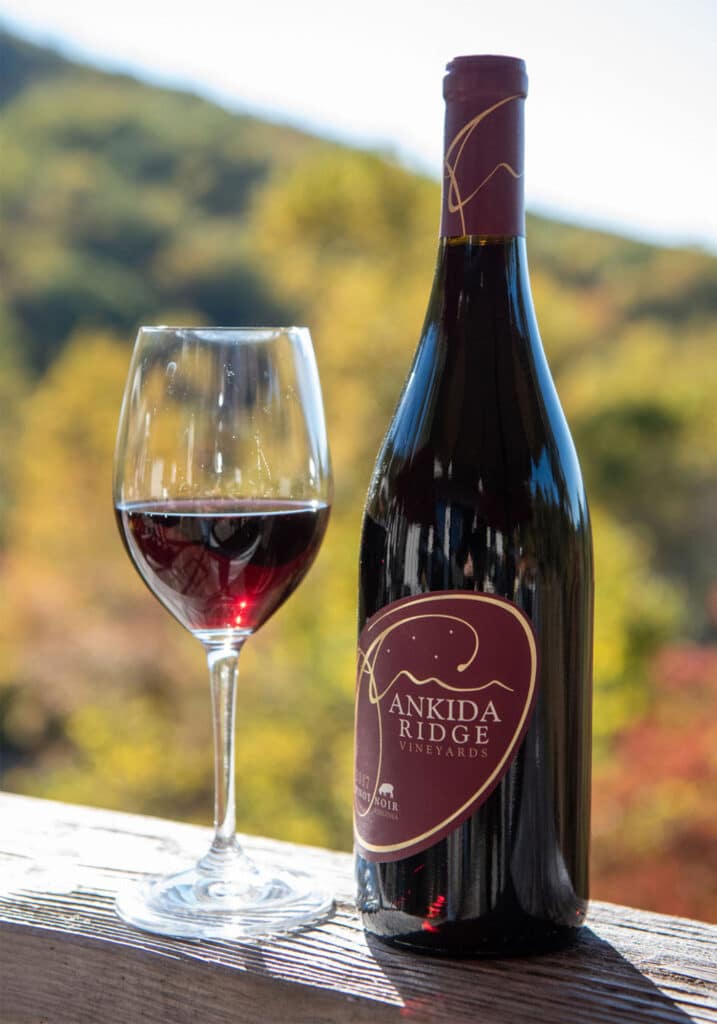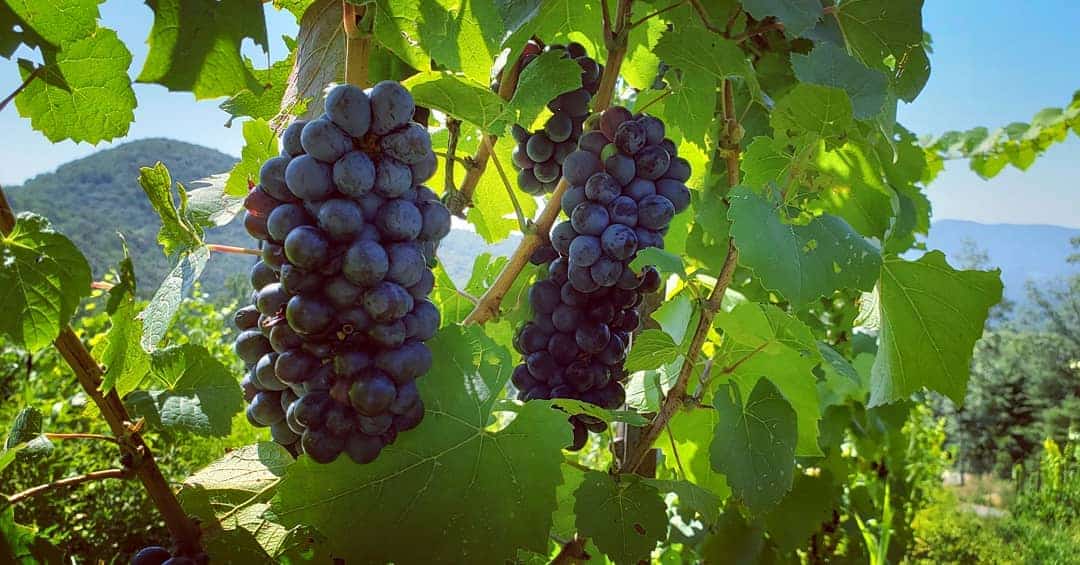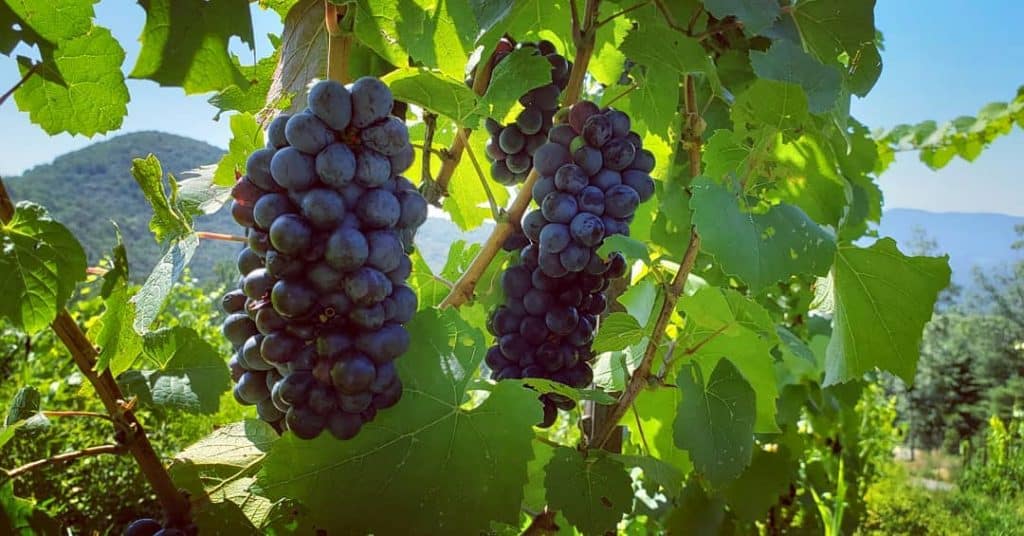 What current project are you excited about at Ankida Ridge?
I am excited about the Gamay project that my parents are working on. It is a super small production of Gamay Noir Cru and an even smaller production of Gamay Nouveau. They have done all of their own research and winemaking. Its been fun and rewarding to be a small part of their project and to be a fly on the wall watching their enthusiasm.
What bottle of local wine do you have open in your kitchen right now?
King Family Vineyards' Blanc de Blanc. Its' bubbly and yummy.
Do you have any advice for wine consumers?
Try lots of different wines from lots of different regions, but always keep a good stock of Virginia wine.
You can explore the tasting room and reserve seating at the lower grounds of the vineyard while observing the Vrooman's sheep from Friday to Sunday, 12–5pm. The vineyard offers cheese boards, baguettes, crackers and more for your enjoyment. Pair snacks with a glass of Pinot Noir, one of Winemaker Nathan Vrooman's specialties and from the winery's first vines. To explore more Virginia vineyards and wineries, see our Food & Drink section. For more stories about your favorite Virginia winemakers, meet Monticello Wine Trail President and Keswick Vineyards' winemaker Stephen Barnard and winemaker Benoit Pineau in our Meet the Makers section. ~
SARAH PASTOREK SHORT, our Senior Editor, has degrees in English and journalism and a master's in HR. She enjoys writing on all topics, from wine and craft beverages to parenting and home décor, as well as visiting Virginia vineyards.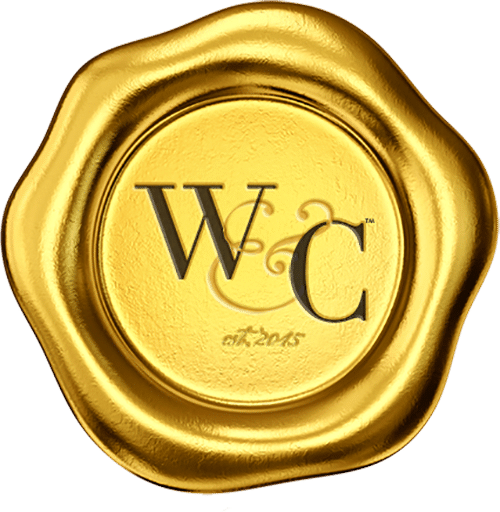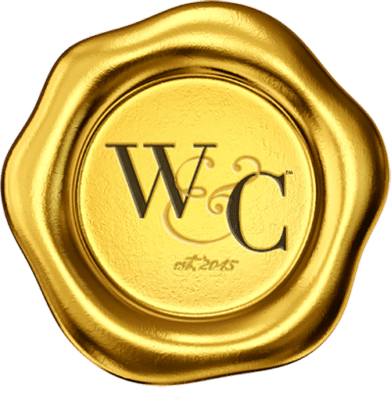 Virginia Wine & Country celebrates elevated living in Virginia Wine Country. Virginia Wine & Country Life is a semi-annual luxury print magazine with a full digital presence. The Virginia Wine & Country Gold Book is an annual guide to the top award-winning wines, wineries and experiences in Virginia Wine Country. The annual Virginia Wine & Country Wedding Planner is an art book of elegant Virginia weddings. The brand includes the Virginia Wine & Country Shop in Ivy, Va. It is a beautiful lifestyle boutique that brings the pages of the magazines to life. Virginia Wine & Country tells the stories of Virginia wineries, the farm-to-table movement, luxury travel, entertaining, art and the elegant country lifestyle. Ivy Life & Style Media also provides branding, web design and PR services for the wine industry.