The newest vineyard and winery to open in the Monticello AVA is Southwest Mountains Vineyards in Keswick, VA. The "soft" opening for the trade, and official opening on October 1st, just in time for Virginia Wine Month, saw over 400 attendees each time.
If you've driven on Route 231 and seen the large vineyard to the west of the road labeled "Castalia", that's part of the estate. Castalia is a historical farm of some 800 acres and was part of the original Meriwether Lewis land grant. The farm used to grow apple and peach trees and was always noted for the quality of its crops. The Monticello AVA winery has 72 acres of vines under cultivation, with plans to expand to 100 acres. The entrance to the winery is from Stony Point Pass in Cismont, west off Route 231, turning onto Whipper In Lane.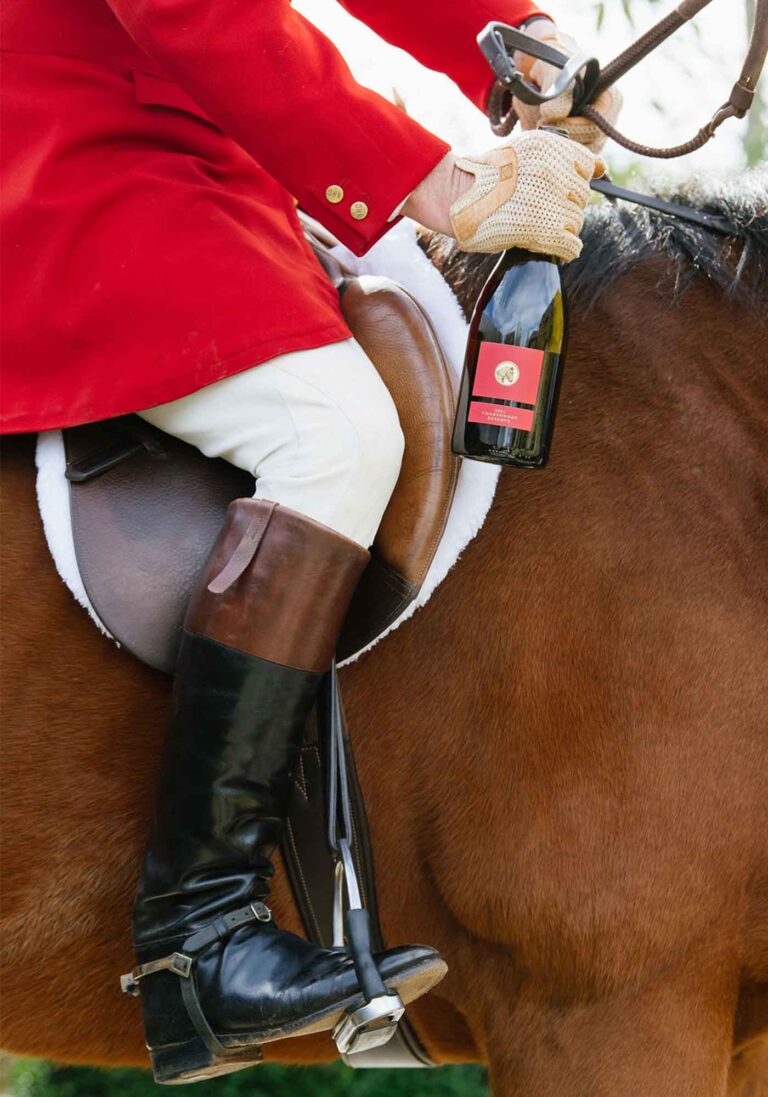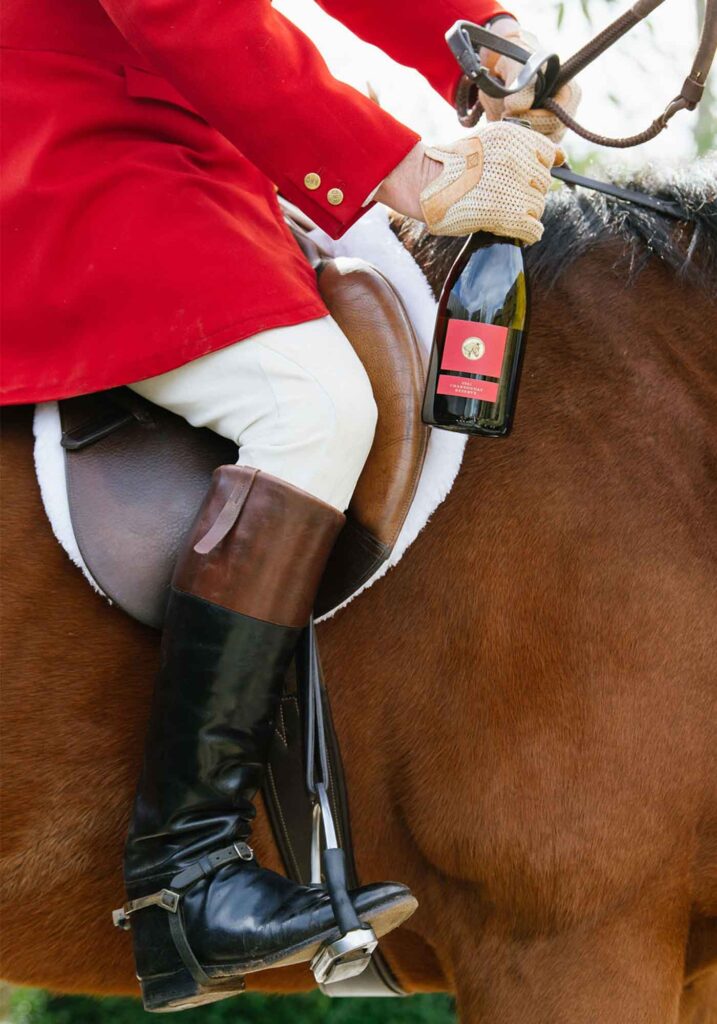 Paul and Diane Manning, the founders of Southwest Mountains Vineyards, have lived in the area since 1996. Paul is a successful entrepreneur and investor and the two are noted for their philanthropy. Diane loves horses, horse breeding and the culture of the community hunt—in their case, the Keswick Hunt Club. This love of horses and foxhunting in particular is evident in the equestrian décor.
The Mannings' natural generosity and love of land conservation, combined with the support of neighbors and the wine community, including Luca Paschina of Barboursville Vineyards, Carl Tinder of Tinder Viticultural Services and the Hodsons of Veritas Vineyards, led them to decide to share the beauty of the estate, the barn and their wines with the public.
The Upstairs Tasting Room by Reservation Only
Upon entering the Southwest Mountains Vineyards tasting barn, you're greeted by soaring timber ceilings and striking architecture. A welcoming host will seat you in the first floor tasting room, which allows walk-ins, or the expansive upper tasting room if you've made the advance reservation.
The upstairs tasting room is surprisingly intimate for being so large. Amazing vineyard views can be enjoyed from every window. The room is furnished with gorgeous live edge wooden tables on barrels, high-top chairs and areas of lounge seating for lingering over your wine. A massive stone fireplace gives off a bright, hearty glow while the wraparound deck is the perfect outdoor space to enjoy breezes with your wine. Elegant custom lighting in the form of wrought-iron chandeliers were created by a local artisan in collaboration with Diane Manning.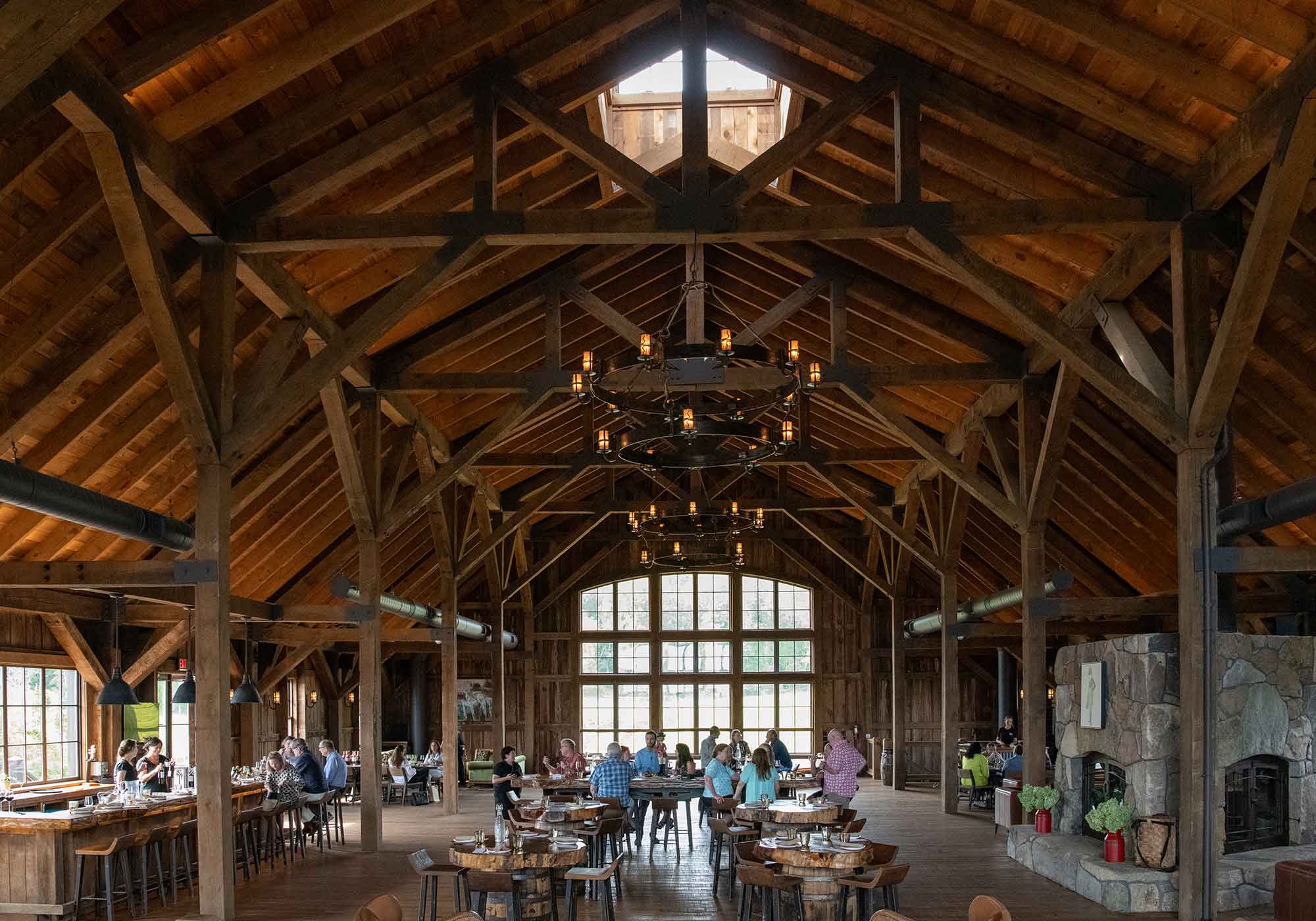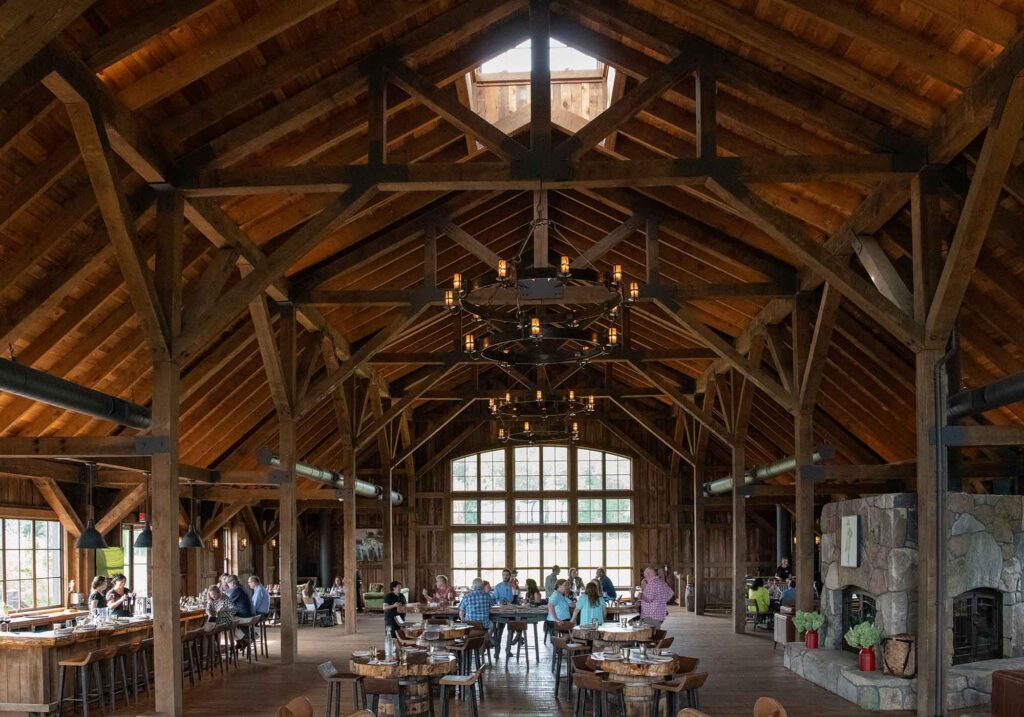 The Mannings' natural generosity and love of land conservation, combined with the encouragement of neighbors…led them to decide to share the beauty of the estate…



Special levels of tasting experiences on the upper level include the "HighTop Experience," which allows up to 15 people at the bar or a table, the "Deck with a View Experience" for parties of up to 18 and the "Vignette Experience" for up to 8 people at a table or on the deck. All tasting experiences include table/bar service, tasting flights, wine by the glass or full bottle service. They also offer seasonal food made by their in-house chef.
Enjoying the Vineyards from the First Floor Tasting Room
The first floor at Southwest Mountain Vineyards is open to a gorgeous stone patio that wraps around the building allowing guests to enjoy their wine just steps from the grapevines. A large firepit for gathering is sited near dramatic fountains and tasteful gardens. Ample table seating with umbrellas make the expansive patio a delightful place to enjoy wine with friends.
Indoors, the cozy first floor tasting room boasts a stunning four-sided tasting bar, self-service food like charcuterie and a non-wine beverage area. Winery guests can also enjoy a comfortable seating area of tables and chairs thoughtfully designed with accessibility in mind. The windows reveal a beautiful view of the vineyards and forest beyond the beautiful stone patio that invites guests to enjoy the property.
The Gourmet Cuisine From Chef Gregory Lewis
Chef Gregory Lewis was sous chef of Maya restaurant on Main St. in Charlottesville for the last 12 years. His mother gave him a passion for cooking, and he also worked under chef Melissa Close Hart, formerly of Barboursville Vineyards. Chef Greg enjoys the synergy of matching food with wine and focuses on seasonal dishes with fresh, simple, delicious ingredients for the Southwest Mountains Vineyards menu.
The current upstairs tasting room menu incorporates Chef Greg's preference for simple, local farm-to-table ingredients with a delicious personalized twist. Aside from the traditional charcuterie board brimming with crackers, cheeses, fruits and meat, the chef has curated several garden salad options and delicious flatbreads. Vegetarian options are plentiful and all menu items are fresh and flavorful. The winery's first floor tasting room features some pre-prepared items that are refrigerated.
Southwest Mountains Vineyards Wine
The 72 acres of vines currently planted are in three separate but close sites. The main estate Castalia Vineyard is on property, with Ben Cooley Vineyard a few miles south and Bramblewood Vineyard just up the mountain. All three are located within the Monticello American Viticultural Area.
The vineyard was first planted in 2016, and Southwest Mountains has made its own wines starting with the 2019 vintage. Already, quality is high across the board, and in some cases, outstanding. Their Petit Verdot 2021 won a gold medal in the 2023 Virginia Wine Governor's Cup competition, and seven other Southwest Mountains wines won silver medals.
White grapes currently planted include Chardonnay, Viognier, Petit Manseng and Gruener Veltliner. Red grapes planted include Cabernet Franc, Merlot, and Petit Verdot. Manning said they are currently weighted towards red varieties and plan to plant more whites to achieve roughly a 50/50 balance. 
Winemaker Boela Gerber
From 2020 through 2022, most of the Southwest Mountains wines were made by Emily Hodson, head winemaker at Veritas Vineyards. In April, the new winemaker Boela Gerber arrived from South Africa. Gerber left a 22-year career at Groot Costantia, that country's oldest and most respected winery. Manning is pleased to see Gerber walk the vines almost every day. "Boela is brilliant; he brings in a different perspective from South Africa and other places he's worked," he adds.
When asked if he had advice for others considering starting a Virginia estate winery, Manning said, "You have to go at it being passionate about the land and the wines and enjoy socializing. It's not just 'business;' it should have that, but you need to understand the commitment it takes, and you have to be patient. It won't make a lot of money quickly. You have to have other reasons for doing it."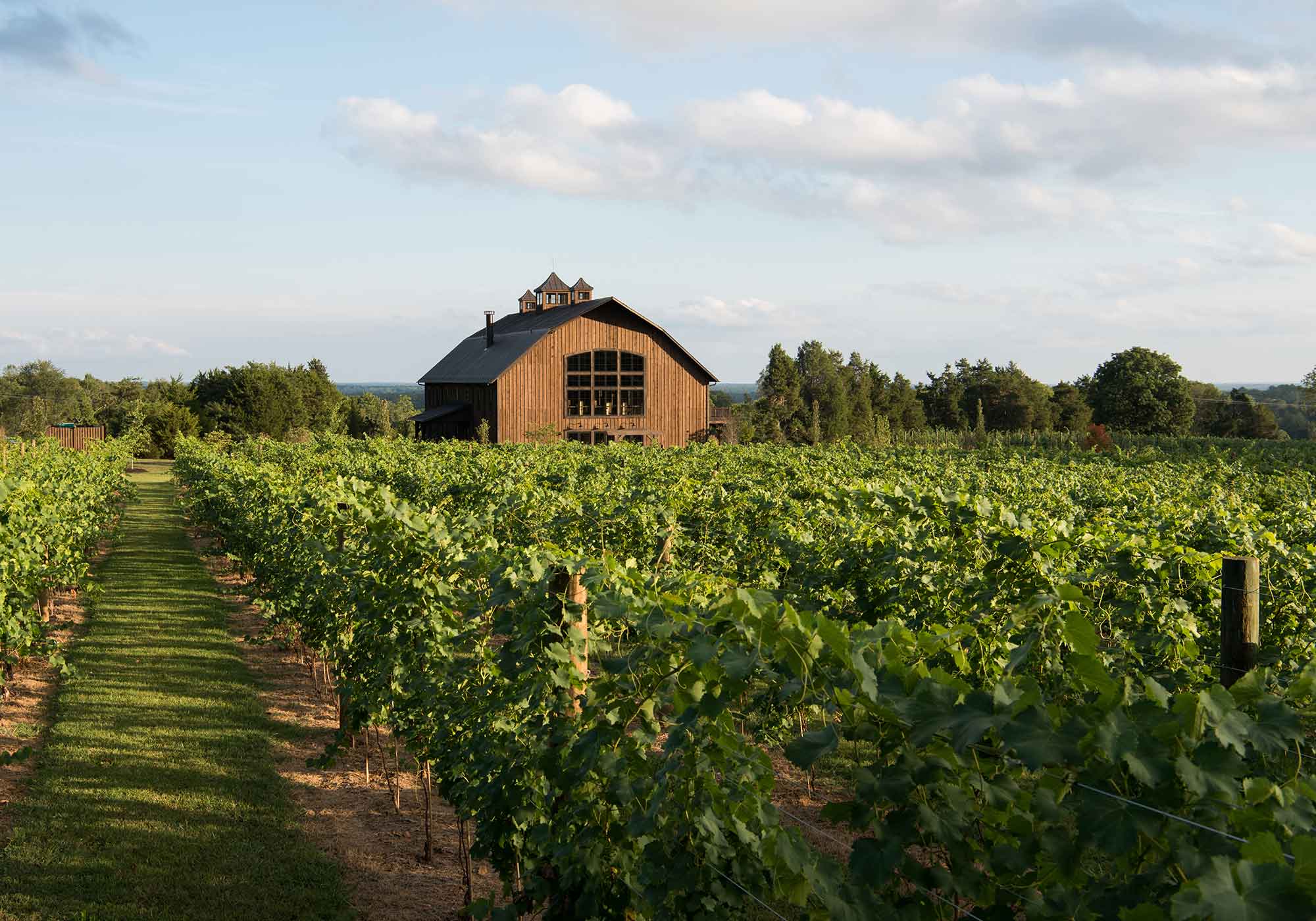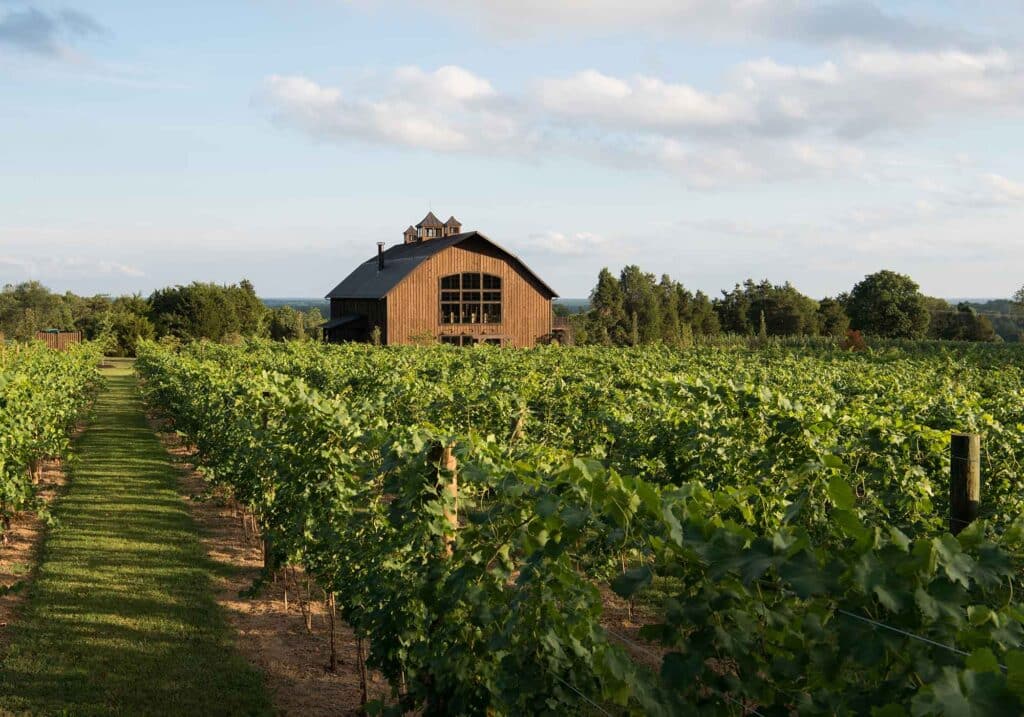 "Culturally, it [wine] has become a great way to bring people together," Manning notes. The couple loves the beauty of the estate and are delighted to be sharing it with winery guests. "There are few places as beautiful as Keswick on Rte 231," he says, and it's hard to argue. "Our goal is to have one of the best experiences for winery visitors in the state of Virginia," Manning declares. He walks the Southwest Mountain every day, and "it would be selfish not to allow other people to experience the beauty of the Southwest Mountains and our property."  ~
2023 Tasting Notes for Southwest Mountains Vineyards
by Virginia Wine Expert Richard Leahy
White Wines
• White Blend 2020 Monticello AVA: 60% Viognier, 40% Petit Manseng. 70% barrel fermented and aged, 30% stainless steel. Nose: rich, complex, lees contact and oak, but balanced and stylish. Palate: rich, ripe tropical fruit with bright acidity, oak and malolactic notes flesh out the mid-palate texture and flavors with fine fruit/acid balance. A big, rich white wine, ideal for Thanksgiving or late fall/winter food pairings, but still elegantly balanced.
• Rosé 2021 Monticello AVA: 75% Merlot, 25% Cabernet Franc. 60% barrel fermented and aged four months in oak, 40% stainless steel. Nose: Gentle, with a hint of flowers and red cherry (no obvious oak). Palate: lovely, freshly fruity and balanced with acidity, showing finesse and integration.
• Viognier 2021 Monticello AVA: (100% varietal). 70% stainless steel fermented and aged, 30% barrel fermented and aged in Acacia wood, 75% neutral. Nose: subtle, not much there. Palate: floral, with a rich texture and a hint of apricot with a fresh finish. Will continue to develop.
Select Reserve White Wines
• Chardonnay 2020 Monticello AVA: 100% barrel fermented and aged 10 months in French oak, 30% new. Color: light gold. Nose: rich, but also well integrated, with subtle nuances of spiced apple. Palate: very rich texture, apple flavors with a hint of caramel. Rich, but with firm acidity and no vanilla "planky" oak. A bold, full-bodied style but balanced; a fine food wine and fine example of Virginia Chardonnay in a Meursault style.
• Gruener Veltliner 2021 Monticello AVA: Gruener is now being grown on the East Coast, but by far this is the most impressive example I've had outside Austria, and fans of serious, non-oaky white wines will enjoy it. Nose: a fascinating blend of grated white radish and ginger/lemongrass, with fresh honey! Palate: racy lime zest, firm acidity, with a lively finish. Impressive varietal expression in an original style.
Red Wines
• Cabernet Franc 2021 Monticello AVA: Fifteen percent Merlot. Aged nine months in mostly neutral French oak. Nose: classic fresh varietal cherry and mineral/pencil lead. Palate: smooth, lush texture, ripe black cherry flavor, with a hint of baking spices. Only 12.7% alc. in a hot vintage, an elegant and fruit-forward style you could enjoy soon, or lay down for a few years.
• Red Blend 2019, Monticello AVA: 54% Cabernet Franc, 39% Petit Verdot, 7% Merlot. Barrel aged nine months in mostly neutral French oak. Nose: subtle, needs time to open, has red and black cherry nuances. Palate: smooth and subtle, good integration; the fruit gradually opens, very smooth tannins, elegant texture. Primary fruit is fading but has elegant finesse and freshness.
• Red Blend 2021, Monticello AVA: 62% Cabernet Franc, 28% Petit Verdot, 10% Merlot. Nose: lots of finesse and elegance for a big vintage, like a Chopin waltz, with subtle and ripe red fruits. Palate: Wow; more intense, with red fruits and some oak, gradually fades but with lots of finesse and elegance.
Select Reserve Red Wines
• Petit Verdot Reserve 2021, Monticello AVA: Nose: elegant, subtle, much like the regular '21 red blends. Palate: Wow; very velvety smooth tannins with a big mocha chocolate finish; sexy! Oak in the background but well-integrated with the fruit.
RICHARD LEAHY Richard Leahy is an author, wine judge and consultant based in Charlottesville. His book "Beyond Jefferson's Vines", the definitive book on Virginia wine, is available on Amazon in a revised third edition (2020). He started Adventure Wine Tours in September 2022, offering custom, curated tours of Virginia wineries, at adventurewine.tours.
R. L. JOHNSON is our co-publisher and creative director, Robin Johnson Bethke. She began her career as a professional photographer in Los Angeles before moving into graphic design and art direction when she relocated to Charlottesville in 1994. As our company's co-founder and visionary, she enjoys all aspects of the publishing process from story conception to graphic design to photography. Her work is often seen in many of our publications.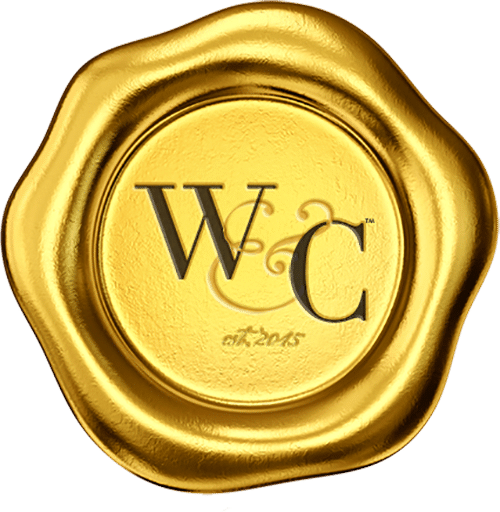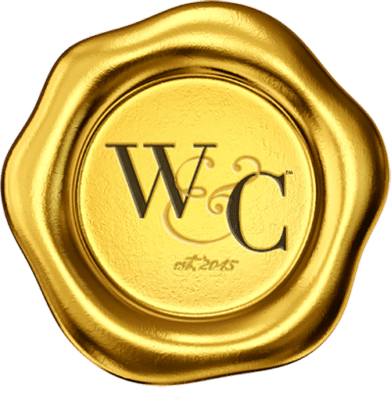 Virginia Wine & Country celebrates elevated living in Virginia Wine Country. Virginia Wine & Country Life is a semi-annual luxury print magazine with a full digital presence. The Virginia Wine & Country Gold Book is an annual guide to the top award-winning wines, wineries and experiences in Virginia Wine Country. The annual Virginia Wine & Country Wedding Planner is an art book of elegant Virginia weddings. The brand includes the Virginia Wine & Country Shop in Ivy, Va. It is a beautiful lifestyle boutique that brings the pages of the magazines to life. Virginia Wine & Country tells the stories of Virginia wineries, the farm-to-table movement, luxury travel, entertaining, art and the elegant country lifestyle. Ivy Life & Style Media also provides branding, web design and PR services for the wine industry.