Summer is all about simple, seasonal ingredients, and nothing says Summer like grilled, whole fish. This Wine & Country featured recipe from Ian Rynecki, Executive Chef at Pippin Hill Farm & Vineyards, uses Romesco, a bold Spanish sauce and charred lemon to create this grilled sea bass recipe. These bright, delicious flavors make for a dish that is sure to become your go-to grill recipe this summer.
Craving a night out? This dish is sure to make even the most regular evening feel like a special occasion.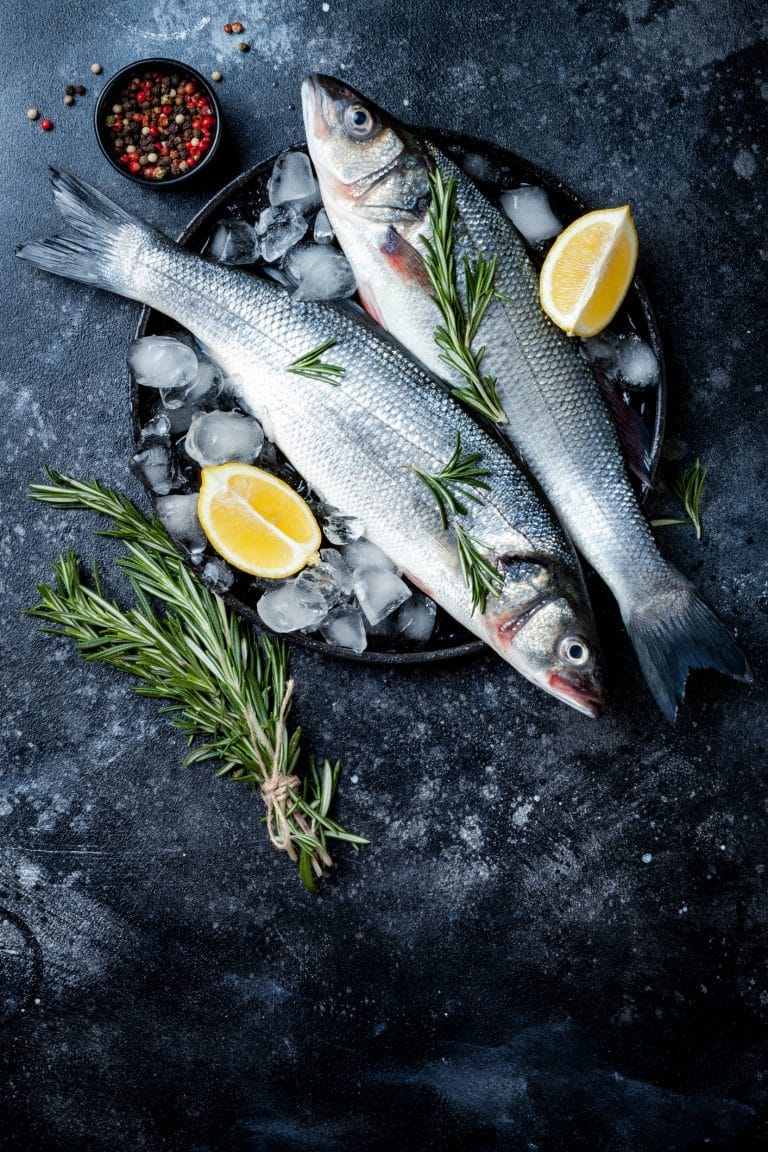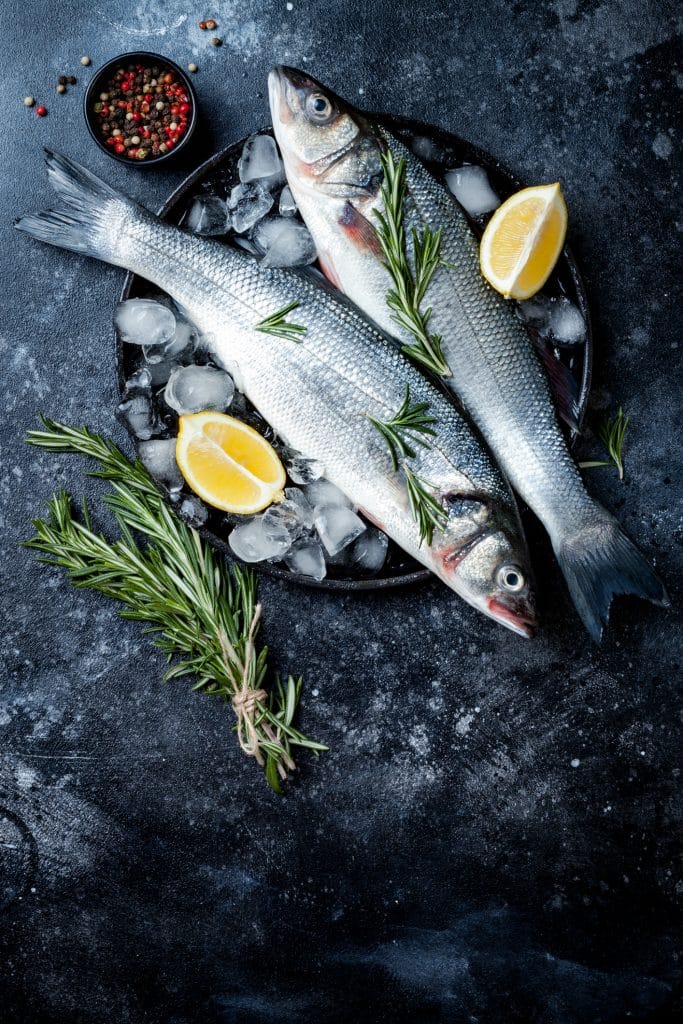 What is Branzino?
Branzino, or European Sea Bass, is, as its name suggests, an ocean fish native to the Mediterranean. It's known for its mild and slightly sweet flavor which makes it a perfect fish for those who aren't huge seafood fans.
It is also easy to cook either pan-fried, poached, steamed, or grilled as we'll see below. They generally range in size from one to three pounds. When shopping for sea bass look for fish with a deep color, bright eyes and pink (not brown) gills.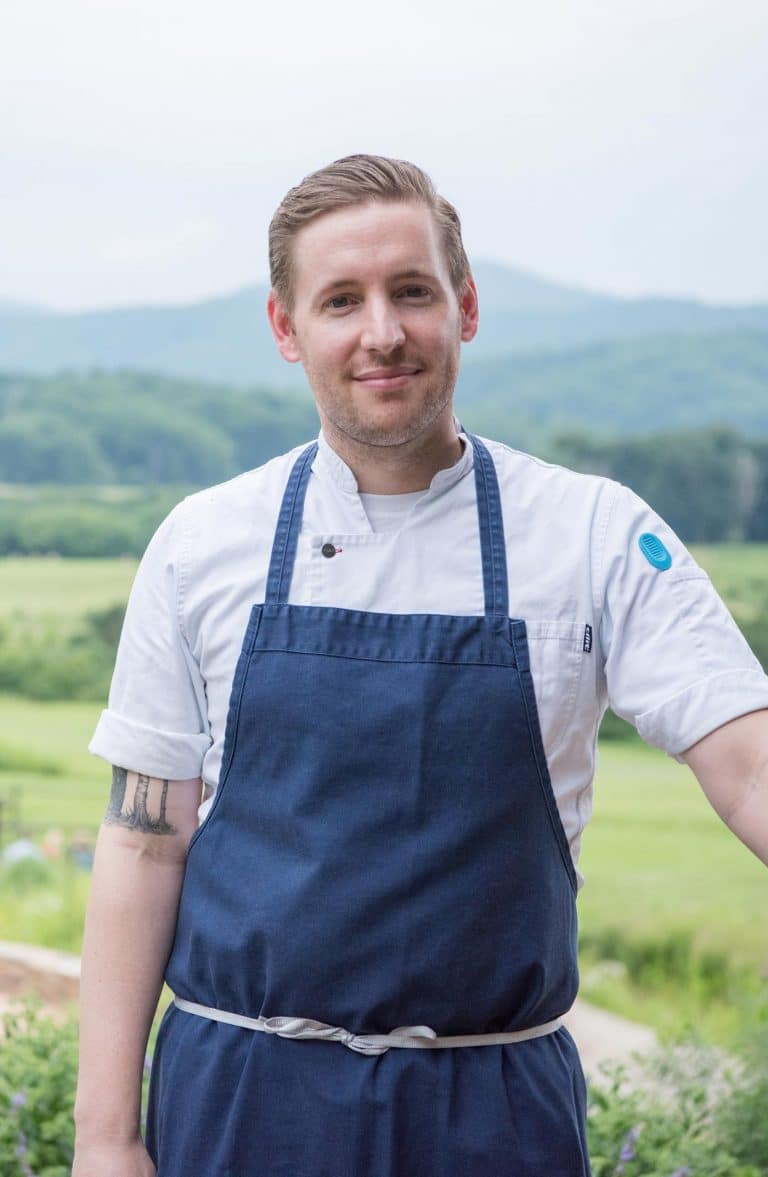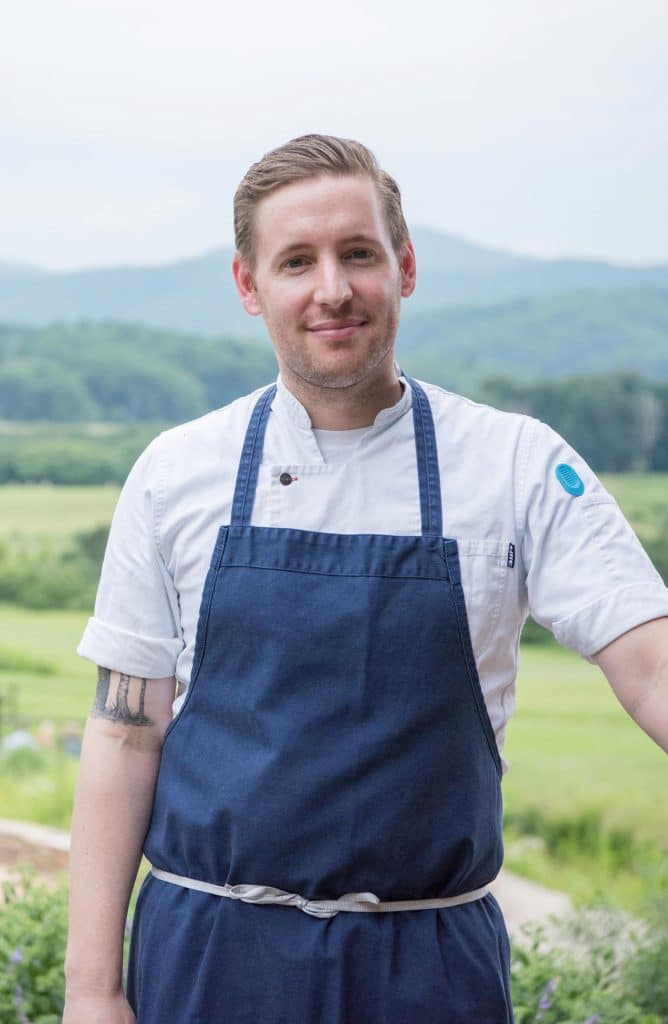 Entertaining and gastronomy are in the heart and soul of Executive Chef Ian Rynecki, and sustainable, local sourcing is his passion.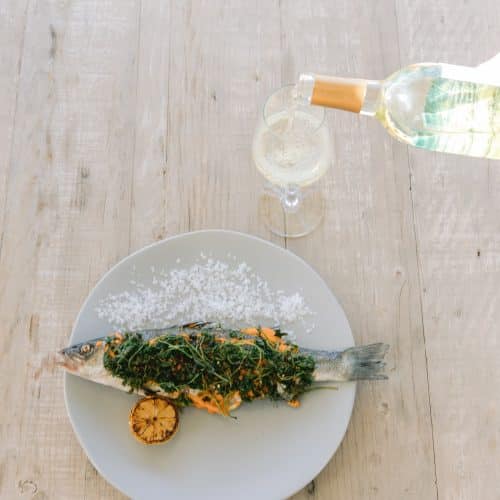 Sea Bass with Romesco & Charred Lemon Recipe
Ingredients
1

whole branzino 1.5 pounds, filleted and butterflied from the spine (ask your fishmonger)

salt & pepper

1

lemon plus 4 lemon slices

extra virgin olive oil

Romesco sauce

1

dried ancho chili, de-seeded and de-stemmed

6

plum tomatoes, core removed and halved lengthwise

1

red bell pepper, halved and seeded

1/2

Spanish onion

1

garlic clove

1/4

cup

extra virgin olive oil

1

slice stale white bread, cubed

1/4

cup

almonds

2

tbsp

sherry vinegar

1

tsp

paprika
Instructions
For the Sauce
Put chilies in a small bowl of hot water and soak for 15 minutes.

Put tomatoes, bell pepper, onion and garlic on a sheet pan. Season with salt, pepper and cooking oil.

Roast for 10–20 minutes until browned on the edges. Then, remove from oven and let cool slightly.

Remove skins from tomatoes and peppers. Reserve the liquid in the roasting pan.

Toast nuts on the stovetop oven medium heat in a medium-sized pan until fragrant, about 1 minute.

Transfer chilies, roasted vegetables, bread, nuts, vinegar and paprika, and blend until smooth. Season with salt as needed.
For the Fish
Season the inside of the fish with salt, pepper, lemon slices and 1 tablespoon of extra virgin olive oil. Season the outside with salt and pepper.

Heat your grill up to medium if using propane, and adjust the coals to one side if using charcoal.

Place the fish on the cooler side of the grill and cook 6-8 minutes per side until the flesh turns translucent.

Cut the lemon in half and grill over high heat, use to garnish your plate.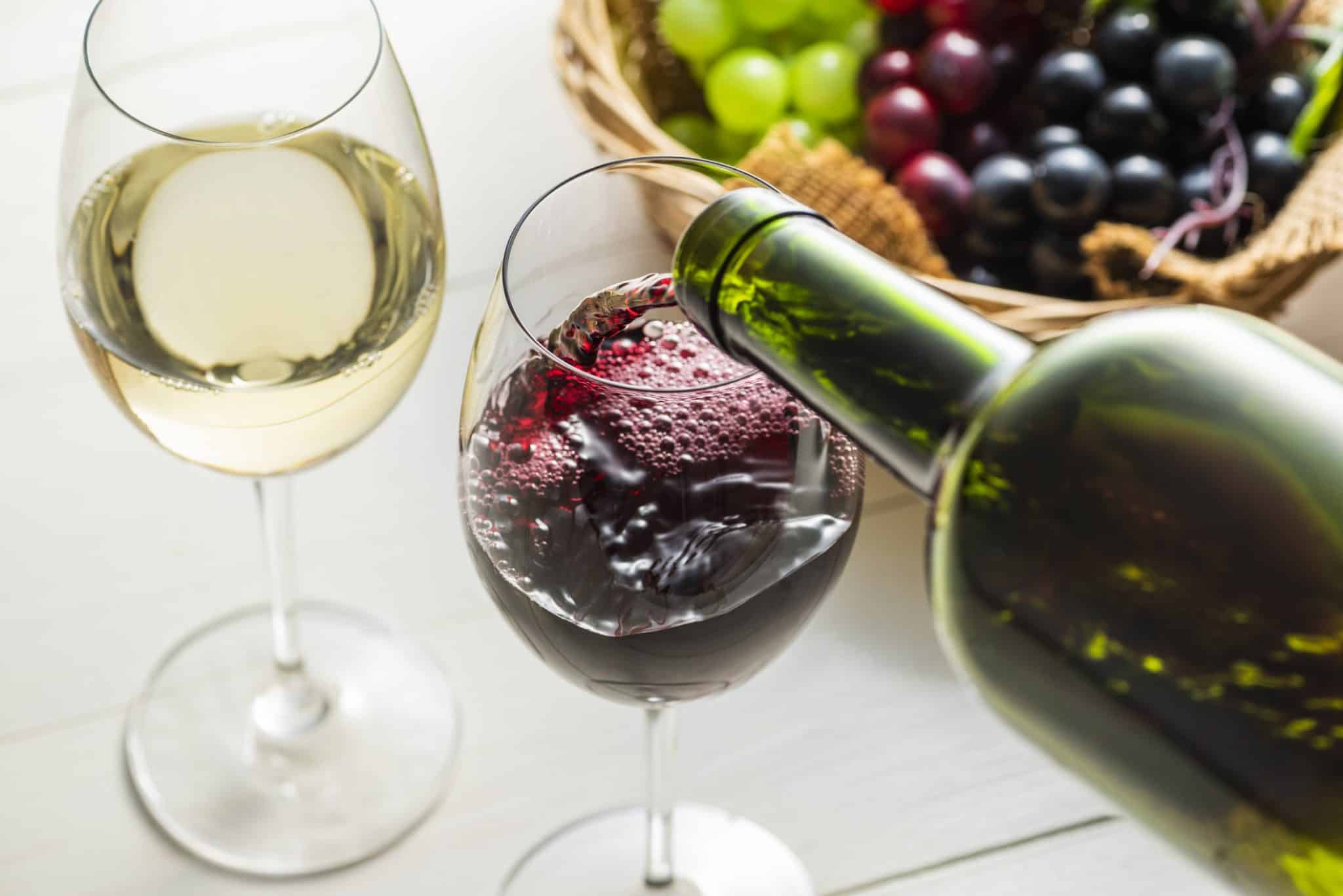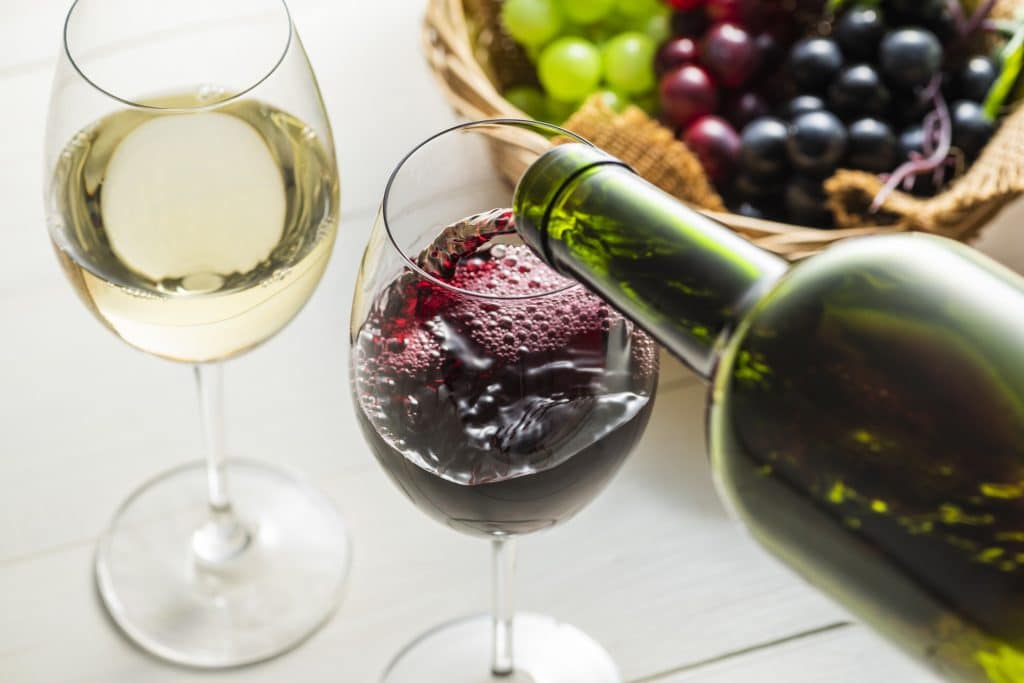 Tips for Pairing Wine with Sea Bass
Looking for a wine pairing? While an oaky Chardonnay might get in the way here, un unoaked Chardonnay will celebrate this clean, bright dish. If you're feeling like pairing with a red, a light, fruit-forward Pinot Noir will do the trick.
We hope you'll try this Grilled Sea Bass recipe soon. Want even more inspiration for your table? Read about Pippin Hill's sustainable farming practices and contributions to the farm-to-table moment in A Farm-to-Table Dinner at Pippin Hill Farm & Vineyards. We're always sharing more Wine & Country recipes, wine features, and more here. ~
CHEF IAN RYNECKI is a native of Simsbury, Connecticut, and comes from a long line of good cooks. He worked under a Sushi Master and at a top resort in Big Sky, Montana, before maturing into the chef de cuisine post at Farm Restaurant in Avon, Connecticut, a farm-to-table establishment with an abundant kitchen garden in his care.
SHOP THE WINE & COUNTRY SHOP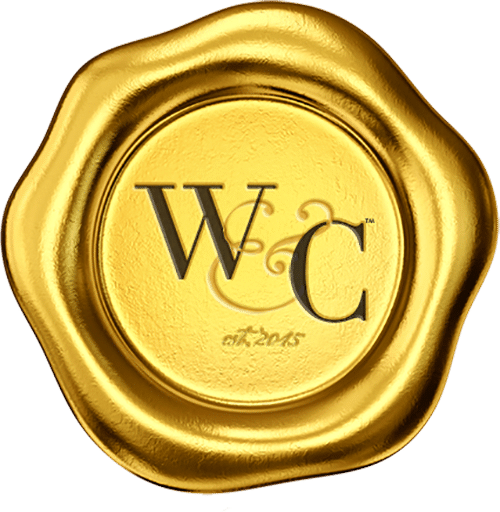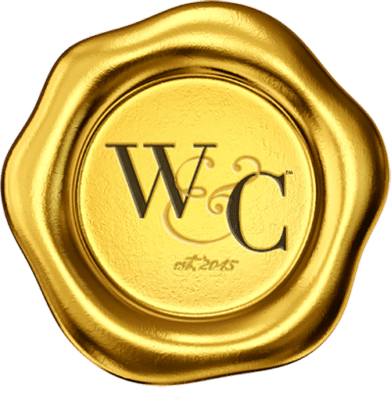 Wine & Country celebrates elevated living in Virginia Wine Country. Wine & Country Life, a semi-annual life & style magazine, and Wine & Country Weddings, an annual art book celebrating elegant Virginia weddings, are complemented by the Wine & Country Shop in Ivy, VA—a beautiful lifestyle boutique that brings the pages of the magazines to life. The Shop features over 40 Virginia artisans with everything from tailgating essentials and Dubarry attire to locally made foods and award-winning Virginia wines and craft beverages for your next event. Wine & Country covers the grape-growing foothills of the Blue Ridge Mountains from Lynchburg to Leesburg, including points in between like Charlottesville and Middleburg. Ivy Life & Style Media also creates other projects, including CharlottesvilleFamily.com, a collection of local resources including a popular calendar of events, family services guides and features on education, health and family day trips for parents and teachers in Charlottesville, as well as the CharlottesvilleWelcomeBook.com a guide to resources for Charlottesville tourists and newcomers.