The brand new Book Six of Charlottesville Wine & Country Living (seen below) features the historic Castle Hill property that dates back to the 17th century. After not being on the tour for decades, the Albemarle Garden Club, The Charlottesville Garden Club and the Rivanna Garden Club are delighted to have the spectacular estate featured in this year's 85th Historic Garden Week. We are excited to give you an exclusive look at the stunning manor of Castle Hill, including spaces that will not be featured on the tour. Scroll on to see a few of our favorite rooms and details that you can explore in the new book and on this year's tour!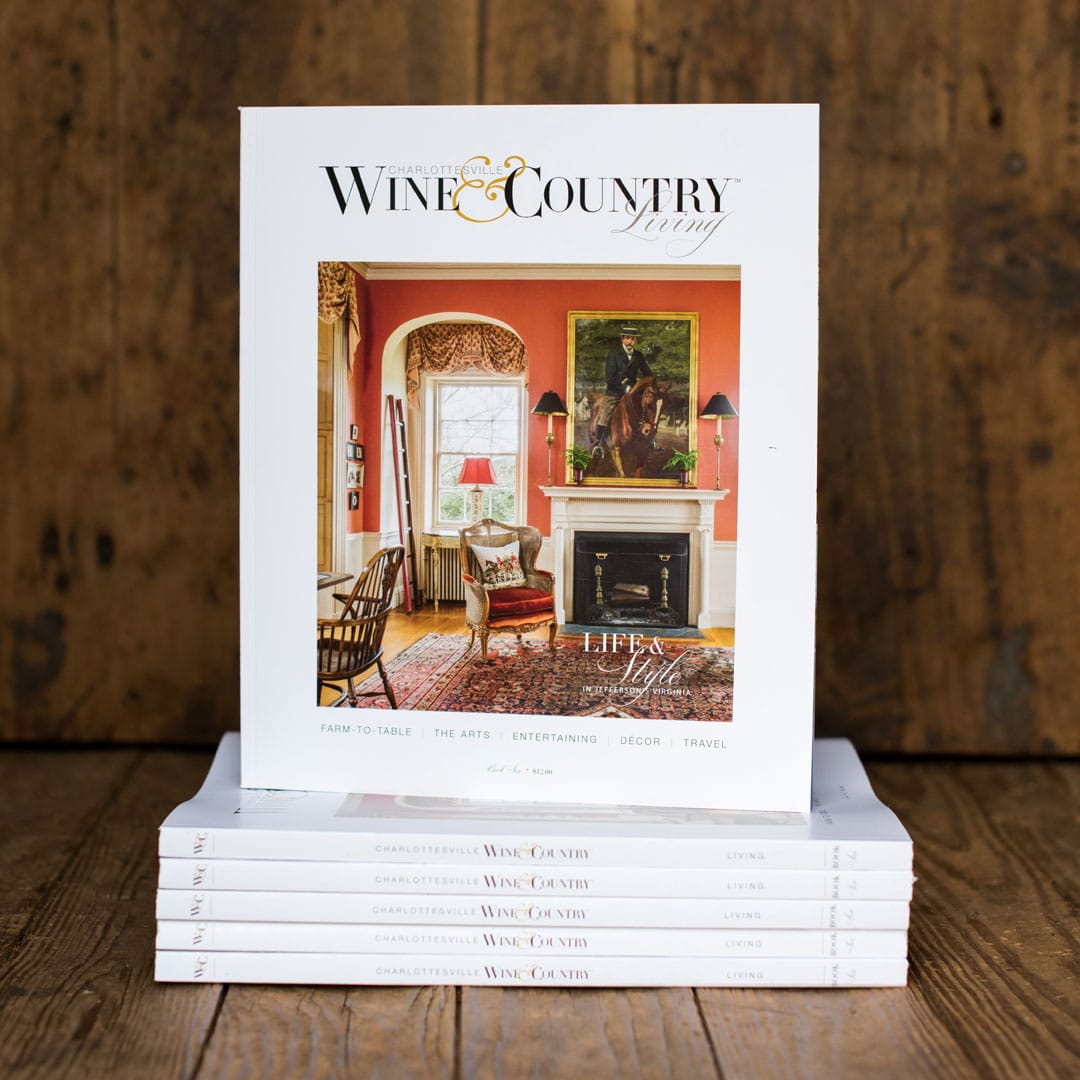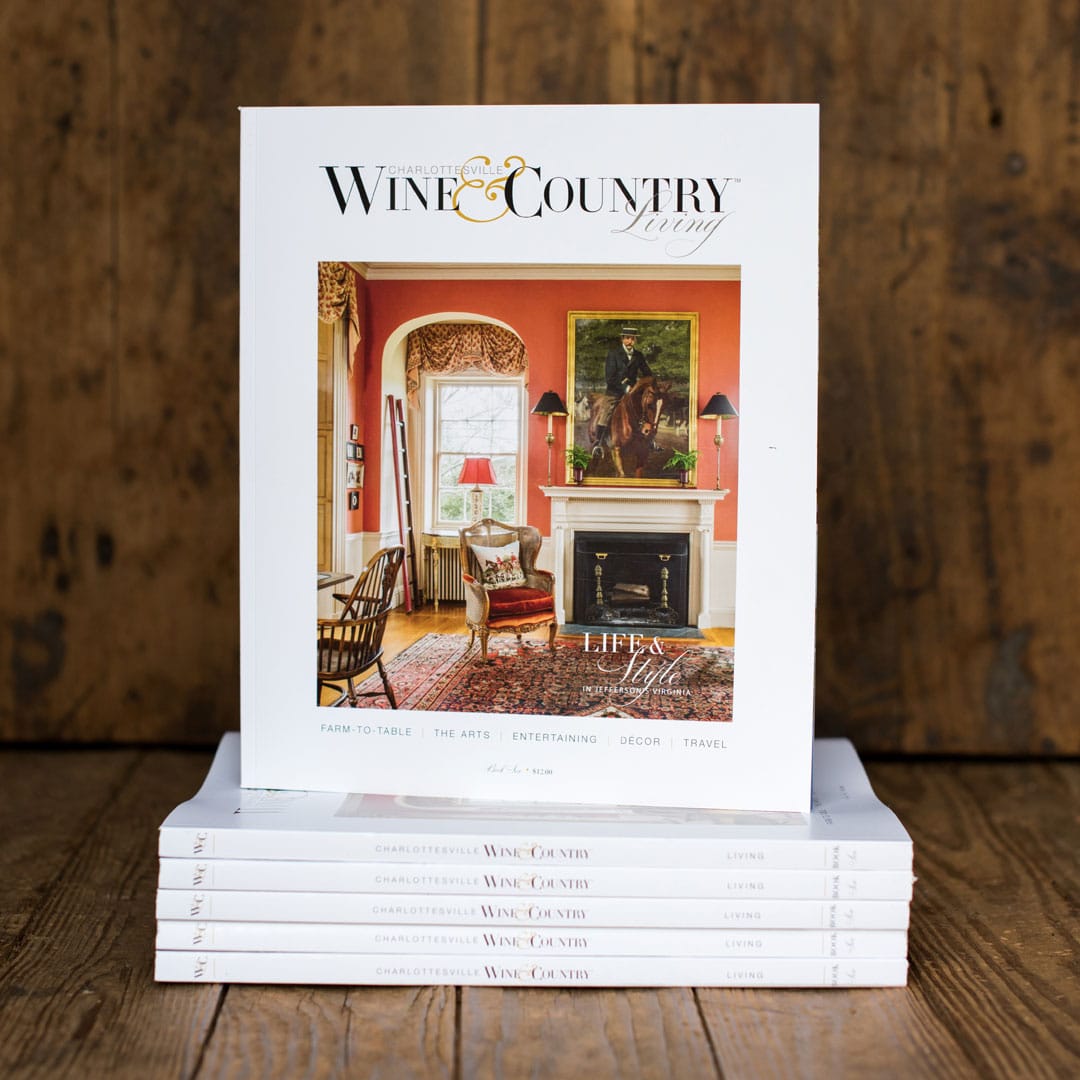 Dating back to 1764, Castle Hill is one of the most storied homes in Albemarle County, having been home to U.S. senators, writers and artists, as well as having entertained numerous U.S. presidents, diplomats and renowned explorers. The estate has been immaculately preserved thanks to previous families who have tended and cultivated the gardens and historic structures. Formerly a plantation during parts of the 18th and 19th centuries, the estate originally included thousands of acres, including the 600 acres on which Castle Hill Cider now sits. Upon entering Castle Hill, guests will note that the walls in the front hall are covered in "Les Vues d'Amérique du Nord"—a stunning hand-painted mural wallpaper that was produced by French manufacturer Zuber et Cie, a company that dates back to 1834. The mural features seven scenes of idealized life under former President Andrew Jackson, including West Point, Boston Harbor, Niagara Falls and Virginia's own Natural Bridge. A similar mural can also be found in the Diplomatic Reception Room at the White House in Washington, D.C.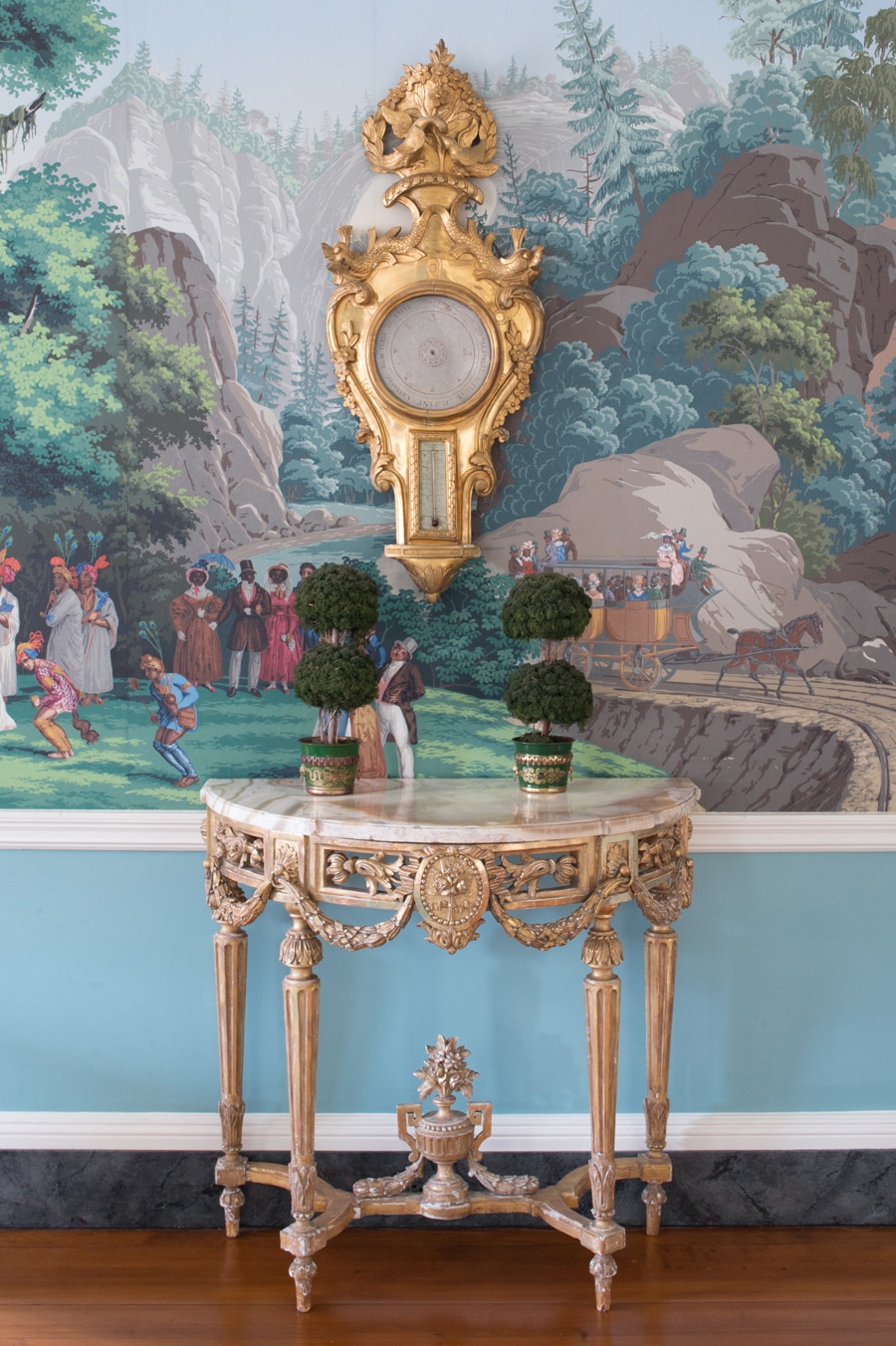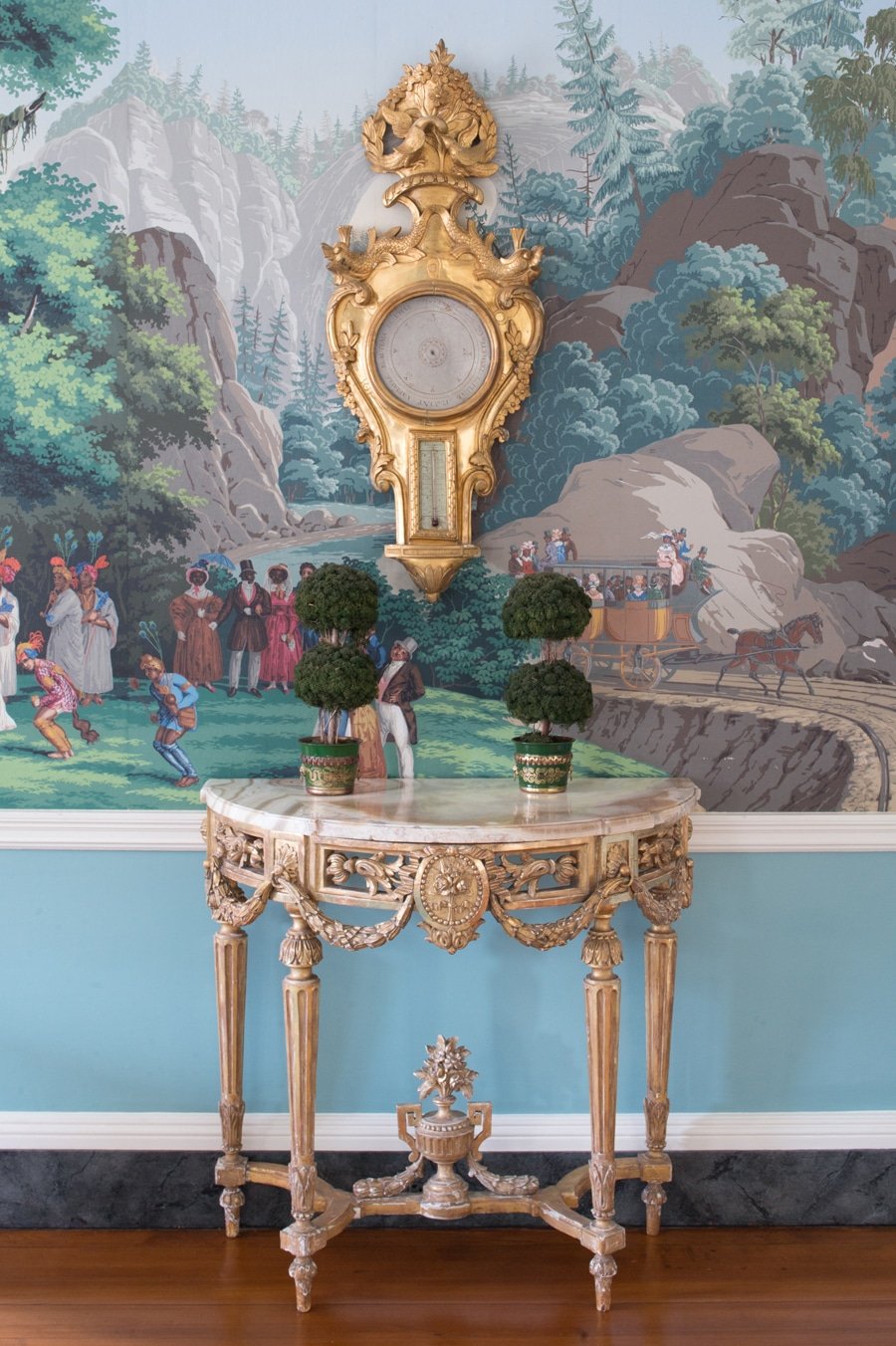 The central hall is another one of our favorite rooms in the home that connects with the front hall. With triple-pane windows stretching from the floor to nearly the top of the 12-foot ceiling, light pours into the chic pale blue room illuminating the breathtaking antiques.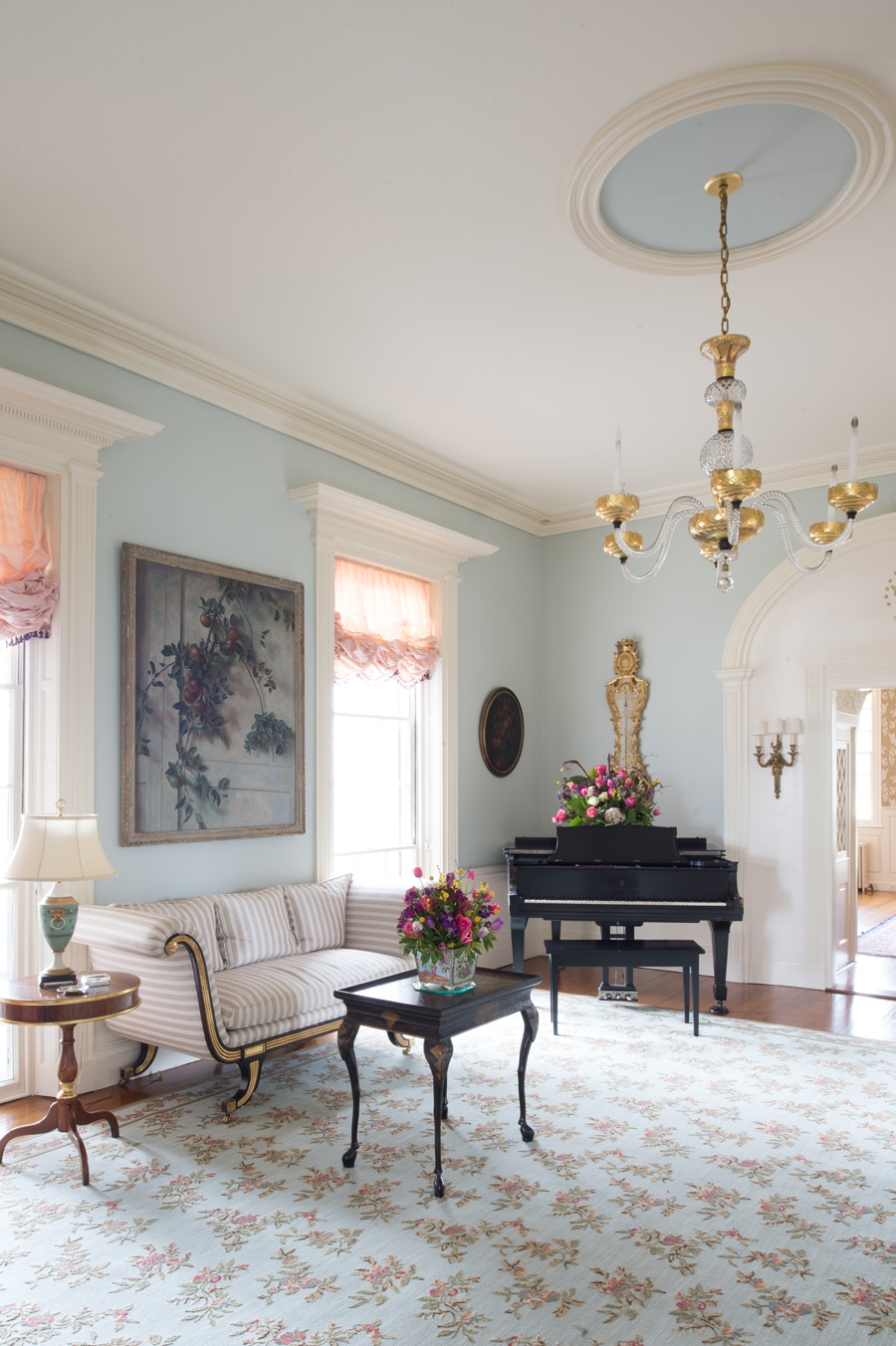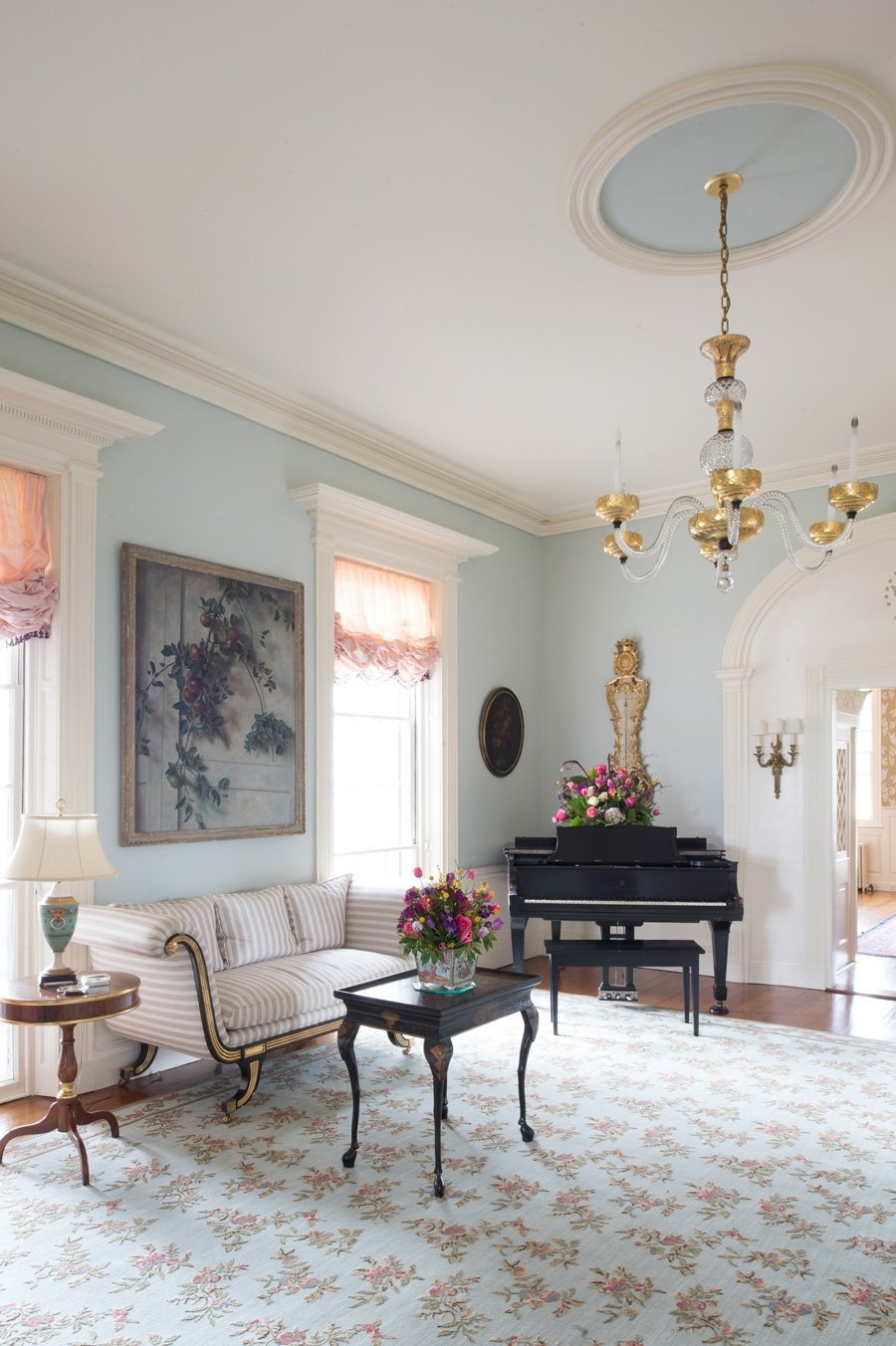 A newer renovation to Castle Hill, the manor's English country kitchen is a delightful addition to the home with its custom cabinets and walnut-topped island. This beautiful room will not be featured on the tour, but you can see and learn more about it in the new Charlottesville Wine & Country Living.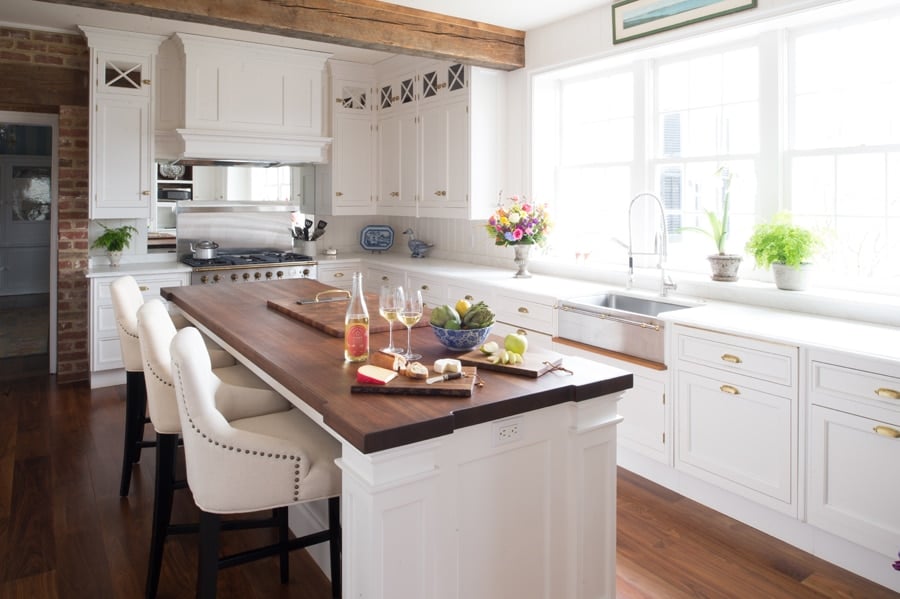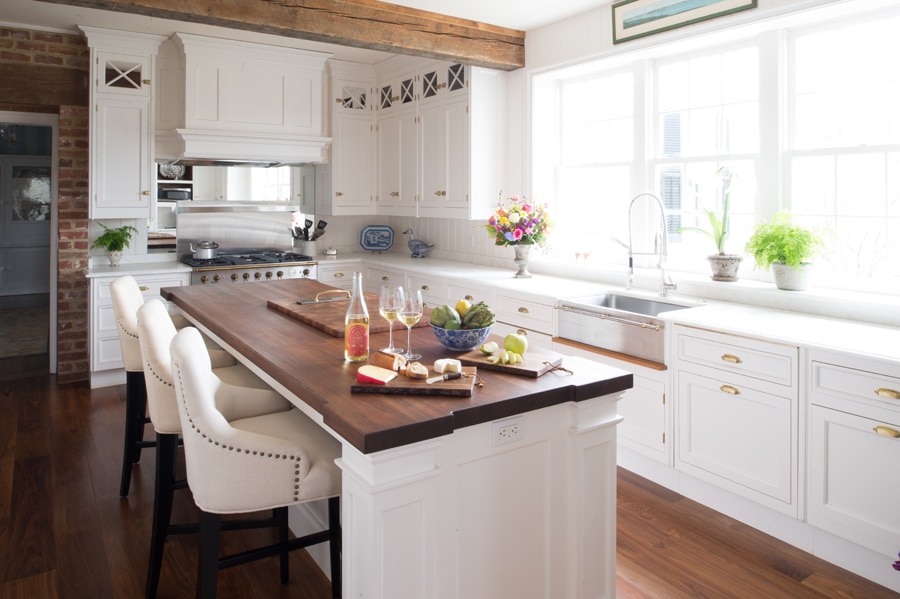 Another must-see room is the exquisite library with its french doors that open to a colonnade porch. Needlepoint pillows on the chairs nod to the history of foxhunting at Castle Hill.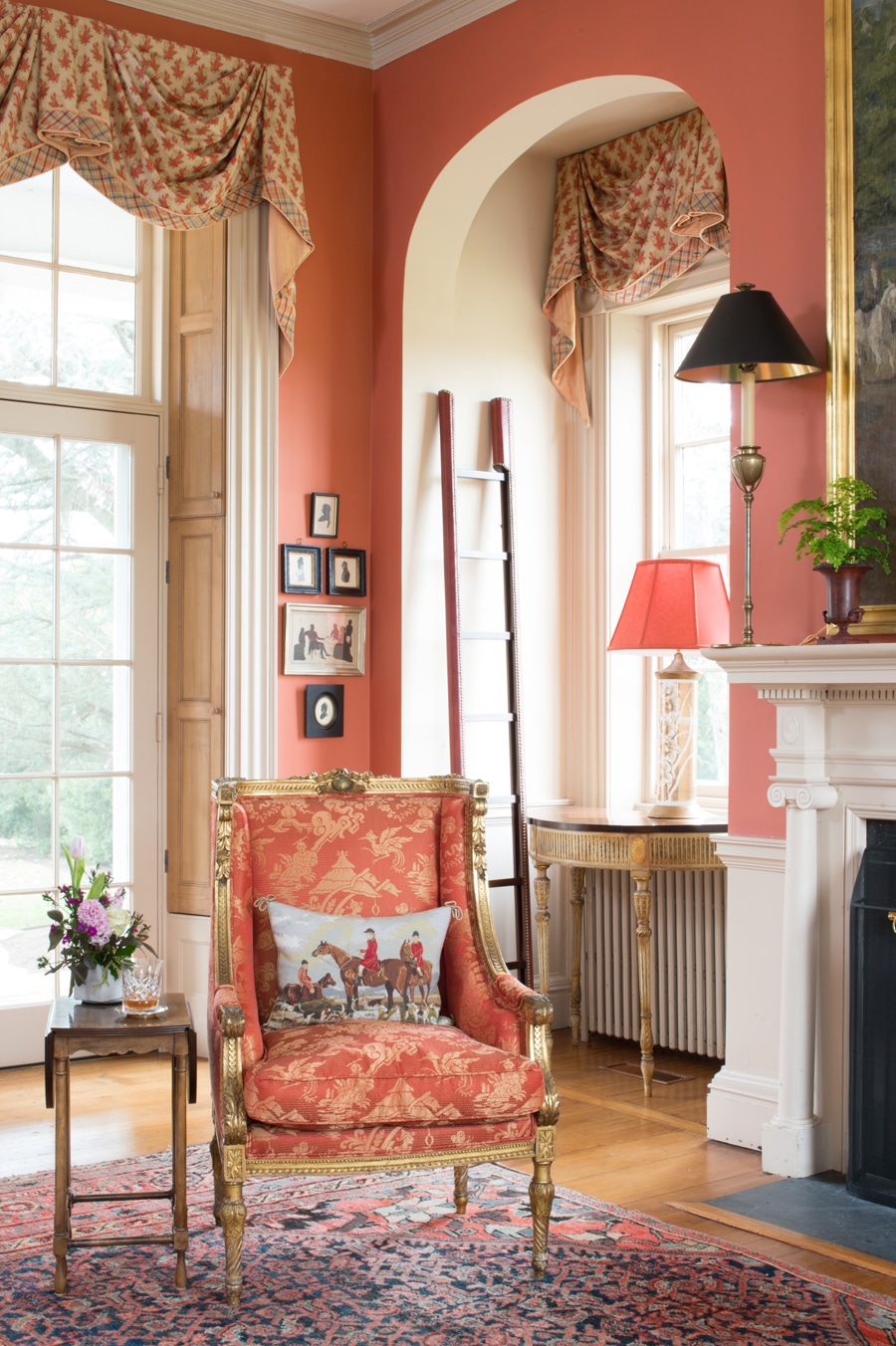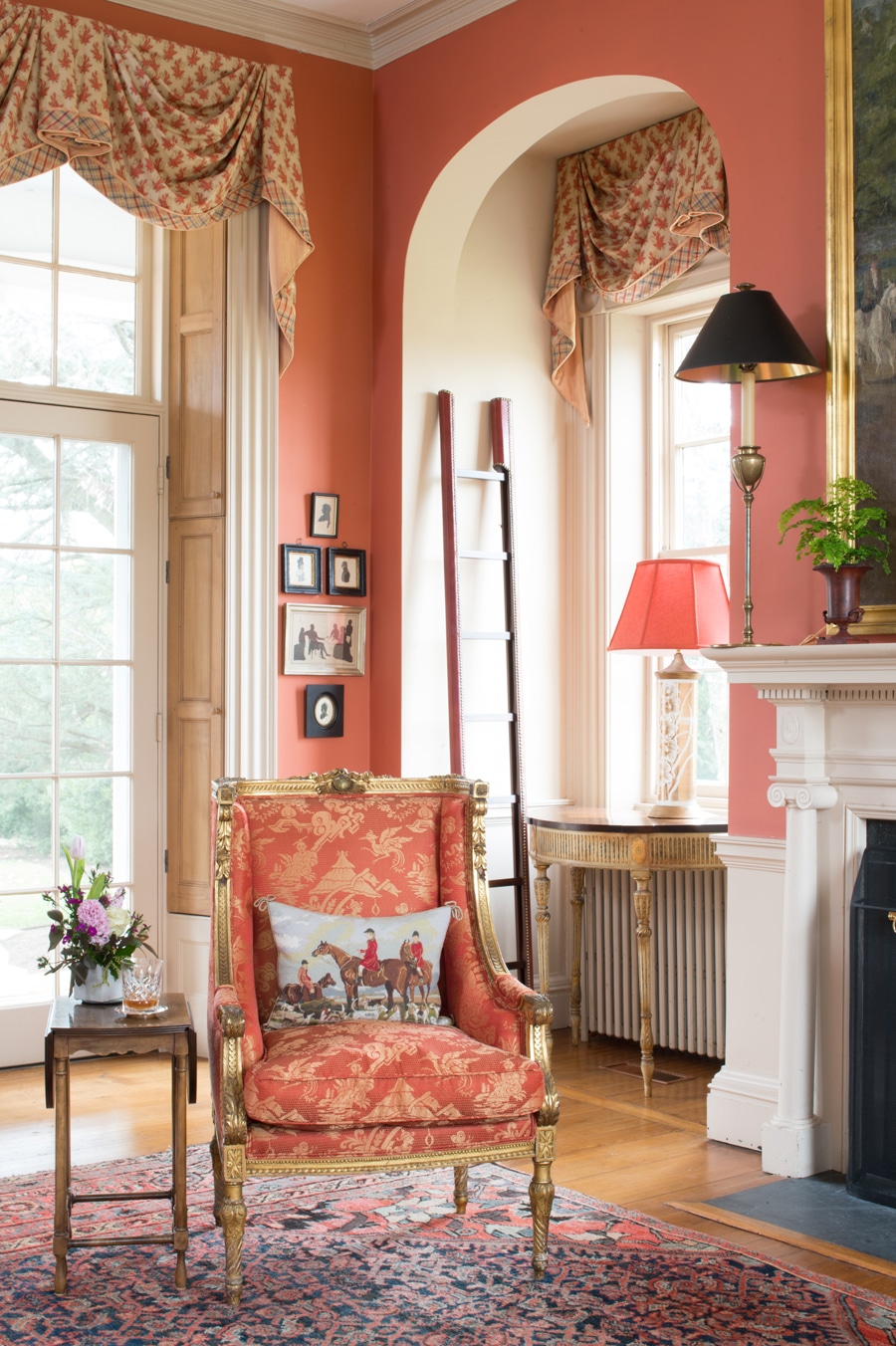 There are so many details to see when you visit a home such as Castle Hill, so we compiled a few of our favorite pieces. Be sure to check the new book for more antiques and furnishings to look for when touring the home.
Harpsichord: Located in the living room to the left off of the front hall, this replica of a harpsichord at nearby Monticello includes hand-painted dogwood blossoms (Virginia's state flower) on its interior (below, top left and bottom right).
Secretary: Located in the library, this antique is a fabulous addition to such a timeless room (below, bottom left).
Library chair: Also located in the library, this beautiful chair is upholstered in luxurious Christopher Hyland fabric (below, top right).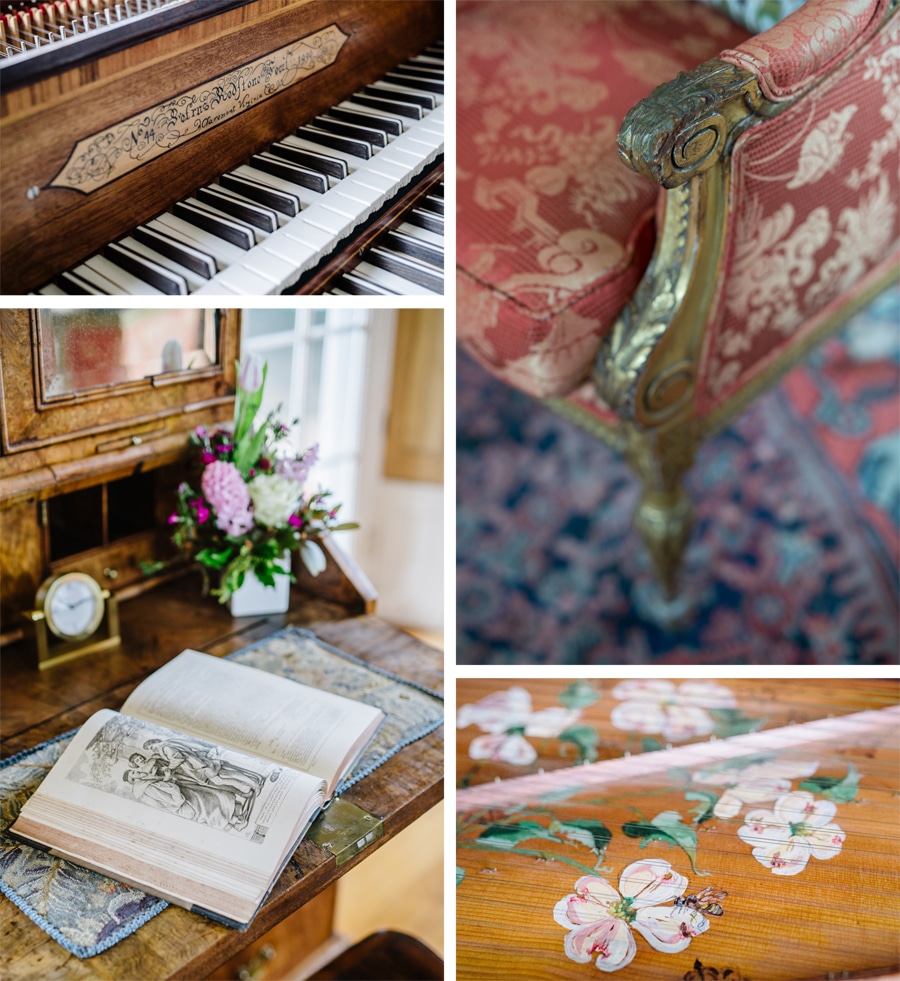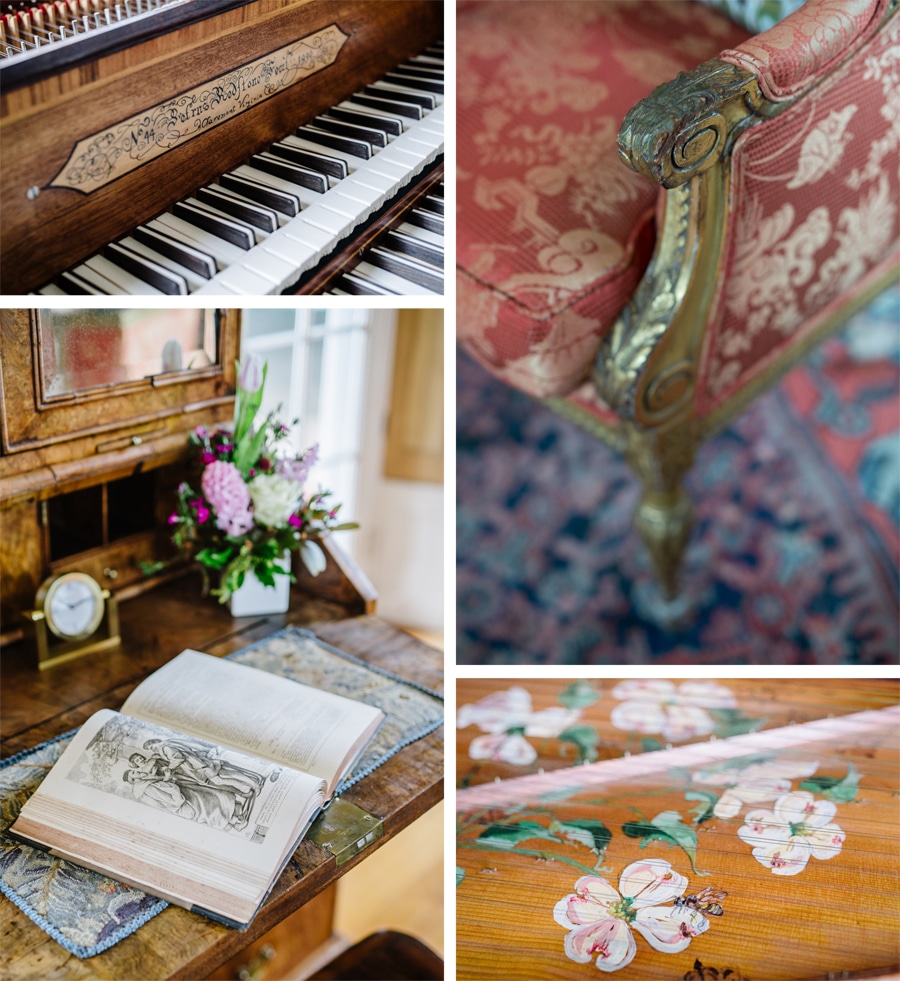 This year's Historic Garden Week will run from April 21–28 throughout Virginia. Homes and gardens in Albemarle County and Charlottesville will be showcased April 21–23, with Castle Hill open for tours on Sunday, April 22, from 10am–5pm. Visitors will be able to experience both the gardens and parts of this beautiful home. During the tour on Sunday, Castle Hill Cider will serve as the headquarters with tickets for sale, local architecture, horticulture and historical experts, vendors and food.
Click here to see the full feature on Castle Hill in the brand new Wine & Country Life. ~
Lead photo by Steve Trumbull, Courtesy of The Charlottesville Garden Club
Interior photos by Robert Radifera Photography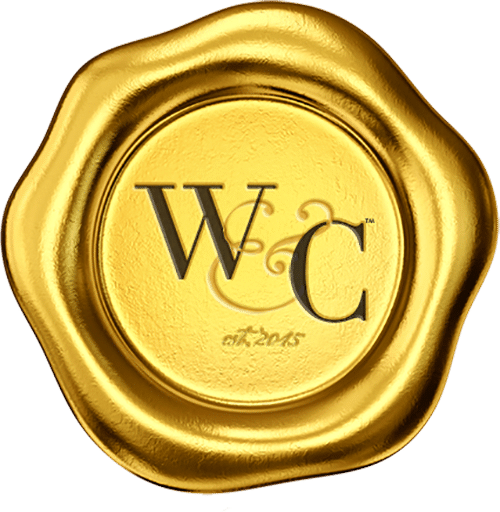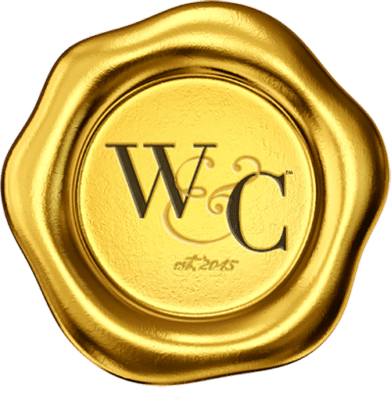 Wine & Country celebrates elevated living in Virginia Wine Country. Wine & Country Life, a semi-annual life & style magazine, and Wine & Country Weddings, an annual art book celebrating elegant Virginia weddings, are complemented by the Wine & Country Shop in Ivy, VA—a beautiful lifestyle boutique that brings the pages of the magazines to life. The Shop features over 40 Virginia artisans with everything from tailgating essentials and Dubarry attire to locally made foods and award-winning Virginia wines and craft beverages for your next event. Wine & Country covers the grape-growing foothills of the Blue Ridge Mountains from Lynchburg to Leesburg, including points in between like Charlottesville and Middleburg. Ivy Life & Style Media also creates other projects, including CharlottesvilleFamily.com, a collection of local resources including a popular calendar of events, family services guides and features on education, health and family day trips for parents and teachers in Charlottesville, as well as the CharlottesvilleWelcomeBook.com a guide to resources for Charlottesville tourists and newcomers.