Located 10 minutes west of Charlottesville, the Foxfield Races have been a staple of local history since 1977. Twice a year, spectators make the trek to the heart of Virginia. Their goal is to experience the beauty of the countryside and the excitement of the steeplechase. Before being a horse race course, the property was a local airport and a well known riding school. Even from the beginning, Foxfield land was full of equestrian spirit. Today, the turf track consists of 17 furlongs—just over two miles—of hurdles, hills and obstacles. With the spring races alone bringing in 12,000-13,000 attendees, Foxfield continues to be one of Virginia's most popular equestrian events.
What to Expect at Charlottesville's Foxfield Races
In the world of horse racing, Foxfield is one of the biggest steeplechase parties of the year in Central Virginia. Foxfield had been hosting steeplechase races in Charlottesville for over 40 years and are nationally recognized. Every spring and fall jockeys (along with their thoroughbred racehorses) come from all across the country to compete. Both the jockeys and the horses spend their time focused on the race ahead, so it's important not to pet or interact with the horses.
The culture of the steeplechase is one that a first time attendee may not be familiar with. Gambling at horse races is a Virginia tradition that originated in the 1600s. Betting at the Foxfield races is not as established as other Virginia horse race events. However, attendees interested in gambling can expect informal wagers to take place on the side among friends. In horse racing terms, the "purse" refers to the amount of money awarded to the winning racers in each event. Purses distributed to the winners of the races vary with each race and are a time honored tradition at a Virginia steeplechase. An increased purse attracts better riders, better horses and makes for an exciting experience for the spectators. The competitors come from all over the United States to take part in three types of flat racing: over terrain, hurdle races and timber races. Foxfield holds one flat race, one timber race and four hurdle races. The flat race is 1 ¼ miles, the hurdle races are 2 ⅜ miles and the timber race is 3 miles.
Tailgating and Food Options at the Foxfield Races
To properly enjoy Virginia horse racing, we recommend hosting a Virginia wine country tailgate. Tailgating is a longstanding Festive Horse Race Tradition at the Foxfield races. Alongside the steeplechase rail you'll find many attendees pitching up a tent and serving spreads of food and drink for friends and family. From elegant charcuterie boards to artisan pastry trays, the possibilities for creating a local farm-to-table spread are endless. Most tailgating is done on the infield where a small collection of vending stands are also available with food for sale. If planning to tailgate, we recommend purchasing a parking space on the rail or the infield. Choosing a Foxfield parking space in these areas allows you to take all your food, beverages and chairs with you. This lets you have a good view of the action while still enjoying the benefits of an elegant tailgate.
Parking at Foxfield Races
While the Foxfield Races are a great time for all, they are more than simply a tailgating party and steeplechase. Every year Foxfield donates a portion of the proceeds garnered from parking ticket sales to local charities. Foxfield is committed to making a meaningful difference in the local community. They have established long-term partnerships with Habitat for Humanity and Camp Holiday Trails. With parking options ranging from general admission to reserved parking, you can rest assured knowing that you've contributed to a great cause while enjoying a tailgate parked right next to the track.
Foxfield races tickets are available on their website, where you will find different parking options on the Foxfield map. In the Green section—known as general admission—expect to see established groups and families with children. The Orange section is where you will spot the majority of university students. The Blue section is a more relaxing spot from which to watch the races. Situated on the outside rail, the blue section also provides easy access for handicapped and mobility-impaired attendees. The pink and purple sections of the races are reserved for sponsors and patrons.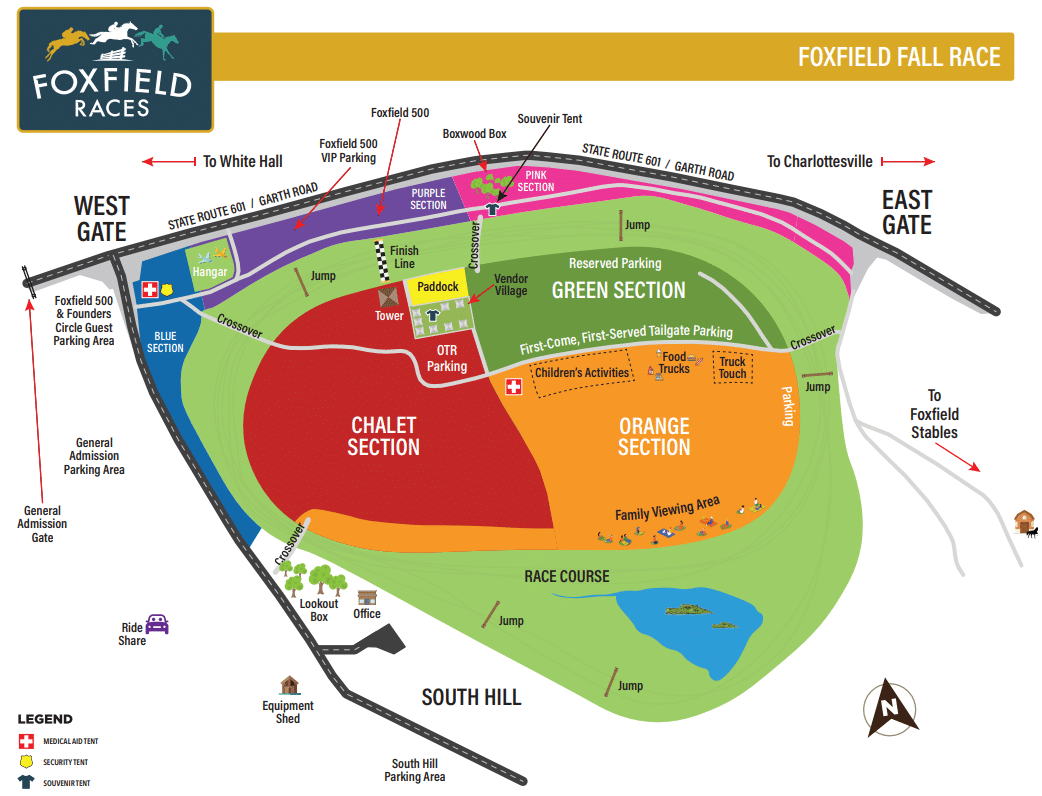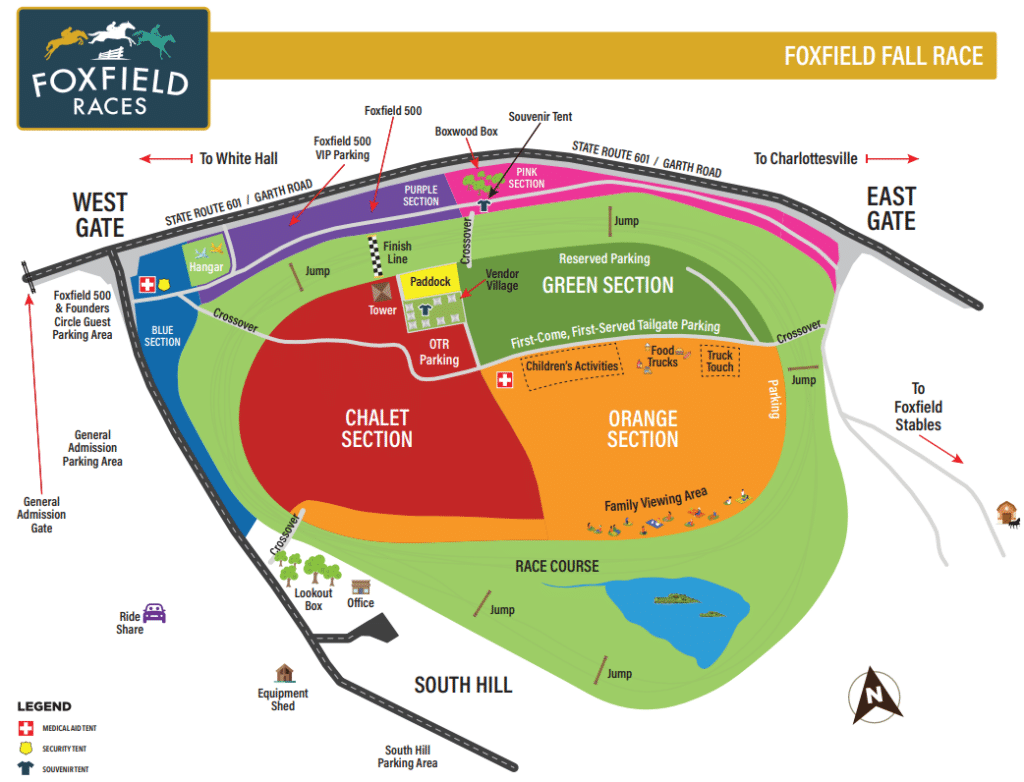 Celebrate the Seasons at the Foxfield Races
The Spring Races
The spring races, held at the end of April, tend to have a bigger crowd. With classes coming to an end at UVA, they are a popular event for the students. Tailgates and parties fill the inside field and the outer rail. Attendees of the spring race come mostly from Virginia colleges and universities. Students take the opportunity to relax and hang out with their fellow students in a "last hurrah" of the semester. The spring races draw in vivacious crowds anywhere between 12,000 and 13,000 and are a staple of Charlottesville's equestrian scene.
Colloquially known as "the biggest party of the year," the spring races are a popular place to drink with friends. With safety as the number one priority, Foxfield allows overnight parking and will open the gates at 9 am the following day for guests to retrieve their vehicles. They also organize special buses to make sure everyone gets home safely and to manage traffic flow efficiently. The Foxfield team encourages guests who have been drinking to find a ride home. It's important to establish a plan for transportation beforehand. Common options include reserving a trip through rideshare services like Uber and Lyft. Yellow Cab of Charlottesville is also a great option for safe transportation.
Foxfield Races and Family Day in the Fall
The fall races are more quiet and not as widely attended by UVA students. Foxfield encourages families to come out and enjoy the kid-friendly activities reserved for the fall races. Between pony rides, Jack Russell Terrier races and the gates opening up for tailgaters, there's something for every member of the family to enjoy. The Family Day takes place in early October, attracts around 2,000 to 5,000 spectators a year and is a popular Virginia fall race. With a relaxed atmosphere and emphasis on family participation, the fall Foxfield races make a wonderful weekend outing. Look for the Children's Tent in the green section for plenty of family friendly activities on the day of the races.
Tailgating is a longstanding Festive Horse Race Tradition, and we want to help you curate your own luxury spread. Read up on our expert tips so you, too, can Host the Ultimate Tailgate.
What to Wear to the Foxfield Races
Planning the perfect race day outfit is a steeplechase tradition, and we've compiled some tried-and-true tips on what to wear. People often wonder what to wear to a fall or spring steeplechase. If there's one thing we know about the Foxfield Races, it's that it's as much of a social event as it is a sporting event. UVA students and alumni, equestrian lovers and locals pack the field in a sea of natty bow-ties, seasonal sundresses and hats or fascinators. With a favorite cocktail in hand, attendees often mingle at themed tailgate parties held around the rail. Guests play cornhole and enjoy festive food spreads. The girls unleash their elegant inner Kate Middleton by often wearing Dubarry of Ireland or Lilly Pultizer fashion. The boys join them in sporting their preppy best, including seersucker, bold pastels and bright patterns, along with fun statement accessories.
Elaborate hats are a Foxfield tradition and a great way to bring out your inner fashionista. Monogrammed, feathered or floppy, a statement hat is a staple part of the perfect Foxfield outfit. Though the Foxfield races have no official hat contests, that doesn't stop the ladies (or some gentlemen) from dressing their best. Attendees plan outfits months ahead to ensure the perfect race day ensemble. Fashionable and durable footwear that will withstand the grass and dirt on the field is essential. This is possibly the most important element of what to wear to the Foxfield races. During the spring, the ladies can often be spotted wearing Hunter boots. The colorful boots are waterproof and durable, making them perfect for Foxfield. For the fall races, brands like Dubarry are popular. The comfort and practicality of their footwear makes them ideal for tailgating at the steeplechase.
This "dress to impress" notion is also seen at other horse-racing events throughout the year. This includes the Montpelier Hunt Races and the Virginia Gold Cup. During the fall horse-racing season, expect to see the guys in ties and the girls in pearls. Furthermore, ladies will don their favorite preppy attire in more subdued warm tones. Gentlemen wear sport jackets and khaki shorts with a patterned bow tie to accessorize. For outwear, it's always important to take the weather into account and consider bringing a light jacket.
The Foxfield Races continue to be a Charlottesville-area tradition and equestrian event that welcomes attendees back year-after-year. We hope our Guide to the Foxfield Races in Charlottesville has inspired you to start planning your tailgate at this year's event.
Tailgate Etiquette: Tips for Being a Great Guest
Want a cheatsheet for how to be the ultimate guest at your next tailgate? Download our Wine & Country Guest Guide to the Steeplechase Races by clicking the image below.
To read more about Virginia wine country lifestyle, see our Equestrian and Sporting Life section. For even more tailgating and entertaining tips, explore our Style & Culture page. Enjoy steeplechase season with the best equestrian style and tailgating tips. ~
NADIRAH MUHAMMAD is a graduate of George Mason University's Rhetoric & Writing Studies Program and serves as editorial assistant with Ivy Life & Style Media. She is dedicated to exploring the world through writing and adding eloquence to everyday life.
R. L. JOHNSON is our co-publisher and creative director. Bethke studied at the prestigious ArtCenter College of Design and began her career as a professional photographer in Los Angeles. She moved into graphic design and art direction when she relocated to Charlottesville in 1994. As our company's co-founder and visionary, she enjoys all aspects of storytelling.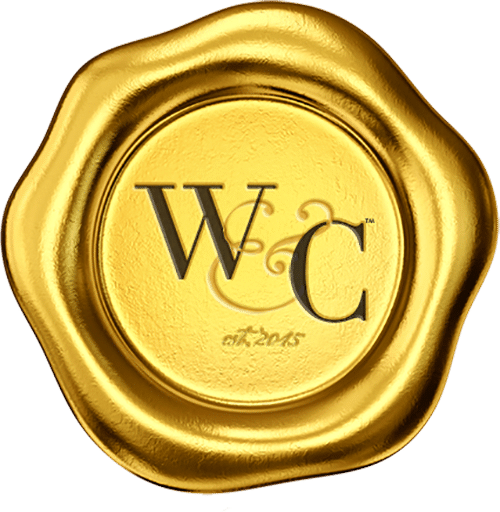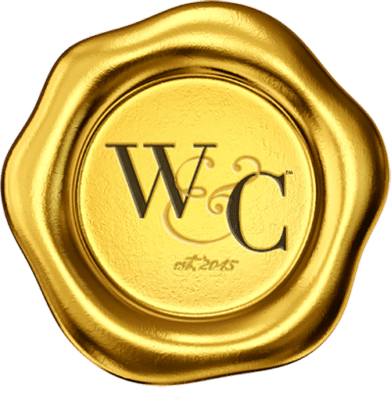 Virginia Wine & Country celebrates elevated living in Virginia Wine Country. Virginia Wine & Country Life is a semi-annual luxury print magazine with a full digital presence. The Virginia Wine & Country Gold Book is an annual guide to the top award-winning wines, wineries and experiences in Virginia Wine Country. The annual Virginia Wine & Country Wedding Planner is an art book of elegant Virginia weddings. The brand includes the Virginia Wine & Country Shop in Ivy, Va. It is a beautiful lifestyle boutique that brings the pages of the magazines to life. Virginia Wine & Country tells the stories of Virginia wineries, the farm-to-table movement, luxury travel, entertaining, art and the elegant country lifestyle. Ivy Life & Style Media also provides branding, web design and PR services for the wine industry.