With the Dave Matthews Band celebrating their 25th anniversary over the next few weeks in the town where it all began right here in Charlottesville, we kicked off the festivities by enjoying Blenheim Vineyards first ever Library Series Dinner. Blenheim is the dream project of owner and renowned musician Dave Matthews himself, who is famously committed to healthy food communities, from implementing sustainable vineyard practices to actively serving on the board of Farm Aid. Teaming up in the kitchen for the evening were popular chefs, Matt Greene of JM Stock Provisions and Tristan Wraight of Oakhart Social. The inaugural affair was all coordinated splendidly by local favorite, Hill and Holler, a roving farm dinner event company that brings together the farm-to-table community around Charlottesville, and we were delighted to join them.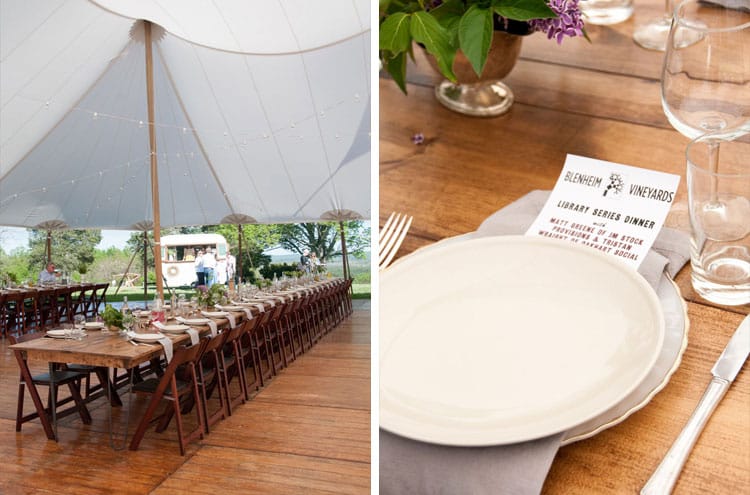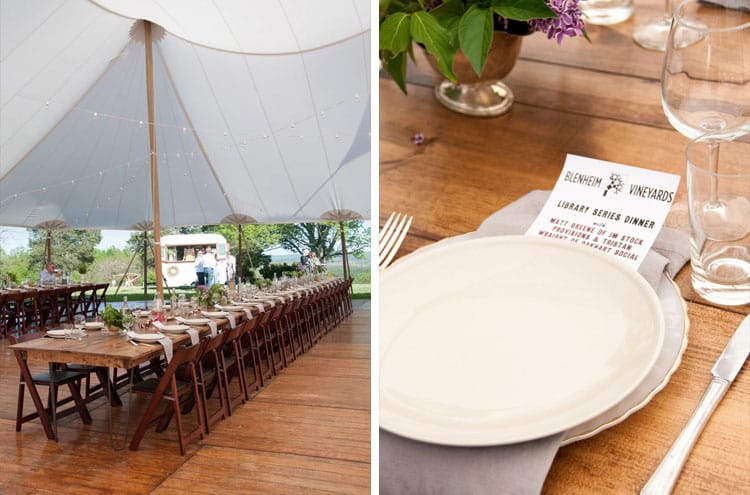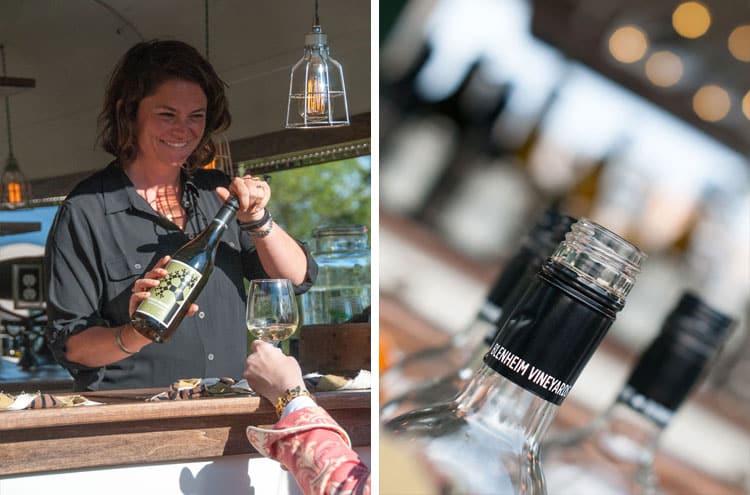 Upon arriving to the vineyard, we were greeted in the library by the cheerful Tracey Love, a member of Blenheim's team and co-founder of Hill and Holler. Heading back outside, we ventured to a vintage wine trailer, a mobile serving station of The Cozy Caravan Club, where Blenheim's amazing winemaker, Kirsty Harmon (above), was pouring. We especially enjoyed the perfectly balanced chardonnay, Kirsty's first wine with the vineyard. She mingled with guests throughout the evening, sharing that while her primary goal is to make wines to enjoy in the "here and now," it is also satisfying to make wines that age splendidly and can be enjoyed for years to come. We overheard her describing the exceptional wines available throughout the evening to guest Kath Younger (as seen below), local Charlottesville food blogger.
Born in the Netherlands, Kirsty's winemaking career began after studying with famed winemaker Gabriele Rausse, owner of Gabriele Rausse Winery and director of gardens and grounds at Jefferson's Monticello and earning an M.S. in Viticulture and Enology at UC Davis, all before apprenticing at wineries in France and New Zealand.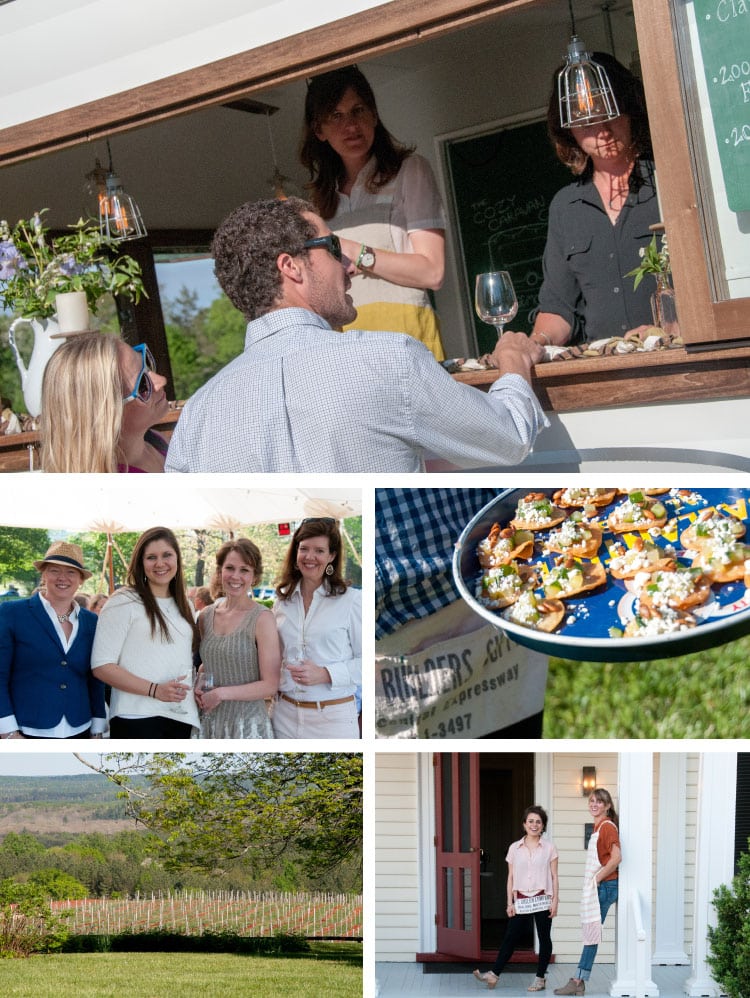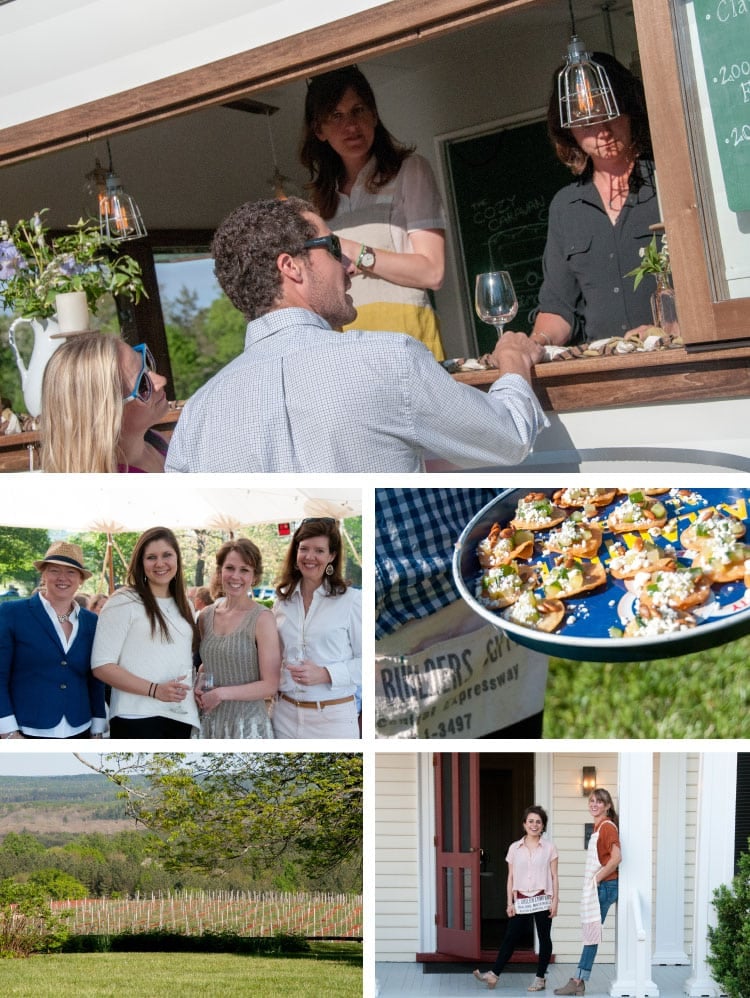 Guests meandered around the property enjoying the beautiful vineyard and mountain views, and munched away on the creamy goat's cheese and cucumber canapés, served by the terrific catering team in their charming pinafores. The perfect Virginia spring evening was complete with a local bluegrass quartet playing softly in the background. Dating back to the 1700s, the Blenheim property was used as farmland before being acquired by the Matthews, who turned it into the vineyard and winery it is today. Now inextricably linked to the musician, the business is a family affair, with members of the Matthews family managing the day-to-day responsibilities. Matthews himself enjoys and contributes regularly to the operations on the property, from co-designing the architecture of the eco-friendly tasting room to hand-drawing the Painted label series.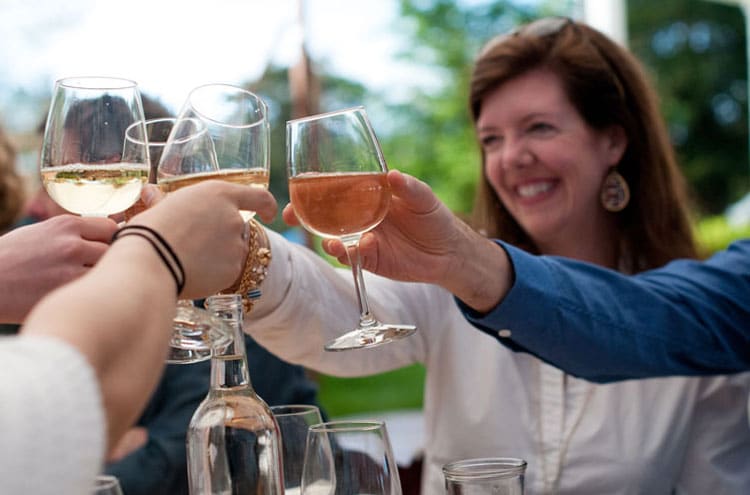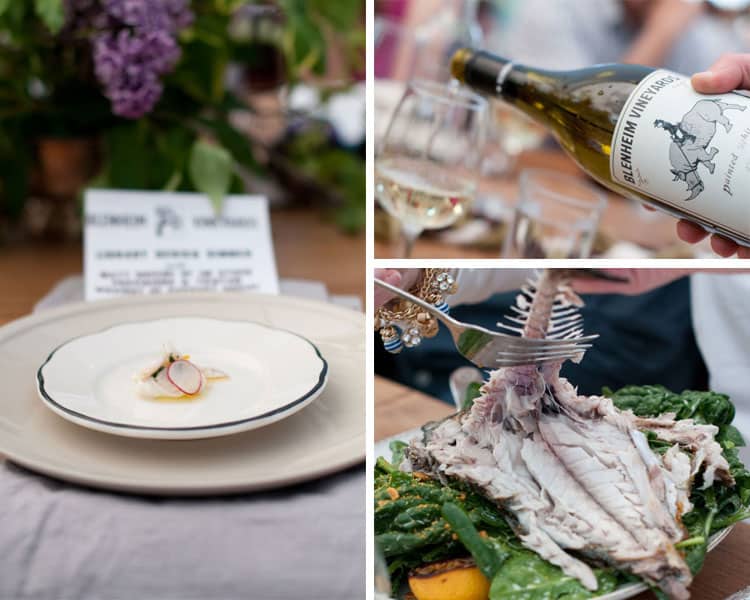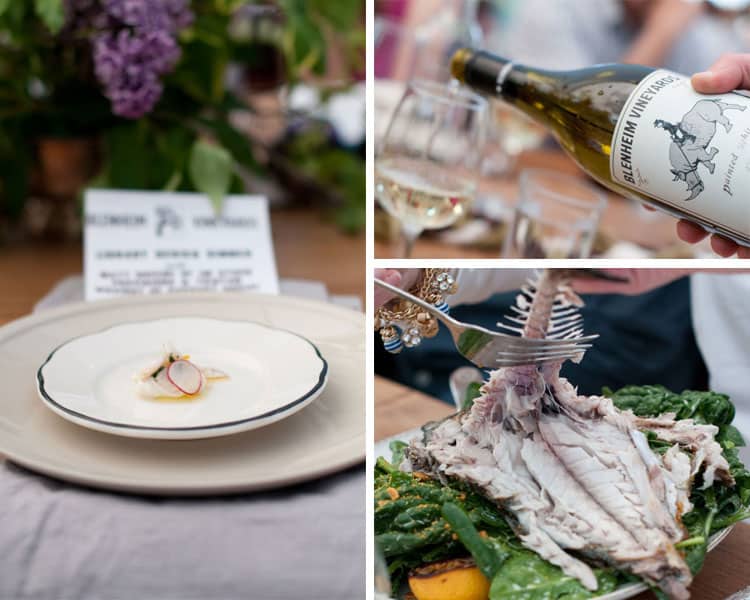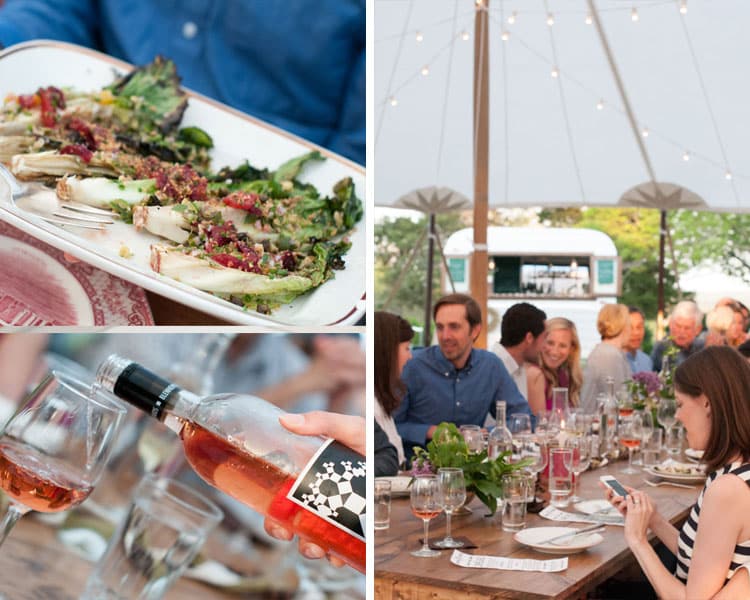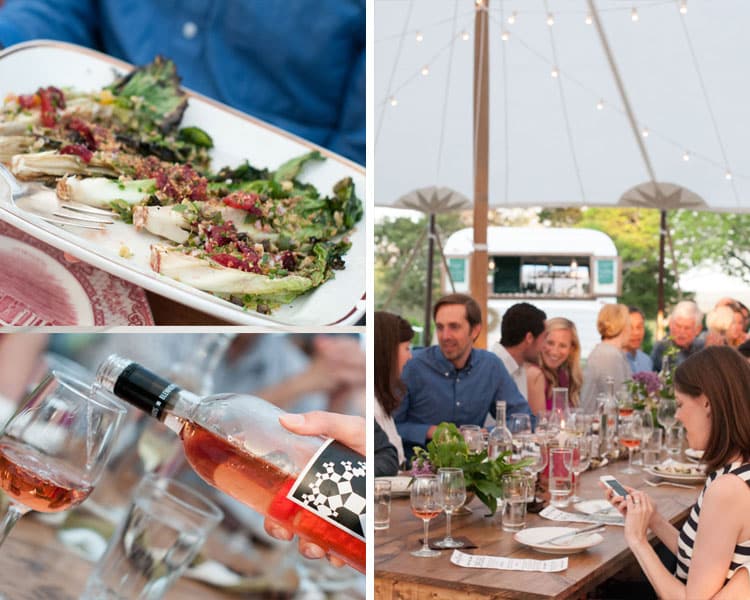 The five-course family-style dinner began with a delicate seafood amuse-bouche, followed by a richly flavored grilled bluefish salad with tarragon dressing. The course was paired with Blenheim's 2014 Painted White, named so because it is part of the exclusive reserve series sporting one of Dave Matthews hand "painted" labels that he creates art for each year. The refreshing elements of the wine perfectly complemented the curried almonds and citrus notes on the salad, each flavor becoming cleaner when juxtaposed. Our next course was individually grilled escarole salads, offset with salty capers and olives and paired with a crisp 2015 Rose—winemaker Kirsty's newest addition to Blenheim's line of wines and our senior editor Sarah's top choice of vino for the evening!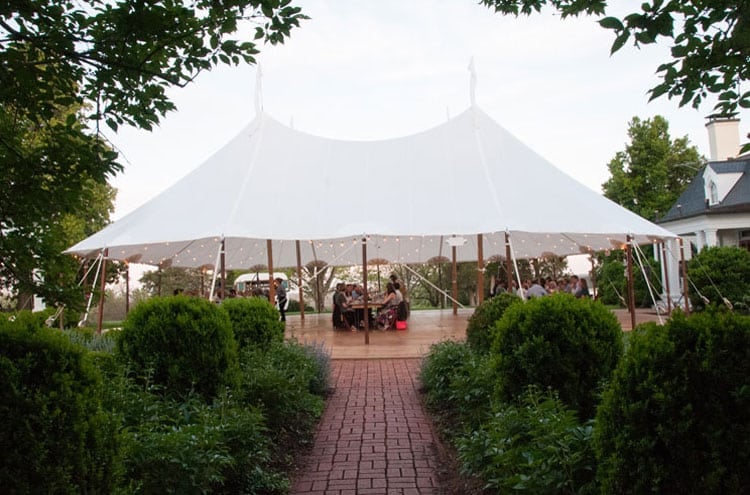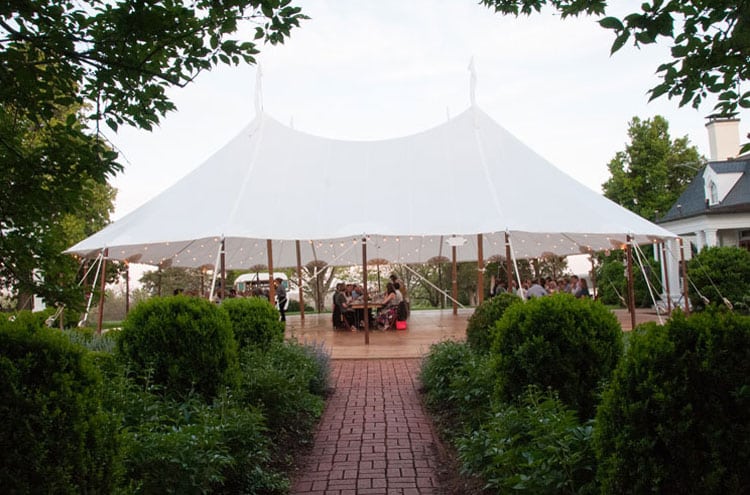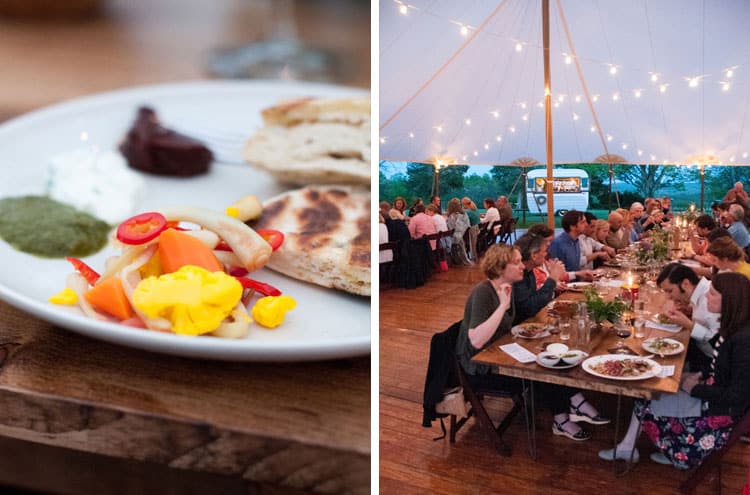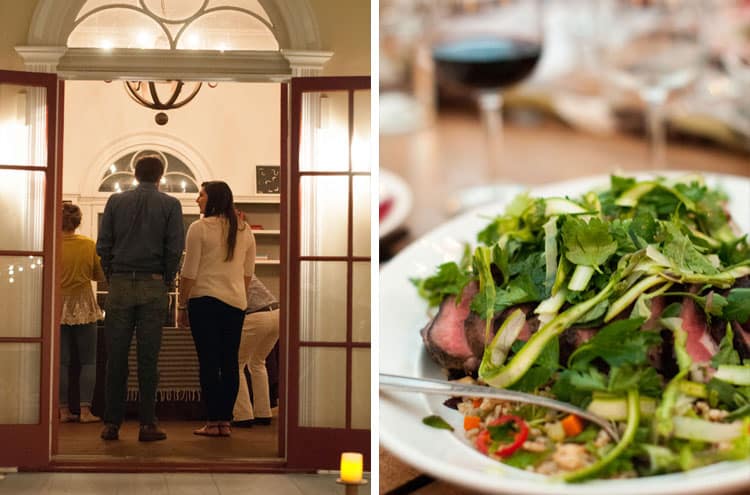 The main course—lamb served two ways over a bed of savory barley—was a crowd-pleaser, especially to our editor-in-chief and barley enthusiast Jen. Sides of char-grilled naan bread were accompanied by colorful, pickled vegetables that packed a surprising spicy punch, and a trio of dipping sauces. Paired with a rich 2012 Cabernet Sauvignon—a newfound favorite for our red wine-loving online editor Mandy—the course had something for everyone.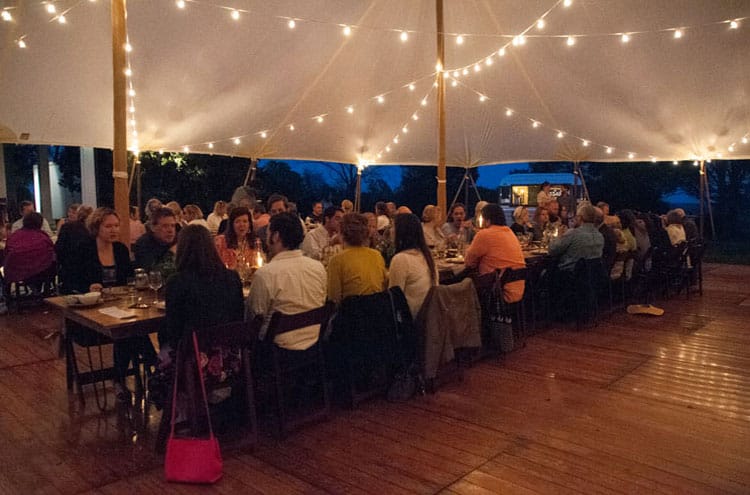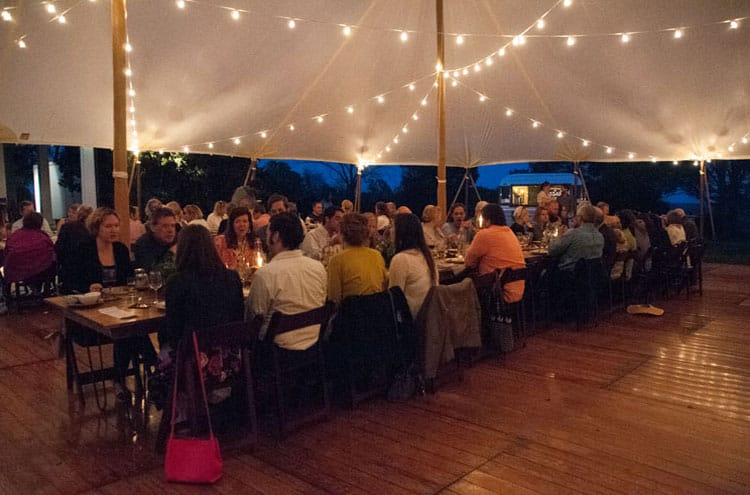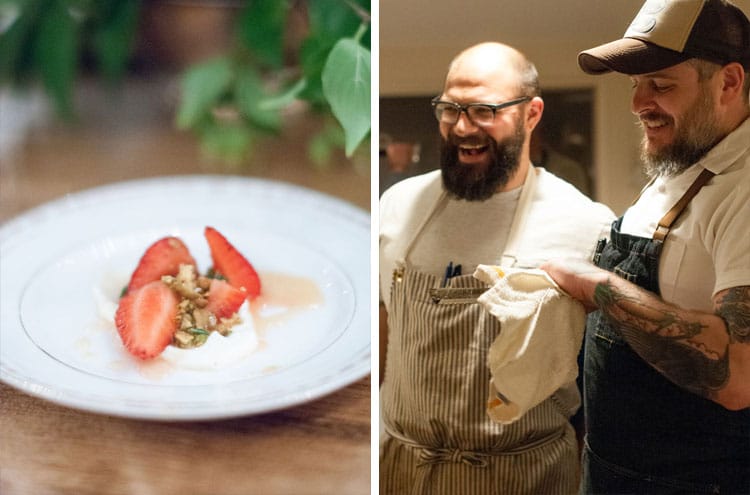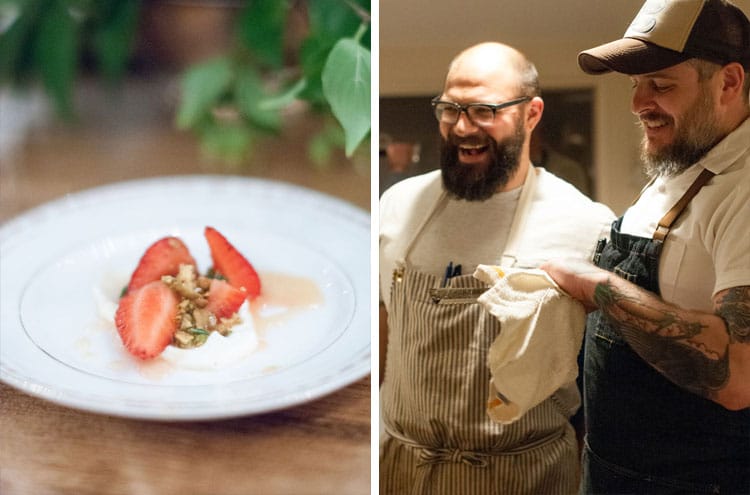 As the sun descended, the strands of bulbs adorning the inside of the tent and candles scattered amongst the tables added a wonderful warm glow to the magical evening. We helped ourselves to coffee in the library, perfect in the cool spring air, as they served the final and sweetest course of the evening—the season's first fresh strawberries drizzled in finger-licking, flavorful honey atop a bed of whipped ricotta. Our staff loved this dish a little too much some might say that we were caught on camera licking our plates by our delightful dinner companion and local blogger Kath of Kath Eats Real Food.
As the evening wound down, we snuck into the kitchen to personally thank chefs Matt and Tristan (above). Matt is the co-owner of JM Stock Provisions, Charlottesville's only whole-animal butcher shop and provider of the night's delicious sustainable Virginian meats. Tristan is the founding chef of Oakhart Social and self-admittedly thrives on big, unique flavors and stunning presentations. We could not have asked for a more perfect culinary pairing or more remarkable evening.
Blenheim Vineyards is gearing up this week for the 25th Anniversary festivities of our local band-gone-huge, the Dave Matthews Band (of course!). Many locals can still remember Dave bar-tending downtown or the band playing at Trax. Some locals even have connections to the band member's kids at school or have personally run into Dave around town. The band is kicking off their celebratory tour here in their hometown, with a benefit concert at the John Paul Jones Arena on May 7th. Proceeds from the concert will benefit the Charlottesville community through the band's generous Bama Works Fund.
Join us over the next couple of weeks as we show some love to DMB, still local in our hearts and minds, and head to Blenheim Vineyards over the concert weekend to celebrate. You can find details to plan your experience on Blenheim's website. A HUGE thank you to Tracey Love of Hill and Holler for creating such a beautiful evening for us all and her always gracious hospitality. We can't wait to see what Hill and Holler will do next, but one thing is for sure, we'll be right there supporting it! ~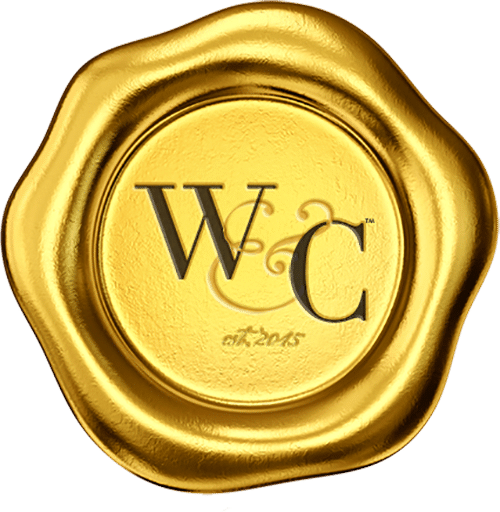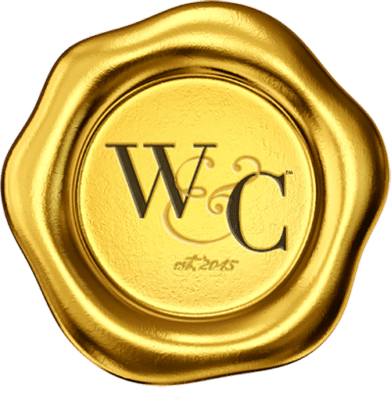 Wine & Country celebrates elevated living in Virginia Wine Country. Wine & Country Life, a semi-annual life & style magazine, and Wine & Country Weddings, an annual art book celebrating elegant Virginia weddings, are complemented by the Wine & Country Shop in Ivy, VA—a beautiful lifestyle boutique that brings the pages of the magazines to life. The Shop features over 40 Virginia artisans with everything from tailgating essentials and Dubarry attire to locally made foods and award-winning Virginia wines and craft beverages for your next event. Wine & Country covers the grape-growing foothills of the Blue Ridge Mountains from Lynchburg to Leesburg, including points in between like Charlottesville and Middleburg. Ivy Life & Style Media also creates other projects, including CharlottesvilleFamily.com, a collection of local resources including a popular calendar of events, family services guides and features on education, health and family day trips for parents and teachers in Charlottesville, as well as the CharlottesvilleWelcomeBook.com a guide to resources for Charlottesville tourists and newcomers.