The former Blackthorne Inn in Upperville, Virginia, is currently in the process of being reimagined by Easton Porter Group, who bought the property in 2016. Projected to open in 2021, the inn promises to become a place of relaxation, refreshment, and inspiration. Organic gardens are being developed in order to supply the property with the freshest produce, herbs, and flowers—a signature priority of Easton Porter Group. Additional goods and ingredients will be sourced from local vendors and purveyors. This farm-to-table and local sourcing initiative can be seen in practice at other properties under the group, including Pippin Hill Farm & Vineyards.
Ahead of the inn's reopening, we asked the group to share a few dishes similar to those we can expect the inn's restaurant and pub to be serving. In the coming months, we will be sharing a few of these delectable recipes that encapsulate Easton Porter Group's commitment to gourmet and locally-sourced fare, as we eagerly await the inn's official menu debut in 2021. Enjoy!
Cassoulet with Oyster Mushrooms Recipe
By Ian Rynecki – Corporate Executive Chef – Easton Porter Group
Yield: 6 servings
Ingredients:
1 pound Tarbais beans, dry (or cannellini)
3 tablespoons Salt
6 ounces Slab bacon, cut into ½ inch cubes
1 pound Boneless pork shoulder, cut into 1.5 inch cubes
1 pound Fresh pork sausage, cut in half lengthwise
1 each Onion, large, finely diced
.5 pound Oyster mushrooms, cut into 2-inch pieces
6 each Cloves
2 each Bay leaves
4 sprigs Thyme
4 sprigs Parsley
As needed Butcher's twine
1 each Carrot, peeled, cut into 3-inch sections
2 stalks Celery, cut into 3-inch sections
1-2 each Cloves elephant garlic
1 28 –ounce can Peeled tomatoes
1 quart Chicken stock, plus more as needed to rehydrate
4 pieces Duck confit, cleaned into large chunks, bones reserved
Procedure:
To begin, cover beans with 3-quarts water and add 3 tablespoons salt. Stir to combine and let sit at room temperature overnight. Drain and rinse the beans, set aside.
Using a wide stainless steel pot, sear the bacon over low heat, rendering out the bacon fat, about 8 minutes. Remove from the pan. Sear the pork shoulder in the same pan, cook for 5 minutes until the pork begins to brown. Flip over and cook for an additional 5 minutes. Remove from the pan.
Sear the sausage, cut side down, for about 2 minutes. Flip and cook for an additional 2 minutes. Remove sausage from the pot and set aside with the remainder of the cooked meat.

Add onions and mushrooms to pot and cook for 5 minutes. Tie the clove, bay leaf, thyme and parsley together using butcher's twine. Add the bundle to a pot with drained beans, carrot, celery, garlic, tomato product and chicken stock. Bring to a simmer over high heat. Reduce to low, cover pot and cook until beans are almost tender, about 45 minutes.
Remove the aromatics (carrots, celery, bay leaf, clove, and parsley mixture). Add bacon, pork shoulder, duck confit, and sausage to pot, stir. Transfer to a 300-degree Fahrenheit oven and cook, uncovered, until a thin crust forms on top, about 2 hours, adding more chicken stock as needed. Continue to cook for an additional 2 hours, until a nice brown crust has formed on the top.
---
And what is any meal without its complementing wine? Corporate Executive Chef Ian Rynecki recommends pairing this dish with Easton Blue from Pippin Hill Farm & Vineyards, noting "In this dish the earthy mushrooms demand a fruit-forward tannic wine like our Easton Blue." ~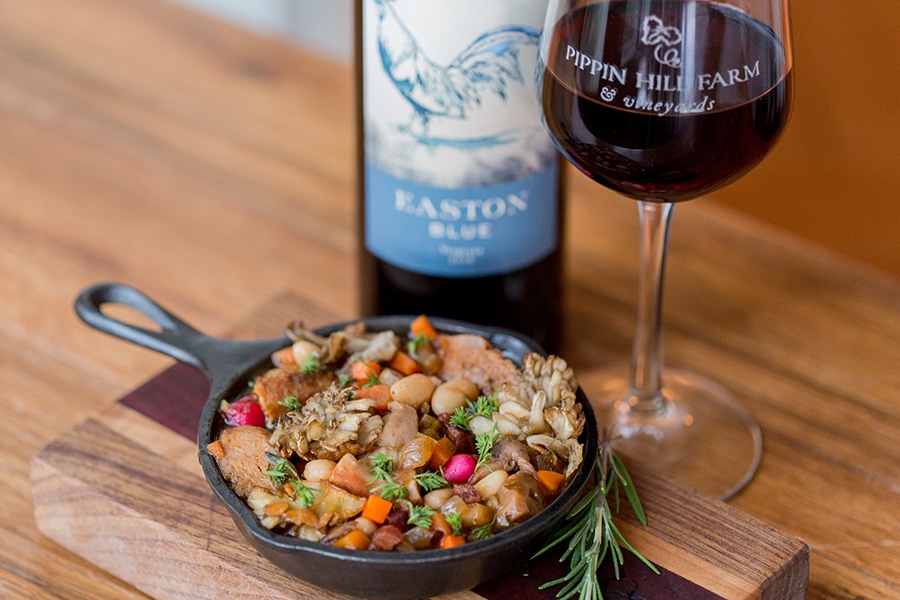 Photos by Kate Greer, Courtesy of Easton Porter Group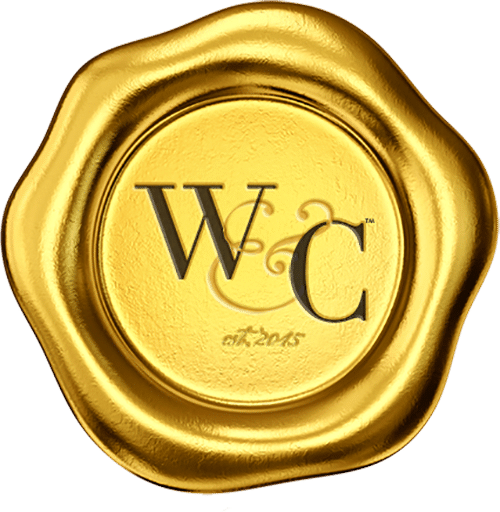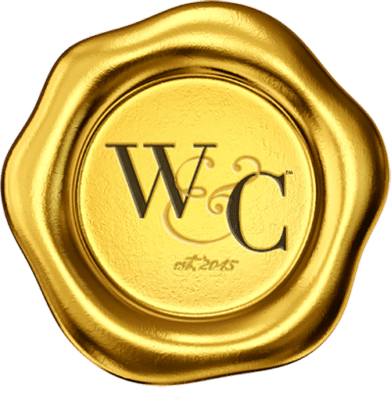 Virginia Wine & Country celebrates elevated living in Virginia Wine Country. Virginia Wine & Country Life is a semi-annual luxury print magazine with a full digital presence. The Virginia Wine & Country Gold Book is an annual guide to the top award-winning wines, wineries and experiences in Virginia Wine Country. The annual Virginia Wine & Country Wedding Planner is an art book of elegant Virginia weddings. The brand includes the Virginia Wine & Country Shop in Ivy, Va. It is a beautiful lifestyle boutique that brings the pages of the magazines to life. Virginia Wine & Country tells the stories of Virginia wineries, the farm-to-table movement, luxury travel, entertaining, art and the elegant country lifestyle. Ivy Life & Style Media also provides branding, web design and PR services for the wine industry.