Host the perfect beautiful and elegant holiday party this season with touches of rich gold, natural lighting and fir tree boughs. Mixing luminous golden touches with natural elements will add the perfect touch of romance to your winter parties. From your attire to table setting, the shimmer brings forth elegance and sets the tone for a delightful celebration your guests will enjoy.
Hosting at Mount Pleasant Manor
An enticing approach to hosting an elegant holiday party this season is holding it in a beautiful country venue, such as the inviting Mount Pleasant Manor at Mount Ida Reserve. Built in 1810, the Jeffersonian-style Manor is part of the Reserve's 7,000 acres of sanctuary land in the hills of High Ridge. The handsome Manor boasts large white pillars, wide green lawns, porches overlooking scenic vistas and access to the Hardware River and surrounding countryside. Panoramic mountain views, as well as, luxurious guest accommodations create an envious and relaxing getaway to share with friends and family.
Especially popular with city dwelling couples, venues like this are impeccably located in the heart of Virginia Wine Country, often on the vineyard properties themselves. Opened in 2018 on the Mount Ida Reserve, guest can now experience both the onsite vineyards and brewery. The vineyards span 27 acres and can be seen from the historic Mount Ida Manor. Treat guests to one of the small batch high-quality wines during your holiday dinner, like their 2022 Governors Cup Gold Medal Winning Wine, the 2019 High Ridge Reserve Red.
Host the perfect beautiful and elegant holiday party this season with touches of rich gold, natural lighting and fir tree boughs. Mixing luminous golden touches with natural elements will add the perfect touch of romance to your winter parties. From your attire to table setting, the shimmer brings forth elegance and sets the tone for a delightful celebration your guests will enjoy.
Elegant Holiday Party Fashion
When hosting an all-inclusive holiday event, it's the perfect time to embrace the richness of the setting by breaking out your favorite party attire, like this classic pearl white gown by Aidan Mattox embellished with a glittering starburst pattern. Choose accessories that incorporate the dazzling wintry theme, like golden jewelry in seasonal shapes and patterns.
For the men, a deeply colored suit and an intricate handmade belt and watch by La Matera will give just the right amount of dash.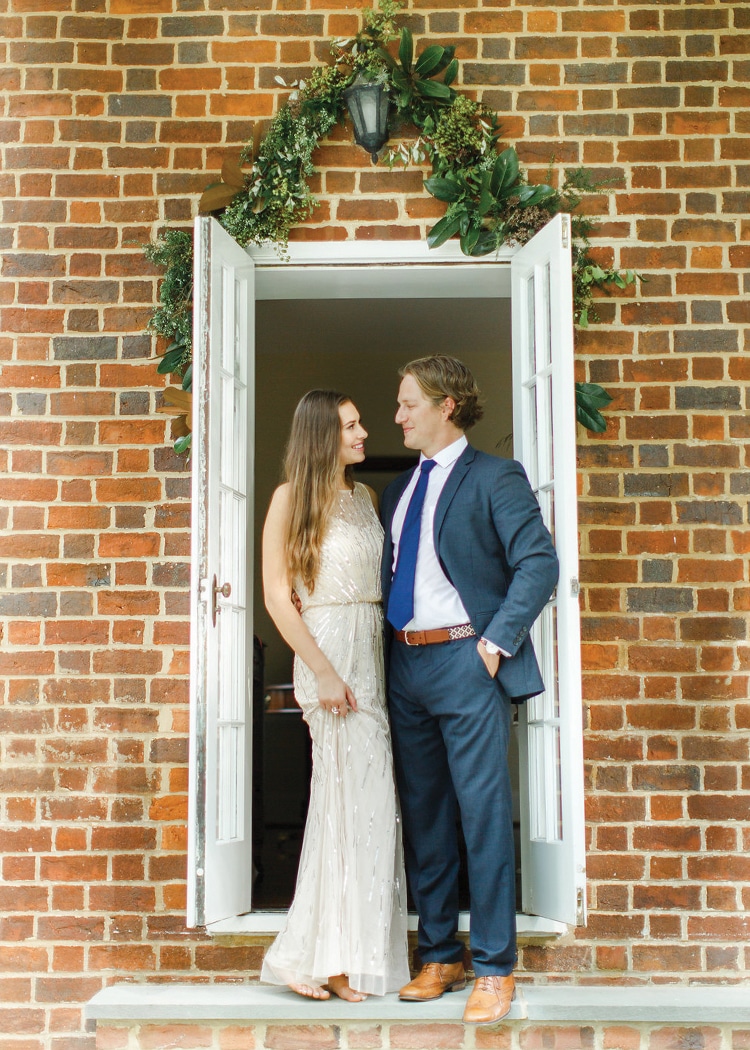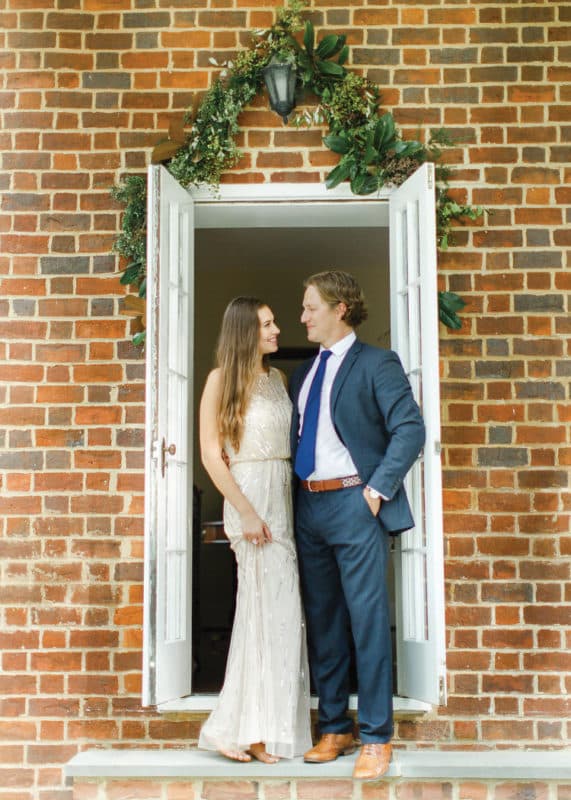 Setting an Elegant Table
Winter offers ample opportunities to create an entertaining atmosphere exuding rustic glamor. Authentic natural elements like antlers give décor an amazing sculptural quality that can be incorporated from the stationary to centerpieces. Using these organic pieces in tandem with golden elements will capture the spirit of the season while radiating elegance.
In setting a spectacularly elegant holiday party table, begin with choosing your gold pieces to feature—such as flecked goblets and gold-rimmed plates. Tapered candles and delicate votives cast a glow on guests' place settings, dancing gracefully over the glittering touches while also keeping the lighting provincial. Including greenery plucked right from your garden adds homey accents, and brings the feel of the season into your table along with their nostalgic fragrance. Arrange a variety of winter greens for the foundation of your floral display and add some berries, pinecones, late blooms and seed heads in a decorative manner. Include beautiful modern arrangements throughout the room to fully encompass the elegant sensation of the evening. Placing pieces on the mantel, on side tables and coffee tables, backs of chairs and at each place setting, are small touches that will harmonize the décor while appearing effortless and relaxed.
Linens in popular colors like this blush pink give your table a fresh welcoming appeal and coordinate well without overwhelming the notes of gold. When choosing a pastel color palette, you can balance it with beautiful red tones, which bring to mind traditional holiday design. Stick with hues that are found in nature to maintain a seasonal ambiance. Handfuls of chestnuts or berries scattered amongst the adornments are simple inclusions. Your guests will be delighted by the attention to detail as they find feathers interspersed throughout the flora, or arranged in centerpieces, complementing the warmth of the gold.
The Tradition of Gifts
When we think of the holidays, we think of floors strewn with boxes and bags, cascades of glittering ribbons on packages, and the warm feeling we get when we give something truly meaningful. Gift giving is not new. People throughout the world have been giving and receiving gifts since the start of civilization, many times to express affection or symbolize a particular bond with another. In Japan, it is polite to give or receive a gift with both hands. In China, a person may refuse a gift three times to express manners. In ancient Rome, emperors received gifts during the festival of Saturnalia, held on December 17th.
While there are many traditions throughout the globe linking gift-giving to the holiday season—the celebration of the end of the harvest, the winter solstice, or the coming new year—it wasn't until the early 1800s that the holiday giving season evolved into today's customs. The rising middle-class and the ability to mass-produce items, such as toys, lead to the popularization of commercialized gifts and even the concept of Santa Claus as we know it.
Including a special surprise for your party guests, like small gifts, will be an extension of the evening's magic and remembered for years to come. Gifts wrapped in gold like traditional British party crackers, also become lovely ornamentations to your scene. Plush wide ribbons with feathers and a sprig of fragrant rosemary tucked thoughtfully into each package will enchant your guests. Choose small elegant gifts to mirror the evening's atmosphere—cuff links for the men and gold stud earrings for the ladies.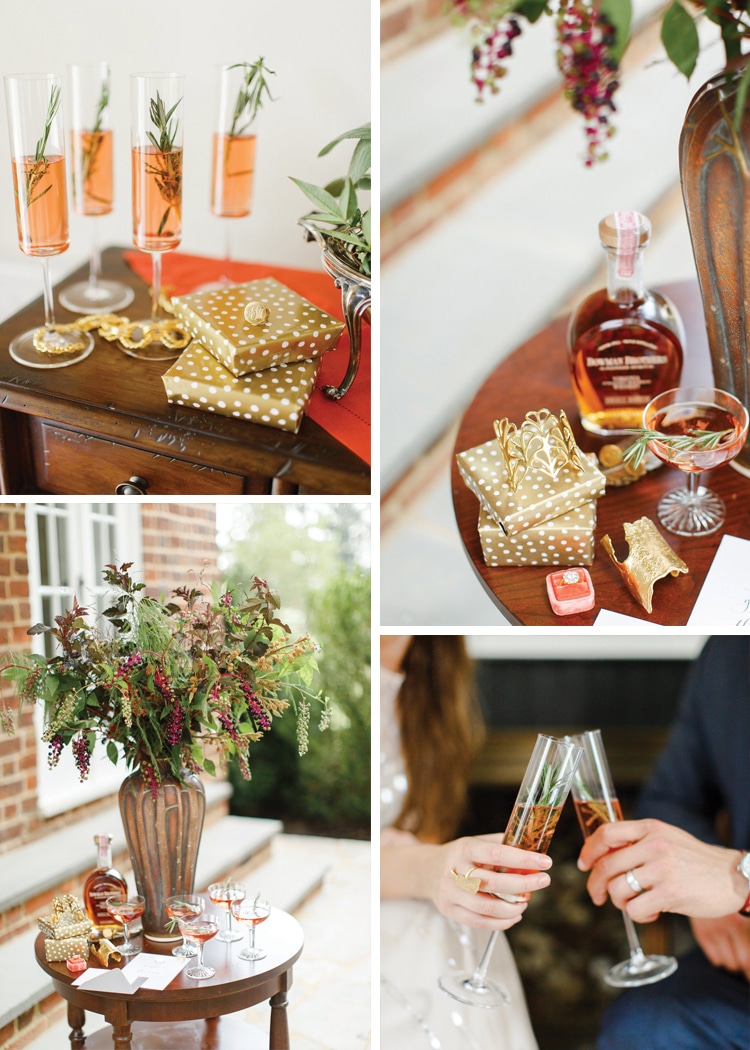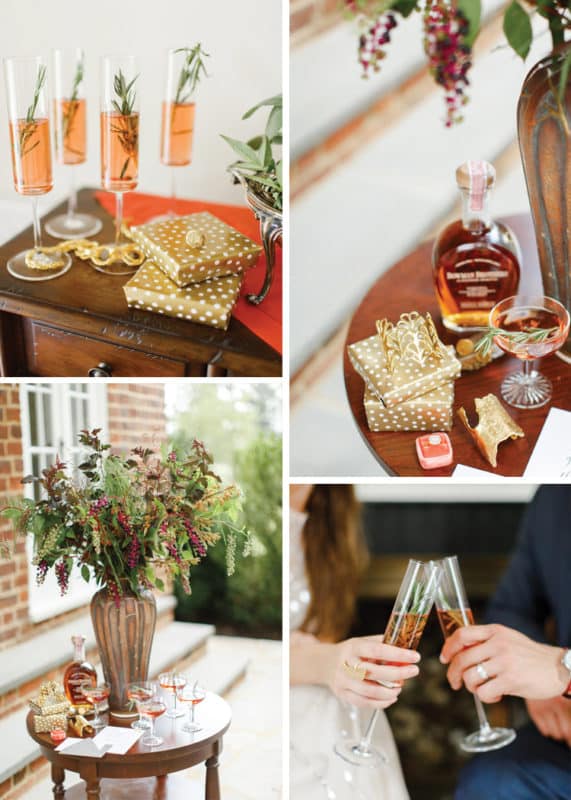 Enjoy Your Elegant Holiday Party
Gilding your party décor with touches of romantic gold and bringing in the rustic charm of natural elements is the perfect way to create an elegant tablescape for entertaining your guests this season. Most importantly, once the décor is set, you can relax and enjoy the celebration.
Create the perfect greenery pieces for your holiday party with our beautiful wreath guide.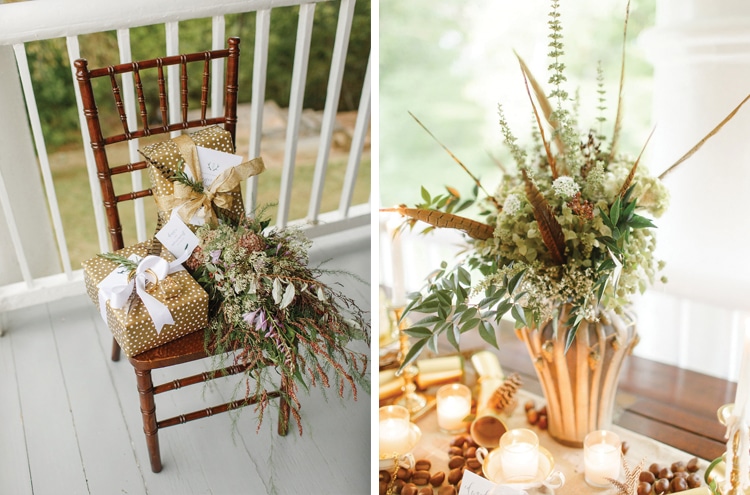 Creative Direction & Styling: Lolly Lux for Suz Somersall
Co-creative & Florist: Katarzyna Borek
Jewelry: Suz Somersall
Venue Coordinator: Millicent Lynch of Murcielago Farms
Venue: The Farms at Turkey Run
Hair & Makeup: Tinsley Onuegbu
Stationery & Calligraphy: If So Inklined
Hostess: Natalie Barkley
Champagne Sequin Gown: Aidan Maddox
Floral Brocade Strapless Gown : Carman MacValvo
Suit: J. Crew
Argentinian Belt Accessories: La Matera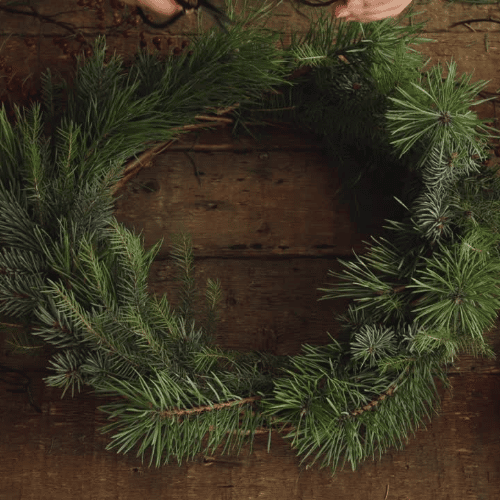 Beautiful Greenery Wreaths
Make a beautiful natural wreath at home to spread holiday cheer at your next party.
Ingredients
fresh greenery

feathers

flowers

(from your garden or favorite florist)

floral wire

plain double-wire wreath frame

gold fabric or wide ribbon

(pre-made into a bow or tied to your choosing)

gold spray paint

(optional)
Instructions
Start with the fresh greenery, feathers and flowers from your garden or favorite florist, and form handsome bundles of three to five sprigs with floral wire. (Make most of the bundles from the same materials but every so often, use sprigs of different materials as accent pieces.)

Take a plain double-wire frame, and use the floral wire to affix the bundles to the frame, working clockwise and overlapping the bundles, ensuring the stems are not seen.

After covering the entire frame, knot the floral wire and hide the ends.

Lastly, attach a gold bow for that extra bit of sparkle.

Optional: You might also give ordinary garden greens glamour by spray painting some of the sprigs gold prior to bundling, which will not only extend the wreath's life but further the trend of romance.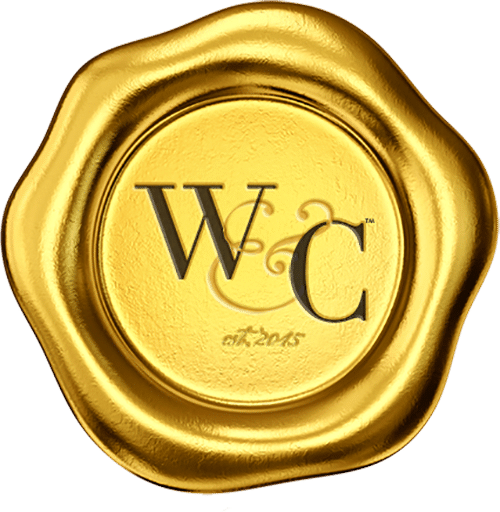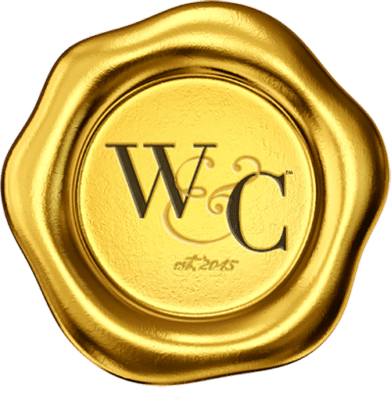 Virginia Wine & Country celebrates elevated living in Virginia Wine Country. Virginia Wine & Country Life is a semi-annual luxury print magazine with a full digital presence. The Virginia Wine & Country Gold Book is an annual guide to the top award-winning wines, wineries and experiences in Virginia Wine Country. The annual Virginia Wine & Country Wedding Planner is an art book of elegant Virginia weddings. The brand includes the Virginia Wine & Country Shop in Ivy, Va. It is a beautiful lifestyle boutique that brings the pages of the magazines to life. Virginia Wine & Country tells the stories of Virginia wineries, the farm-to-table movement, luxury travel, entertaining, art and the elegant country lifestyle. Ivy Life & Style Media also provides branding, web design and PR services for the wine industry.