Charlottesville chef Antwon Brinson is one of ten contestants on the inaugural season of The Big Brunch. A new series on HBOMax, it has been touted as "the kindest cooking show on television". Hosted by Emmy award-winner Dan Levy, alongside Sohla El-Waylly and Will Guidara, the show aims to take brunch, often known as the most hated meal by restaurant staff, and show it in a new light.
"Brunch is the ultimate connector, the perfect convergence of food, comfort and friendship." says Levy. "So we built a show to celebrate ten chefs each striving to improve their communities by connecting people with food."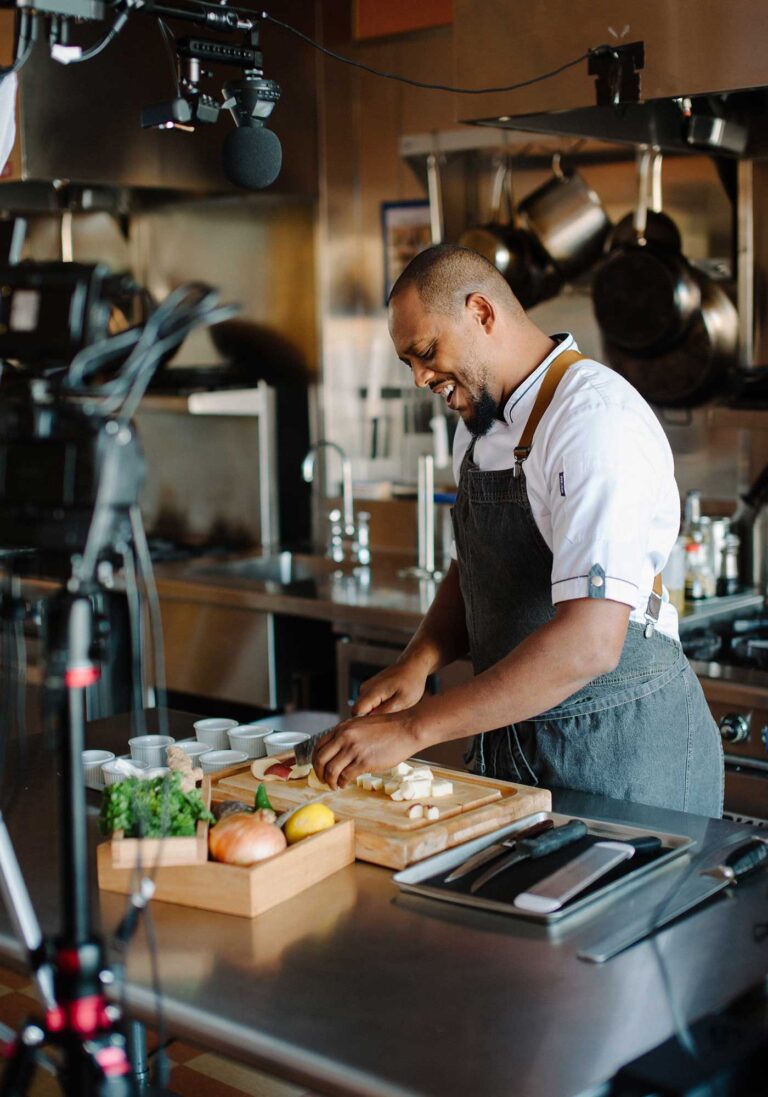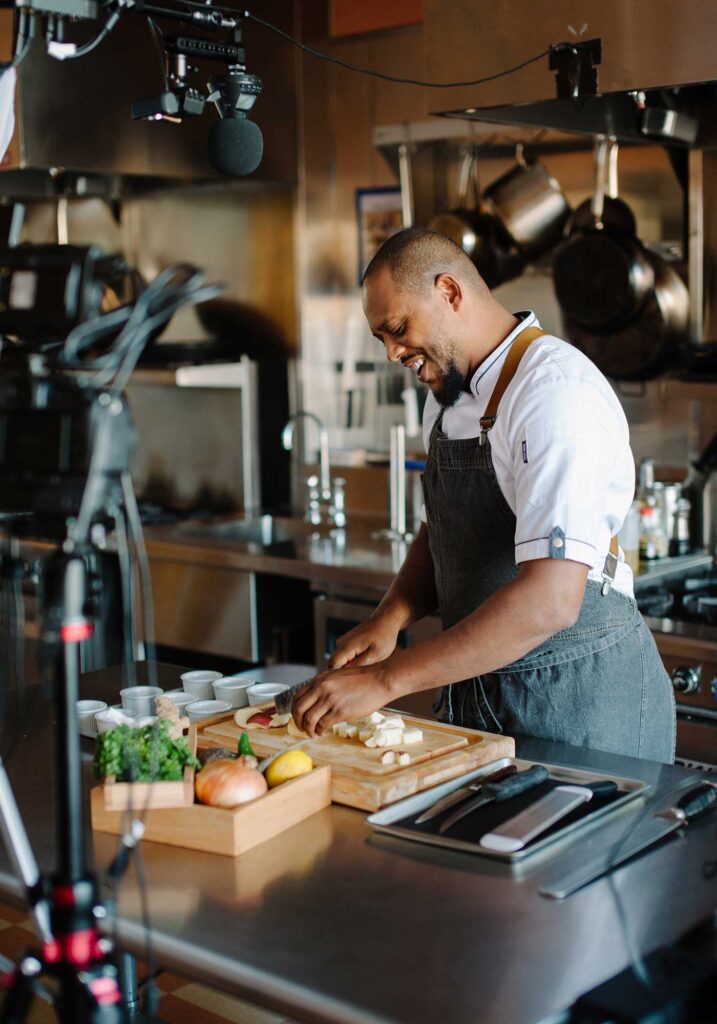 And who better to represent that goal than local Charlottesville chef Antwon Brinson, whose school, Culinary Concepts AB, mission is focused on helping individuals grow their passion for the culinary arts. His school teaches not only the skills it takes to feed oneself and community, but also the skills necessary to grow and maintain successful small-scale local restaurants—the type of training not readily available to independently owned establishments with smaller resources.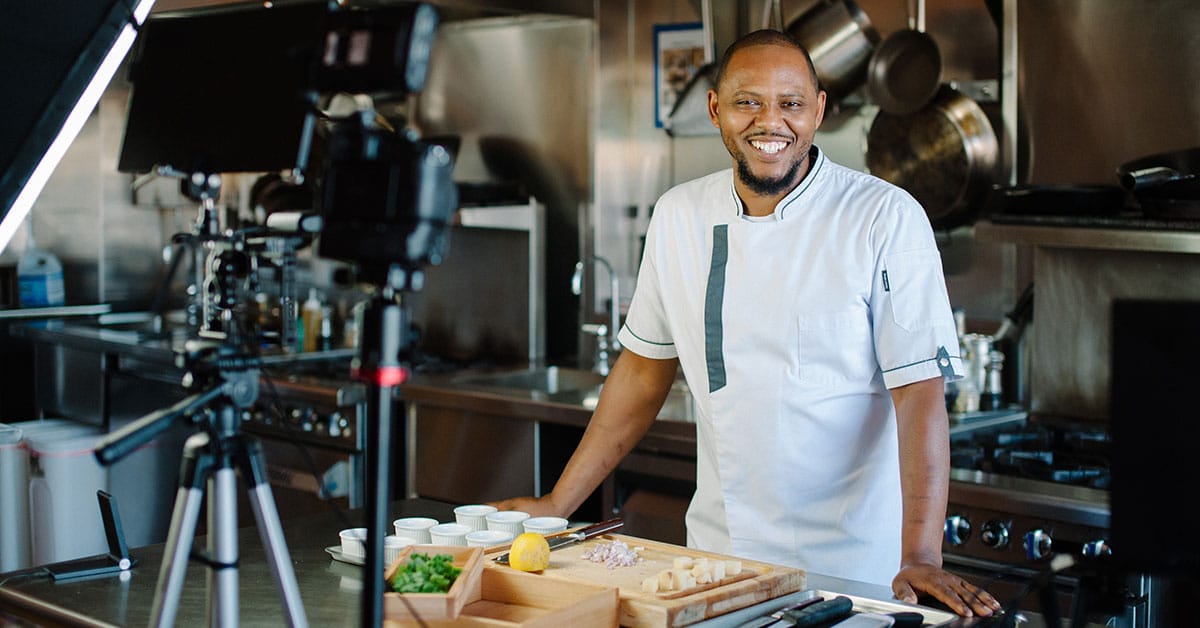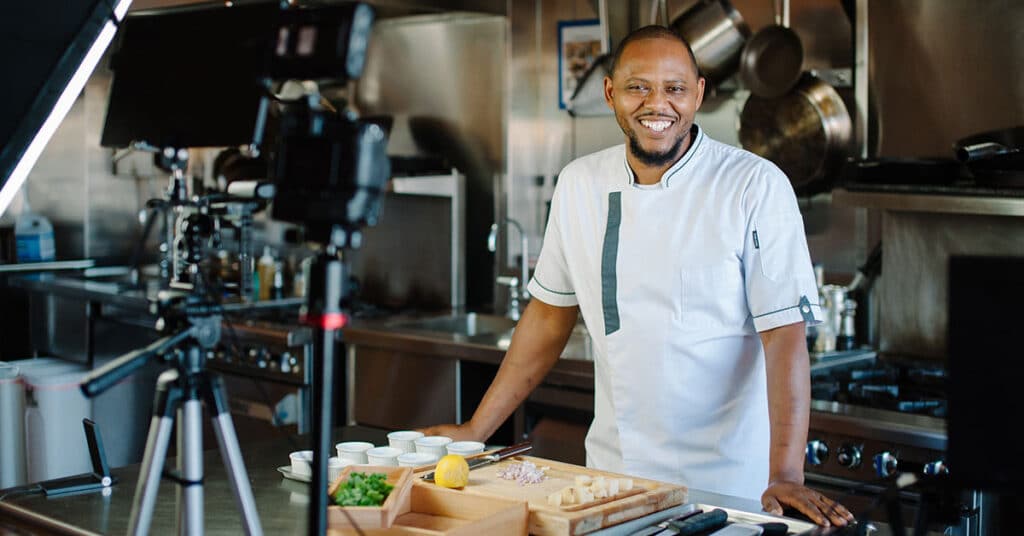 The Foundation for Culinary Concepts AB
While the pandemic has been a challenge for the vast majority of businesses, there are arguably few hit quite as hard as the restaurant and hospitality industries. Creativity, flexibility and innovation have been crucial elements for weathering the storm, and Chef Antwon Brinson of Culinary Concepts AB in Charlottesville is at the head of the charge, all while also giving back to the community.
Hailing from his hometown of Niagara Falls, Brinson is a graduate of the prestigious Culinary Institute of America and a proud alumnus of a three-year apprenticeship at Greenbrier Resort in West Virginia, where he also managed the 44-acre farm production kitchen. His passion for learning and exploring cultures, particularly through food, led him to various locales, including Kaua'i, Palm Springs, San Francisco and the Virgin Islands, before eventually coming to Charlottesville to help open Common House in the role of Executive Chef.
Eventually, Brinson's ambition and passion for teaching inspired him to launch what would become Culinary Concepts AB, a Charlottesville-based, socially-minded organization whose mission is focused on "developing individuals' passions and abilities by teaching life skills through culinary arts."
"When I started designing my program, the foundational question was: Are there any opportunities out there for people to learn and grow within the industry?" Brinson explains. "There's a disconnect— people are not growing within the industry. Bridges weren't built to build the industry."
Antwon Brinson's initial focus was on the development of classes intended to provide instruction on soft skills like discipline, communication and adaptability, as well as on goal-setting, menu execution, foundational cooking techniques and more. The bootcamp-style, five-week class offers the opportunity for participants to earn both a cooking certification and a ServSafe certification.
Chef Antwon Brinson's Culinary Vision
Research revealed that there were only three other programs in the nation with a like-minded mission. Focused on how his career flourished as a result of other chefs who extended him opportunities to learn and grow, Brinson set out to provide those opportunities for others.
"Throughout my career, I've been fortunate to work with people who I could learn from, and I knew early on I wanted to be a teacher," Brinson says. "When I look back, it was a series of investments—chefs giving me opportunities to learn—that got me where I am."
In 2018, he went to work to build his business model. His vast culinary background, including global cooking experiences and working under the tutelage of three Master Chefs, paired with a love of diverse cuisine that took root in his youth, helped lay the groundwork for the organization's culinary foundation.
Brinson's diverse experiences with food helped him design a philosophy around the importance of "diving into culture," which is key to developing an appreciation for the cuisine.
"I am not the typical guy who came up in the kitchen. My mom didn't really cook, so growing up we went out to a lot of different places. There was Italian, African, Caribbean and Puerto Rican influence in Niagara Falls. We also enjoyed soul food or whatever was made at other people's houses."
Brinson's diverse experiences with food helped him design a philosophy around the importance of "diving into culture," which is key to developing an appreciation for the cuisine. "If you want to understand the food, you need to understand the culture," he explains.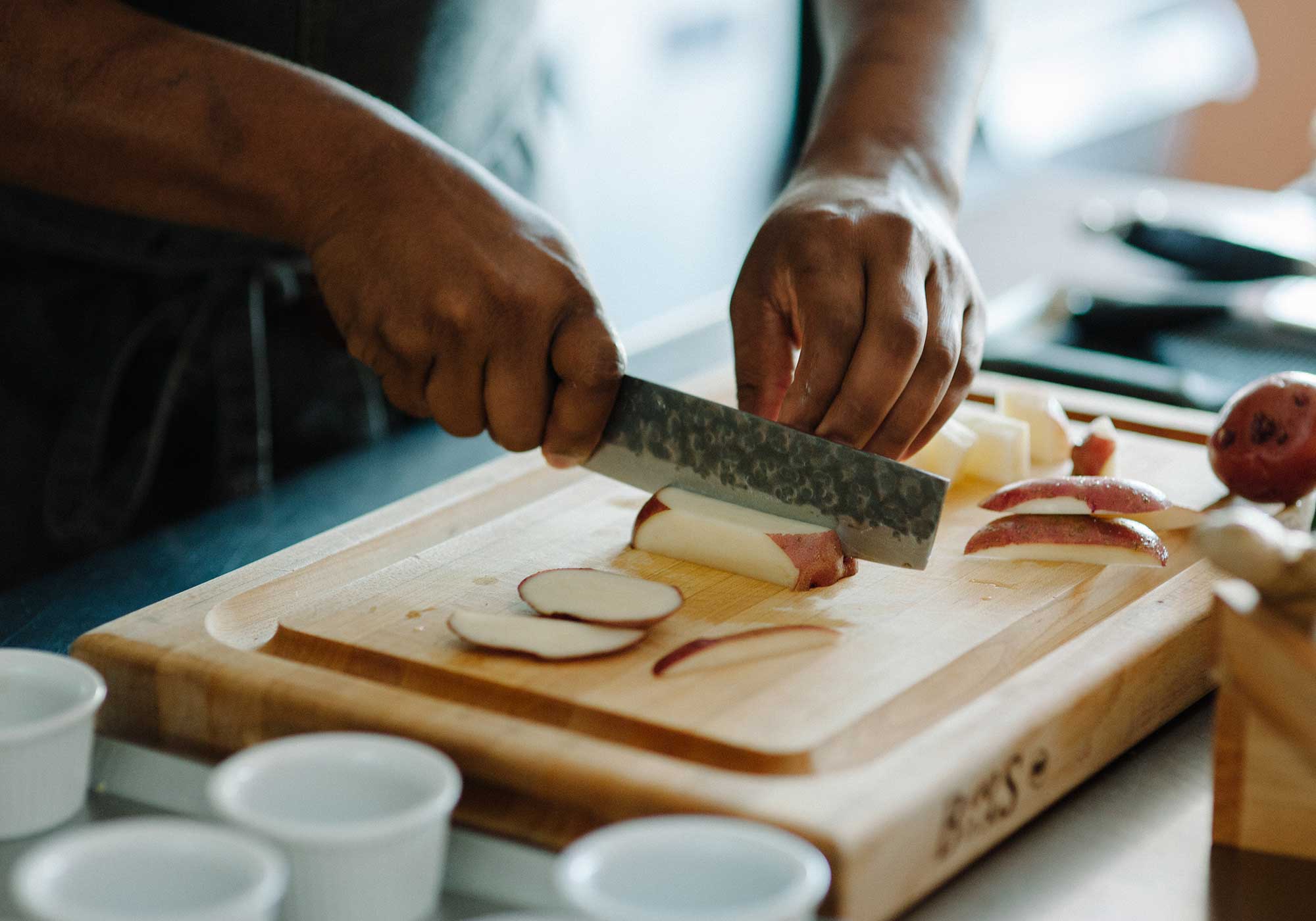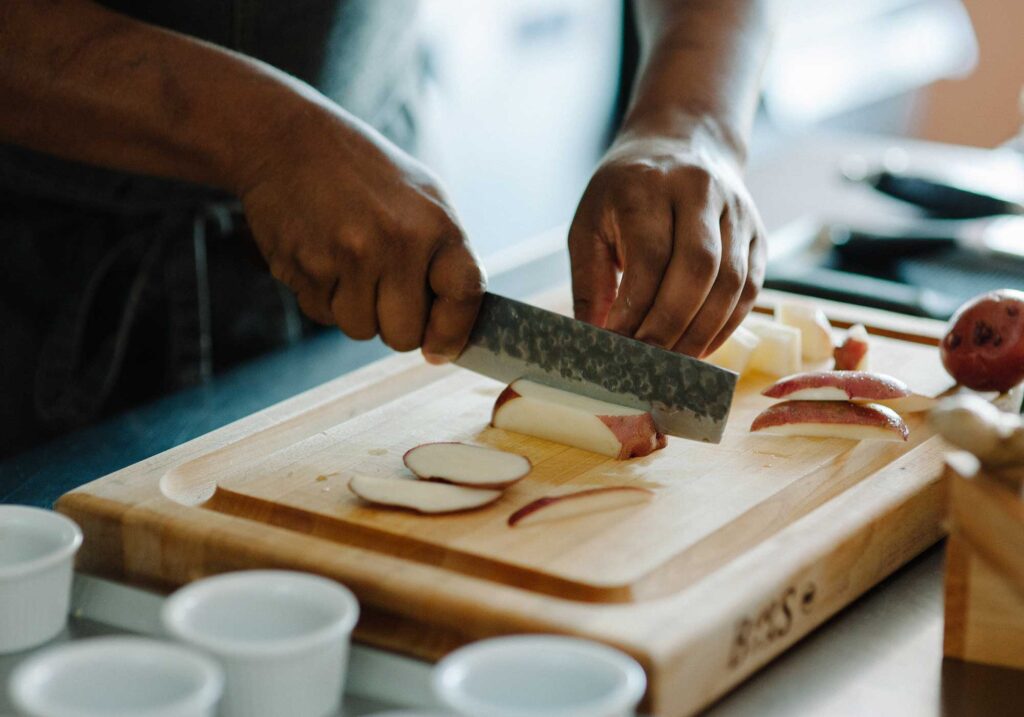 Bringing Fresh Food to the Charlottesville Community
However, while the culinary part of his plan came naturally, the business side of the startup required an educational investment. To better understand the intricacies of the financial elements, like forecasting and examining food and labor costs, Brinson enrolled in a 16-week program at the Community Investment Collaboration that focused on the logistics of starting a business.
"I had to learn how to leverage my existing knowledge and skills to build the business." After three months of intense preparation, Brinson opened Culinary Concepts AB in 2018. "It was like jumping off a cliff," he laughs, referring to his dive into entrepreneurship.
For the first year, all of the classes took place in the kitchen. Later, chef Antwon Brinson expanded into teaching at festivals, detention centers and jails, in addition to speaking at local engagements. In 2020, the pandemic interrupted plans for many. Brinson, a self-proclaimed planner whose preparation and career as a chef, quickly adapted, taking the time as an opportunity to plan and reevaluate. Deciding to offer virtual cooking classes both in groups and in private sessions, he transformed his kitchen into a studio.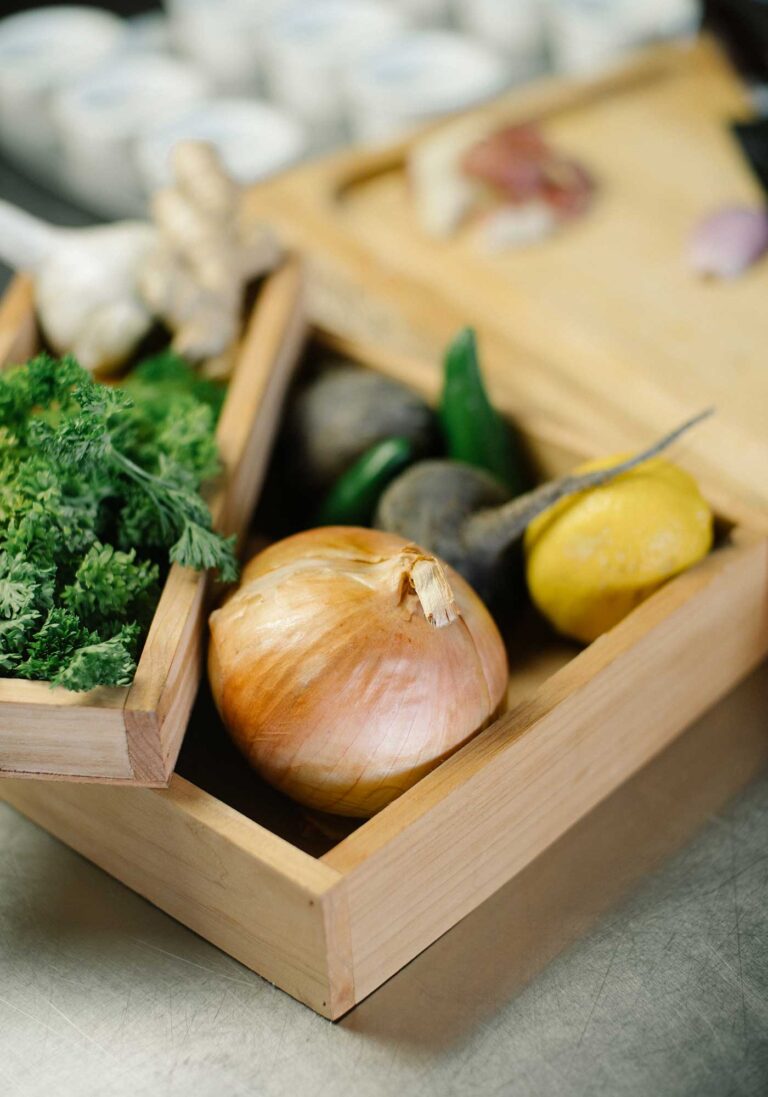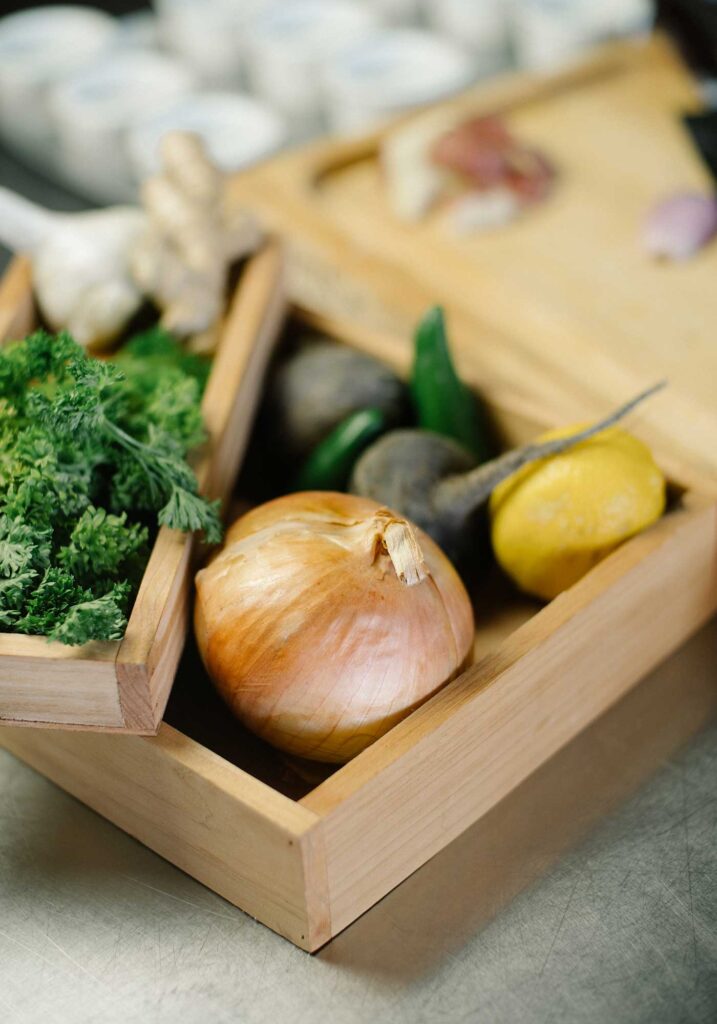 "I felt like I was getting back to my roots. It was liberating to get back to the stove," Brinson says.
Since 2018, eight classes have graduated from Brinson's bootcamps and many have used their certifications to land positions at places throughout the Charlottesville community and beyond. Brinson says that restaurants routinely ask for graduates from his program.
While his hard work and investment are at the foundation of the organization's success, his partnership with the city of Charlottesville has been crucial in providing the opportunity for many students to participate. Working with Charlottesville's Office of Economic Development has resulted in the reduction of barriers to potential participants through provision of scholarships and childcare.
Chef Antwon Brinson Affects Change
"When I was younger, I grew up in a poor community. I had cornrows and spoke mostly in slang. I wanted to work in fine dining, but I was told I'd never make it there. It lit a fire under me. I went to culinary school and have been working at fine dining restaurants since. Less than three percent of chefs and less than one percent of African Americans work in fine dining."
He has worked hard to reach his personal goals, but his fight continues for the community. "If you want to affect change, you need to be a part of it. Before COVID-19, race related issues were my focus and what I saw as a priority," Brinson says.
While that still remains a priority, he focuses on a picture that reflects on communities like Charlottesville. He points to agriculture and agritourism as the primary impacts on economic development in Virginia, and also stresses the importance of revitalization of area restaurants and hospitality.
"Right now, we need to drive tourism and drive business back to Charlottesville. We need to revive the restaurant industry. Food justice is still an issue, too."
Brinson partners with a number of food providers, especially 4P in Culpeper, in order to provide quality food to participants in his classes. This commitment to partnering with local producers far extends Brinson's food partnerships.
This culinarian entrepreneur also serves on multiple committees and volunteers with organizations that do important work in the community, such as the Piedmont Workforce Network, Charlottesville Area Community Foundation, Black Professional Network, CATEC Community College and Wilson Workforce and Rehabilitation Center.
"I have a responsibility and duty to build bridges and to give opportunities that I have had in my career," Brinson says.
As for the future, he says he would like to scale his program nationally and internationally, to include even more home cooks and developing chefs. In general, Brinson's goal is to give back to the community, and to the industry.
"I love teaching; I love building; I love investing in people." ~
Try Chef Antwon Brinson's Ethiopian-inspired blackberry chicken recipe, (pictured above).
JENNIFER WALDERA shares her hunger for, and curiosity about, food, travel, and drinks as a freelance writer for numerous mid-Atlantic publications. Her storytelling spans from the importance and fundamentals of local farming to the intricacies of modern mixology. Read more of her work at jenniferwaldera.com.
SERA PETRAS is a wedding and portrait photographer whose classic style captures the honest, in-between moments as well as timeless portraits. She sees the beauty in the everyday and is inspired by her client's love and laughter. Sera's work has been featured in The Knot, Southern Living, The Local Palate Magazine, Wine & Country Weddings and many more.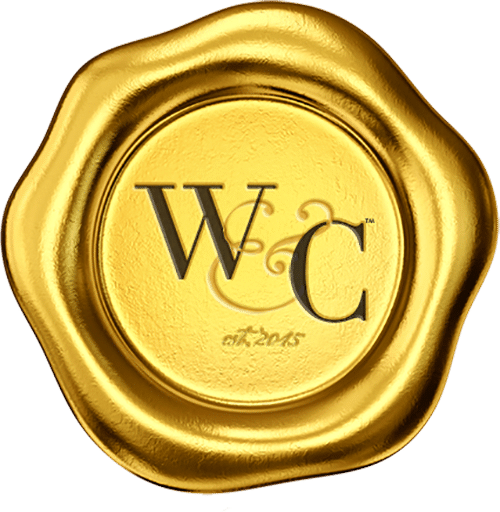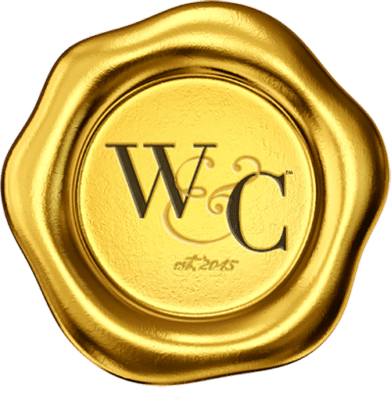 Virginia Wine & Country celebrates elevated living in Virginia Wine Country. Virginia Wine & Country Life is a semi-annual luxury print magazine with a full digital presence. The Virginia Wine & Country Gold Book is an annual guide to the top award-winning wines, wineries and experiences in Virginia Wine Country. The annual Virginia Wine & Country Wedding Planner is an art book of elegant Virginia weddings. The brand includes the Virginia Wine & Country Shop in Ivy, Va. It is a beautiful lifestyle boutique that brings the pages of the magazines to life. Virginia Wine & Country tells the stories of Virginia wineries, the farm-to-table movement, luxury travel, entertaining, art and the elegant country lifestyle. Ivy Life & Style Media also provides branding, web design and PR services for the wine industry.