One of the best parts about tradition is how it evolves through the generations but at its core remains the same. Family recipes can be substituted and altered, but even more important than the specific ingredients is the sentiment and memories that can't be erased. This sweet potato dish has made regular appearances at our holiday meals, and one of the fondest memories is how we decide to experiment with the dish every time we make it. Whether we're adding more marshmallows than you'd think physically possible or deciding to use roasted or candied pecans, it's still the same sweet potato soufflé we associate with family and comfort.
Cooking with Pecans
While pecans may not be Virginia's cash crop of choice, they have grown here for hundreds of years. George Washington himself was one of the first to grow "Louisiana nuts" (pecans) in Virginia at his Mt. Vernon home over 200 years ago. Pecans have the perfect buttery taste that complements the sweetness of the sweet potatoes in this soufflé. Just simply spread the pecans on top before baking. They roast beautifully without any extra steps. Or, you could even use candied pecans as a topping.
Storing Sweet Potatoes
To keep sweet potatoes tasting their best, avoid keeping them in the refrigerator. While the coolness seems like a good idea, the especially low temperature can actually produce an unpleasant taste and extra hard center. For sweet potatoes, less is really more. If kept in a cool, dark, well-ventilated space, they will be guaranteed to stay fresh and delicious for weeks.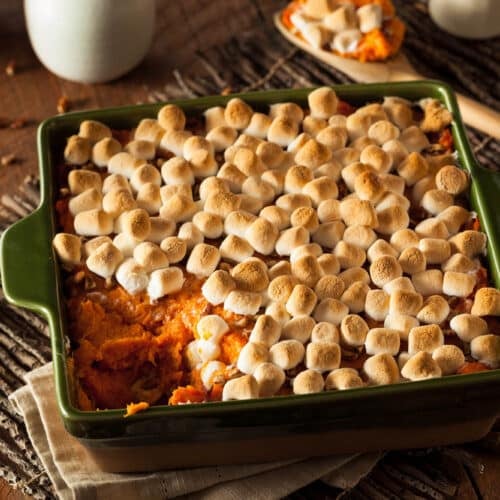 Fluffy Sweet Potato Soufflé
Ingredients
3

lbs

sweet potatoes

(about 6 large or 9 medium size potatoes)

2

eggs

1

tsp

salt

1

tbsp

cinnamon

3/4

cup

brown sugar

1/2

cup

butter,

melted

pecan halves and/or miniature marshmallows

(preference)
Instructions
Bring a large pot of water to a boil then add your washed sweet potatoes for about 30 minutes, or until cooked. You should be able to easily pierce the potato to the center with a fork.

Immediately after the potatoes are cooked, remove from the hot water and place in an ice water bath. This should make the skin of the potatoes easy to remove with your fingers and simply slide off.

Preheat your oven to 375 degrees, and have your casserole dish on hand. A 9x13-inch pan gives more surface area for topping if desired.

Using a mixer or some muscle, combine the peeled sweet potatoes, eggs, salt and cinnamon until well combined and fluffy.

Spread the sweet potato mixture into the pan, then add your pecans, brown sugar and then the melted butter on top. If adding marshmallows, simply spread them on top about three minutes before removing the soufflé from the oven, and keep a close eye on them to avoid burning.

Bake for 25 minutes uncovered, then serve warm.
What to Pair with Sweet Potato Casseroles?
In need of some wine pairing suggestions to partner with this savory dish? Try pairing this Sweet Potato Soufflé with either a Sparkling Rosé or Chardonnay. For a recommendation on a Virginia wine to pair with this dish, give our Wine & Country Shop in Ivy, Virginia, a call.
For more delicious local recipes, check out our Food & Drink section. ~
JENNIFER BRYERTON, our co-publisher, holds a masters degree in education and grew up in a family of farmers and storytellers. She enjoys visiting exquisite gardens and vineyards, cooking, travel and decor and time at home, where beehives and a chicken coop dot the lawn, and borders overflow with roses, peonies and lavender.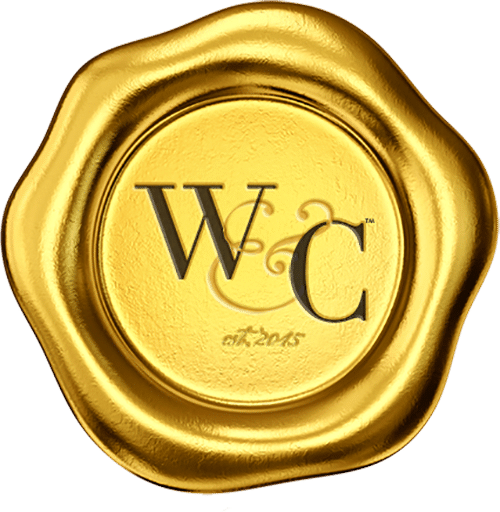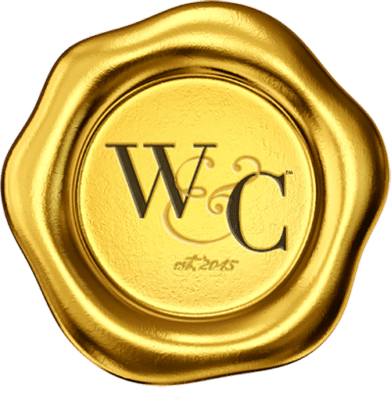 Wine & Country celebrates elevated living in Virginia Wine Country. Wine & Country Life, a semi-annual life & style magazine, and Wine & Country Weddings, an annual art book celebrating elegant Virginia weddings, are complemented by the Wine & Country Shop in Ivy, VA—a beautiful lifestyle boutique that brings the pages of the magazines to life. The Shop features over 40 Virginia artisans with everything from tailgating essentials and Dubarry attire to locally made foods and award-winning Virginia wines and craft beverages for your next event. Wine & Country covers the grape-growing foothills of the Blue Ridge Mountains from Lynchburg to Leesburg, including points in between like Charlottesville and Middleburg. Ivy Life & Style Media also creates other projects, including CharlottesvilleFamily.com, a collection of local resources including a popular calendar of events, family services guides and features on education, health and family day trips for parents and teachers in Charlottesville, as well as the CharlottesvilleWelcomeBook.com a guide to resources for Charlottesville tourists and newcomers.