Merging two design styles is a fabulous way to bring new personality and vibrance into a home. Using seemingly different, but together harmonious, styles can help create a space that is layered, enticing and incredibly unique. One trending fusion of styles is the blend of modern and rustic. Navigating the do's and don'ts when pairing two different styles can be intimidating. So, Wine & Country went to B&D Builders, a custom builder with the experience and expertise in both residential and commercial construction. Since 2000, their team of skilled designers and craftsmen have reimagined bank barns, horse barns, equestrian arenas, party barns, event venues and luxury homes all over the country. Visible in these two stunning properties, it's evident how B&D Builders helped these homeowners bring to life their visions of merging the rustic look of timber framing—a centuries-old craft—with today's more contemporary style.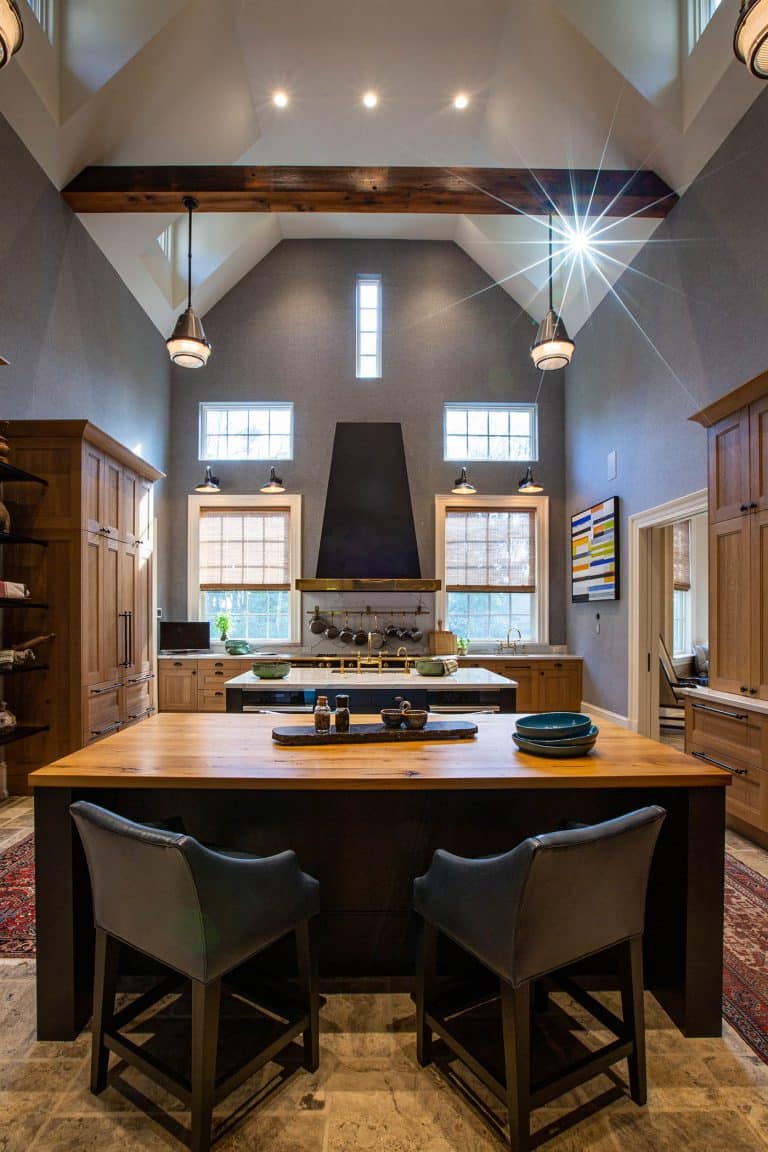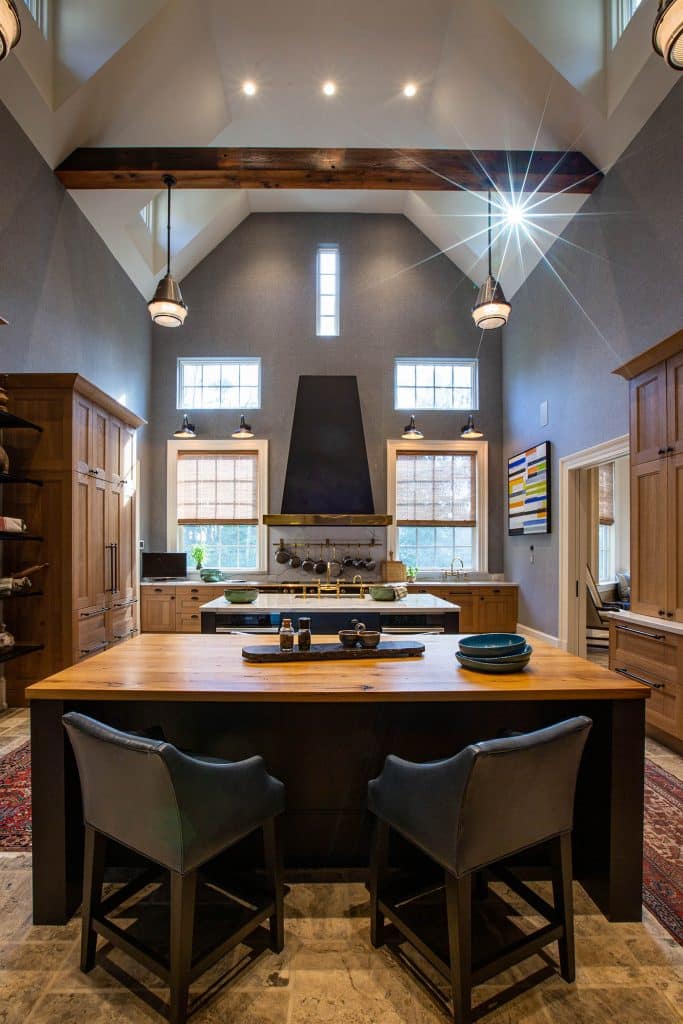 How to Add Modern, Rustic Style into Kitchens
The key to achieving a modern or contemporary aesthetic in your home is to start with clean, simple lines, and look for designs that are free from too many embellishments and extra details or moldings. Other details to consider when looking to design a more modern space include open floor plans, and preserved and exposed natural architectural elements like raw wood, stone and large windows. These details are ones B&D Builders can assist homeowners in selecting when creating a modern, rustic design.
When choosing your warm, rich color tones, B&D Builders suggests exploring different species and colors of wood, such as chestnut or cedar. This use of warm, rich color tones will further balance the scale of sleek and rough. As we see in the kitchen above, the homeowner pulled the two styles together even more by selecting a triplet of kitchen transom windows. By bringing in all of these warm, rustic elements into a contemporary layout, you can create a paradox that counteracts the austere nature and blends into a soothing and almost cozy environment.
To further a more contemporary look when decorating, seek pieces made from, or that have accents made with, chrome, stainless steel and glass. Because the utilitarian appearance of the modern style can often produce a cold, almost clinical effect, try then adding in warm wood tones and soft textures through accents of leather or antique woven rugs.
Though these two kitchens differ visually, you can see how it is possible to achieve a modern, rustic theme no matter your color palette. Colors, however, will affect the degree of visual warmth you experience in the room. The Malvern Barn strongly highlights its rustic charm through the use of contrasting wood tones seen in the floor and open rafters, as well as in the repeated use of stainless steel and minimal accents.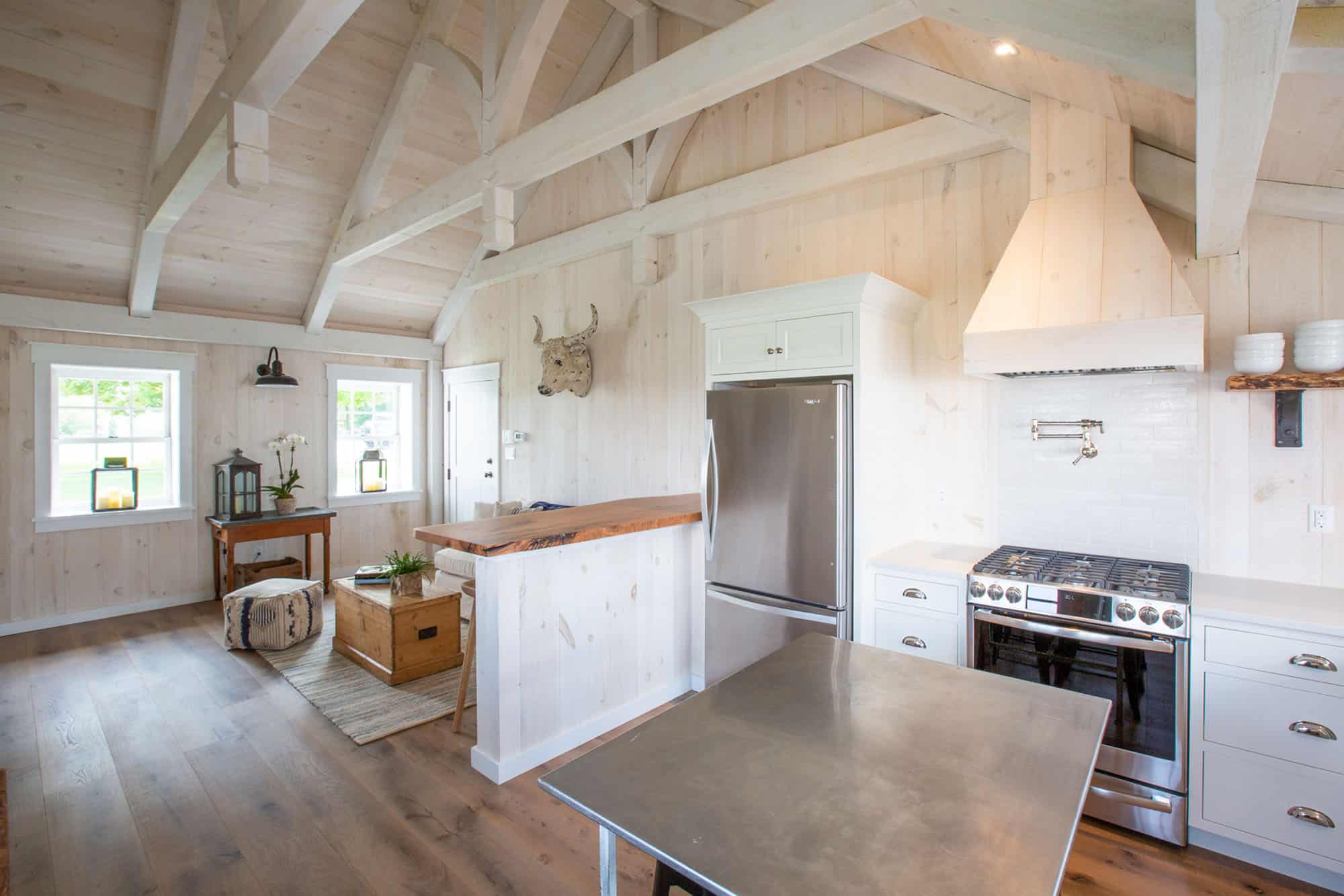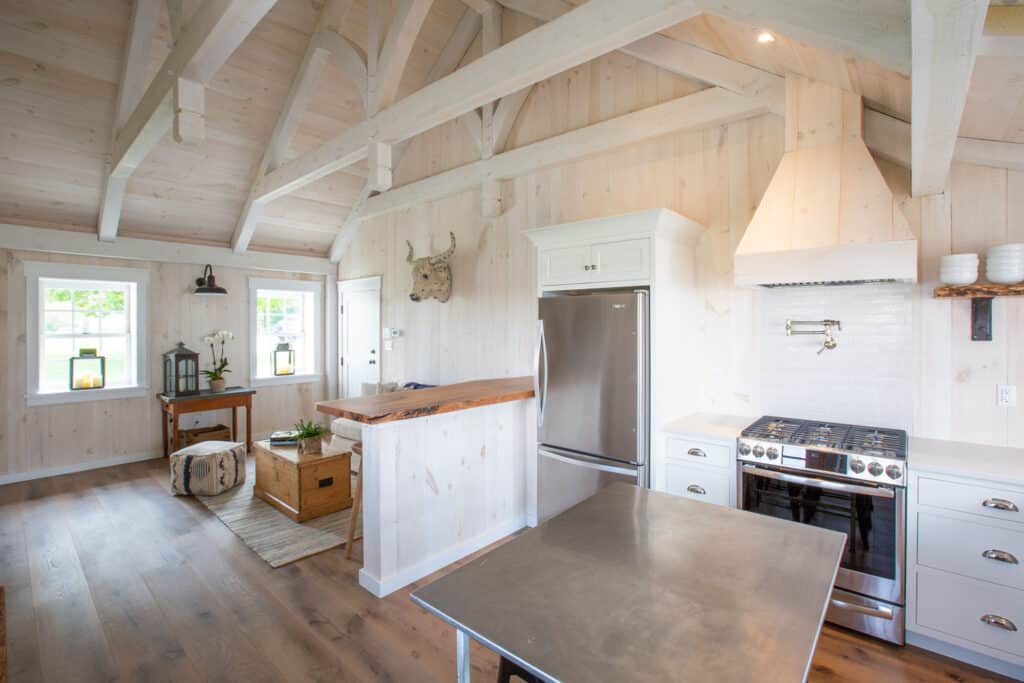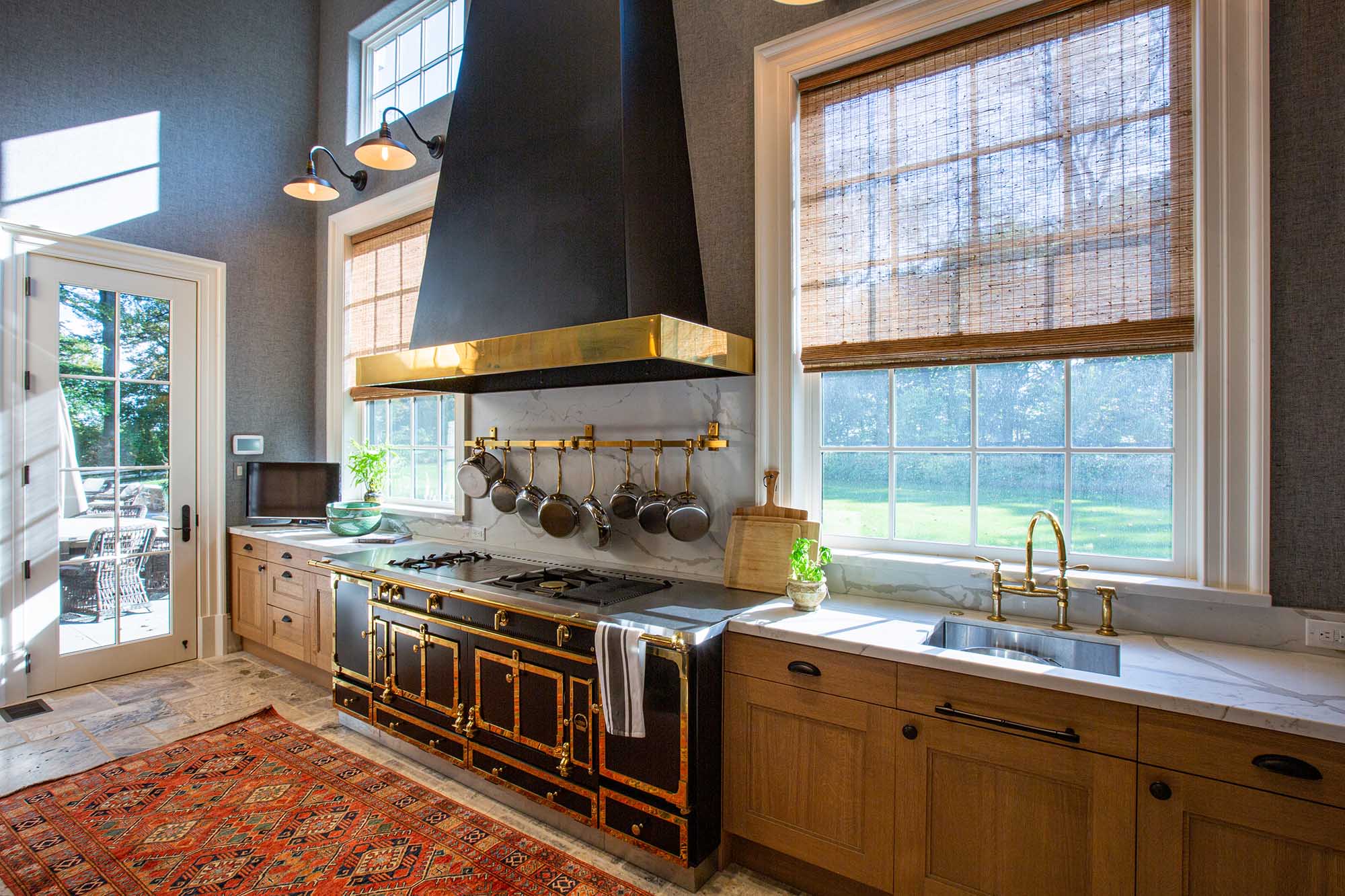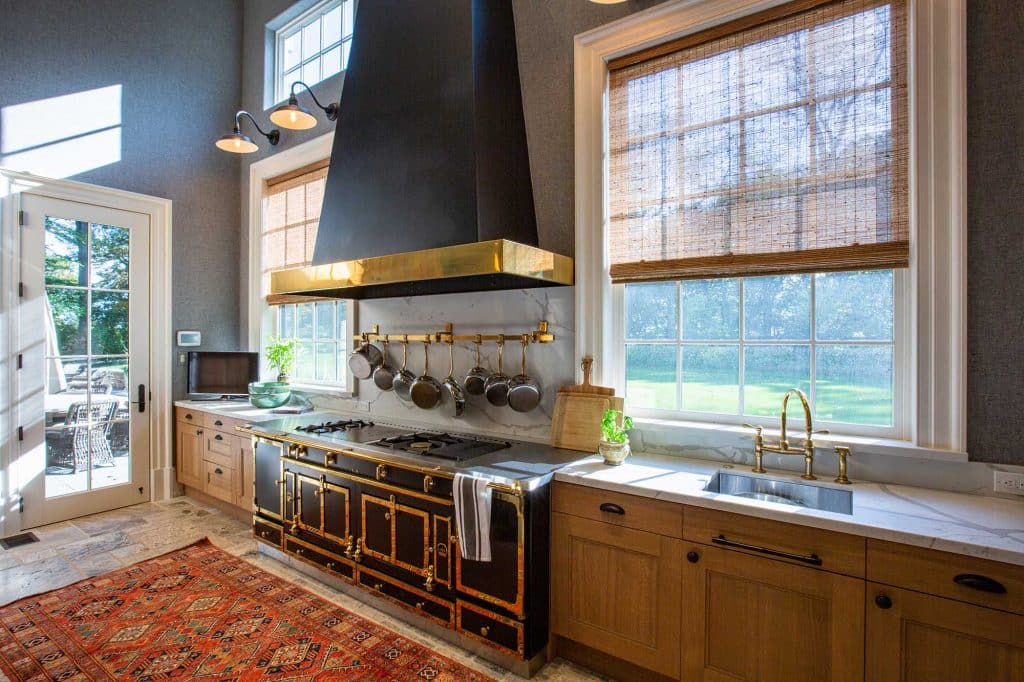 As we examine the kitchen in the Wayne Residence, we see a juxtaposition of styles. The black and gold stove with its many accents and details may not be considered a true modern design, and yet because everything else in the room has been restrained and simplified in true modern style, the range stands out much like a jewel in a perfect setting. The simplicity surrounding it allows it to shine while not overwhelming the space or detracting from the modern vision.
As we examine the kitchen in the Wayne Residence, we see a juxtaposition of styles.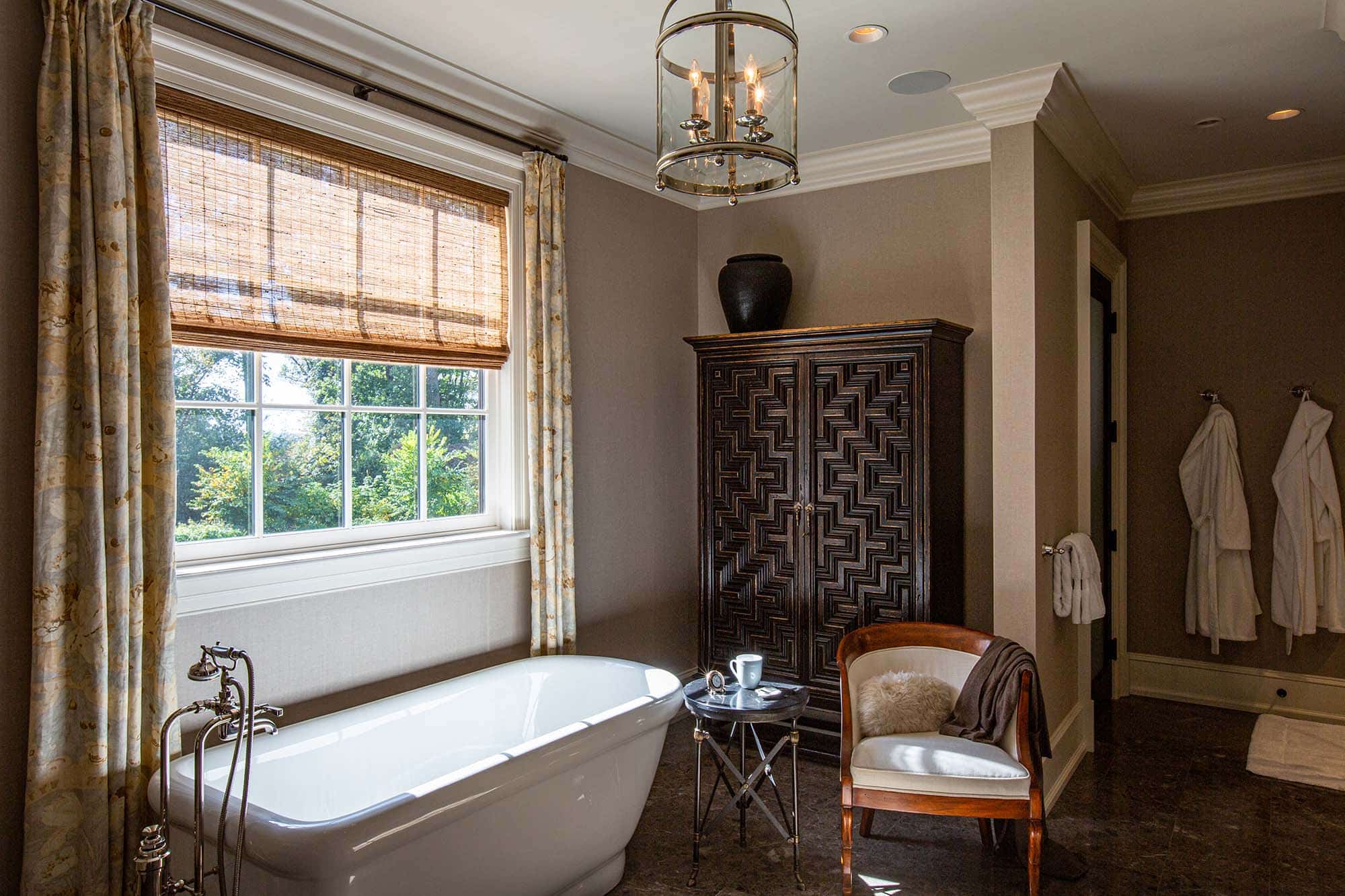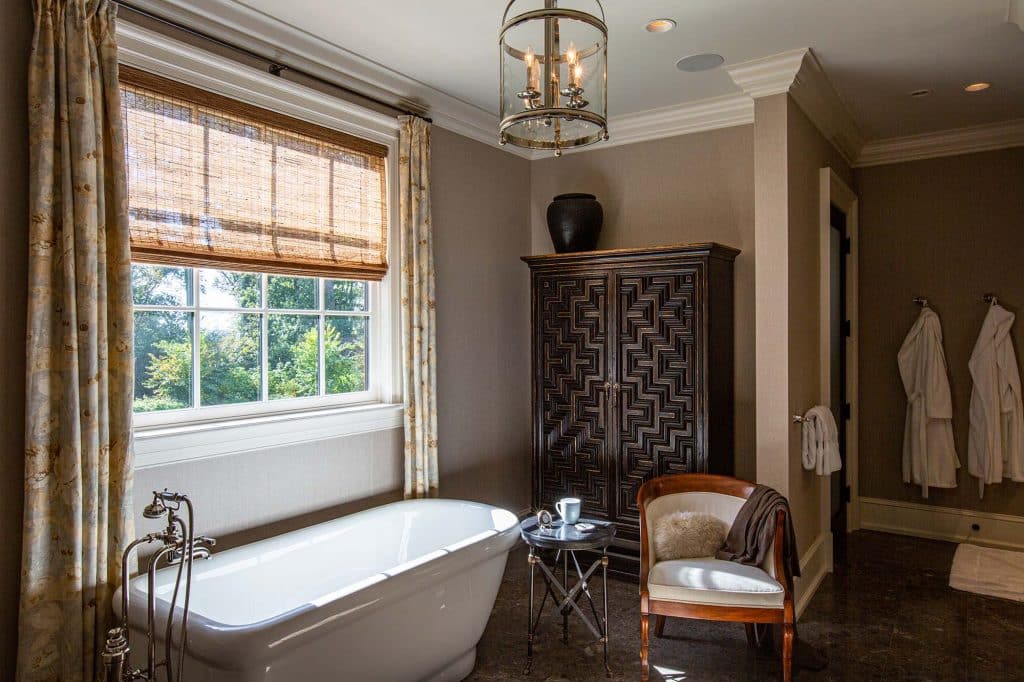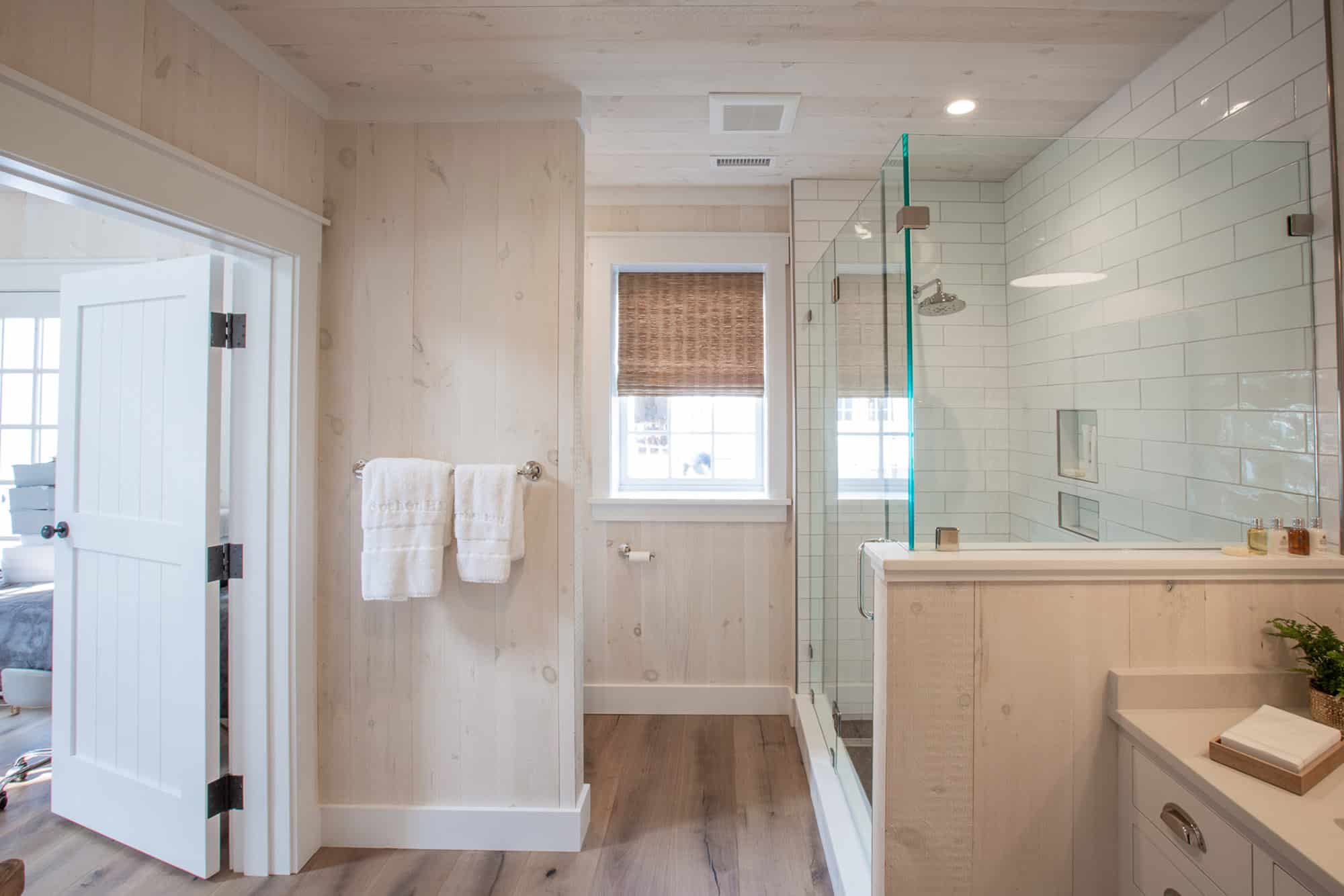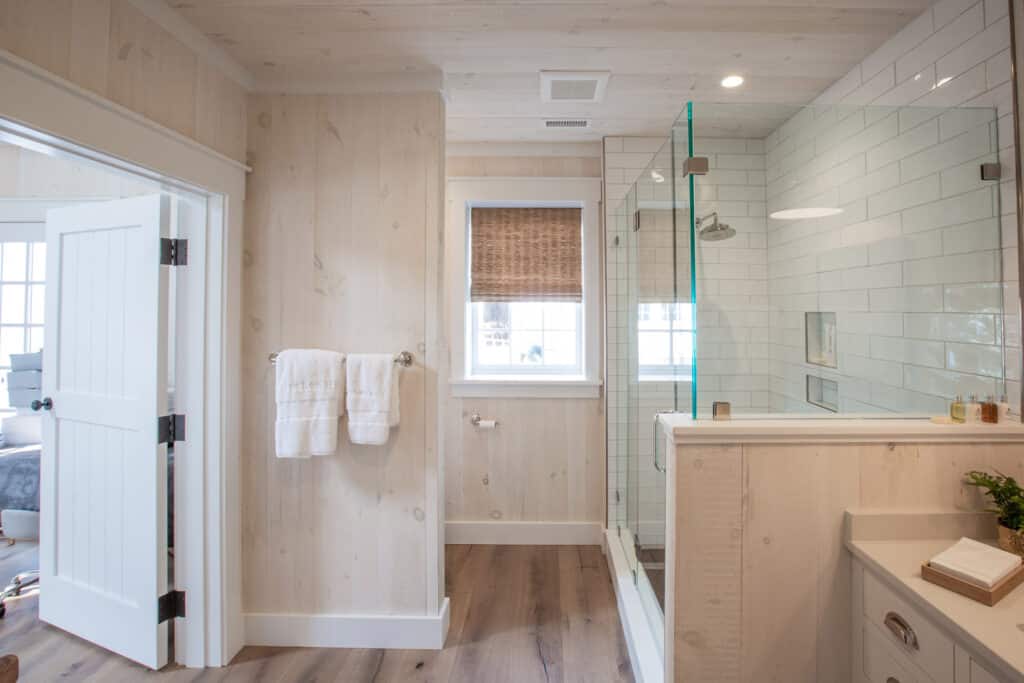 Tips on Pairing Modern & Rustic Styles in Bathrooms
Because bathrooms traditionally are smaller spaces with more uniform elements, the desired atmosphere can be achieved through the layout and details. In the bathroom in the Wayne home, the use of natural materials on the floor and the wide-framed windows help give the space a more earthy feel, and the finishes and textures throughout play important roles in the space's overall design. We see modern sensibilities applied through a pairing down of decorative accessories and a selection of décor accents that have clean, simple lines.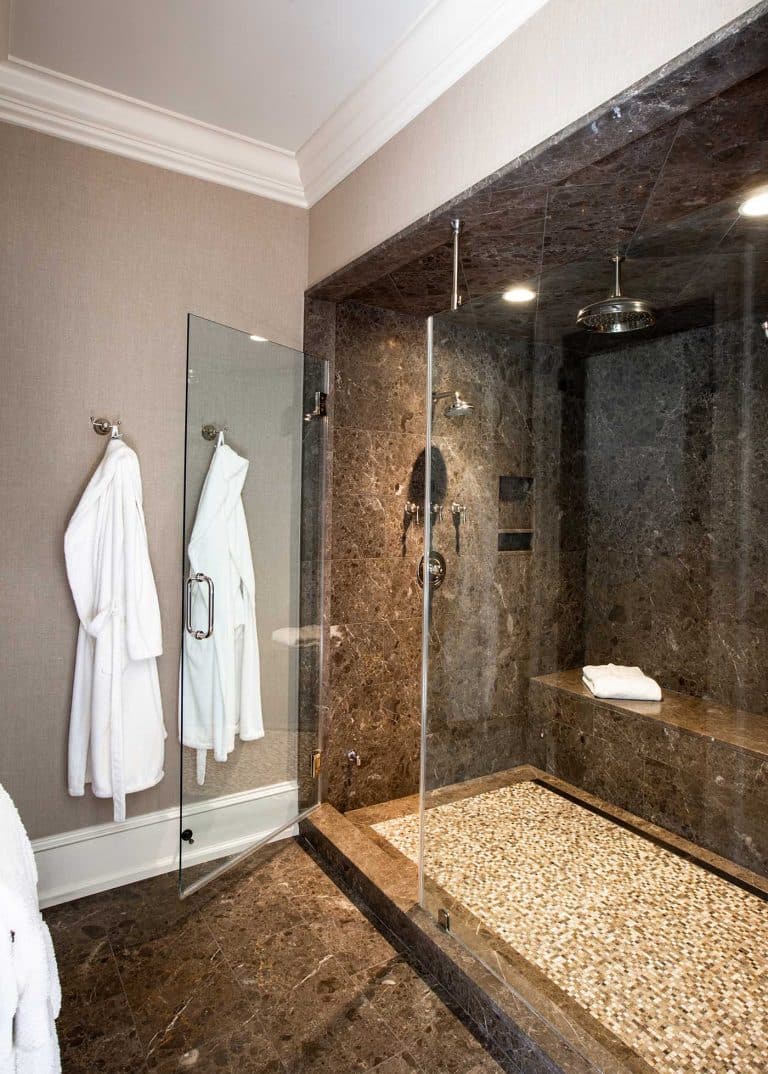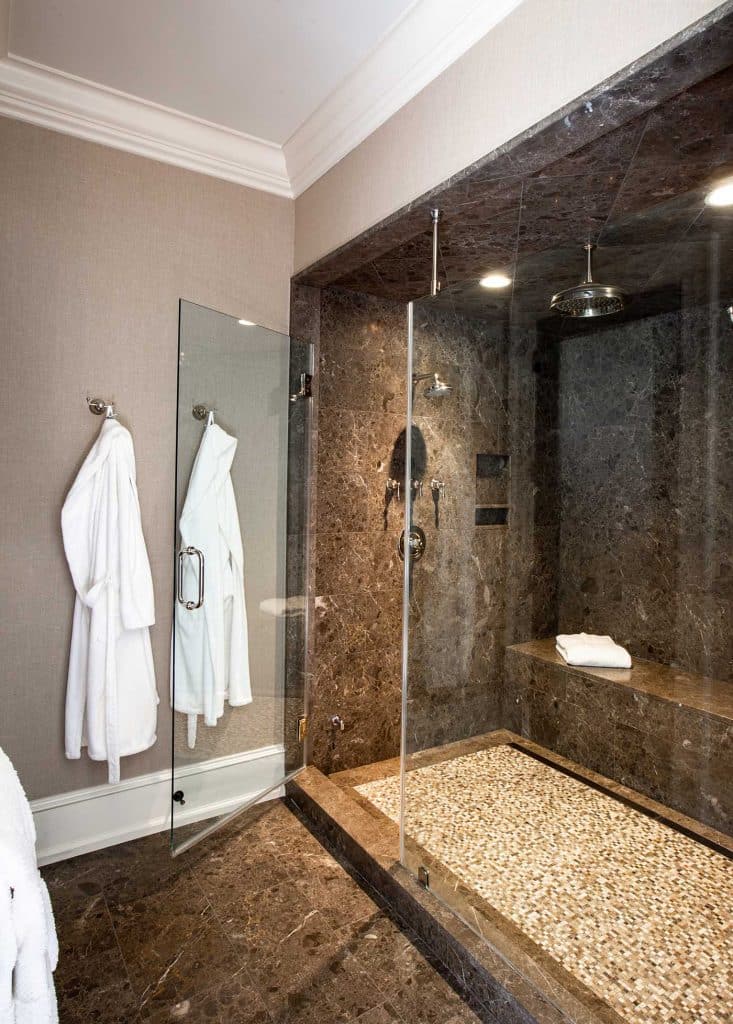 The free-standing soaking tub with its exposed chrome plumbing lends a modern touch to the space. The wardrobe is a bridge piece, much like the stove in the kitchen. Even though it has intricate carving details, the bold geometric pattern gives it that modern edge and brings texture, keeping it from feeling too plain or boring. And, the combination of bamboo and linen at the window adds texture and warmth.
The shower area at left has a strong modern allure, opting for function over form, with its wide expanse of glass, crisp metal accents and clean lines. The darker tones of the marble, the pebbled texture in the shower and the layered crown molding in the room help add visual warmth and interest.
Malvern's bathroom, seen above, maintains the rustic appeal that's visible in the kitchen through the use of natural materials on the walls and floors. To bring in more modern sensibilities, they did so with the wide glass shower enclosure, minimal hardware, oversized subway tiles and streamlined fixtures.
Creating A Modern, Rustic Outdoor Entertaining Space
Outdoor entertaining spaces have built-in biophilic design (the art of bringing natural elements inside); the challenge lies in adding modern touches. The Malvern property features a welcoming outdoor area. The basic, utilitarian light fixtures, stainless steel trunks-turned-coffee tables and the simple, minimal furniture design paired with the barn doors and metal details are accents that help this timber-framed patio area embrace a modern ambiance.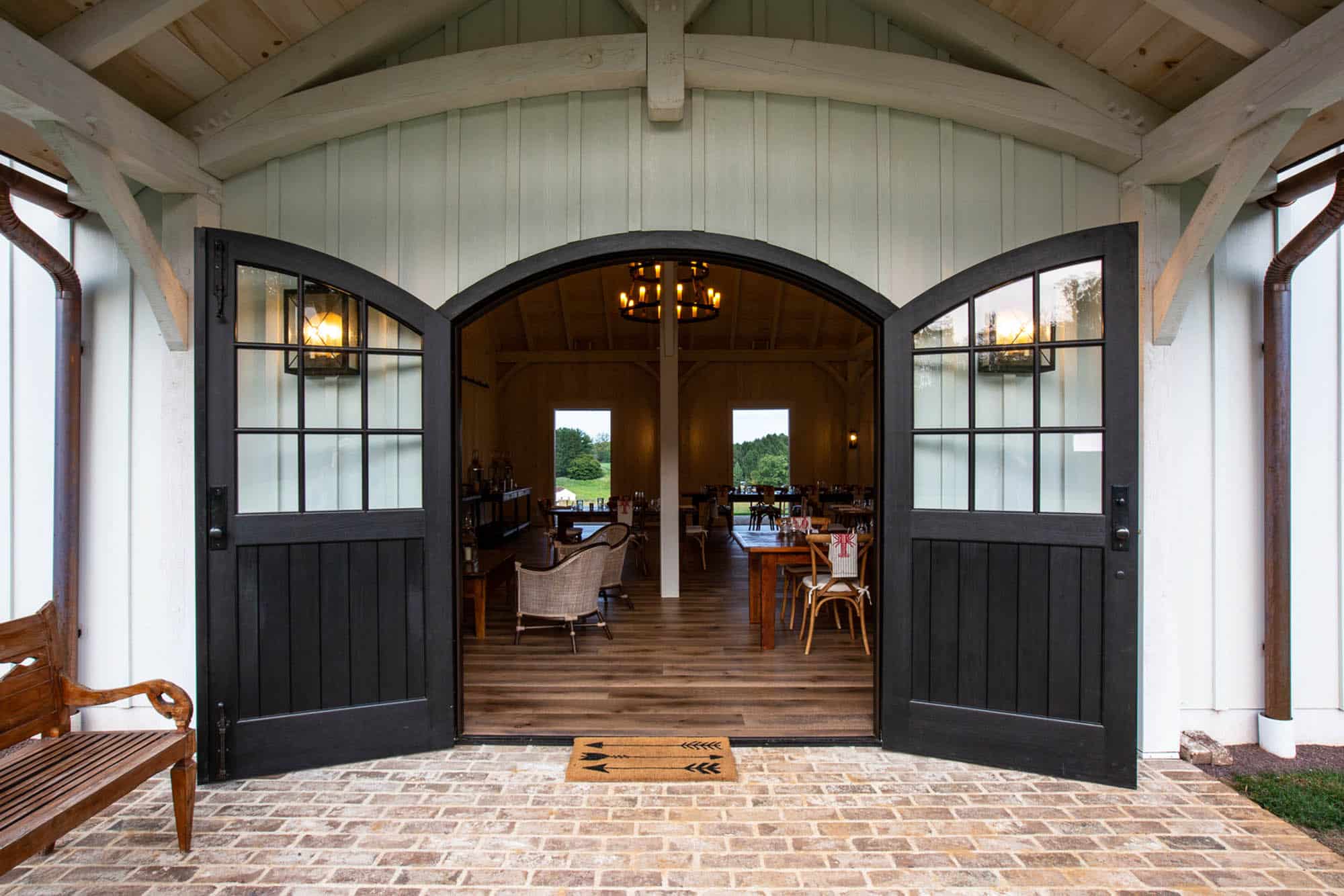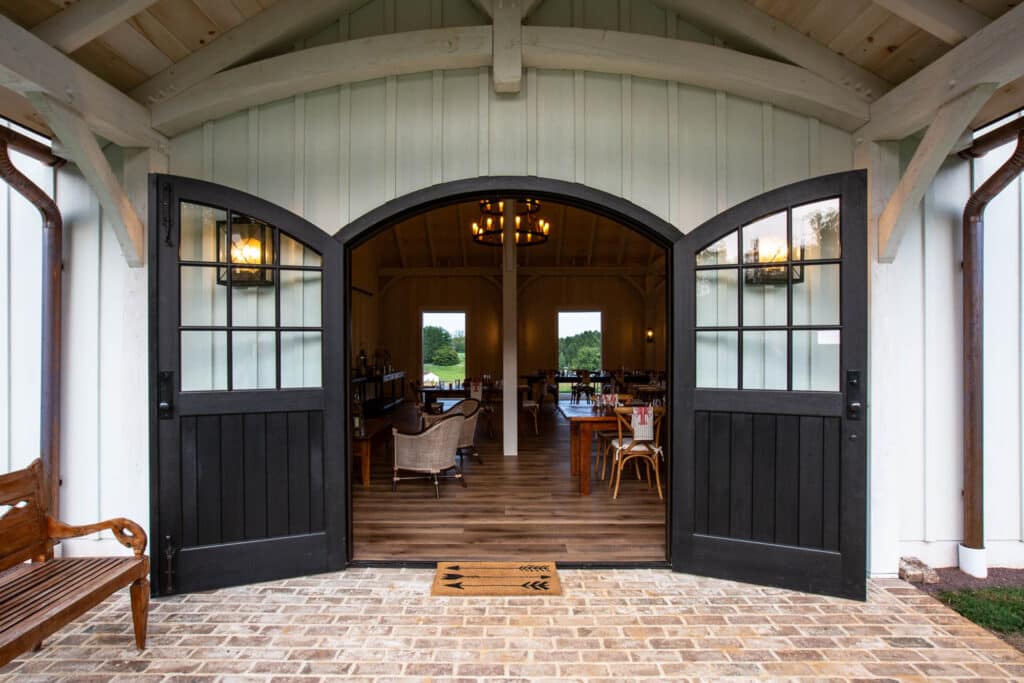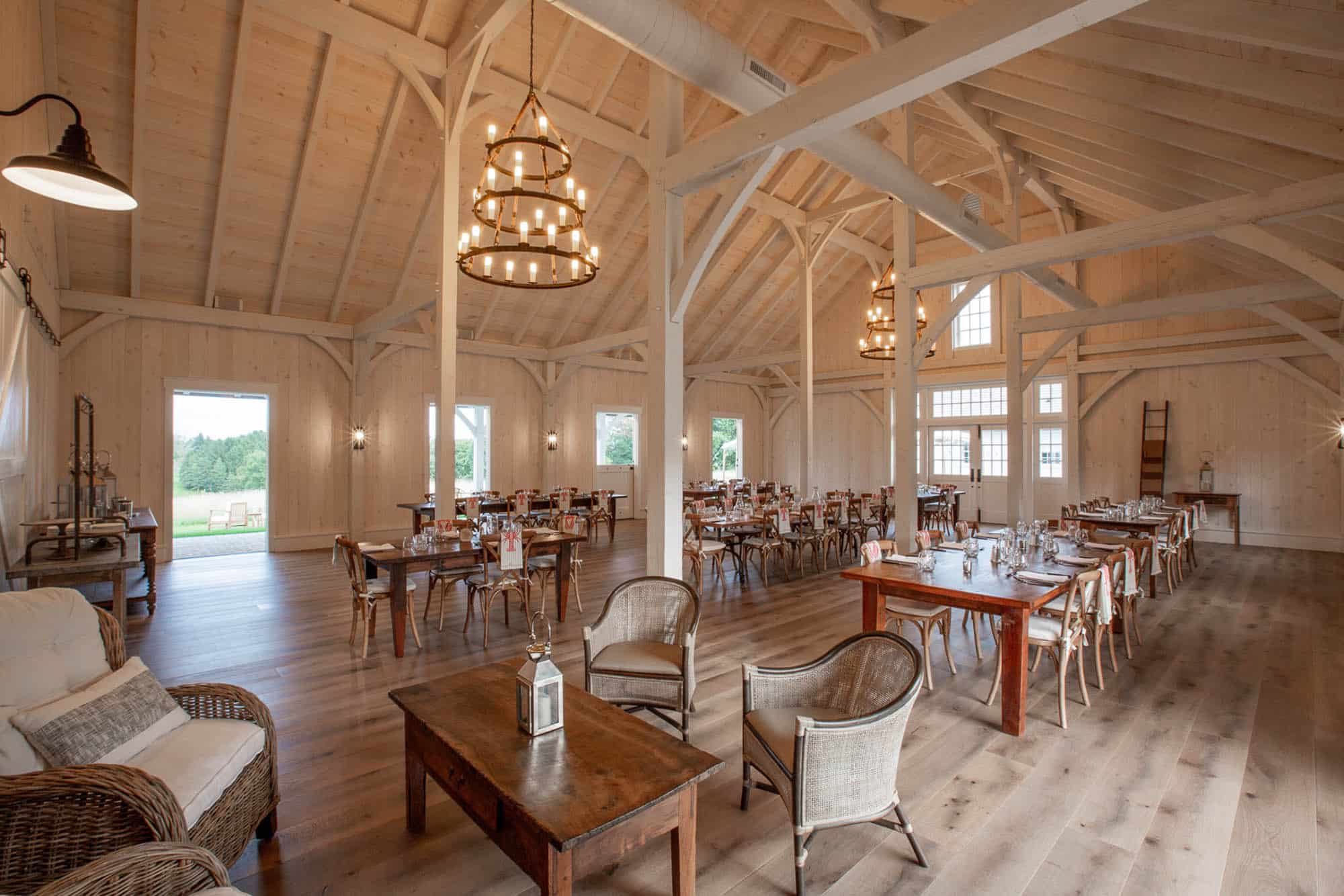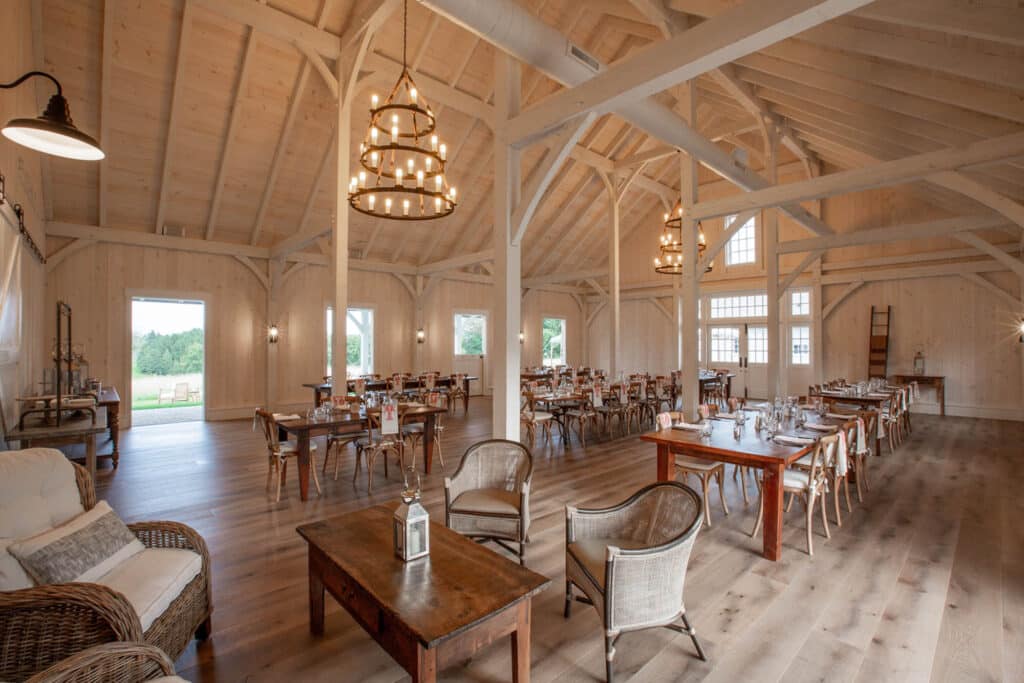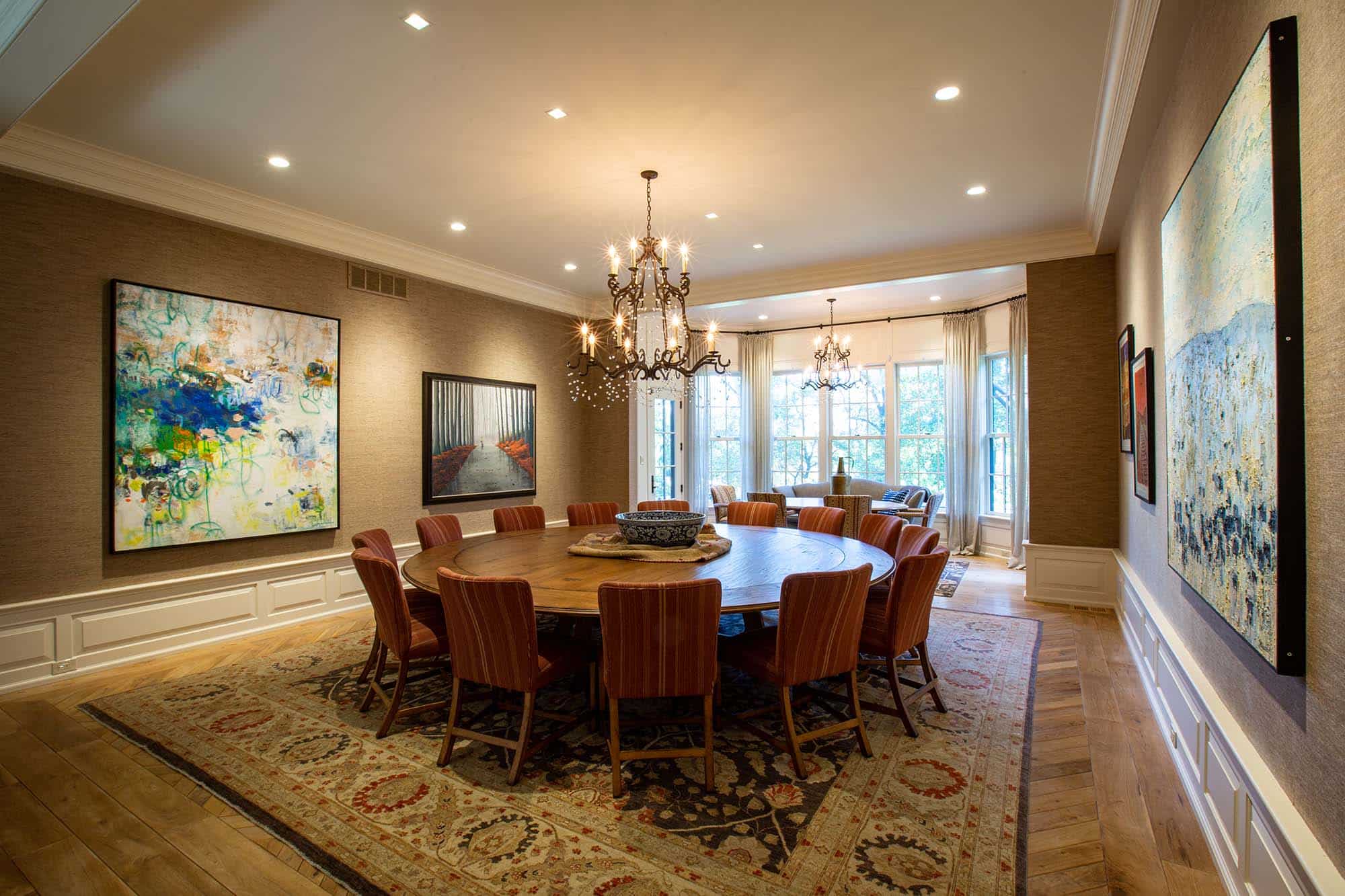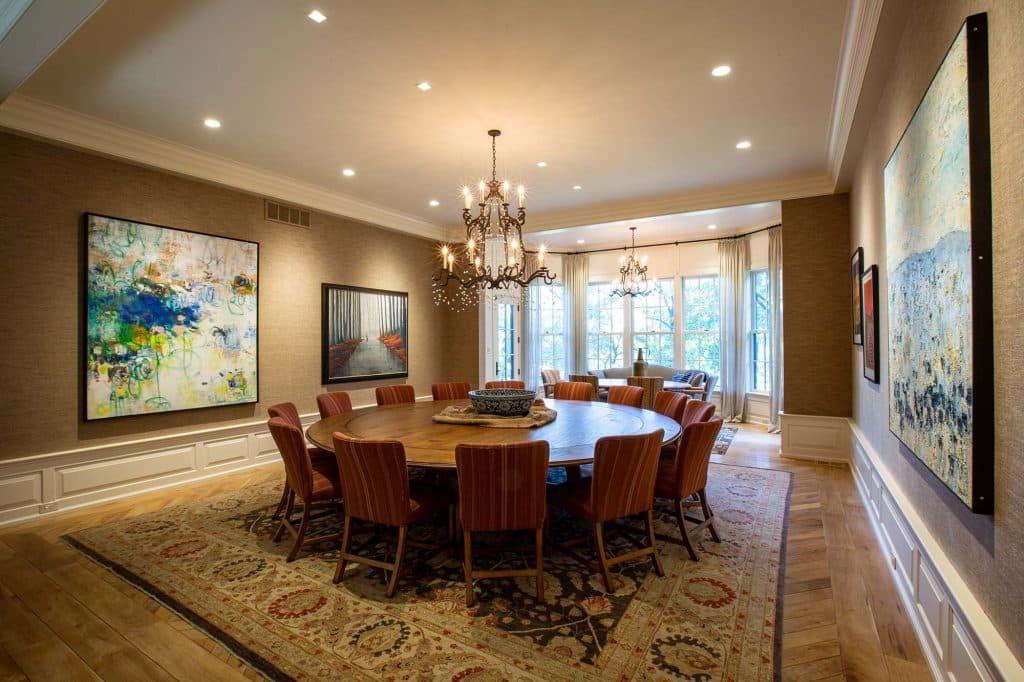 Modern & Rustic Indoor Entertaining Spaces
Finally, both property's indoor entertaining spaces provide insightful inspiration. Malvern's wide open floor plan allows the function of the beams to be on display. When paired with the clean, simple lines of the light fixtures, tables and chairs, the effect is an airy space that feels fresh yet welcoming thanks to the various wood tones and textures.
As with other parts of the home, Wayne's indoor entertaining space strikes a unique chord between true modern and traditional styles with its use of large scale shapes (seen in the oversized round table as well as the grand art on the walls) that are paired alongside more traditional chandeliers, rugs and molding details. The result could have become dissonant, but by keeping the details very minimal with little to no extra furniture in the space, a modern harmony was achieved.
Creating a mix of modern and rustic is an exhilarating pursuit made achievable with the help of B&D Builders. Having grown up as best friends, Ben Esh and Daniel Glick, the "B" and "D" of B&D Builders, decided to start their business in 2000 and have since assembled a team of experienced craftsmen and designers who construct all types of beautiful and dynamic structures all across the country. Intertwining traditional and modern styles with the finest technology, systems and materials, B&D Builders has created a style of construction and design that can be applied to any new or existing home. See more of their work here.
For even more home decorating and home inspiration, as well as local home professionals who can assist you in an upcoming project, see our Home & Garden page. ~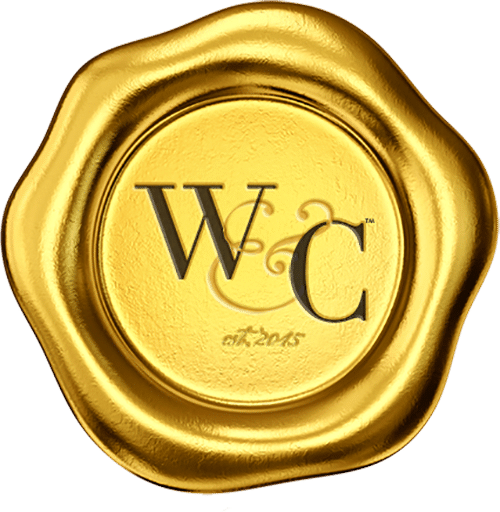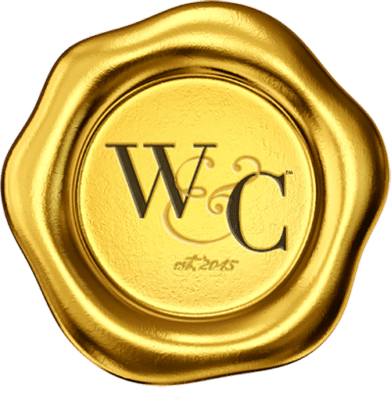 Virginia Wine & Country celebrates elevated living in Virginia Wine Country. Virginia Wine & Country Life is a semi-annual luxury print magazine with a full digital presence. The Virginia Wine & Country Gold Book is an annual guide to the top award-winning wines, wineries and experiences in Virginia Wine Country. The annual Virginia Wine & Country Wedding Planner is an art book of elegant Virginia weddings. The brand includes the Virginia Wine & Country Shop in Ivy, Va. It is a beautiful lifestyle boutique that brings the pages of the magazines to life. Virginia Wine & Country tells the stories of Virginia wineries, the farm-to-table movement, luxury travel, entertaining, art and the elegant country lifestyle. Ivy Life & Style Media also provides branding, web design and PR services for the wine industry.