A balanced barbecue spread needs at least one refreshing side or salad to tame the heat, and a cucumber salad using your own or local ingredients works wonders to cool things down. Adding a trending ingredient like za'atar—a Middle Eastern spice blend—can pique the interest of your guests and create conversation. This cucumber salad is also a refreshing addition to a vineyard picnic. This Cucumber Salad with Za'atar Yogurt Recipe will add this and much more to your table and menu.
What is Za'atar Seasoning?
Za'atar is a Middle Eastern mix of dried herbs and spices and can be used to add an extra spice and layer of complexity to a variety of dishes. It works incredibly well with yogurt-based recipes, such as this one, because of its natural zest balancing out the tangy and fatty qualities of the yogurt.
This recipe is bold and bright and will change the way you think about summer salads.
Other Ways to Use Dill
Are you interested in this recipe but worried about what to do with all that extra dill? You can use this herb to produce a powerful and unique aroma, as a bright and colorful garnish, and to enhance and diversify your cooking in other recipes, such as seafood or pasta dishes, in homemade dressings, in pickling or paired with potatoes.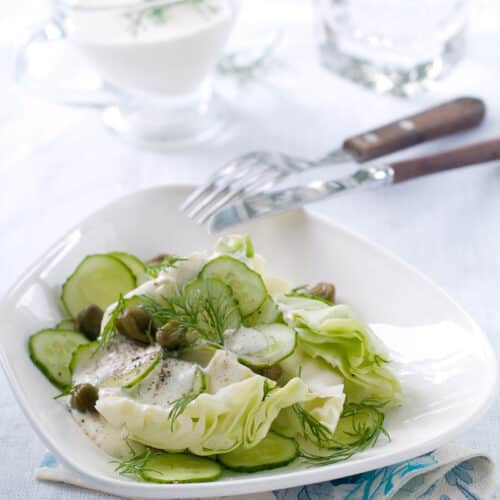 Cucumber Salad with Dill & Za'atar Yogurt
Refreshing cucumber salad gets a kick with toasty za'atar—a Middle Eastern spice blend.
Ingredients
3–4

cucumbers,

English or hot house

1

small red onion,

thinly sliced

2

cups

plain yogurt

1

lemon, juiced

2

tbsps

za'atar seasoning

1 1/2

tsps

kosher salt

3

tbsps

olive oil

1

bunch

fresh dill

Freshly ground pepper
Instructions
Peel and halve cucumbers lengthwise. Scrape out the seeds and slice thinly. Place cucumber in a colander, sprinkle with 1 tsp kosher salt, and let them drain for 30 minutes to up to 2 hours. Rinse and pat dry. This step draws some water out of the cucumbers to ensure the salad doesn't get too watery.

Heat 2 tbsps of olive oil in a small skillet over medium heat. Stir in the za'atar seasoning and remove from heat. Let cool.

Make the dressing: mix yogurt, lemon juice, cooled za'atar oil, remaining 1 tbsp olive oil, ½ tsp salt, pepper and most of the fresh dill, reserving some for garnish. Taste as you go.

In a large mixing bowl, combine the cucumbers, thinly sliced red onion and the yogurt dressing. Sprinkle with leftover herbs and more pepper, if desired.
Tips for Growing Cucumbers in Virginia
If you're looking to try your hand at gardening and are not entirely sure where to start, we highly recommend cucumbers. This vegetable is not only easy to grow but also delicious and a healthy and refreshing snack for the whole family. Below, we have some tips to help you grow cucumbers so you have them on-hand to use in other dishes.
Cucumbers need full sun and warm temperatures to grow.
Cucumbers also need lots of moisture and well-drained, fertile soil, high in organic matter with near-neutral pH.
Cucumbers are very sensitive to cold. Don't rush to plant too early. Temperatures need to stay above 55 degrees at night.
When picking, the best cucumbers are dark green in color and about six to eight inches long.
Any cucumbers that are starting to turn yellow are overripe and will be diminishing in flavor.
The Wine & Country Shop has a variety of gardening tools and accessories for gardeners of all experience levels. Shovel in style with a stylish Gardener's Spade in Walnut, and match the flowers in your garden by wearing an English Blooms Gardening Half Apron. If you're looking for something more durable, try one of these high-quality gardening items: Leather Gardening Tool Holster; Gardener's Leather Tool Belt; and Waxed Canvas Tool Bucket.
Wine Pairing Tip
When pairing wine with a creamy-type salad consisting of several layers of flavor and spice, you'll want a light-bodied white wine that does not overtake the freshness of the salad but can cut through some of the creaminess. A crisp, melony Sauvignon Blanc is the perfect pairing for this salad. Barboursville Vineyards' Sauvignon Blanc has a long finish on the palate with fresh citrus and herbal notes, and traces of green melon.
A great side dish or salad recipe should be as delicious as it is versatile. Using seasonal produce and exciting local ingredients makes it easy, convenient and fun for everyone. This Cucumber Salad with Za'atar Yogurt Recipe is elevated enough for a dinner party or potluck but accessible enough for a picnic or backyard get-together. We recommend pairing this Mediterranean-inspired dish with Dequmana Mixed Olives, which you can find online or in person at The Wine & Country Shop. For more summer recipes, see the other two farm-to-table dishes in our 3 Summer Salad Recipes series, and for other local recipes, see our Food & Drink page. ~
NADIRAH MUHAMMAD is an editorial assistant with Ivy Life & Style Media. She is dedicated to exploring the world through writing and adding eloquence to everyday life.
FRANCESCA BLACK is a freelance content creator who uses her culinary background to explore the best in food and drink in Virginia.
JANINE AQUINO has 30 years of business consulting and entrepreneur experience. Her focus lies in Agritourism—the grower, the producer. Having grown up in the Hudson Valley region of New York, on a small family vineyard, she learned grape growing, winemaking and distribution and is the 4th generation in her family to continue in the wine industry. While in NY, she studied food and wine pairings at the CIA and worked for a couple of wineries lining the Hudson River. She then received an opportunity to buy a boutique winery in Ohio, which she did and ran for 10 years. Opportunities were presented to her in VA to take the reins of a couple startup vineyards and fully develop them. After working with the wineries, she started Aquino Baron Consulting, an agritourism consulting company focused on wineries and cideries. She is a member of the Virginia Wineries Association, Virginia Vineyards Association and Shenandoah Valley Wine Trail, and sits on the Waynesboro Tourism Advisory Board.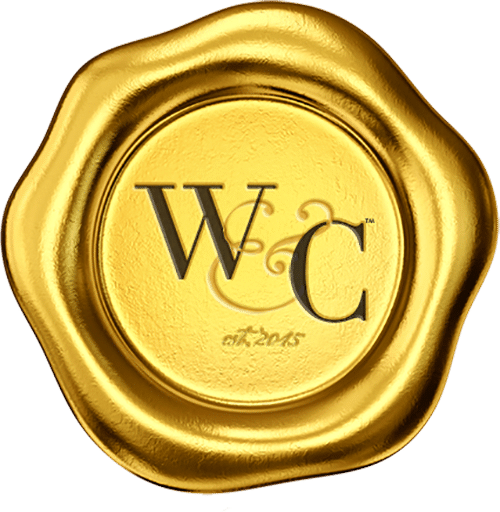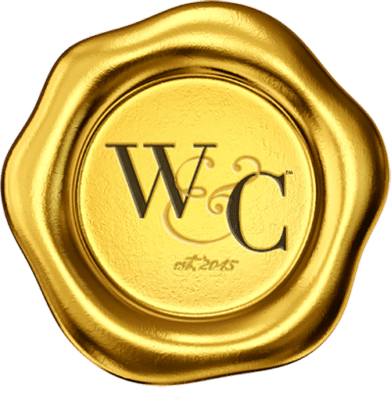 Virginia Wine & Country celebrates elevated living in Virginia Wine Country. Virginia Wine & Country Life is a semi-annual luxury print magazine with a full digital presence. The Virginia Wine & Country Gold Book is an annual guide to the top award-winning wines, wineries and experiences in Virginia Wine Country. The annual Virginia Wine & Country Wedding Planner is an art book of elegant Virginia weddings. The brand includes the Virginia Wine & Country Shop in Ivy, Va. It is a beautiful lifestyle boutique that brings the pages of the magazines to life. Virginia Wine & Country tells the stories of Virginia wineries, the farm-to-table movement, luxury travel, entertaining, art and the elegant country lifestyle. Ivy Life & Style Media also provides branding, web design and PR services for the wine industry.