The 2019 Taste of Monticello Wine Trail Festival celebrated its eighth year with another weeklong series of wonderful wine-paired dinners, lunches and special tasting events leading up to the festival's well known "Grand Tasting" on Saturday at the Sprint Pavilion.
The festival kicked off with the Monticello Cup awards ceremony on Monday evening, April 29, at Vault Virginia, one of Charlottesville's newest venues. Guests enjoyed award-winning wines from the Monticello American Viticultural Area (AVA) and learned more about local vineyards, especially the winning wine—King Family Vineyards' 2016 Mountain Plains.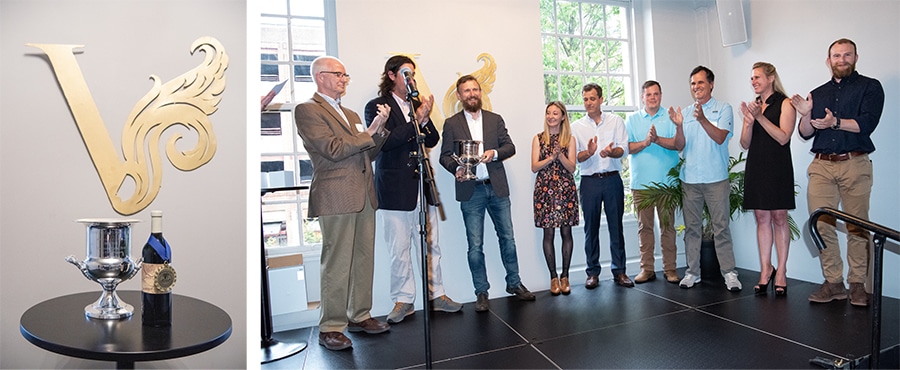 Throughout the week, local chefs welcomed winemakers into their restaurants to celebrate our region's best in farm-to-table cuisine, and vice versa. On Tuesday, Glass House Winery partnered with Parallel 38 to host an intimate five-course wine-paired dinner, while Albemarle CiderWorks, Loving Cup Vineyard & Winery and Wisdom Oak Winery came together for the Taste of North Garden Winemakers Dinner, serving appetizers and a four-course meal while the winemakers from each featured vineyard guided the discussion and expounded on their wines.
On Wednesday evening, Afton Mountain Vineyards and Jake Busching Wines partnered with Brasserie Saison for a dinner celebration on Charlottesville's Historic Downtown Mall. The dinner featured four exquisite courses from Chef Tres Pittard and the inclusion of many locally sourced ingredients which bring bright flavors to the featured wines.
Thursday offered wine lovers two exciting events—the Taste of White Hall Wine Dinner and Going Rouge: A Peculiar Wine Tasting at IX Art Park. While guests were introduced to wines from Grace Estate Winery, Stinson Vineyards and White Hall Vineyards at the White Hall Ruritan Club, others enjoyed a walk-around tasting at IX Art Park featuring small Batch and experimental offerings from Early Mountain Vineyards, Flying Fox Vineyard, King Family Vineyards, Lightwell Survey and Veritas Vineyard & Winery.
Friday ended the weeklong series with its 3rd Annual Rosé Lunch at Barboursville Vineyards (pictured below). Five styles of Rosés from Barboursville Vineyards, Blenheim Vineyards, Early Mountain Vineyards, Reynard Florence Vineyard and Stinson Vineyards (pictured with their respective winemakers below) were paired with a spring-inspired meal prepared by Chef Spencer Crawford at Palladio Restaurant. The event began with a plate of grilled asparagus, mozzarella and heirloom tomatoes, before segueing into a dish of strawberry risotto, which was deliciously prepared using Barboursville's own Allegrante Rosé, Parmigiano Reggiano, fresh mint and 2001 Aceto Balsamic—also made at Barboursville. The meal concluded with a serving of house-roasted "Porchetta" (from a pig raised on the property) complemented with a side of spring vegetables.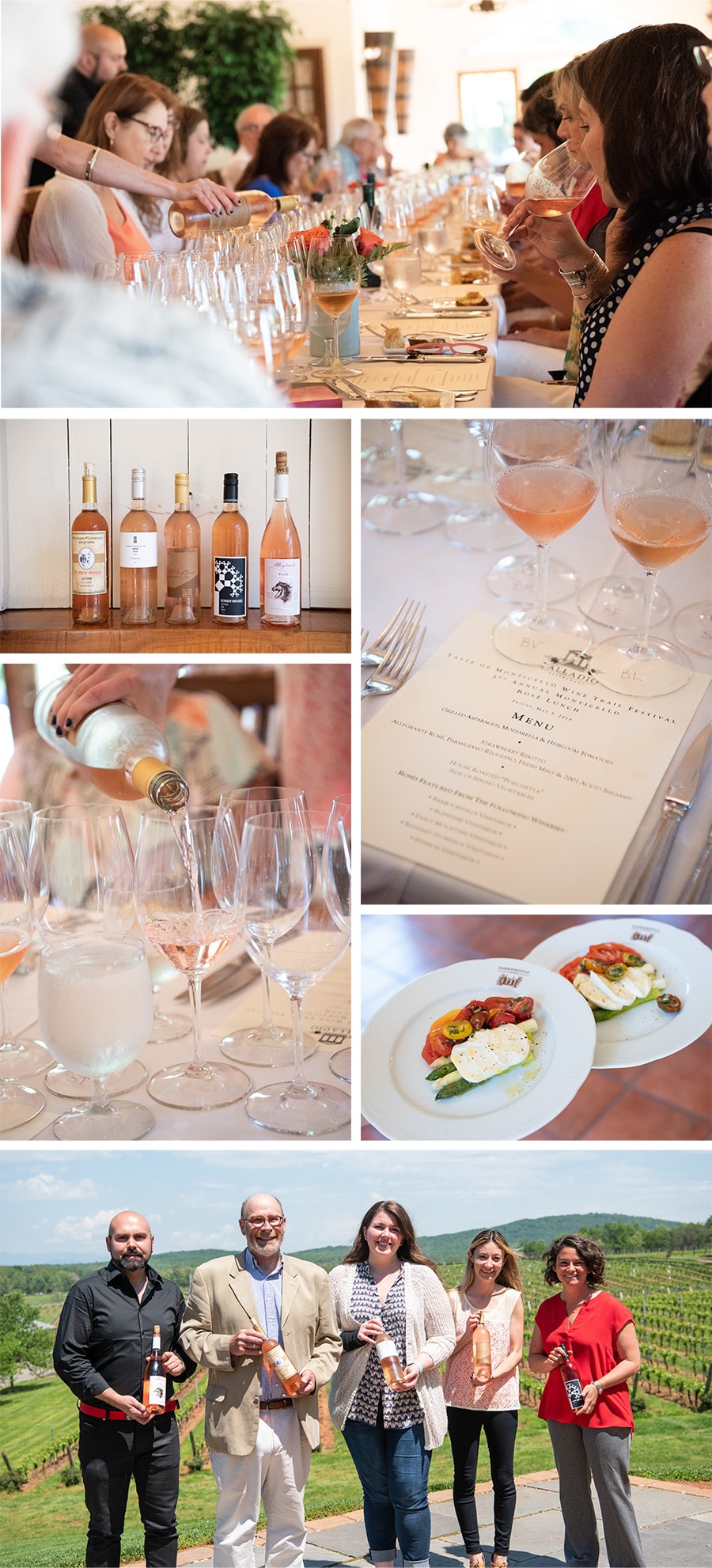 The festival culminated with the "Grand Tasting" event (pictured below) at the Sprint Pavilion on Saturday, May 4, where hundreds of wine lovers were able to meet winemakers and try wines from more than 25 different local wineries. We also enjoyed meeting many readers and fans at our Charlottesville Wine & Country pop-up boutique at the tasting event!

Wrapping up the week of fabulous events was the 4th Annual Sparkling Wine Brunch held at Veritas Vineyard & Winery, where guests were served five Monticello AVA sparkling wines by the winemakers themselves.
This year's festival was another success, showcasing the impressive talent we have in our local wine country. We are so proud of our trailblazing and hard working winemakers, and though our local wine community has lost two patriarchs in the past year, the festival continues to be a testament of the passion and hard work of people like Dennis Horton and David King.
Congratulations to The Monticello Wine Trail on another delightful festival. Thank you to all the sponsors, including Mercedes Benz of Charlottesville, who helped make this week possible. We are already looking forward to next year!
---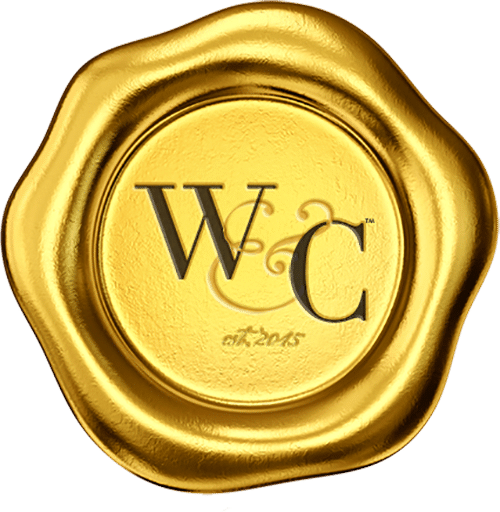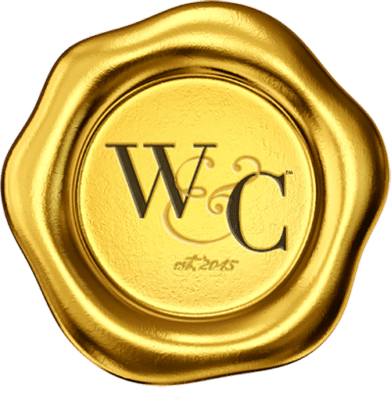 Virginia Wine & Country celebrates elevated living in Virginia Wine Country. Virginia Wine & Country Life is a semi-annual luxury print magazine with a full digital presence. The Virginia Wine & Country Gold Book is an annual guide to the top award-winning wines, wineries and experiences in Virginia Wine Country. The annual Virginia Wine & Country Wedding Planner is an art book of elegant Virginia weddings. The brand includes the Virginia Wine & Country Shop in Ivy, Va. It is a beautiful lifestyle boutique that brings the pages of the magazines to life. Virginia Wine & Country tells the stories of Virginia wineries, the farm-to-table movement, luxury travel, entertaining, art and the elegant country lifestyle. Ivy Life & Style Media also provides branding, web design and PR services for the wine industry.