Risotto and pasta are often compared in the culinary world, as both are versatile and can be altered to fit the season and its bounty of ingredients. We also know them as ultimate comfort foods. In Italian cuisine, risotto and pasta are the two first courses par excellence.
Chef Dennis Merritt's fresh take on the grain is a prime example of its versatility. This delicious Multi-Grain Risotto recipe can not only elevate your dinner menu but also help create a truly flavor-packed dining experience. Also, don't be too shy to add other ingredients here and there for your own special touch!
Chef Dennis Merritt, Chef de Cuisine of The Pink Grouse at Quirk Hotel Charlottesville, joins the Charlottesville food scene after working his way through some of Virginia's top kitchens. He offers a hyper-seasonal menu at The Pink Grouse, carefully curated into a modern menu featuring produce and ingredients from many locally sourced farmers. Merritt even worked under Chef Grant Achatz in Chicago at one of the most demanding kitchens in the culinary industry. He strongly believes in the importance of the overall artistry that goes into each dish and strives to feature innovation, seasonality and creativity.
"I don't give myself restrictions, allowing the culinary experience for diners to be unique through every bite," Merritt says. "I love incorporating seasonal items or putting a twist on a well-known dish. I've been fortunate to have access to so many of the region's most impressive artisans, purveyors and farmers to source from and to be inspired by while reimagining The Pink Grouse."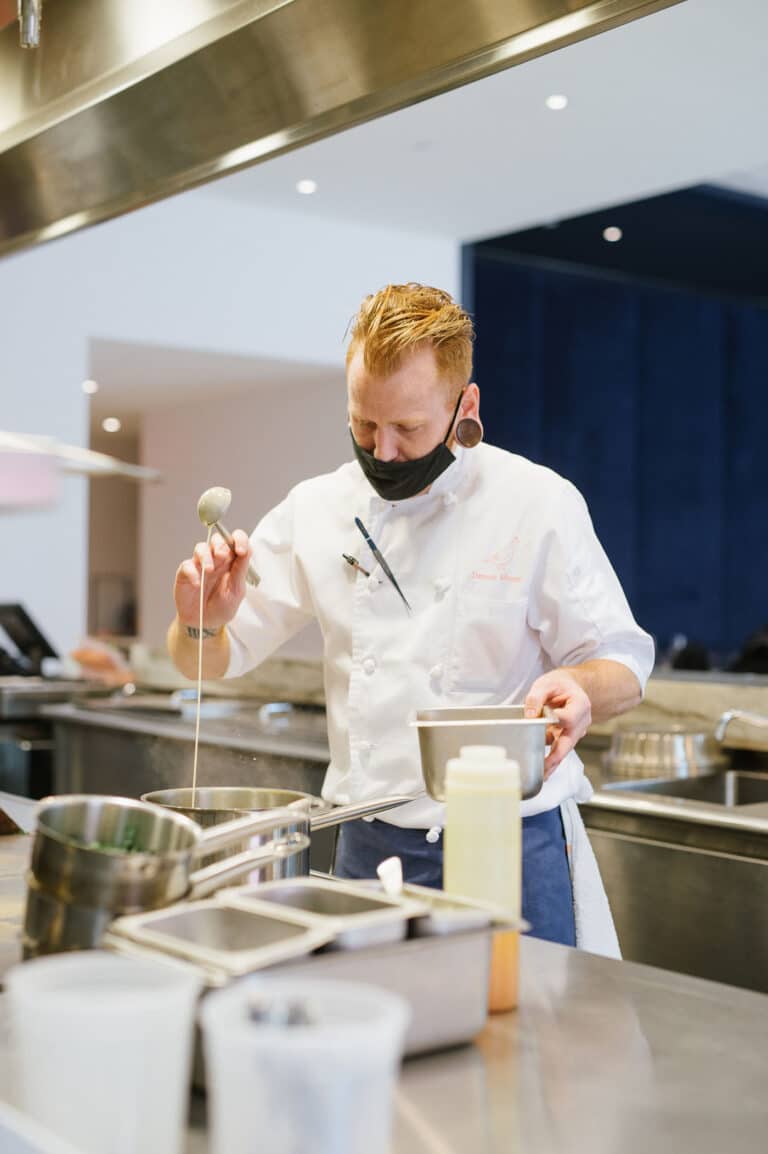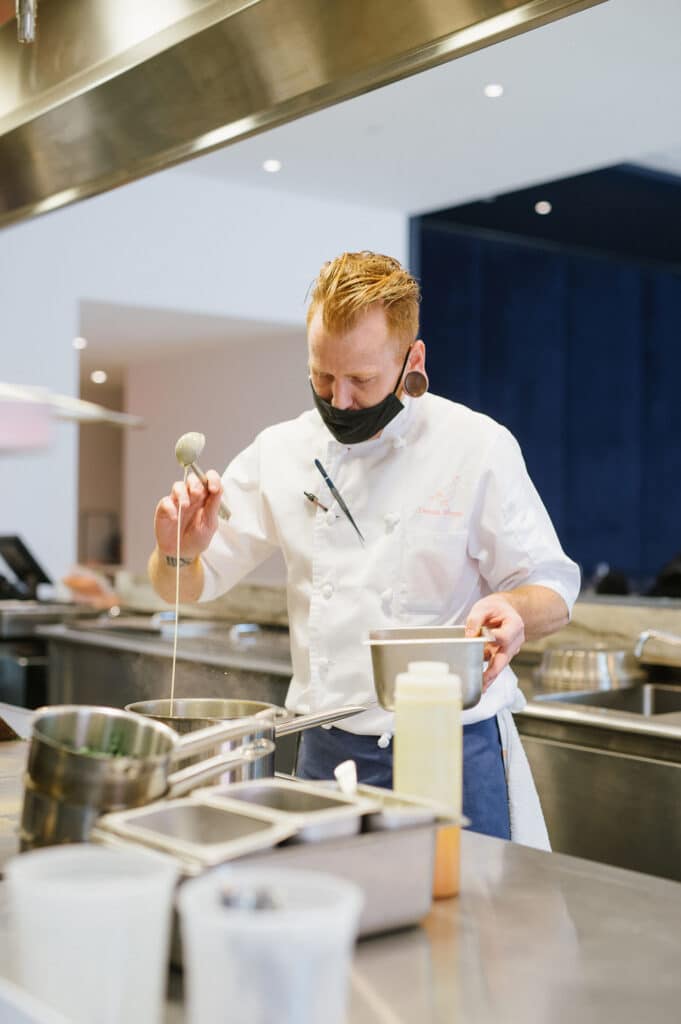 "I love incorporating seasonal items or putting a twist on a well-known dish."
For centuries, the use of rice has been a major staple in cultures all around the world. Risotto, a northern Italian favorite, is often made with broth derived from meat, fish or vegetables until it reaches a creamy consistency. Over the years, risotto has became an innovative dish withstanding the test of time while still leaving diners satisfied and full.
This multi-grain risotto recipe gives room for the chef's creativity, allowing you to replace some of the vegetables in the recipe with greens you might like a tad more. For example, feel free to substitute in peas, spinach leaves and asparagus. If you're looking to be more health conscious, add more high fiber ingredients to the mix, such as cherry tomatoes, brown rice and chopped celery.
Which Rice or Grain Works Best for Risotto?
There are many varieties of rice to choose from, and some are more suitable than others for preparing risotto. Rices are divided into common, semi-fine, fine or superfine groups based on the shape of the grain and the way it is cooked. Rices that fall within the fine and superfine groups hold better in cooking and are ideal for using in a risotto recipe because they cook more slowly and remain more al dente. Arborio, Carnaroli, and Vialone Nano are three kinds of traditional risotto rice that have a high starch content. They also all hail from northern Italy…coincident we think not.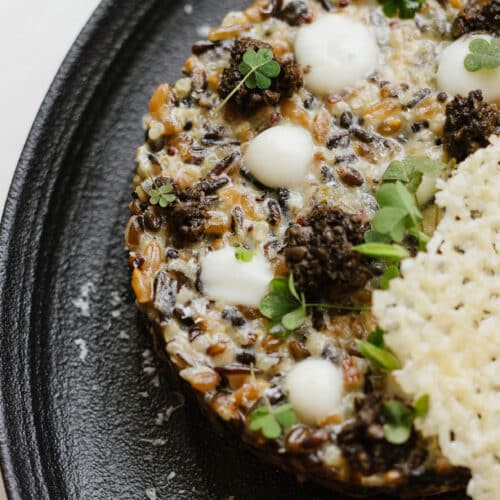 Multi-Grain Risotto Recipe
Ingredients
250

g

dry grain of your choice

800

g

water

30

g

fresh thyme

3

ea

crushed garlic

1

ea

bay leaf

1/2

ea

yellow onion,

halved

1

ea

shallot,

halved

1

ea

carrot,

peeled and quartered

15

g

salt

2000

g

heavy cream

1

ea

shallot,

halved

50

g

thyme

50

g

rosemary

50

g

marjoram

2

ea

crushed garlic
Instructions
Place each grain of your choice in a separate pot with Mire Poix (a mixture of sautéed chopped vegetables used in various sauces), and cook on medium heat until tender.

Once tender, pour all into a baking pan to cool.

Once cool, pull out all but the grain and set aside. Do this with four different grains.

In a 4-quart sauce pot, combine cream and Mire Poix, and reduce on low heat to 1,000 g. Then strain.

Mix the four grains with half of the double cream, a tablespoon of water and a pinch of salt in a medium pot on low heat until creamy and hot, folding not stirring.

Finish with Parmesan cheese.
What to Pair with Risotto?
Wine lovers will be happy to hear that this Multi-Grain Risotto Recipe pairs wonderfully with Virginia-made wines like Pinot Grigio or Viognier, making dinner an occasion rather than just an ordinary night. For a recommendation on a local wine to pair with this dish, give our Wine & Country Shop in Ivy, Virginia, a call.
For more delicious local recipes, check out our Food & Drink section. ~
Virginia native, FRANCIS SWINSON, is currently attending school at the University of Virginia and loves to write about the many adventures that comes with traveling around the globe.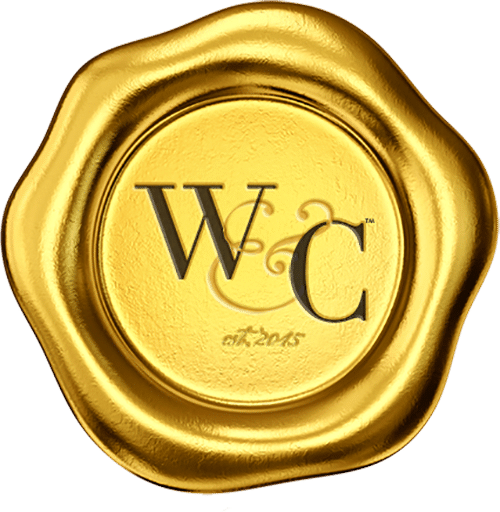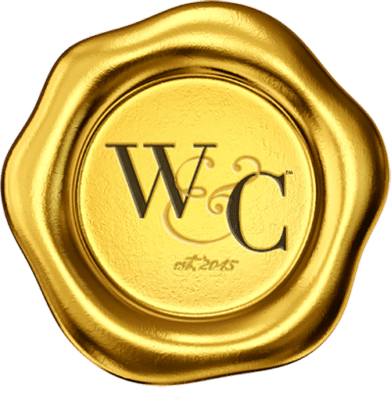 Wine & Country celebrates elevated living in Virginia Wine Country. Wine & Country Life, a semi-annual life & style magazine, and Wine & Country Weddings, an annual art book celebrating elegant Virginia weddings, are complemented by the Wine & Country Shop in Ivy, VA—a beautiful lifestyle boutique that brings the pages of the magazines to life. The Shop features over 40 Virginia artisans with everything from tailgating essentials and Dubarry attire to locally made foods and award-winning Virginia wines and craft beverages for your next event. Wine & Country covers the grape-growing foothills of the Blue Ridge Mountains from Lynchburg to Leesburg, including points in between like Charlottesville and Middleburg. Ivy Life & Style Media also creates other projects, including CharlottesvilleFamily.com, a collection of local resources including a popular calendar of events, family services guides and features on education, health and family day trips for parents and teachers in Charlottesville, as well as the CharlottesvilleWelcomeBook.com a guide to resources for Charlottesville tourists and newcomers.