Celebrating Spring and a return to shared experiences, the 2021 tour is implementing many protocols in order for everyone to be safely together outdoors. After cancellation due to the pandemic in 2020, the annual Historic Garden Week Tours―America's largest open house and Virginia's oldest volunteer tourism project, are a welcome opportunity to experience the beauty of nature with other garden enthusiasts. 
For 87 years, the nation's only statewide house and garden tour has contributed to our state and regional economies. The economic impact of Historic Garden Week over the last 50 years is estimated to be over $425 million. The fundraiser supports many conservation and restoration projects throughout the state, preserving and protecting our landscapes for future generations.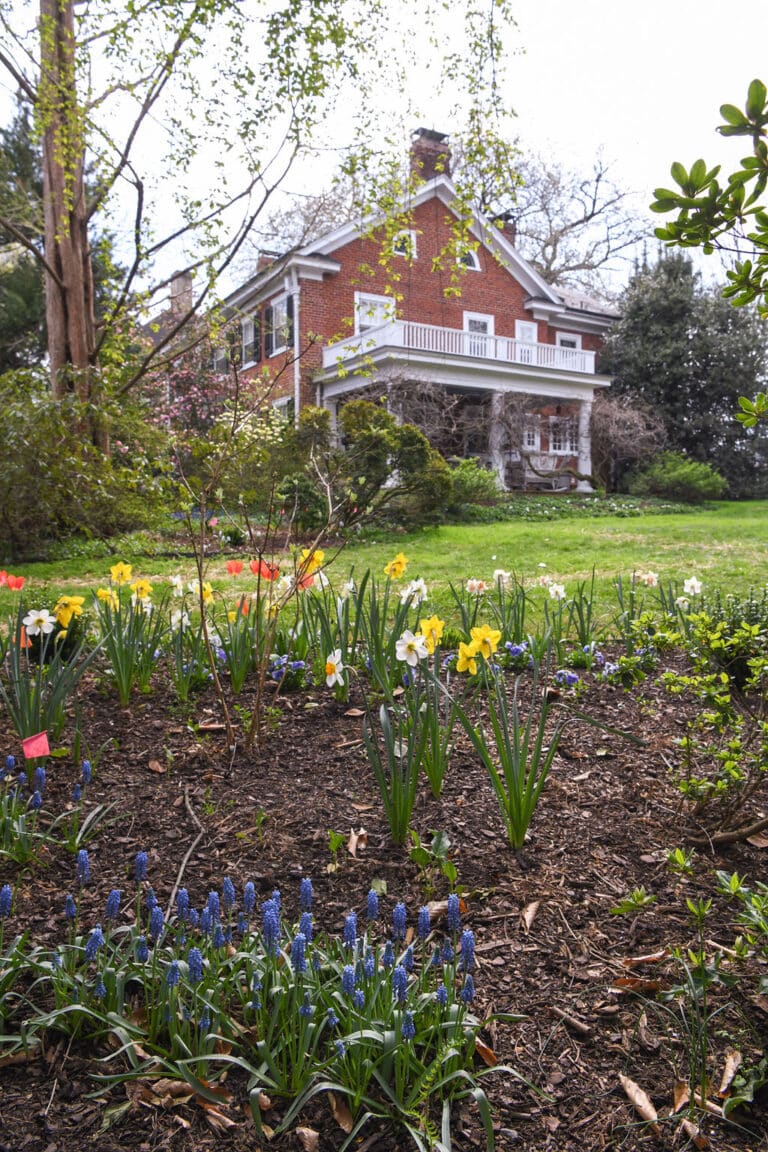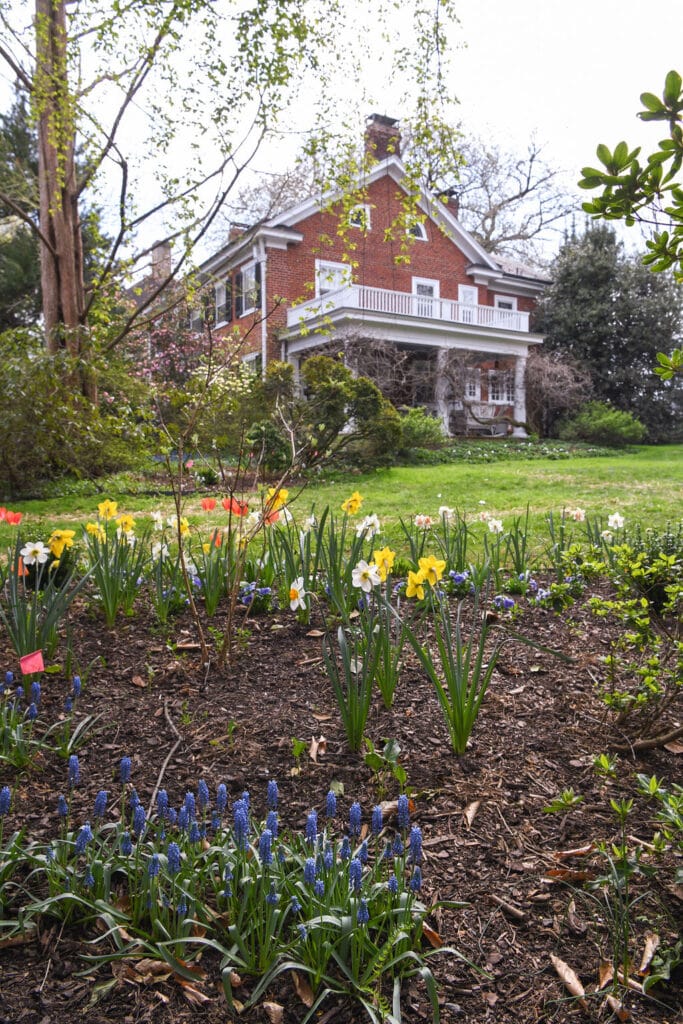 Organized and hosted by member clubs all across Virginia, garden and home tours on the 2021 lineup feature more than 100 private and public gardens and landscapes throughout the Commonwealth. Read on for a look at a stunning garden property on this year's Albemarle County tour.
A Sneak Peek Into A Charlottesville Garden Property on the 2021 Historic Garden Tour
This year's Albemarle County tour showcases private gardens in Charlottesville where homeowner-gardeners' passion for unusual plants and stunning specimen trees is visible. Their talent for making creative use of garden spaces using accents and vignettes, paths and transitions like arbors, give an illusion of greater space and lead to beautiful focal points.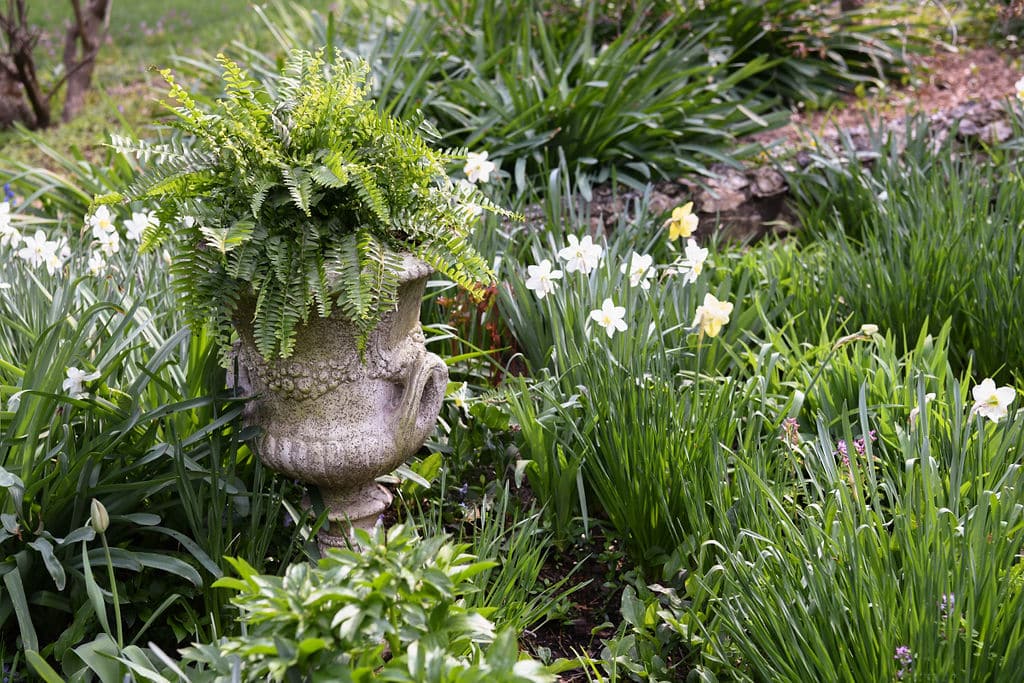 This lovingly cared for Georgian-style home is surrounded by an impressive collection of specimen trees that shade borders brimming with shrubs and perennials. Homeowners Dick and Mary Howard share a love of the property and Mary has created a garden filled with many charmingvignettes and views. Guests will meander along paths to a variety of spaces thoughtfully woven together by lush plantings in a predominant color scheme of greens and whites punctuated by colorful spring bulbs. The home has had few owners in its 100-year history and many of the original trees and shrubs have been lovingly tended since the 1920s.
The flower beds come alive in the spring, with a wide variety of narcissi and tulips accenting a variety of blooming shade perennials, among them bleeding hearts and periwinkle. Just behind them, you'll see peonies, hostas and roses ready to take their turn next in the parade of blooms on the growing calendar supported by the foundation of shrubs. Inviting one to sit and linger for a spell in the dappled shade, a charming bench is surrounded by deep plantings in a restful palette of greens and whites. Adorning the perimeter of the lush lawn are beds edged in shade-lovers, such as begonias, ferns, hostas and sweet toad lilies.
Adding to the charm of this beautiful outdoor space are many follies, fountains, statuary and relics from the couple's travels.
One of the most notable specimen trees is a massive American elm (seen below), one of the oldest and largest surviving elm trees in Virginia, whose beautiful canopy extends over the neighboring property. Tour goers will also be impressed by the property's tallest tree, a Metasequoia, also know as the dawn redwood, which the couple bought as a one-foot sapling years ago at Longwood Gardens. The tree has been growing at a steady clip of 6 feet per year ever since. Other noteworthy features include a mature Japanese umbrella pine, a dove tree, an American yellowwood and many different types of magnolia.
The garden features several unique structures. Originally built in Augusta County, the historic 19th century gazebo adds grace and charm. Large supporters of the arts, the Howards often generously host visiting opera performers in their stunning guesthouse that features a beautiful stone fireplace and a spectacular mural by beloved local artist, Karen Levering. (The guest cottage door will be opened for a peek inside during the tour.)
Among many special features, tour-goers will want to watch for an antique English fountain, a petite fish pond and the potting shed―a reproduction of a smokehouse found on the grounds of the Governor's Palace in Williamsburg. Adding to the charm of this beautiful outdoor space are many follies, statuary, water features and meaningful relics from the couple's travels.
This property will also be host to special displays. The Wine & Country Shop will style a spectacular vintage bar and botanically inspired al fresco luncheon tablescape on the porch, while Pour La Maison boutique is hosting a gorgeous entertaining set up in the gazebo. Van Yahres Tree Company will also have an arborist on hand to answer questions about the many amazing trees on this tour.
This Albemarle County garden property is one of three spectacular tours in Charlottesville, and there are a hundred amazing tours throughout the state. For safety, 2021 Historic Garden Week Tours will have limited ticket sales, so everyone is encouraged to explore the many beautiful choices and consider traveling a bit further afield if their local tour is already sold out.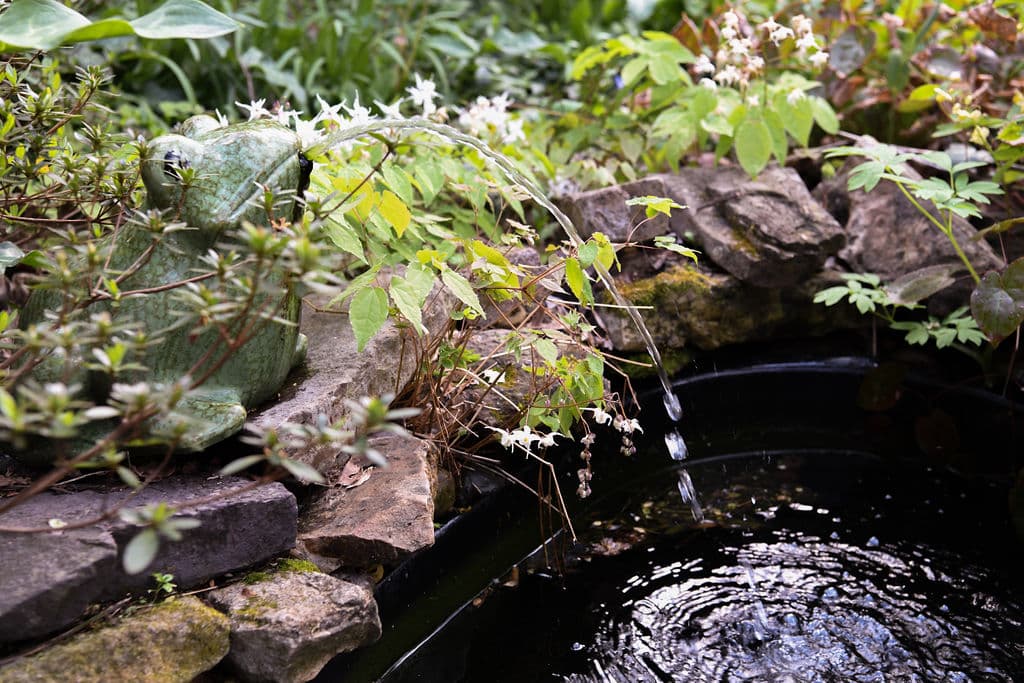 The History of the Garden Club of Virginia
Coming originally from England, early Virginians brought with them an inherent love of the land. Starting in 1929 with the knowledge that Virginia's beauty foresaw inevitable destruction if not cared for, the founders of the GCV made it their most important work to preserve our state's historic public gardens. From Monticello, Mount Vernon, Bacon's Castle and Lewis Ginter Botanical Garden to the State Arboretum in Winchester, a full diversity of gardens continues to make up the GCV's project list over 100 years later. The goal is to preserve Virginia's natural landscapes and historic gardens while creating a more beautiful home for all to enjoy.
Since 1920, the Club has grown from eight founding clubs to 47 clubs with over 3,300 members. Each year, talented volunteers along with the generosity of over 200 private home owners across our Commonwealth help make Historic Garden Week possible. The horticultural programming and flower shows inspire one of Historic Garden Week's greatest attractions―the world-class floral arrangements created by club members featured in every home on tour.
One of the first projects the GCV took on in the 1920s was helping to establish the Virginia State Park System. By 1929, after completion of Shenandoah National Park, the women of the GCV presented resolutions to the governor to allocate that more land should be preserved for state parks. This effort marked a huge milestone in conservation. To celebrate the 100th anniversary in 2020, the women of the GCV continued their commitment to Virginia's state parks by donating $500,000 in grants to support enrichment of the park's projects and programs.
"In the early 19th century, there weren't outlets for educated women to become politically active. They couldn't vote yet," says GCV President Missy Buckingham in an interview. "These women changed the landscape of our country." Some of the projects on the Club's list included the Mary Washington House, Poplar Forest, Washington & Lee University and even the Woodrow Wilson Presidential Library, to name a few.
If you've ever admired the flowers at Monticello, the terraced gardens of Montpelier, the shrubbery of Mount Vernon, or the gardens bordering UVA's Lawn residences, you can thank the GCV. Using historic sketches, plans and letters written by the original owners, the women help to restore the gardens to their original intended vision.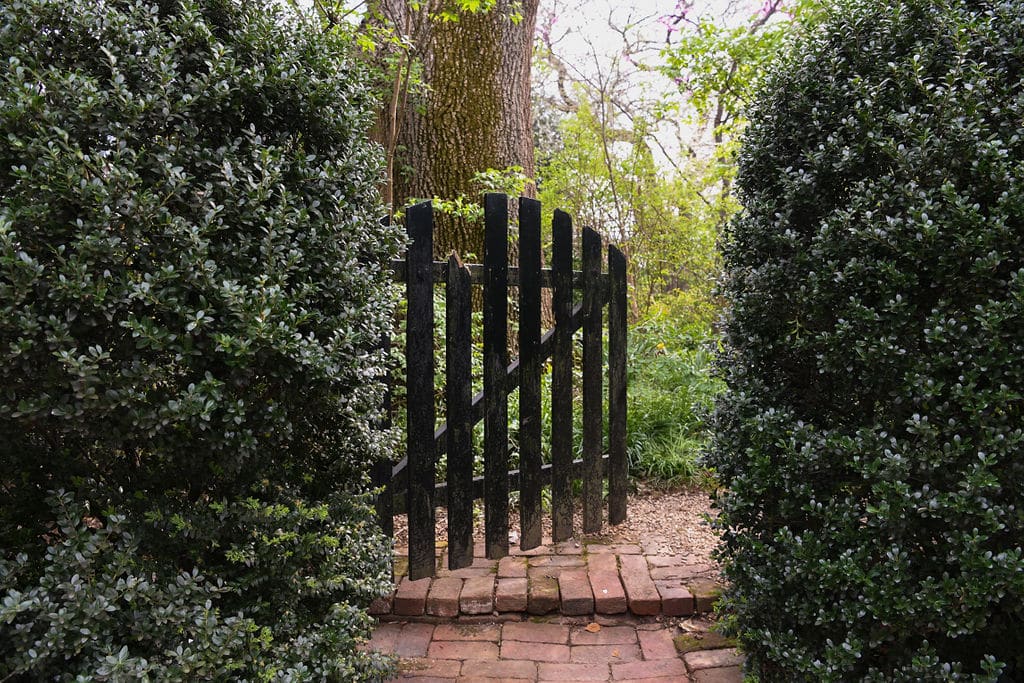 After having to cancel the celebrations of the Garden Club of Virginia's 100th year and the 2020 tours, the beautiful homes, gardens and landscape of Virginia on this year's tour continue to speak to the past 100+ years of work the GCV women have invested. We look forward to the next century of incredible work the Garden Club of Virginia will most surely accomplish.
To view more stunning properties in Virginia wine country, see our home and garden section, where you will find decorating inspiration and garden trends. ~
The 2021 Historic Garden Week Tours Schedule
Saturday, April 17: Gloucester-Mathews, James River Plantations, Old Town Alexandria, Staunton and Suffolk
Sunday, April 18: Albemarle – Private Gardens, James River Plantations
Monday, April 19: James River Plantations
Tuesday, April 20: Fredericksburg, Lynchburg, McLean, Petersburg – Prince George County, Richmond – Hampton Gardens, Williamsburg
Wednesday, April 21: Hampton-Newport News – Yorktown, Martinsville, Richmond – Church Hill, Virginia Beach
Thursday, April 22: Danville / Chatham, Richmond – Monument Avenue, Warrenton
Friday, April 23: Middleburg, Oak Spring
Saturday, April 24: Clarke County, Eastern Shore, Lexington, Middleburg, Oak Spring, Roanoke, South Hill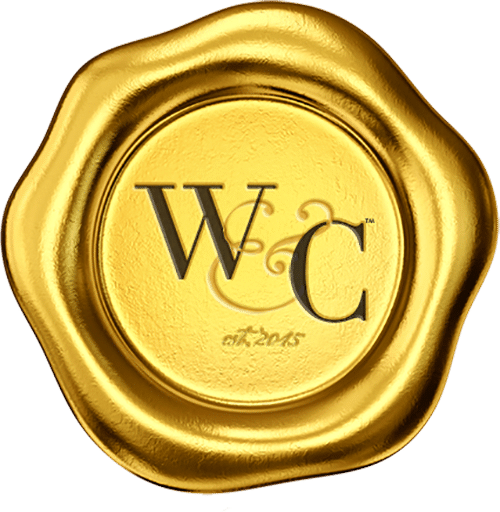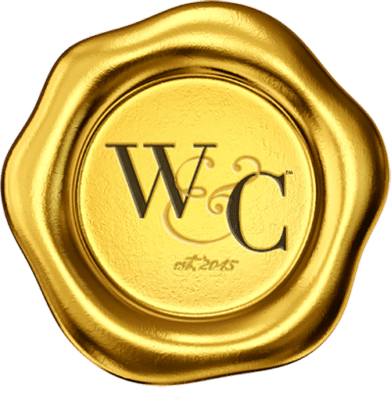 Virginia Wine & Country celebrates elevated living in Virginia Wine Country. Virginia Wine & Country Life is a semi-annual luxury print magazine with a full digital presence. The Virginia Wine & Country Gold Book is an annual guide to the top award-winning wines, wineries and experiences in Virginia Wine Country. The annual Virginia Wine & Country Wedding Planner is an art book of elegant Virginia weddings. The brand includes the Virginia Wine & Country Shop in Ivy, Va. It is a beautiful lifestyle boutique that brings the pages of the magazines to life. Virginia Wine & Country tells the stories of Virginia wineries, the farm-to-table movement, luxury travel, entertaining, art and the elegant country lifestyle. Ivy Life & Style Media also provides branding, web design and PR services for the wine industry.