While owner Jim Law has had a hand in every bottle produced at Linden Vineyards since its inaugural 1987 vintage, he prefers to be called a winegrower, not a winemaker.
It's a small difference, but one that speaks volumes.
Jim Law on Winemaking
Law's focus on terroir-based wines has earned him a devoted following amongst both connoisseurs of old world style wines and his fellow winemaking community. One local vintner called Law "the guru on the hill." Law's Hardscrabble Journal, an online write-up of his viticultural plans and musings (named after Linden's estate vineyard) has its own avid readership.
Yet for all the attention he receives, Law prefers not to opine on the larger Virginia wine industry. When asked about his view of the overall direction of Virginia wine, he defers by saying, "I'm still trying to learn my own site."
This statement is equal parts humility and fact. While four decades of operation marks Linden as one of the oldest wineries in the state, Law recognizes he's still a student of his own vineyard.
He discussed his background, winemaking philosophy and recent changes to Linden during a walking show-and-tell of Hardscrabble Vineyard. Law is clearly at home surrounded by his vines. Popping another grape in his mouth, he laughs, "What can I say. I love grapes!"
His most recent achievement is what he dryly referred to as "year 20 of his 10-year replanting plan." Linden's vineyards were originally oriented east-to-west. But Law eventually recognized this orientation wasn't efficient for ripening his reds, so he set out to overhaul his planting scheme.
Finding the Best Practices for Virginia Vineyards
Replanting most of Linden's original vines was a time-consuming endeavor, but Law wasn't willing to let sentiment overrule his better judgment. A few sections of old-vine Chardonnay were left untouched, but the remainder was slowly replanted, sometimes with different varieties. Fortunately, this decision has since paid dividends, as blocks which previously grew Cabernet Sauvignon now produce some of Linden's best Chardonnay.
If the Virginia winegrowing community had been more insular, it may have overlooked this piece of viticultural advice. Fortunately, collegiality has long been one of its hallmarks, and Law's observations carry weight. Today many Virginia vineyards use this north-south orientation as a standard practice, a technique early pioneers like Law helped promulgate.
Some may describe Law's style of winemaking as 'Old World,' in line with his source of inspiration. Perhaps a better description is 'terroir-driven,' given how Linden wines are crafted to convey a sense of the vineyard in which they are grown.
"Some may describe Law's style of winemaking as 'Old World,' in line with his source of inspiration. Perhaps a better description is 'terroir-driven,' given how Linden wines are crafted to convey a sense of the vineyard in which they are grown.
In fact, Linden wines are usually made exclusively from grapes from one of their three vineyards rather than blended together; Hardscrabble (20 acres), Avenius (five acres down the road), and Boisseau (four acres in nearby Front Royal). Each location has its own microclimate and soil, giving them unique personalities.
Visitors can tell the difference even in the barrel. Down in the cellar Law checks up on each wine as they age. "Hmm…This is good." Pleased with the vintage, he yells out to winemaker Jonathan Weber, "Let's bottle this one!"
Jim Law's History with Wine
Interestingly, what set Law's love of winemaking in motion was a chance moment, when his father was invited to taste a Chablis. As Law tells the story, "In 1961, he and my mother had an anniversary dinner at a seafood restaurant…The Maître d' said you might want to try this wine called Chablis. He got hooked and started sharing with the rest of the family."
It was during Law's college years that he discovered a love of farming. "When I graduated from college I was more interested in wine and farming than anything else. I was working on a small farm to make a few extra bucks and I found I just loved that work. So you take the agricultural end and the desire to travel, so the Peace Corps made sense to me."
This led to a two-year stint in what is now the Democratic Republic of Congo as a volunteer teaching agriculture. "I became fascinated with perennial crops because I like the rhythm of planting and seeing that same crop from that same tree for the rest of your life. I really liked the idea of growing something, and the idea of wine, so it became evident to me that's a track I needed to follow."
In 1980, Law took a job as a 'cellar rat' at Chalet Debonné in Ohio. "I loved the work. I loved pruning all day by myself with the wind blowing and the snow, washing barrels. It was just good honest physical work." But given Ohio's focus on sweeter wines, Law needed to look elsewhere to make the wines he aspired to make.
This led to two job offers—one in southern Oregon and the other at Tri-Mountain Winery in Virginia's Shenandoah Valley. At the time there were fewer than a dozen wineries in Virginia, making it an appealing blank slate for Law. "What drove me to come here was the chance to understand virgin terroir. Wow, what an opportunity!"
Building Linden Vineyards
Law left Tri-Mountain after a few years and began searching for a vineyard site suitable for the Burgundian style wines that first inspired him. In 1983, he purchased the site outside the town of Linden that would become Hardscrabble Vineyard—an old 76-acre apple orchard sitting at 1,300 altitude.
This site met several important criteria, especially good drainage and high elevation. The former is necessary because of Virginia's high levels of rainfall, while the latter helps alleviate the state's warm and humid weather. But understanding the site's terroir, especially what Law refers to as the 'vine-soil relationship,' took over a decade.
"Most people don't understand, especially those coming from the West Coast where they irrigate, the relationship of water to wine quality. In Virginia we don't have that control…so we have to depend more on the characteristics of the soil to drain that water appropriately for each grape variety."
Changes in Virginia Vineyards Over the Years
For all the time he's spent learning the intricacies of his vineyard, still change is a constant. Climate change is forcing him to again re-evaluate some of those lessons.
"Climate is what you plan for and weather is what you get. However with climate change we no longer know how to plan. 2022 is a perfect example because it's climate change on steroids."
Yet Law is undaunted about Virginia's potential. "This region can be challenging, but with hard work and passion, the quality of wine can be world-class." To take advantage of that potential, Linden is making some adjustments.
Those changes include how Linden manages its vineyards. While many wineries prefer to keep their vineyards immaculately mowed, the grass underneath Linden's vines are borderline unkempt. But grass acts as a sponge, absorbing water that would otherwise saturate the vines.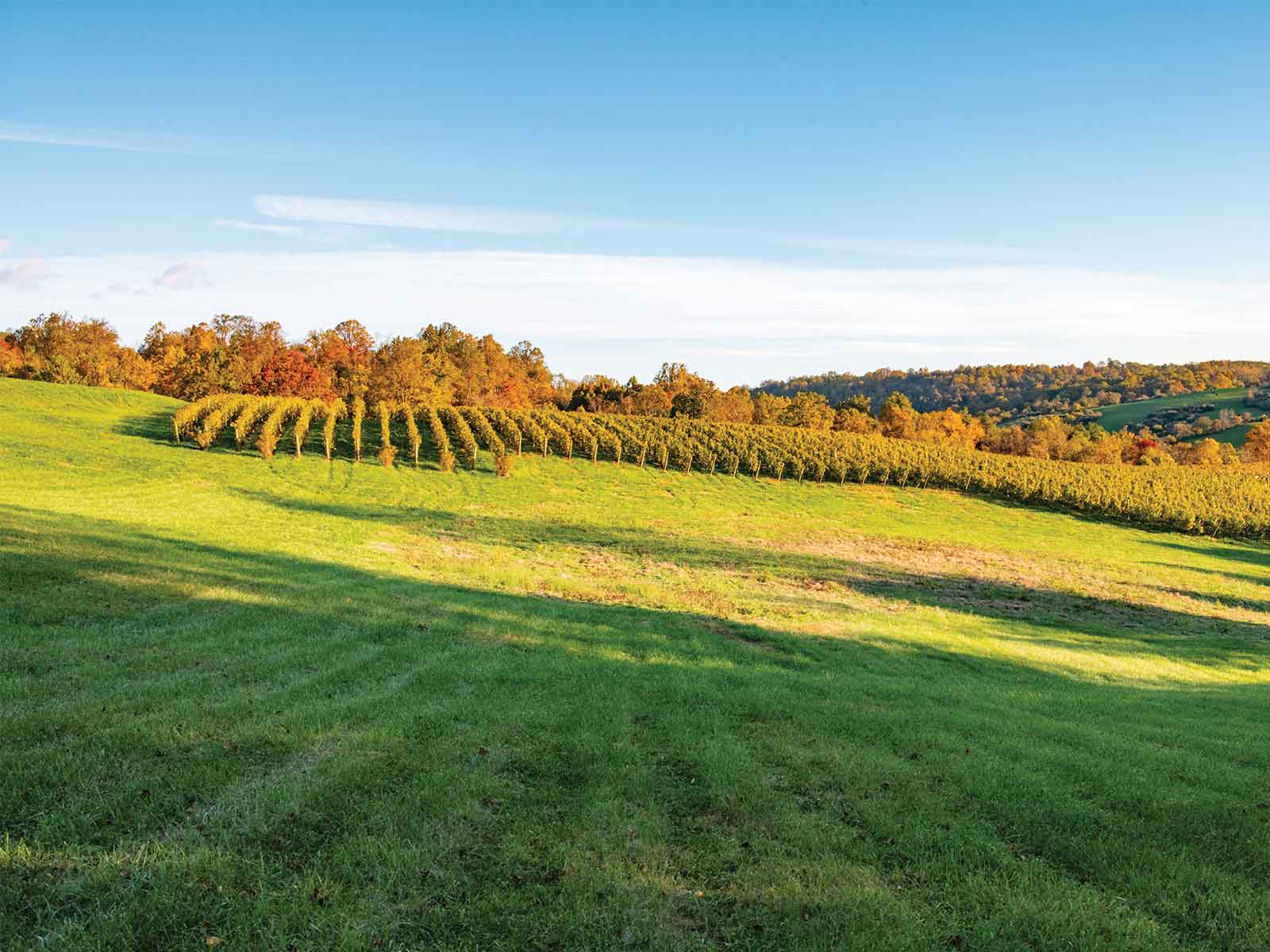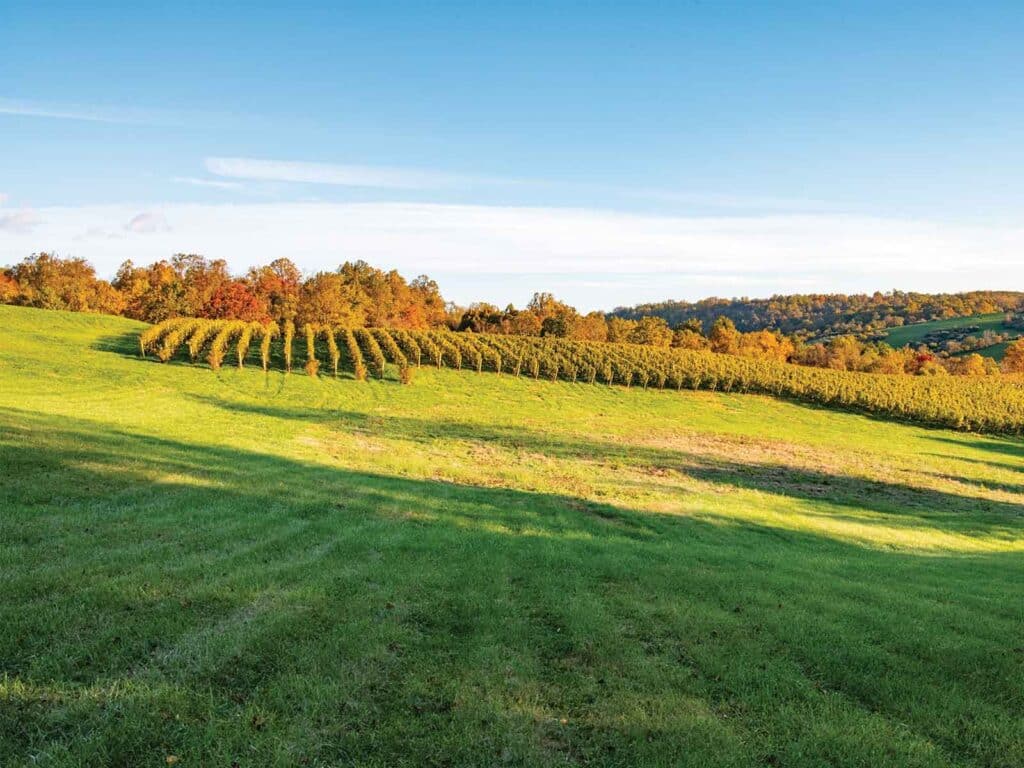 Another change is how Law prunes his canopy. As he wrote in his Hardscrabble Journal, "We get more hail every year now. Leaves can act as umbrellas, protecting clusters from some of the damaging impact of a light to moderate hail storm. We used to remove a significant amount of leaves from around the cluster zone to improve air circulation and sun penetration. But it also exposed the clusters to even the most minor hail event."
More changes may emerge from his test vineyard. "Right now it's just for observation" Law explained, peering at the faded tag on one of his vine posts. All told he's evaluating just over a dozen new grapes. Most are from Italy but specimens from France, Germany, Hungary, and Portugal are also being considered. Fiano seems to be doing especially well, although nothing has been decided.
"To test our new grapes, we plant 12-20 vines. If we find after a number of seasons the balance and flavors are good I will consider a more commercial planting. But it takes about ten years. We can make small changes, but climate change is moving faster than expected."
The Future of Linden Vineyards
For a winegrower who focuses on European-style vinifera grapes, one might assume he'd ruled out planting hybrid grapes – but as with all aspects of the vineyard, Law is nothing if not pragmatic.
"If one fits the bill I would consider it. I look for two things; late ripening and rot resistance. If they ripen too fast they lose finesse, and this ripening window has gotten earlier and earlier. But you have to be careful about saying hybrid. There are two camps and they are arguing about what to plant. You can't just say 'plant hybrids' since they are not all the same."
Law's planning for the future extends to his staff as well. Many of them have been here for decades, and a succession plan is increasingly on his mind.
His apprentice program has produced a number of star winemakers including Jeff White of Glen Manor Vineyards and both Rutger de Vink and Joshua Grainer of RdV. One of his former apprentices, Jonathan Weber, now holds the title as Linden's winemaker.
"Jonathan has been here for 12 years. He puts in more hours in the vineyard than the cellar and will provide the institutional knowledge that has accumulated over the past 30 years. Jonathan's work is about a 60/40 split between the vineyard and cellar. I'm in the vineyard 80 or 90% of the time. My daughter Samantha is also showing interest. In Europe there is that family farm mentality whereas in California things are contracted out. There is a real disconnect there. In Virginia, vineyard decisions are more complex so you need owners who are closely involved in running the farm."
Despite his earlier reluctance to claim authority on where Virginia wine will be in 10 years, Law ended with this advice: "We are winegrowers and not winemakers. The signature should be from the vineyard, not the winemaker. But it depends on the kind of wine you want. Making great wine takes a tremendous amount of meticulous care." ~
MATTHEW FITZSIMMONS is a Virginia-based wine writer and blogger who has visited nearly every winery in the DMV – most of them twice.
R. L. JOHNSON is our co-publisher and creative director, Robin Johnson Bethke. She began her career as a professional photographer in Los Angeles before moving into graphic design and art direction when she relocated to Charlottesville in 1994. As our company's co-founder and visionary, she enjoys all aspects of the publishing process from story conception to graphic design to photography. Her work is often seen in many of our publications.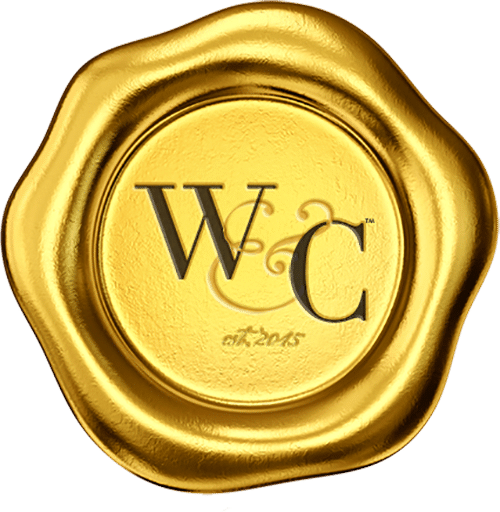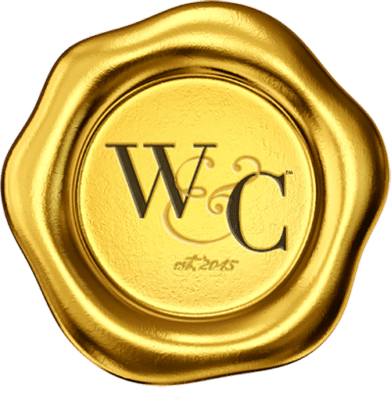 Virginia Wine & Country celebrates elevated living in Virginia Wine Country. Virginia Wine & Country Life is a semi-annual luxury print magazine with a full digital presence. The Virginia Wine & Country Gold Book is an annual guide to the top award-winning wines, wineries and experiences in Virginia Wine Country. The annual Virginia Wine & Country Wedding Planner is an art book of elegant Virginia weddings. The brand includes the Virginia Wine & Country Shop in Ivy, Va. It is a beautiful lifestyle boutique that brings the pages of the magazines to life. Virginia Wine & Country tells the stories of Virginia wineries, the farm-to-table movement, luxury travel, entertaining, art and the elegant country lifestyle. Ivy Life & Style Media also provides branding, web design and PR services for the wine industry.