In today's modern, and often health conscious culture, many of us find ourselves hosting the holidays for family or friends who are vegan even if we haven't chosen that lifestyle for ourselves. Many people choose to be vegan in part (called flexitarian) or in whole for various reasons.
Reasons to Try a Vegan Holiday Dinner
While the reasons to go vegan are personal to each individual, there are a few consistent motives. Top among these reasons are environmental impacts, animal cruelty protestation, and health benefits. A plant-based diet requires only one third of the land needed to support a meat and dairy diet. This reduces deforestation and habitat loss, as well as diminishes the amount of other resources needed to sustain the meat industry, and is proven to be a supportable way of dealing with climate change. Many consider the mass meat and dairy industries unethical in their treatment of the animals and may choose to abstain from them for these reasons.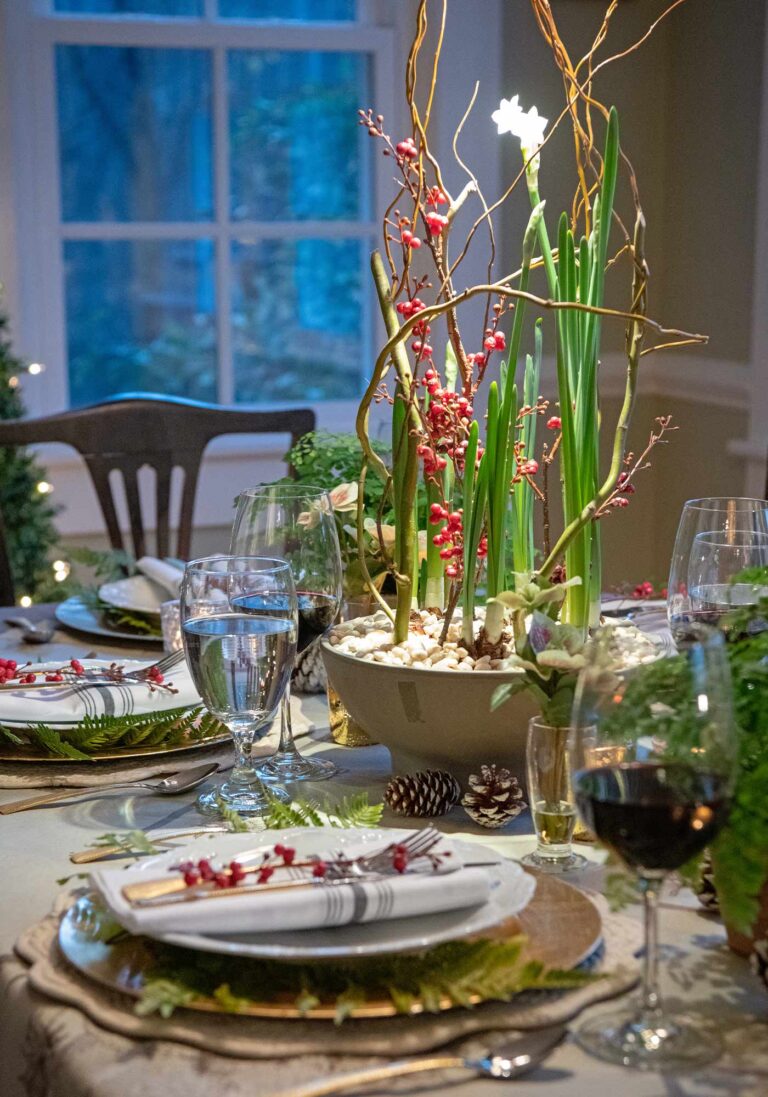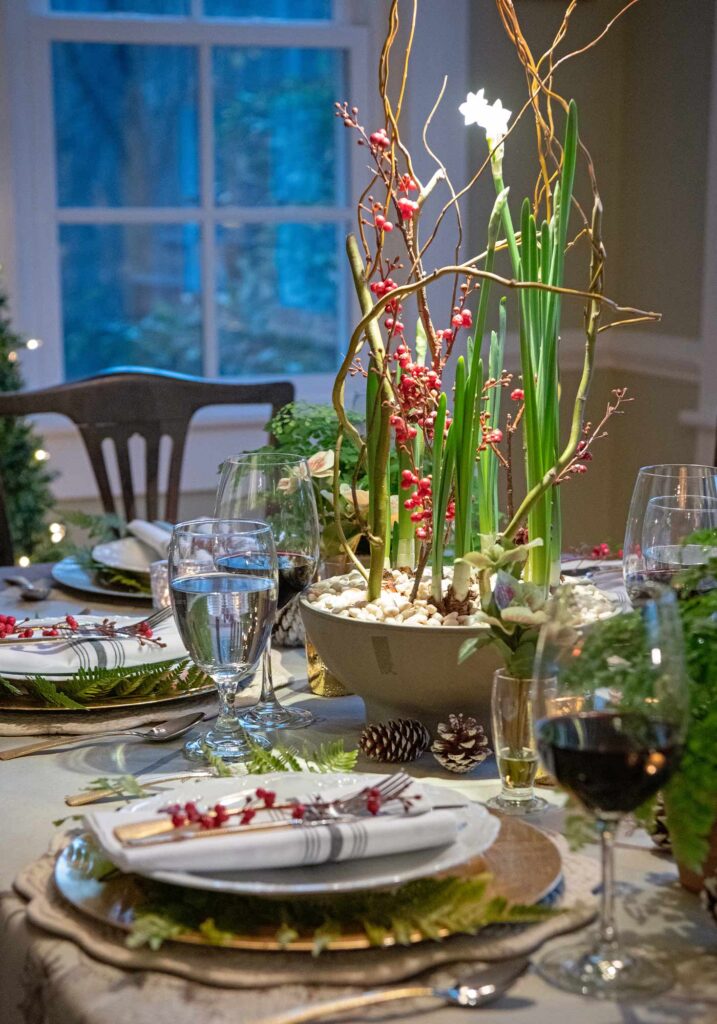 One of the most common reasons, and a great reason to incorporate vegan fare in your joliday meal, is the many proven health benefits of maintaining a vegan lifestyle. Studies have shown a plant-based diet reduces the risk of various chronic diseases such as high blood pressure and cholesterol and lower rates of heart disease, type 2 diabetes and some types of cancer. Featuring vegan dishes over a time of the year when many heavy unhealthy foods are consumed is a great way to lighten the Holiday menu without sacrificing flavor.
A meal without meat can be as enjoyable as one with, by sharing and incorporating all the Holiday flavors so many of us are familiar with. Most sides can be, and probably already are, prepared without animal fats using vegetable based oils as well as herbs and spices that will evoke all the traditional flavors of the Holidays. But, the key to cooking a vegan Holiday dinner is in finding just the right main dish that will adequately fill the role that meat traditionally plays on the plate. The aspect of preparing the perfect vegan entree is a daunting challenge to even great cooks, but we have just the dish.
Setting the Vegan Holiday Dinner Table with Treasures from Nature
Start by creating a modern arrangement of Paper Whites, a type of narcissus that will bloom in the winter. Planted in a contemporary gray pot with stark white pebbles, this centerpiece is striking in a traditional room and adds a touch of "today" to your dinner party. Maiden ferns will charm guests as they sweetly fill the table with their delicate leaves. Found pine boughs rolled in white paint add a natural wintery touch. Autumn ferns, which grow so well in Virginia and survive well into the winter months, create an elegant backdrop to the dinner plates. Tucked between the gold painted chargers and beautiful white china, the Autumn fern adds an unexpected but lovely framing to the dishes.
Of course what would a vegan holiday dinner party be without the flicker and warm glow of candles. These small, low candles shine beautifully onto the decor and faces of guests when scattered throughout the tablescape. Place them in artfully crafted glass holders with glittering mercury glass paint to add a touch of glamor to your natural table. Add the twinkling lights of a holiday tree to bring festivity to the room. To create more holiday cheer and add a splash of color, dot sprigs of red berry into the centerpiece and napkin place settings. Guests will be charmed by the magic of it all evening long enjoying the great food, Virginia's finest wines and the company of friends and family.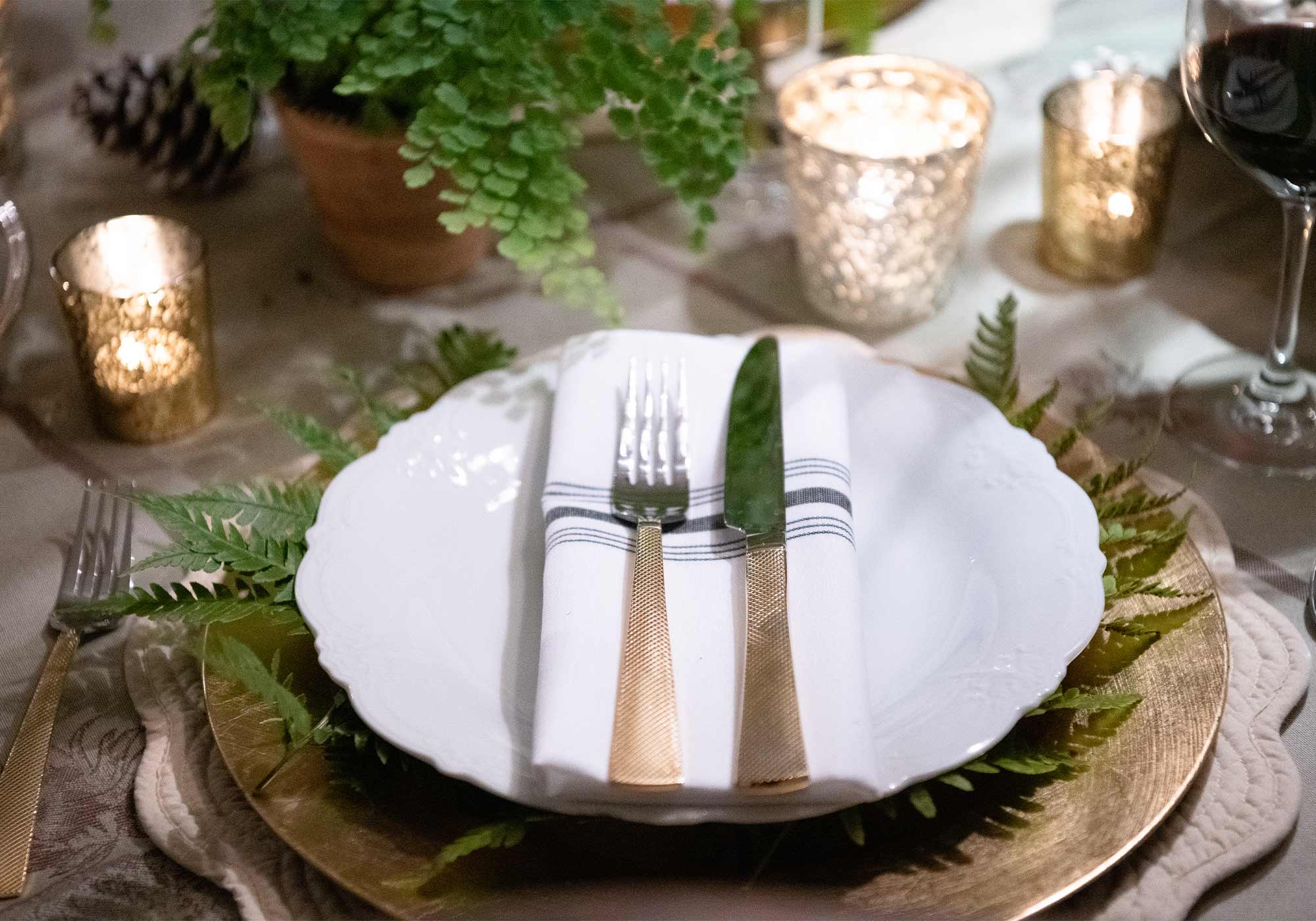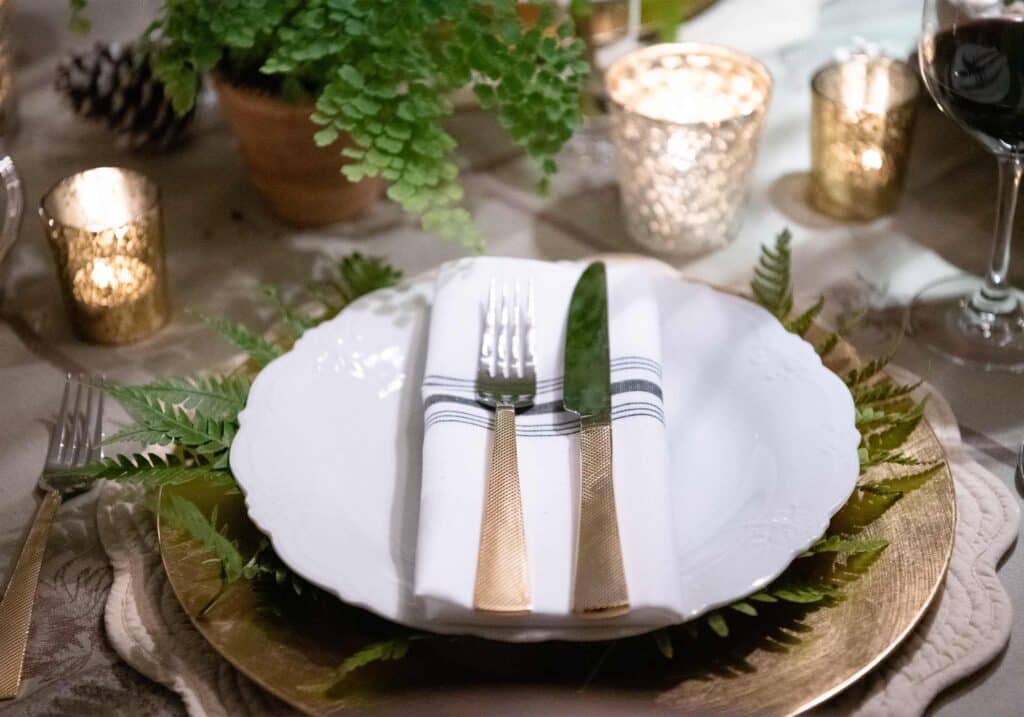 Your Satisfyingly Hearty Main Course
Over the holidays we want to get out our finest wine and not create a dinner of just sides, but one that still has the heartiness and presence of a main entree. Here we have a warm and flavorful Vegan Oatloaf made with lentils, mushrooms, fresh herbs and spices that do the work of a terrific main entree with great taste and finesse. Topped with a delicious gravy that brings out the moist and delicious qualities of a winter holiday entre, you'll reach for this recipe all season long. The savory quality of this loaf packs all the punch of a meat entree while still giving us all the benefits of health in the new year. Try our favorite Oatloaf recipe here.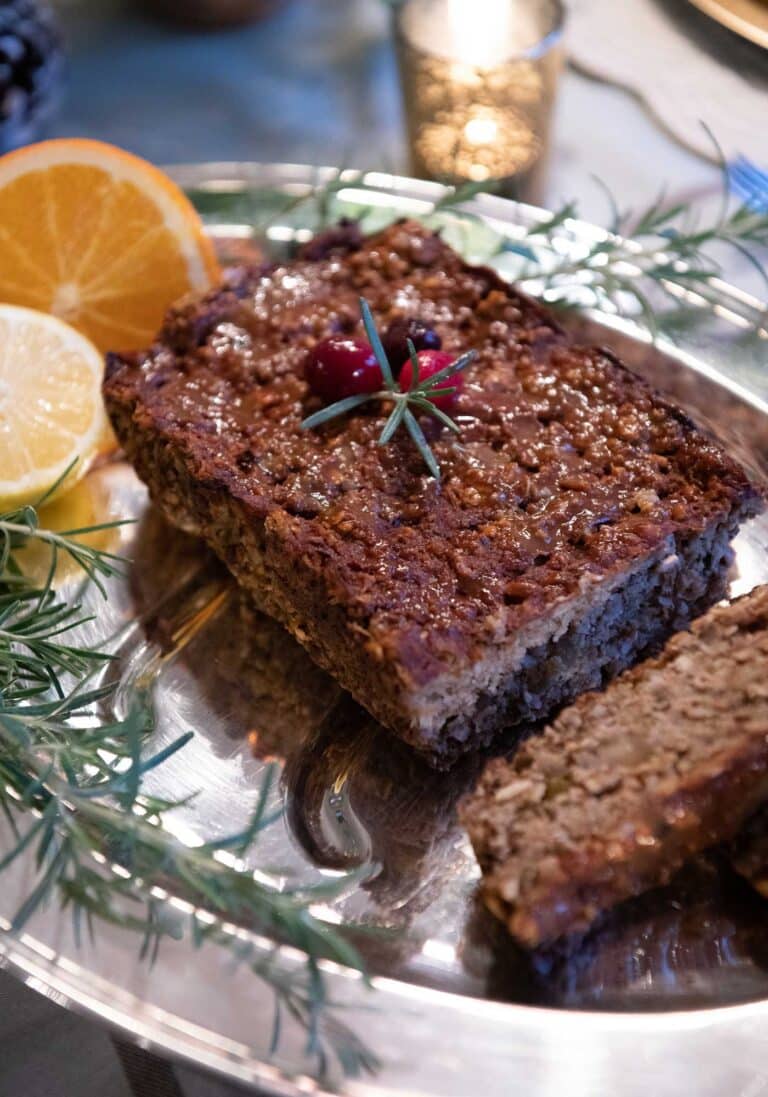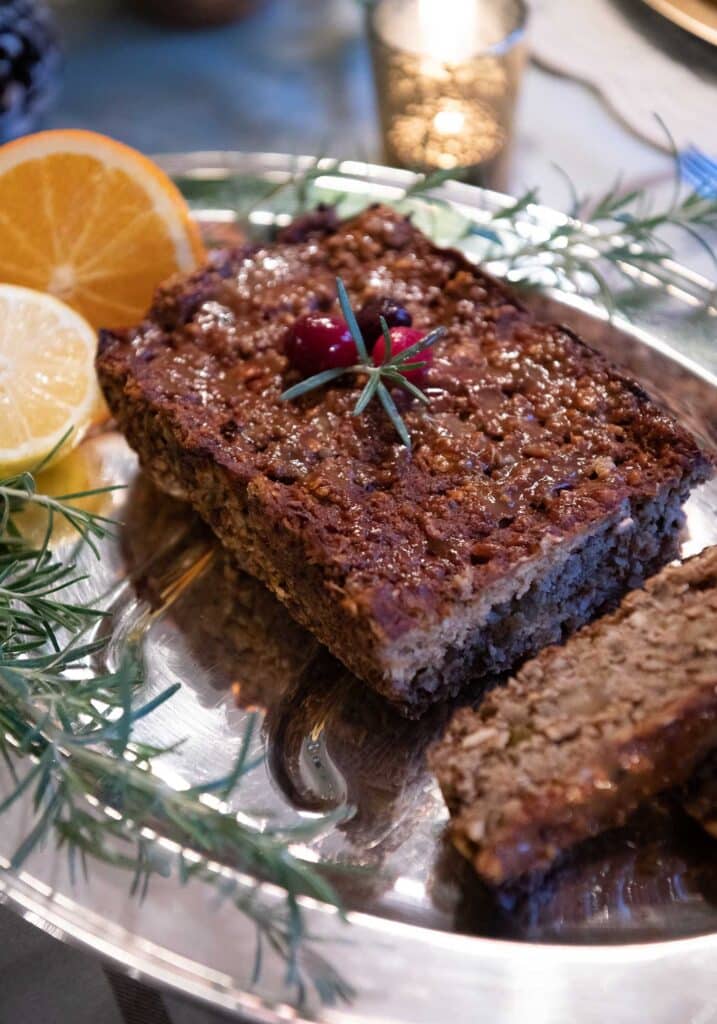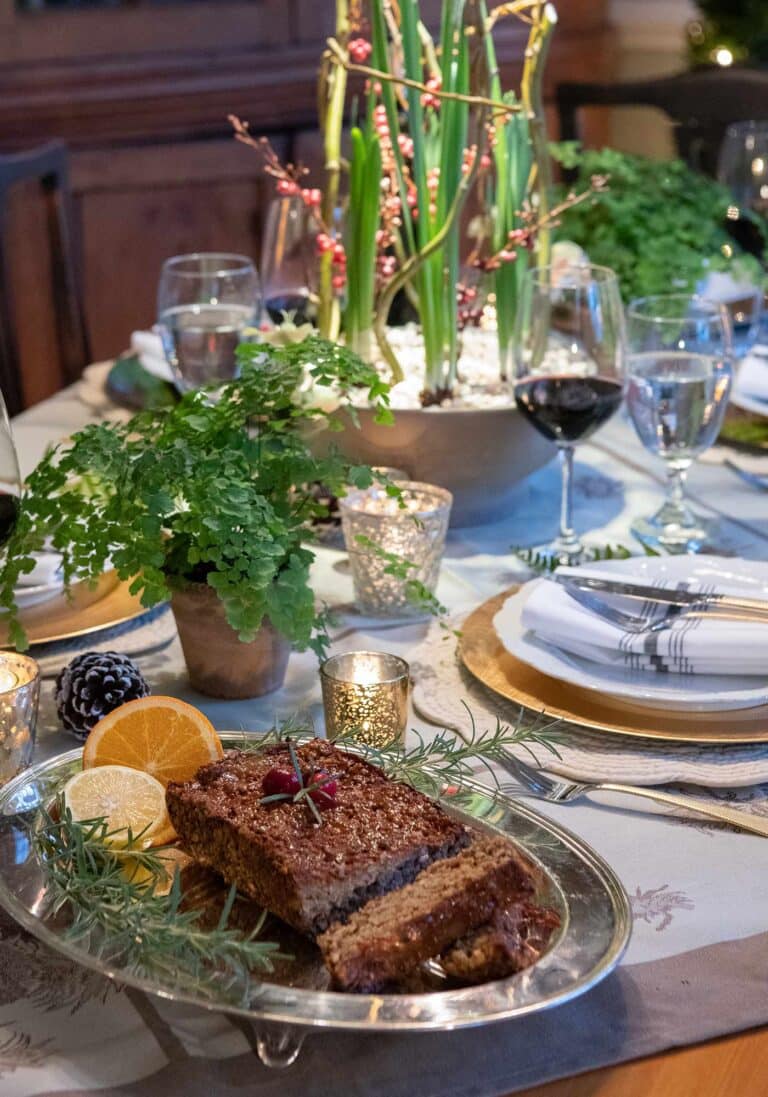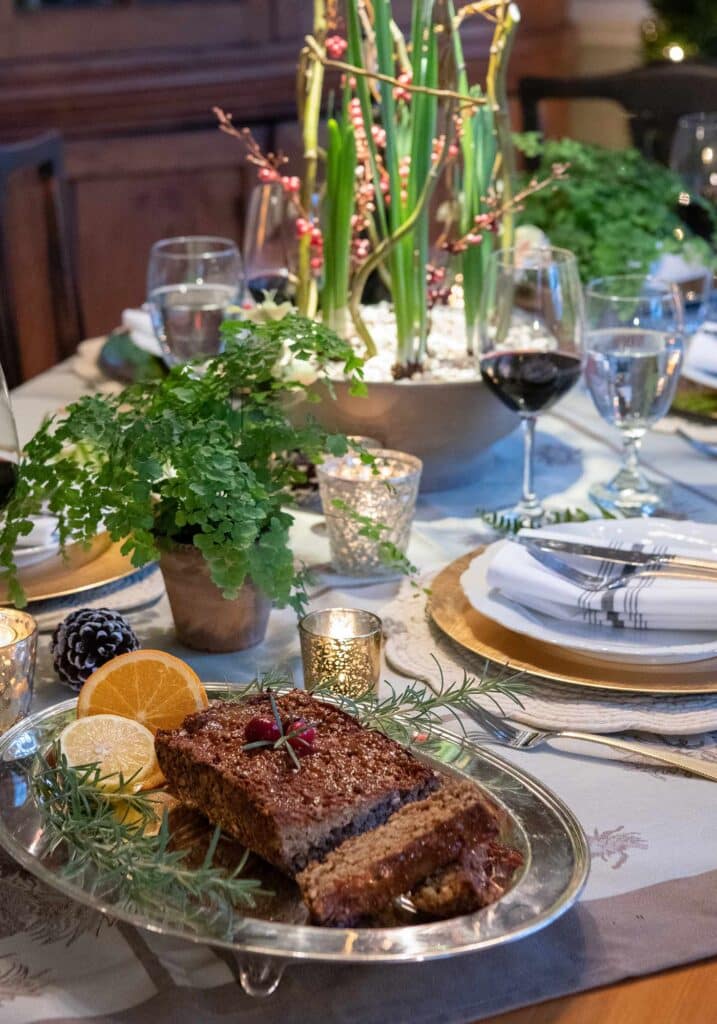 Savory Mushroom Gravy
The perfect textural addition to any vegan holiday dinner, this mushroom gravy provides your meal with richness. Served alongside the Oatloaf, this dish adds the earthy creamy quality of the most traditional gravies, while using only basic healthful ingredients. Plus, mushrooms provide a great source of vitamin D and support a healthy immune system during the winter months. Try it as an accompaniment to any of your holiday sides.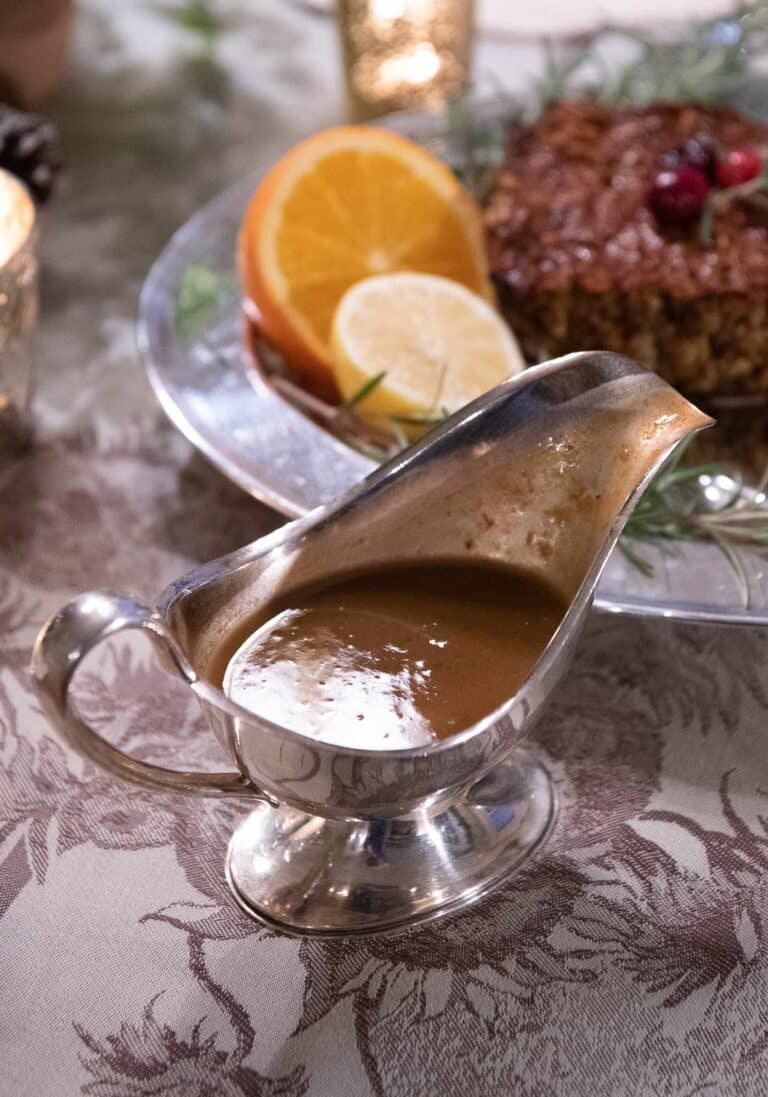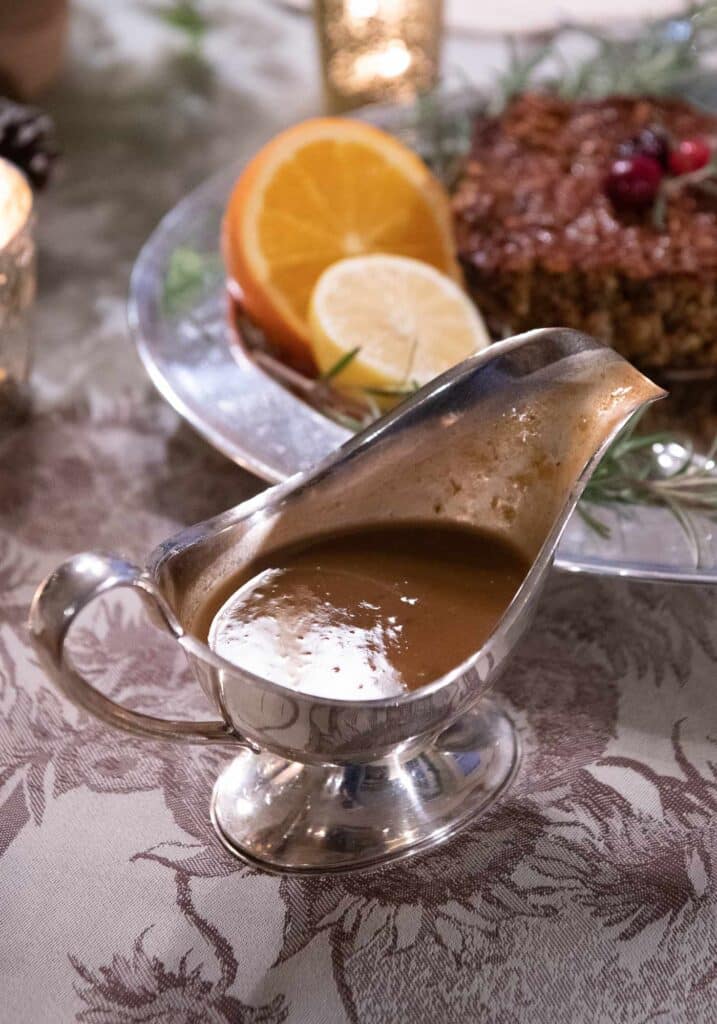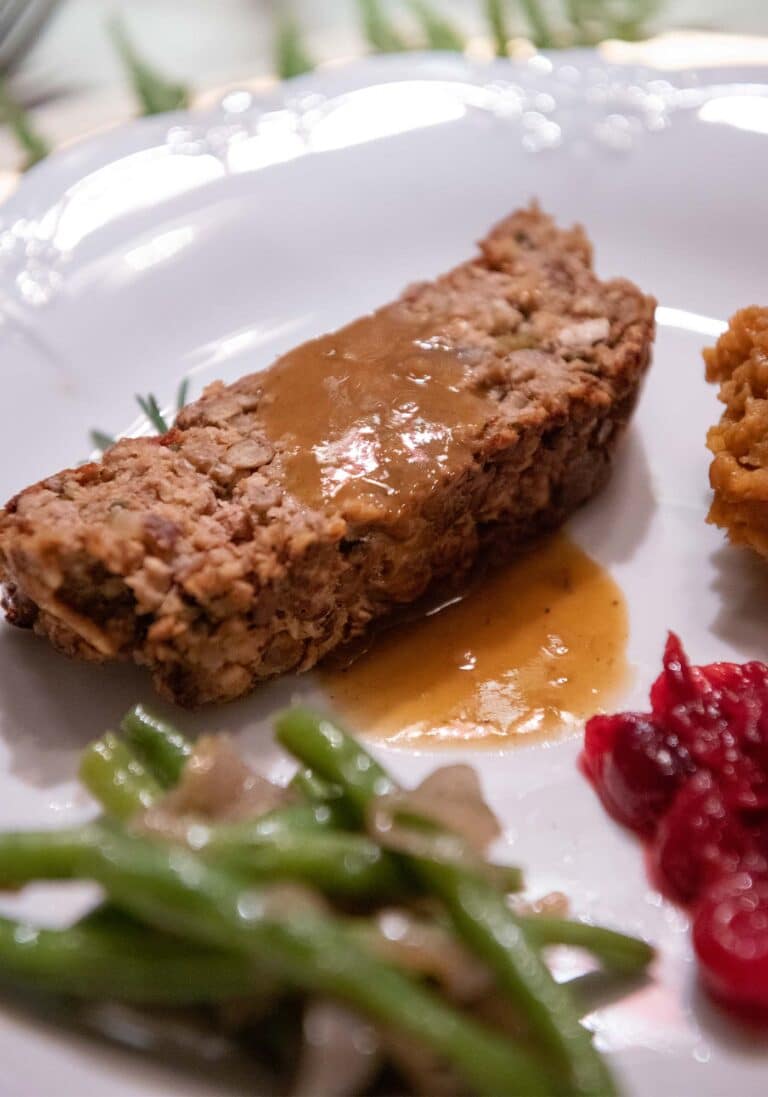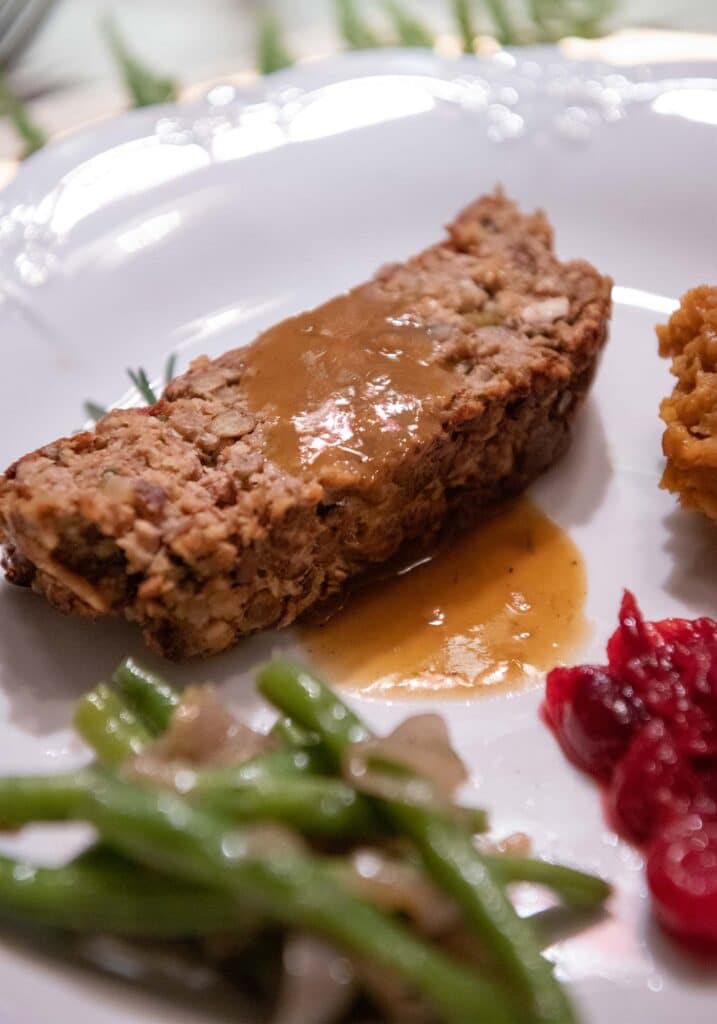 Classic Holiday Sides
These sides are not only healthy vegan holiday dinner options, but exude the spirit and flavors of the season, and make a great supplement to your Oatloaf entree.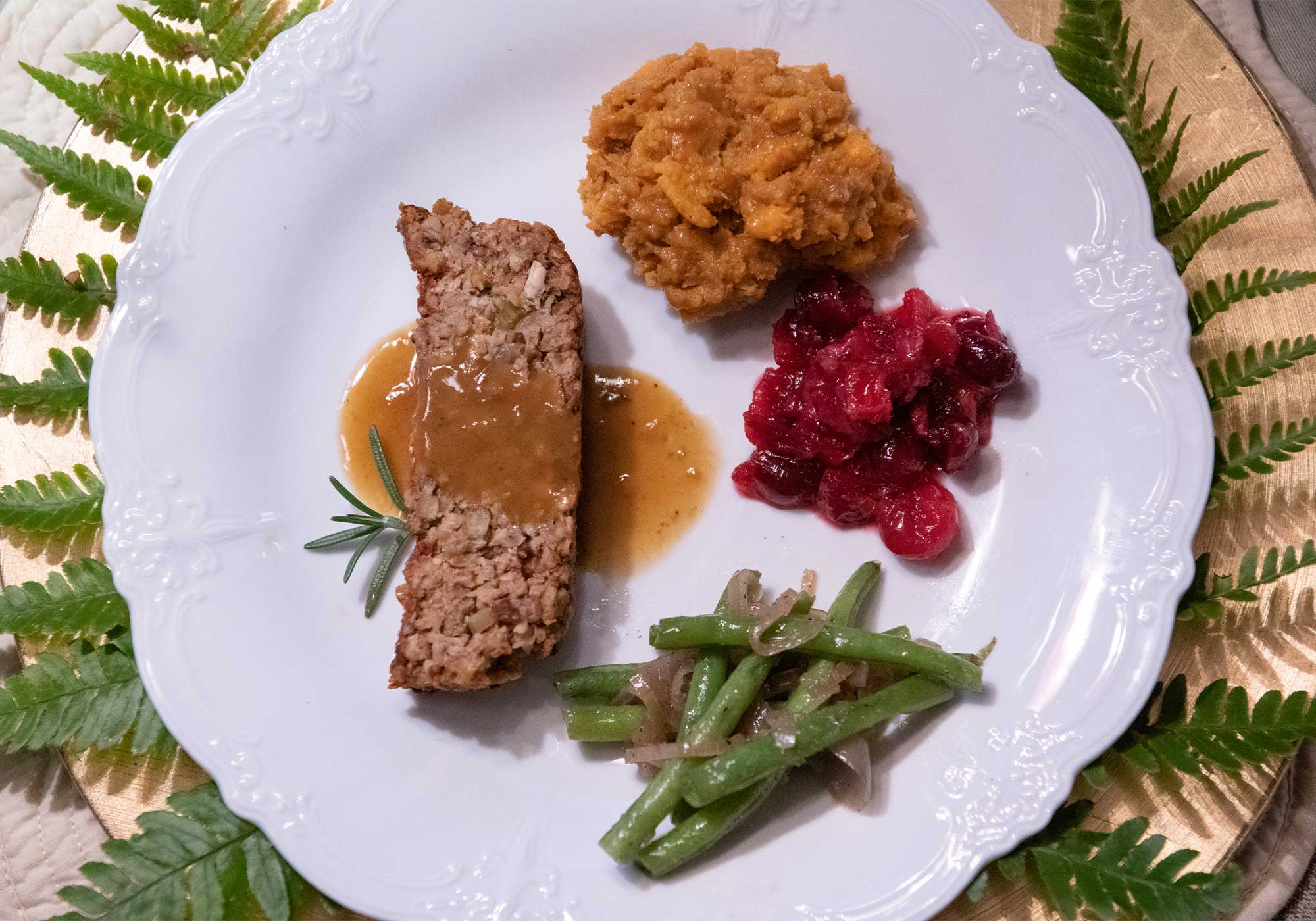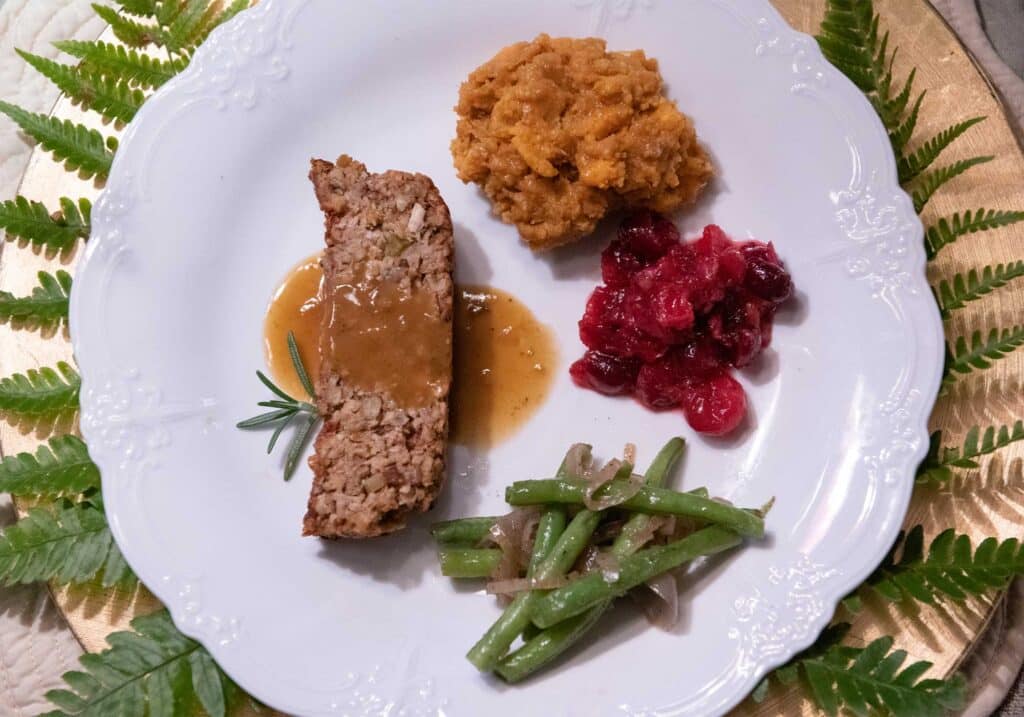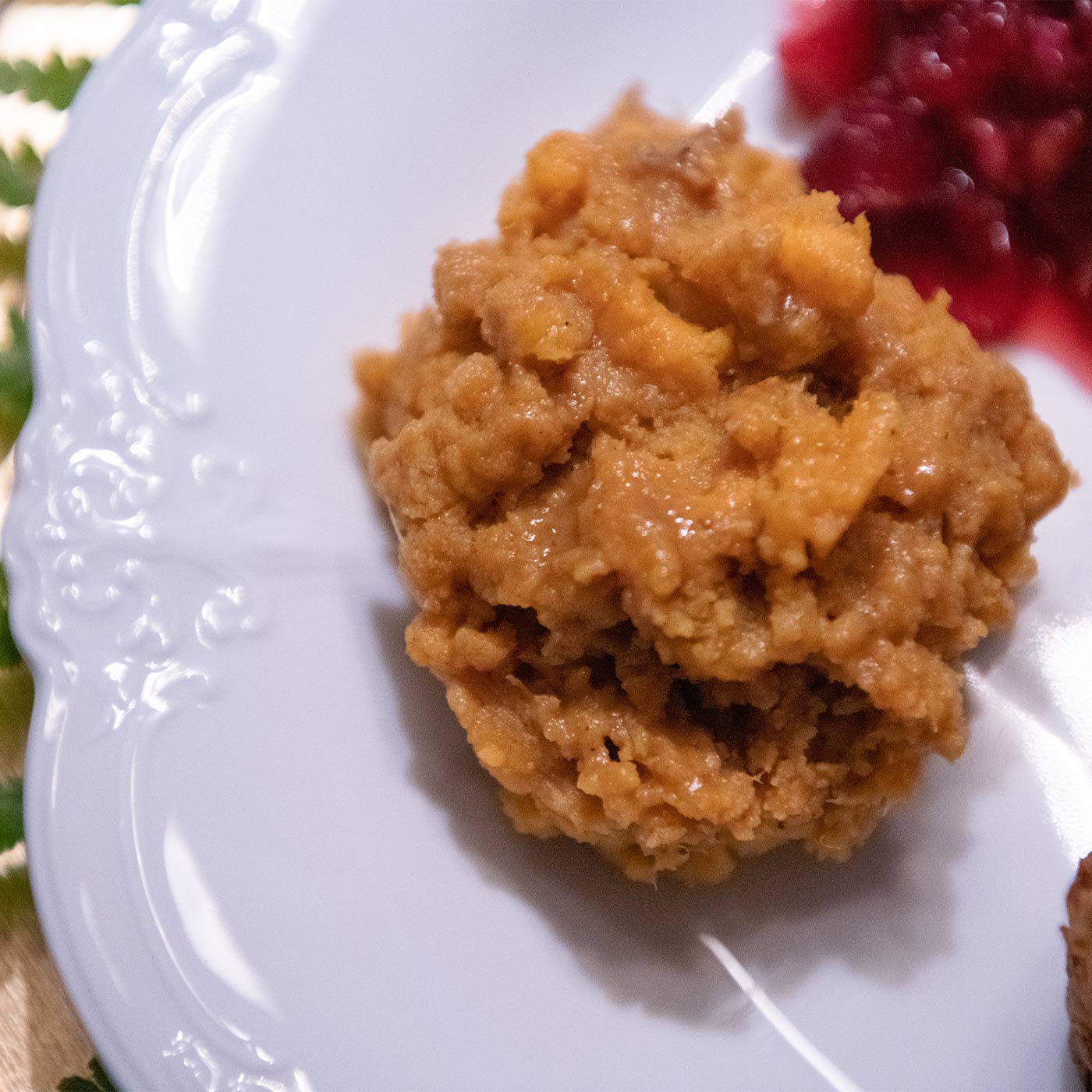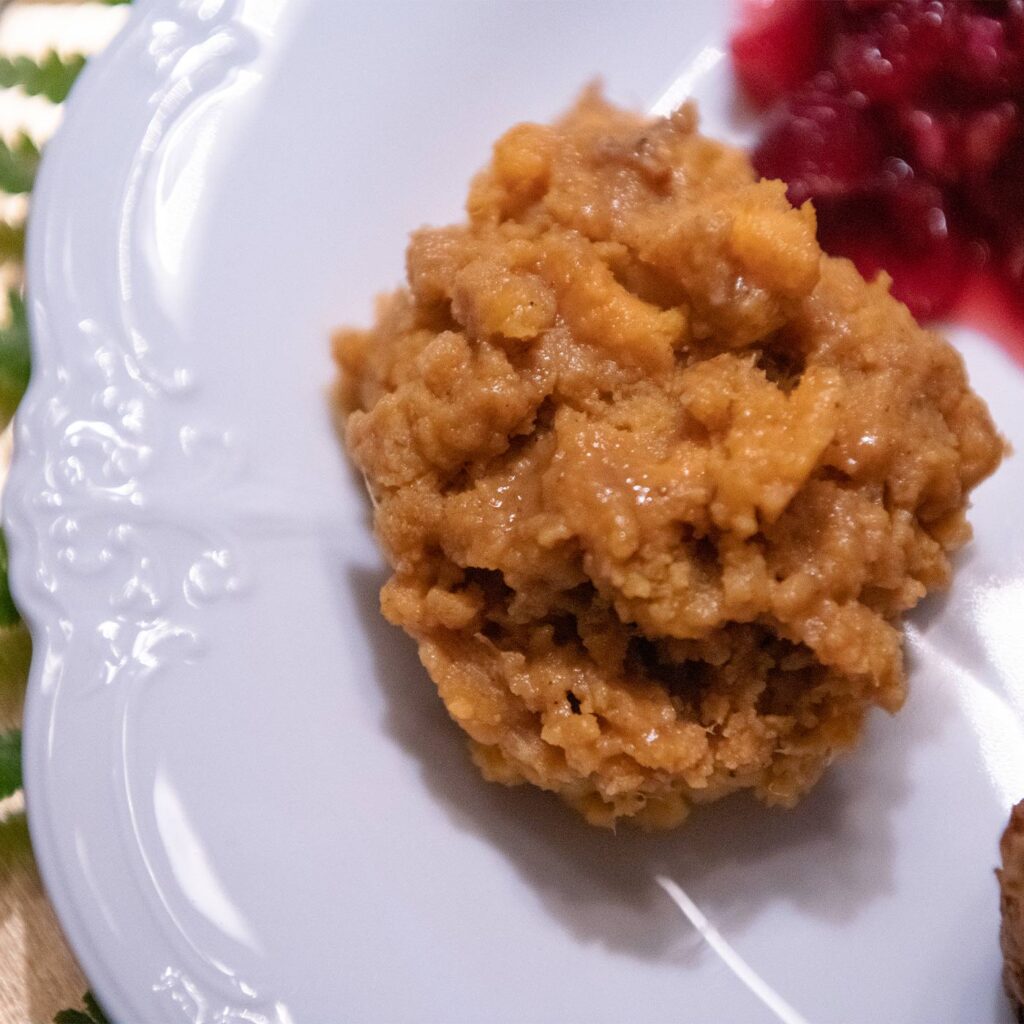 Healthy Sweet Potatoes
What holiday meal would be complete without potatoes? This healthy sweet potato recipe uses only five ingredients, including cinnamon and allspice, to evoke the tastes of the season. The naturally sweet flavor of the potatoes give you the satisfaction of a candied dish without actually adding any sugar.
French Green Beans with Shallots
This time-friendly recipe will impress all your dinner guests, without being over complicated to prepare. The addition of shallots to this holiday staple will heighten this dish, while using high-quality olive oil provides the extra health benefits of antioxidants and healthy monounsaturated fats.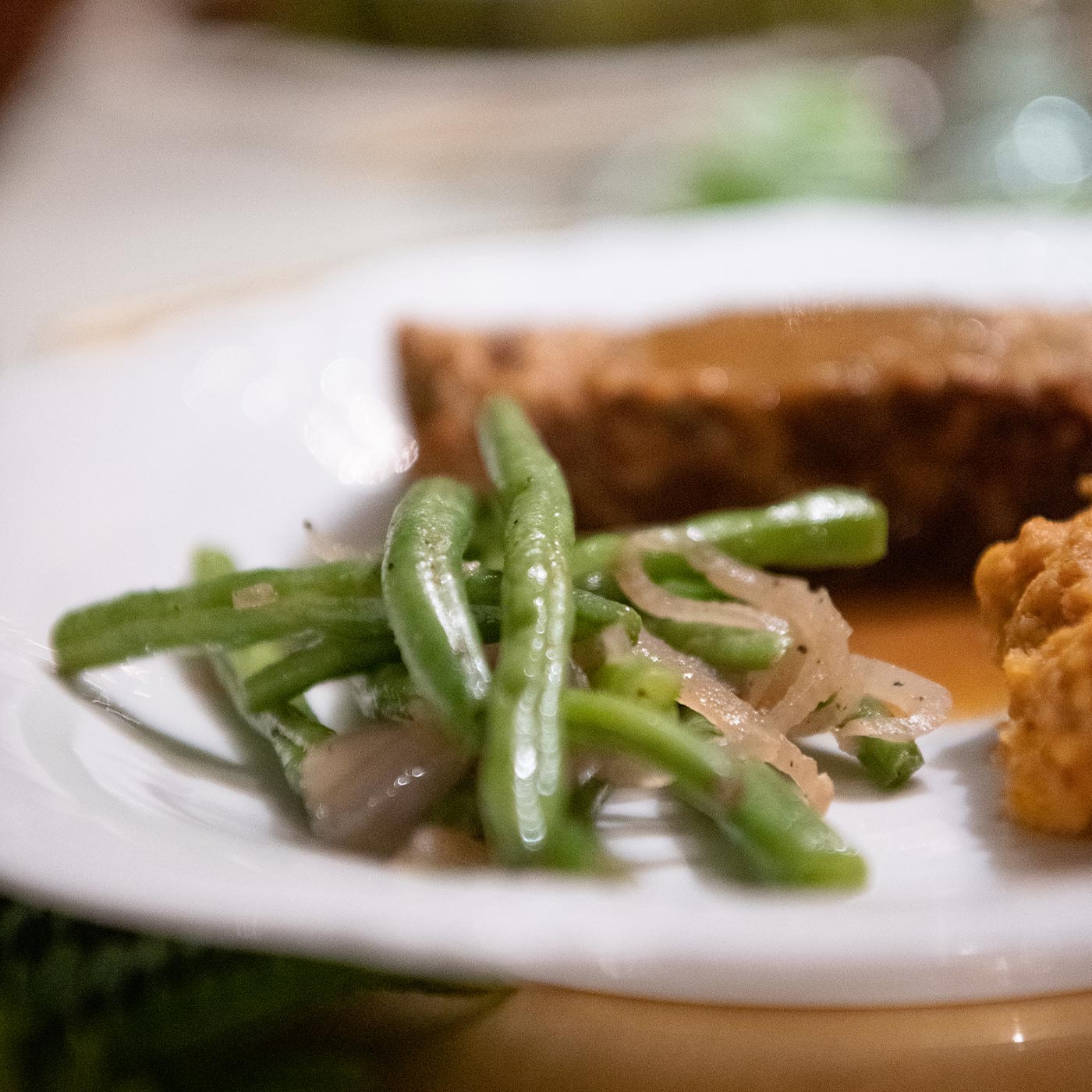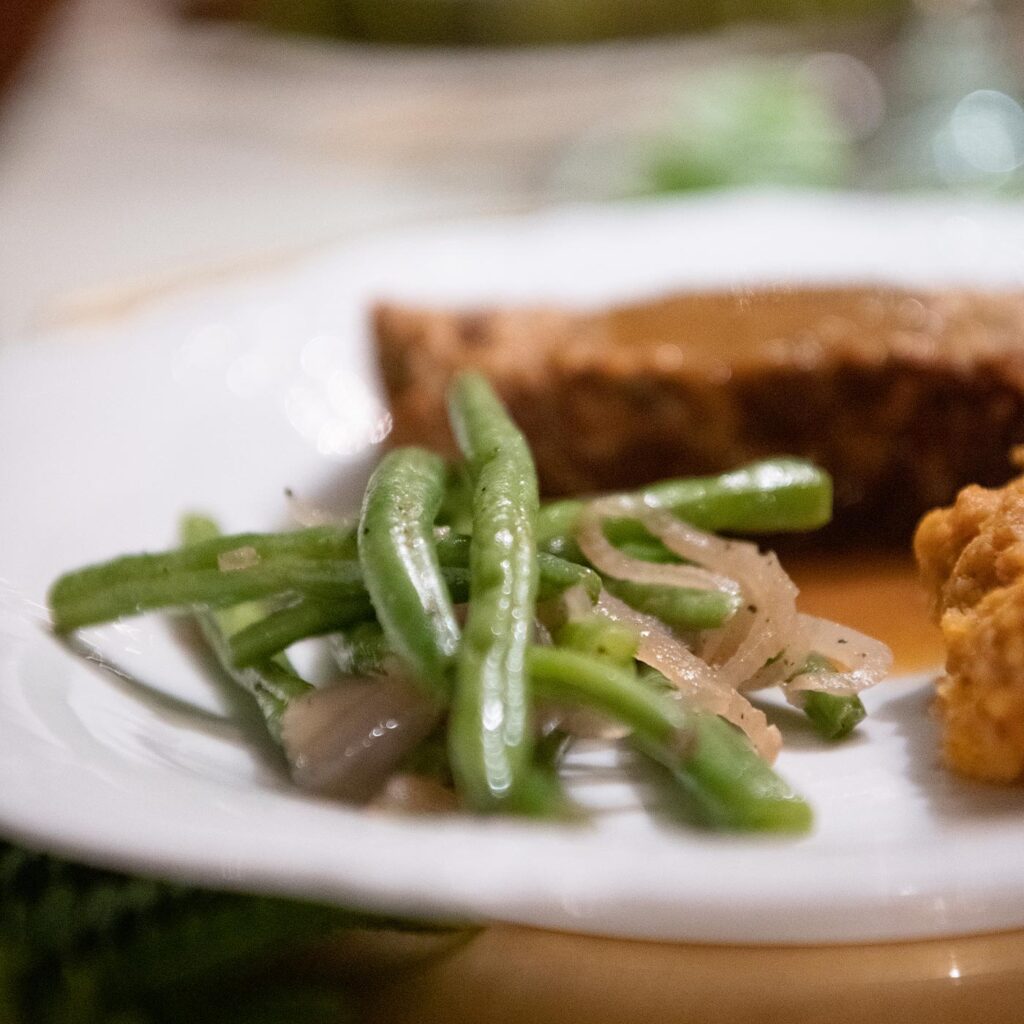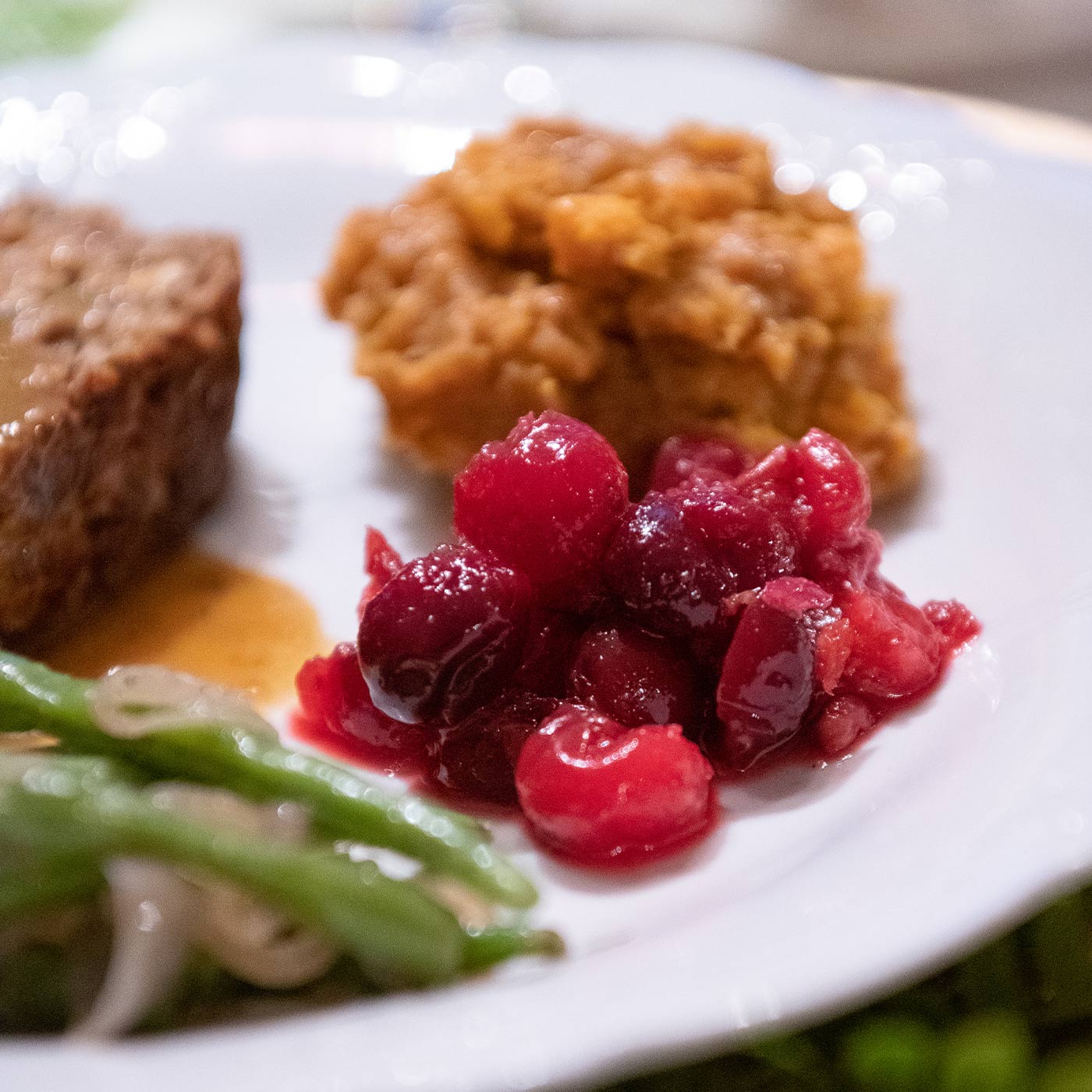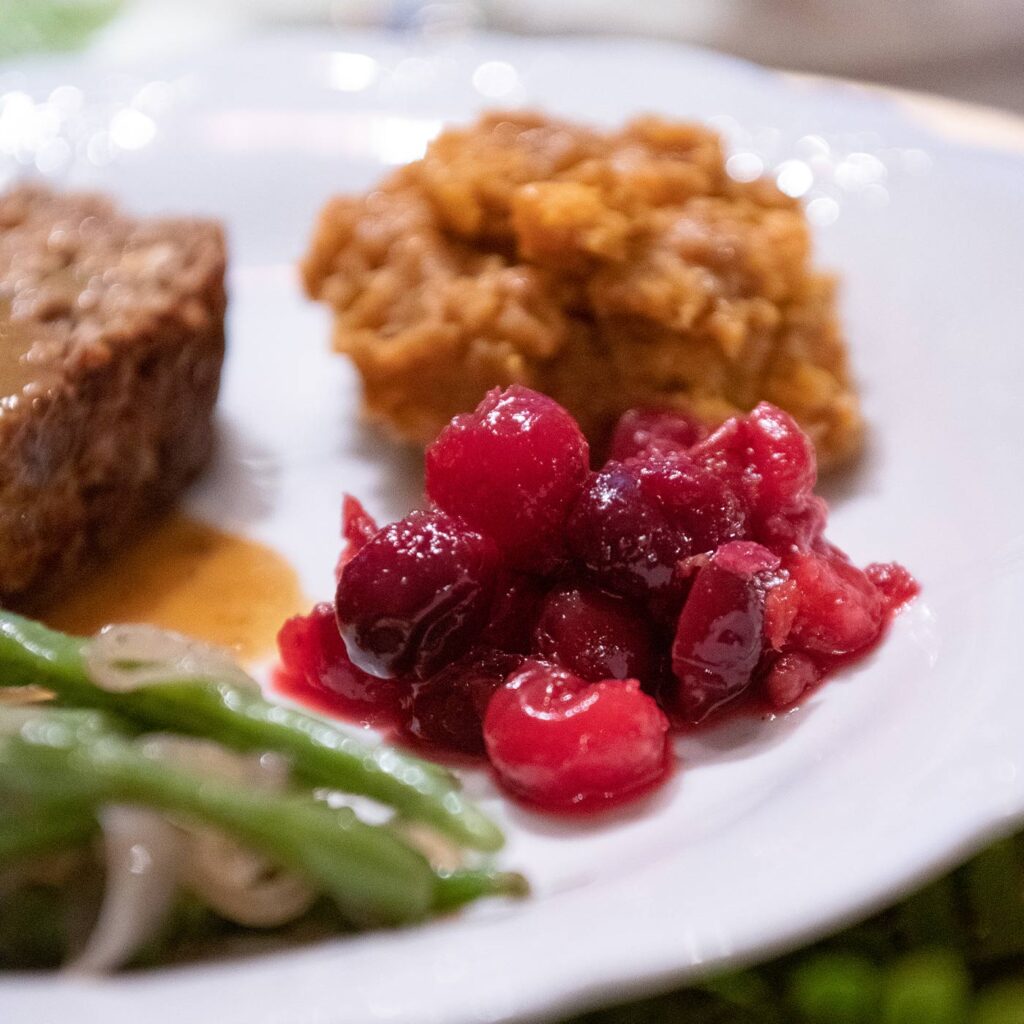 Fresh Cranberry Sauce
Making a fresh cranberry sauce from scratch not only dazzles on the dinner table, but also has nearly half the calories, carbohydrates, and sugars compared to pre-made store brands. It also contains more fiber and potassium. The walnuts in this recipe add a well appreciated texture and seasonal feel.
Choosing the Right Wine for your Vegan Holiday Dinner
When choosing the correct wine to go with your vegan dinner, it is important to consider the type of flavors in the dishes. As with any meal, it is necessary to balance the flavors on the plate with the flavors in your glass. Heartier, robust flavors, like those found in dishes like the Oatloaf and mushroom gravy pair best with earthy medium-bodied reds, such as the ever pleasing Octagon from Barboursville Vineyards—made with Merlot, Cabernet Franc, Cabernet Sauvignon, and Petit Verdot varietals.. You can also opt for a full-bodied dry white such as the Bluestone Vineyard Chardonnay to complement the palate.
The nuttier and sweeter flavors, like those in the sweet potatoes or cranberry sauce with walnuts, will also pair well with a rounded, smooth red like a Merlot blend like the Williamsburg Winery Barrel Aged Claret—made with a base of Merlot along with Cabernet Sauvignon, Cabernet Franc, Petit Verdot, Malbec, Tannat varietals.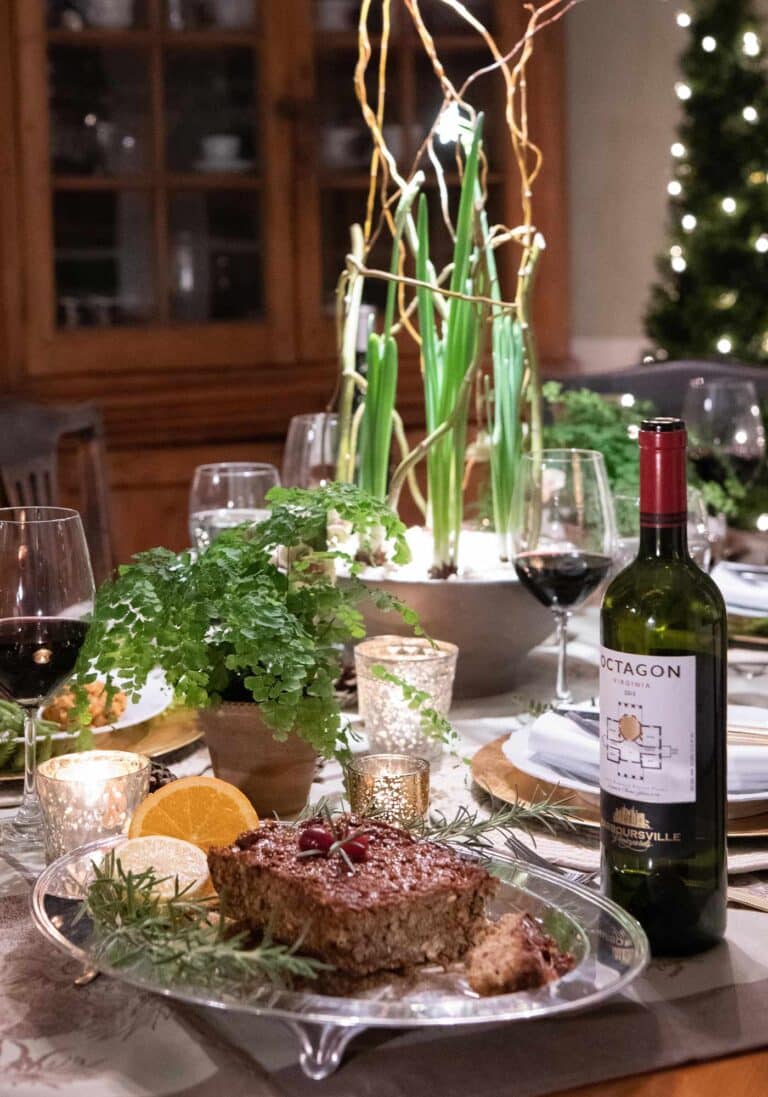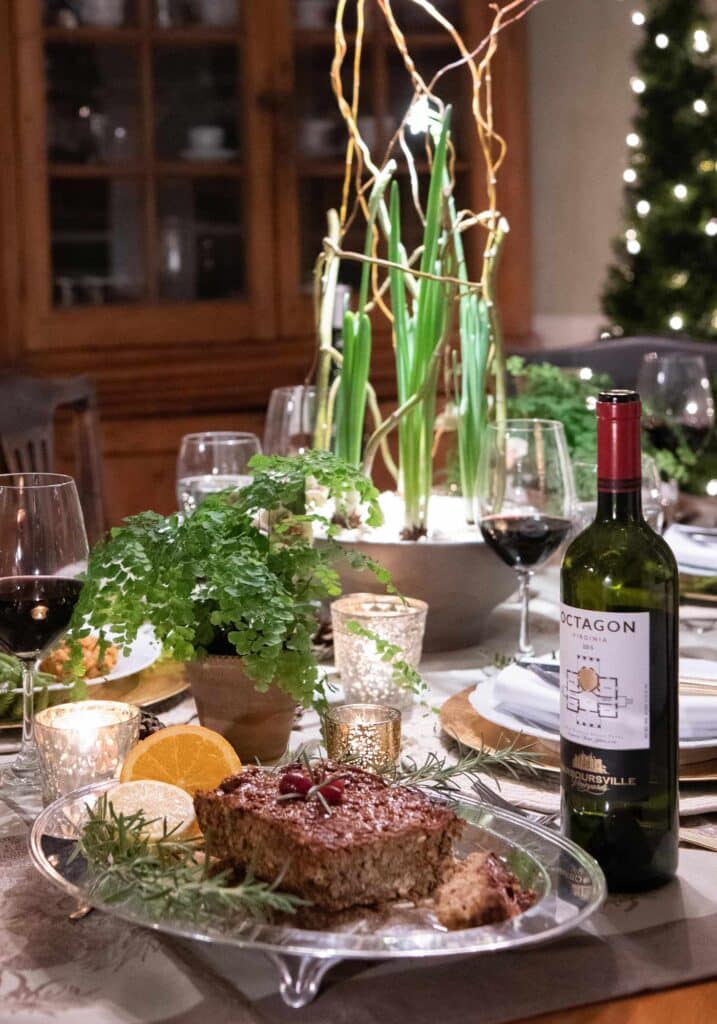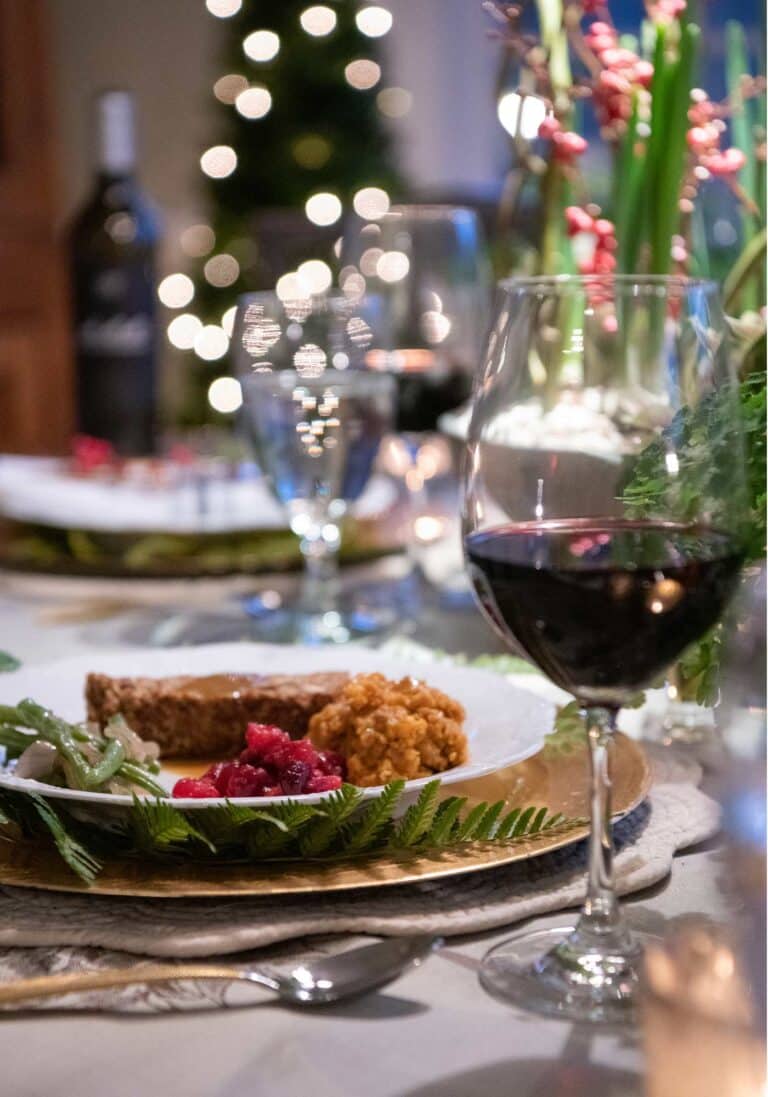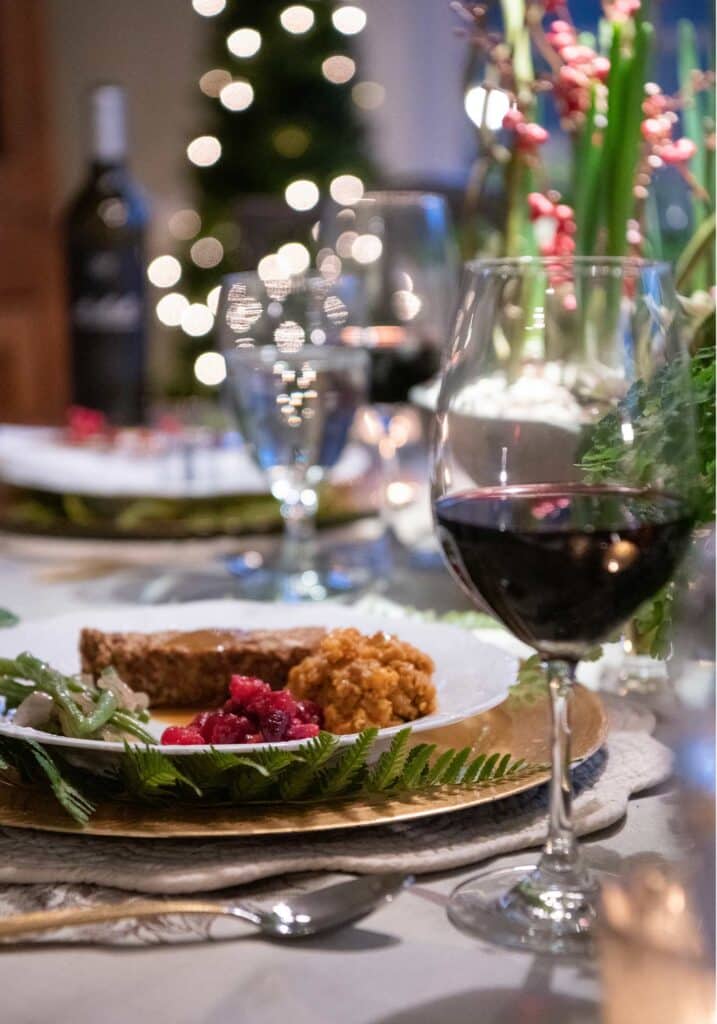 A Festively Sweet, Yet Healthy, Berry Dessert Paired with Sparkling Rose
The holidays are never complete without some sweet treats. This elegant and festive vegan dessert only requires two ingredients and is packed with antioxidants. Nutritious, delicious and beautiful, serve in your favorite crystal stemware with a dash of dark chocolate and fresh berries. Learn how to make it here.
Complement your holiday dessert with a delicious sparkling wine. This gorgeous sparkling rose from Veritas Vineyards feels fresh and mirrors the berry-full flavors of the frozen treat, while also highlighting the luscious colors in your final course.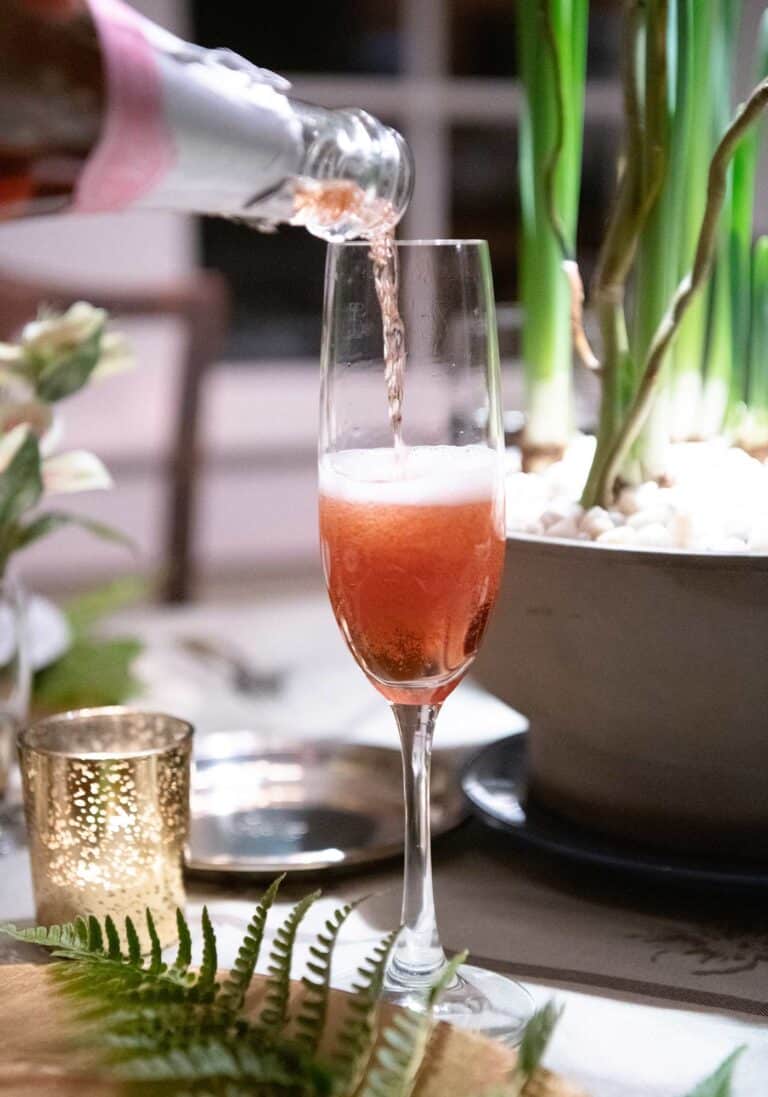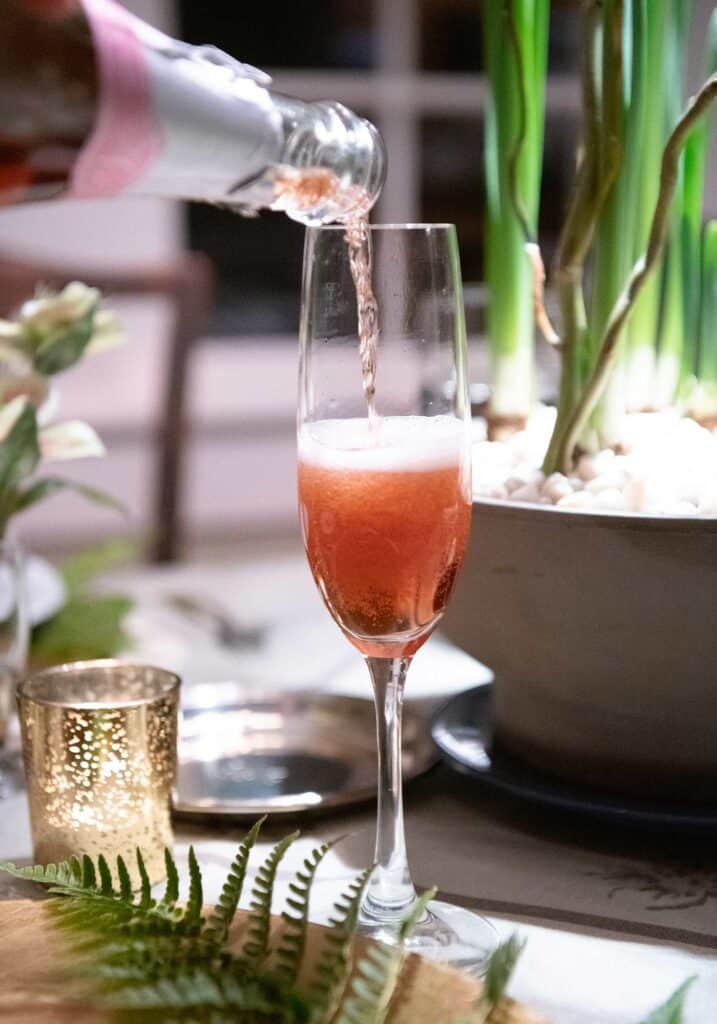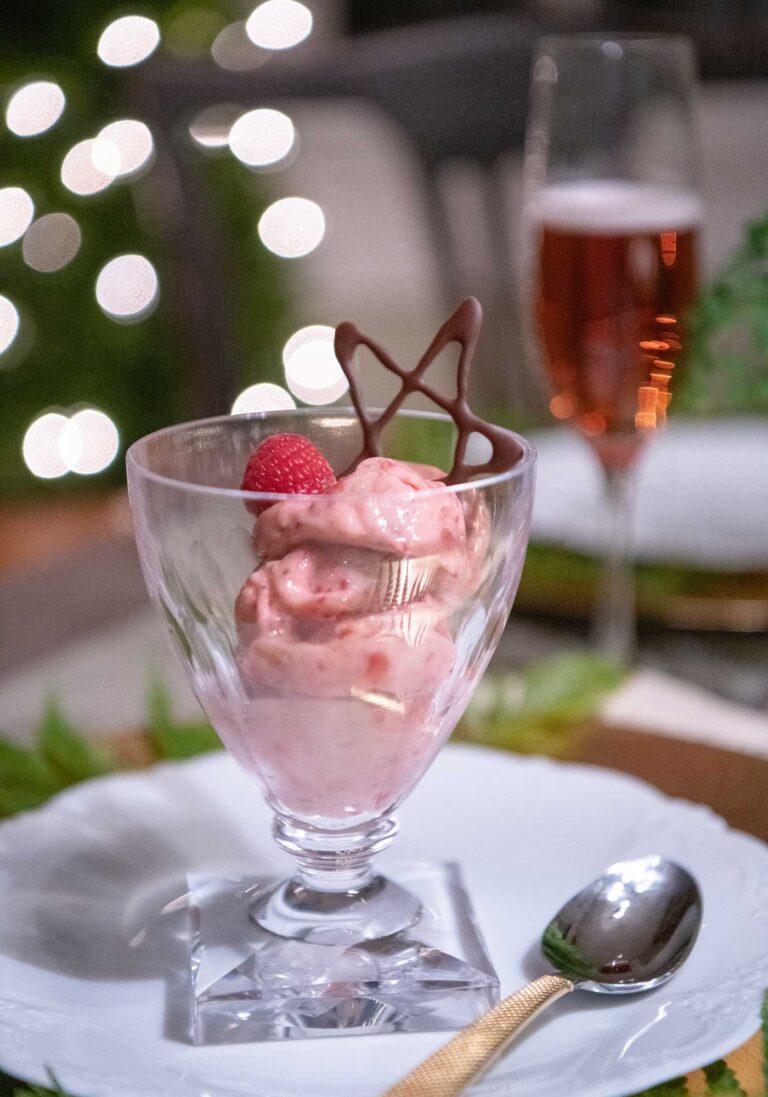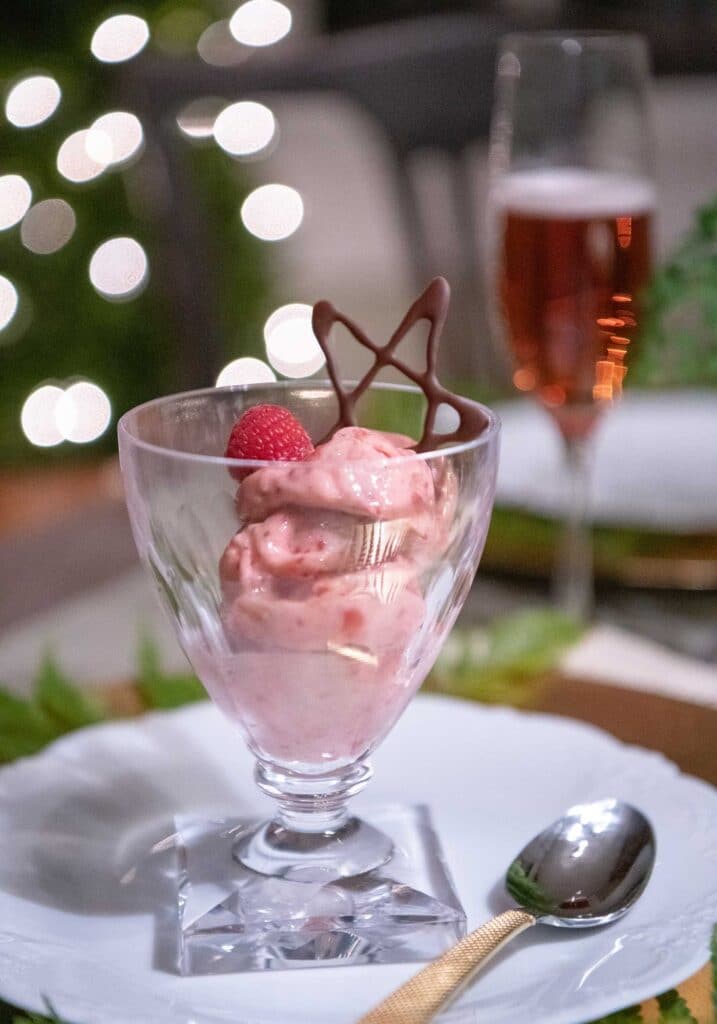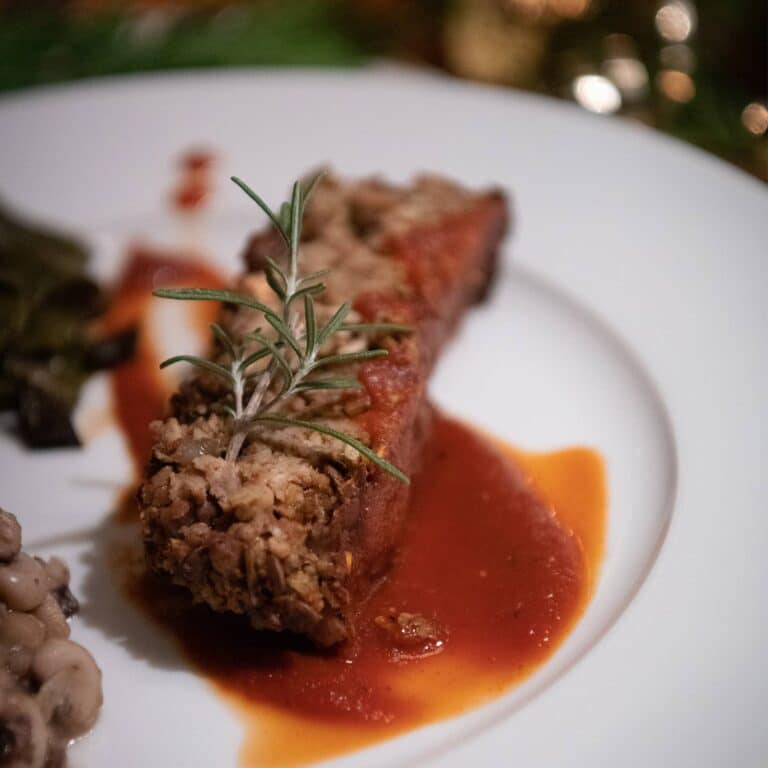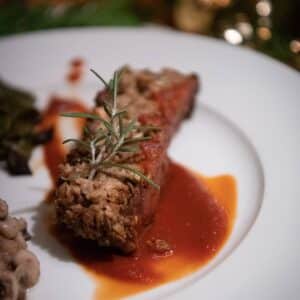 Lentil Oatloaf
Ingredients
2

stalks

celery

(chopped)

½

onion

(chopped)

2

cloves

garlice

(minced or pressed)

10

oz

firm tofu

(drained)

¼

cup

walnuts

(finely ground)

2

tbsp

BBQ sauce

(substitute A1 or ketchup instead: additional BBQ sauce for topping)

1

tbsp

Dijon musted

2

tsp

dried parsley

½

tsp

thyme

½

tsp

sage

½

tsp

rosemary

½

cup

cooked brown lentils

1¼

cup

quick-cooking oats

3

tbsp

soy sauce

wild or portabella mushrooms finely chopped

(optional)
Instructions
Preheat the oven to 375°F/190°C.

Sauté the celery, onion, and garlic (and mushroom if desired) on high heat in a skillet with a few drops of water for 5 minutes, until tender. Remove from heat and cool. (If adding mushroom make sure to drain off excess liquid.)

Mash the tofu in a large bowl. Stir in the cooked mixture and remaining ingredients, and combine well.

Spoon the mixture into a parchment-lined loaf pan. Top with a layer of BBQ sauce. Using a brightly-colored (but still "traditional") BBQ sauce can add a nice holiday flare.

Bake for 55 to 60 minutes, or until a toothpick inserted in the center comes out clean.

Serve and enjoy! Cover with mushroom pot likker gravy if prepared.

Note: If you use a brightly colored BBQ sauce for the topping, you don't need to use the same sauce for the "loaf mash". The one in the mash should be for flavor primarily and can be darker in color.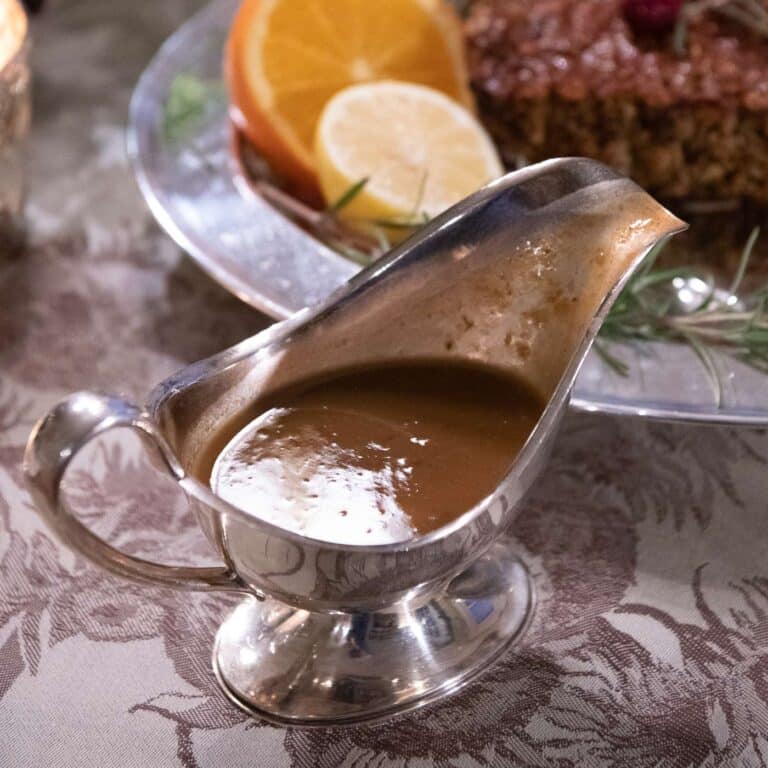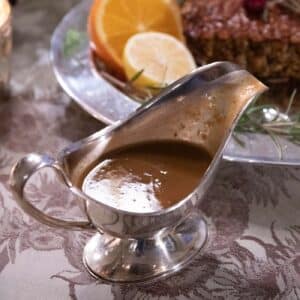 Vegan Mushroom Gravy
This gravy is super healthy and low fat, especially if you omit or reduce the salt and use wheat flour for the roux, packed with earthy flavor from the mushrooms. Avoid using olive oil in favor of vegetable broth for the sauté to further reduce the fat content. If you omit salt completely be warned it can be a bit bland – even just a little goes a long way.
Ingredients
4

cups

vegetable broth

Either no salt or salted, plus 3 tbsps. of same and some reserve

3

sprigs

fresh thyme

Or ½ tsp dried

1

tsp

salt

Optional

1

yellow onion

Chopped fine

3

stalks

celery

Chopped fine

2

cloves

crushed garlic

4

oz

portobello mushrooms

Or mushrooms of choice

¼

cup

white or wheat flour

1

cup

water
Instructions
Add the onions, celery, salt (if using no-salt broth, or omit if on low salt diet), thyme and garlic to a large, deep sauté pan on low-medium heat, along with the 3 tbsps vegetable broth. Sauté until soft, about 15-20 mins. Stir frequently and add more vegetable broth as needed, to keep from burning.

When the sautéed mixture is soft and fragrant, add the vegetable broth and mix together. Let simmer for about 10 more minutes.

With the water and flour, create a slurry (or roux) and mix well in a glass with a fork.

Slowly pour the roux into the broth mixture, mixing as you go so that it does not clump. Add until it gets to your preferred gravy texture – be careful as it will thicken quickly the more roux is added.

Once the gravy reaches your preferred thickness, remove from heat. Serve hot and enjoy!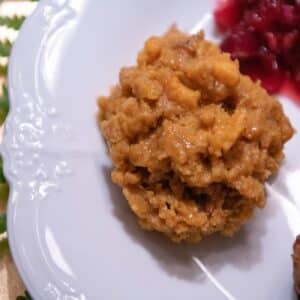 Healthy Sweet Potatoes
Ingredients
4

large sweet potatoes

1

tsp

cinnamon

½

tsp

allspice

½

tsp

salt

¼

tsp

fresh ground black pepper
Instructions
With a fork, poke holes in each sweet potato. Wrap each sweet potato in a damp paper towel (to minimize moisture loss) and microwave them all for 15 to 20 minutes. Time can vary based on microwave power and sweet potato size. (Don't be afraid to stop the microwave occasionally to poke the sweet potatoes to gauge doneness. The end goal is to have them scoop-able with a spoon but not over cooked and mushy.)

Cut each sweet potato down the middle and scoop out insides with a large spoon into a bowl. Be careful, insides can be very hot!

Sprinkle spices over the sweet potatoes.

Mash the sweet potatoes together to desired texture. (Alternatively, you can mash ½ to a more smooth texture, and ½ leave roughly "chopped". Mix these two batches together to create a nice contrasting texture.)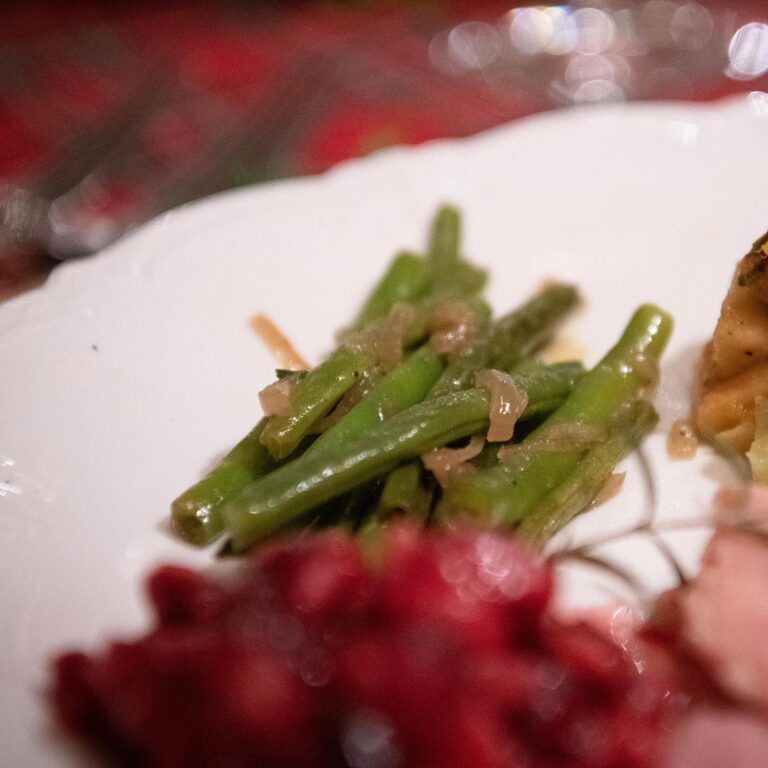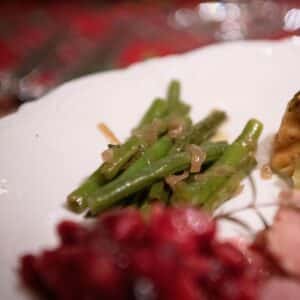 French Green Beans with Shallots
Ingredients
1

lb

green beans

trimmed

¾

cup

water

3

large shallots

thinly sliced

3

tbsp

high quality olive oil

¾

tsp

salt

½

tsp

freshly ground black pepper

1

pinch

sugar
Instructions
Cook the shallots in a skillet over medium heat until soft and translucent.

Add the beans, salt, pepper and water and bring to a boil.

Cover and cook for roughly 8 minutes on low.

Remove the lid, increase heat to high, and stir frequently until the water is evaporated and the beans tender.

Add additional seasoning to taste.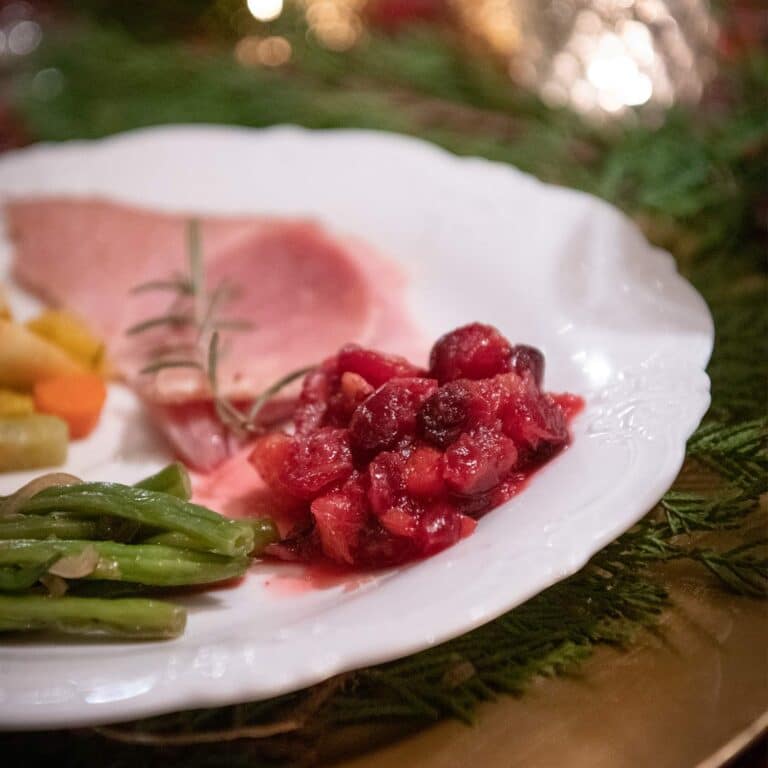 Fresh Cranberry Sauce
A traditional holiday cranberry sauce with a fresh twist of orange.
Ingredients
12

oz

fresh cranberries

1

cup

sugar

¾

cup

fresh squeezed orange juice

(roughly 2 oranges)

1

tsp

grated orange peel

1

medium peeled orange

(cut into tidbits)

¾

cup

toasted walnuts

(or untoasted black walnuts)
Instructions
Cook cranberries, orange juice, orange peel and sugar in a saucepan over medium heat and brought to a boil stirring until sugar dissolves, cranberries are tender and mixture thickened, 10-12 minutes.

Transfer to a bowl and add in orange tidbits and walnuts.

Chill for at least 2 hours before serving, but can be made up to a week in advance.

To create more chutney flavors, you can add cinnamon, fresh grated, ginger, ground cloves or raisons to taste.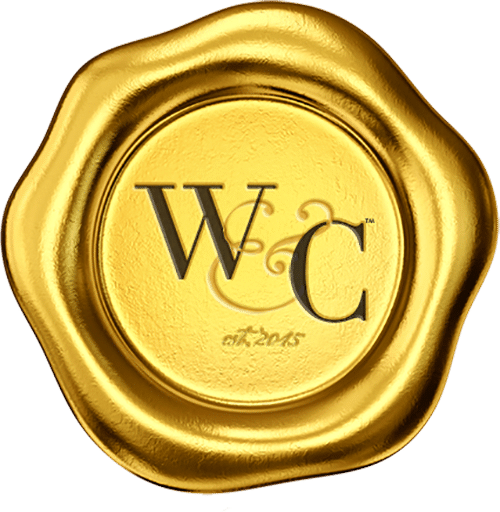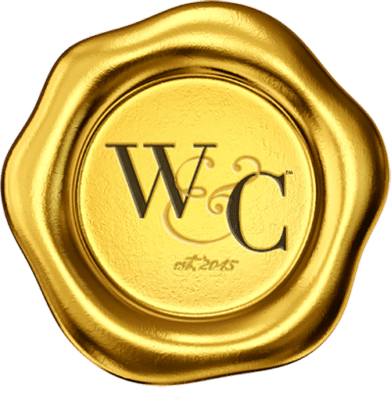 Virginia Wine & Country celebrates elevated living in Virginia Wine Country. Virginia Wine & Country Life is a semi-annual luxury print magazine with a full digital presence. The Virginia Wine & Country Gold Book is an annual guide to the top award-winning wines, wineries and experiences in Virginia Wine Country. The annual Virginia Wine & Country Wedding Planner is an art book of elegant Virginia weddings. The brand includes the Virginia Wine & Country Shop in Ivy, Va. It is a beautiful lifestyle boutique that brings the pages of the magazines to life. Virginia Wine & Country tells the stories of Virginia wineries, the farm-to-table movement, luxury travel, entertaining, art and the elegant country lifestyle. Ivy Life & Style Media also provides branding, web design and PR services for the wine industry.