Traveling down a rolling scenic road on the southern rural edge of Albemarle County, travelers are offered glimpses into properties encompassing Virginia's heritage as an agricultural state. From grand estates and forlorn, long-forgotten cabins to proud Virginia farmhouses with wide, welcoming porches, these properties are the epitome of life here. For those fortunate enough to know Shawn Cossette—owner and the creative spirit behind renowned event company Beehive Events—an invitation to her table is undoubtedly a treat. Regardless of whether she's sharing a bowl of pozole served hearthside in her kitchen or a more elaborate field dinner, no detail will be missed, including hospitality and understated luxury.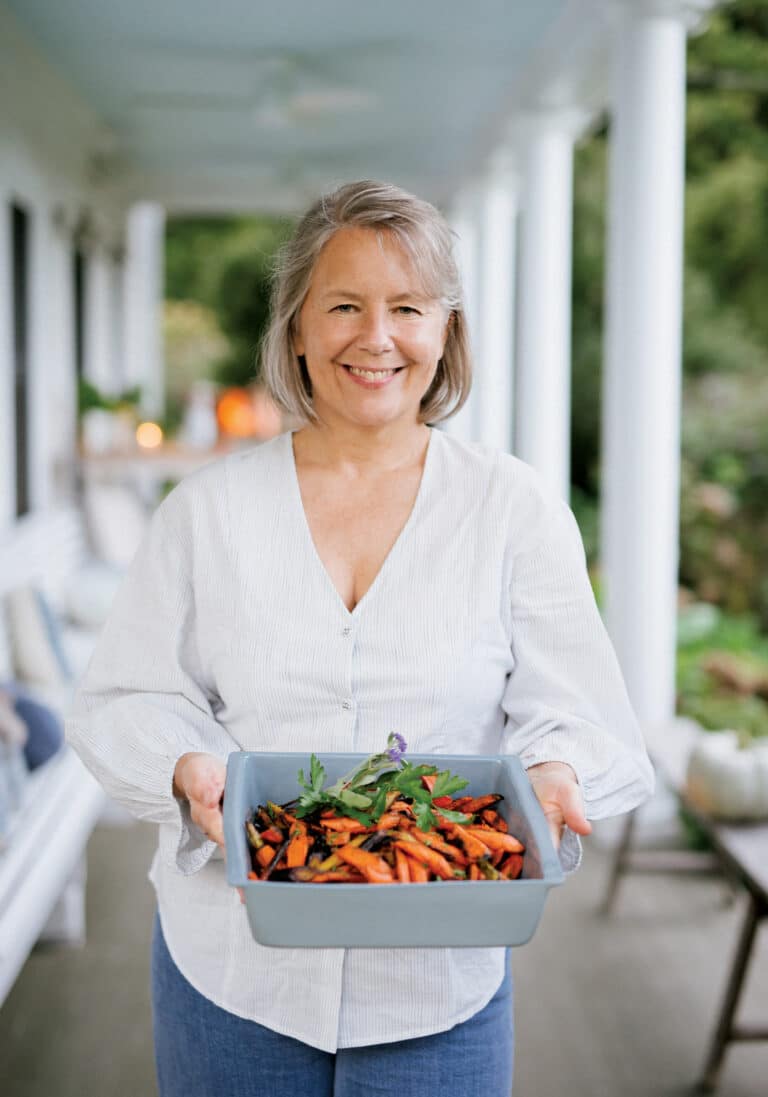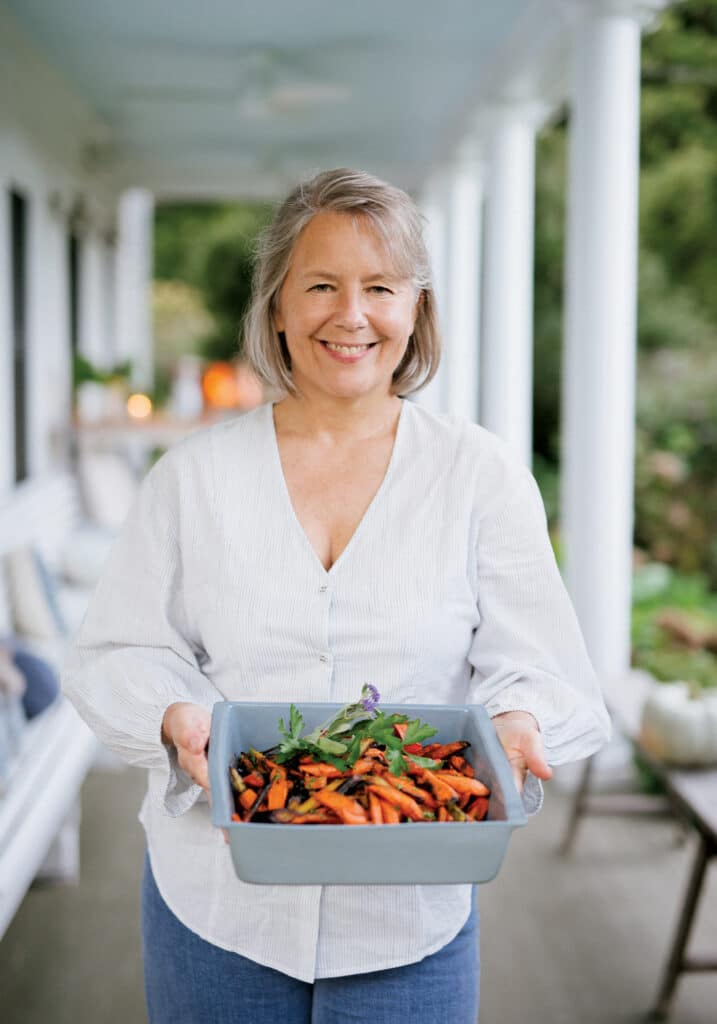 Shawn has an extraordinary talent for presenting everyday elements in extraordinary ways. This table, which she dressed for an early fall field dinner, is an idyllic example. Her creativity was on full display through reimagined terracotta pots acting as glassware "sippers" and wine coolers turned into vases. Icelandic sheepskin throws and block throw blankets were also graciously scattered around the table to ward off any evening chills.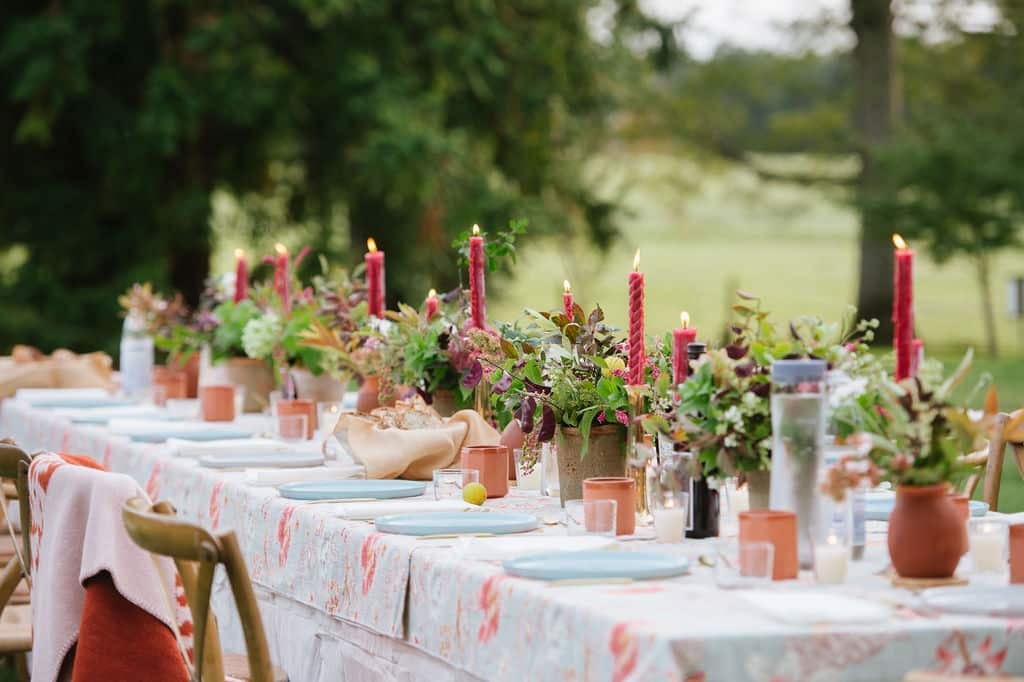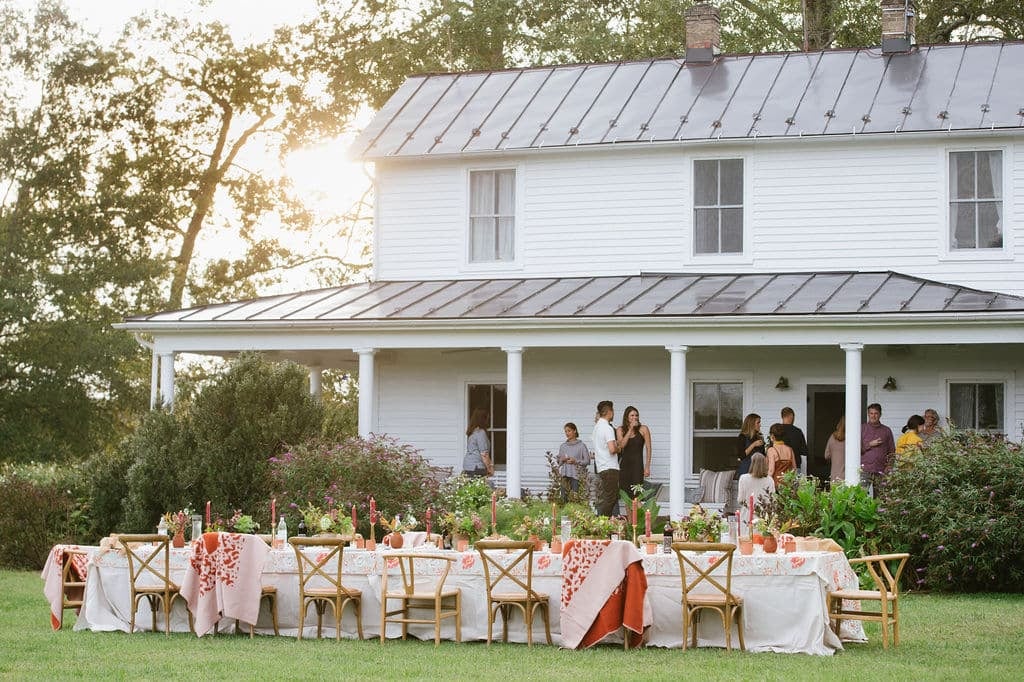 Décor Ideas for A Virginia Farmhouse Dinner
It's not only these unexpected touches that delight but also the hint of the familiar and ordinary that gently beckons you to your seat. The beeswax taper candles with their carefree drips were stunning beside bouquets of blooms and greens foraged from her gardens and the nearby fields. Combined with the muted sky blue mudware plates presented on a faded floral linen, the elements called to be enjoyed and inspired diners for the meal ahead. Shawn's setting taught us how mixing the familiar with the unexpected is a no-fail recipe for enchanting your guests.
8 Ways to Add Farmhouse Style to Your Table
Follow Shawn's lead on simple touches that will recreate your table with a farmhouse look:
Keep flower arrangements loose and more informal.
Use a soft, faded color palette for linens and dishware.
Mix old and new elements.
Avoid too many bright shiny finishes, and instead go for a matte look.
Incorporate wood.
Accent with painted and distressed furniture.
Use everyday items in unexpected ways.
Add texture with rough cottons, linens or burlap.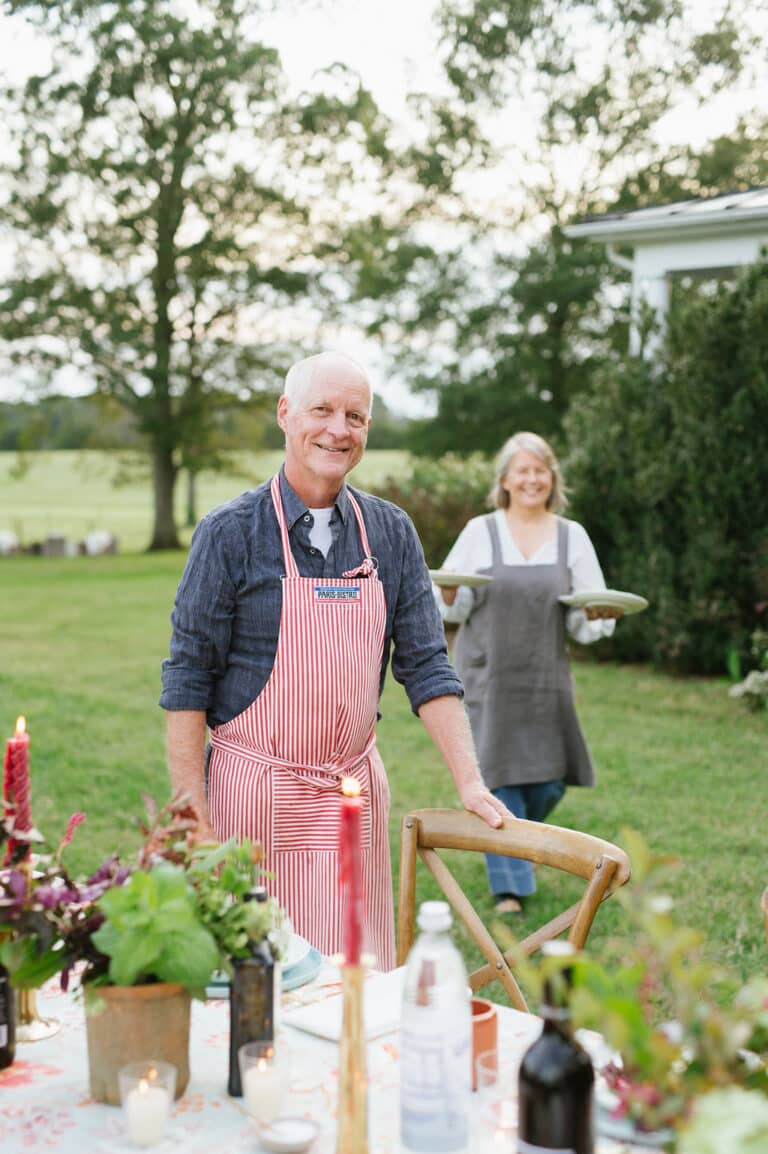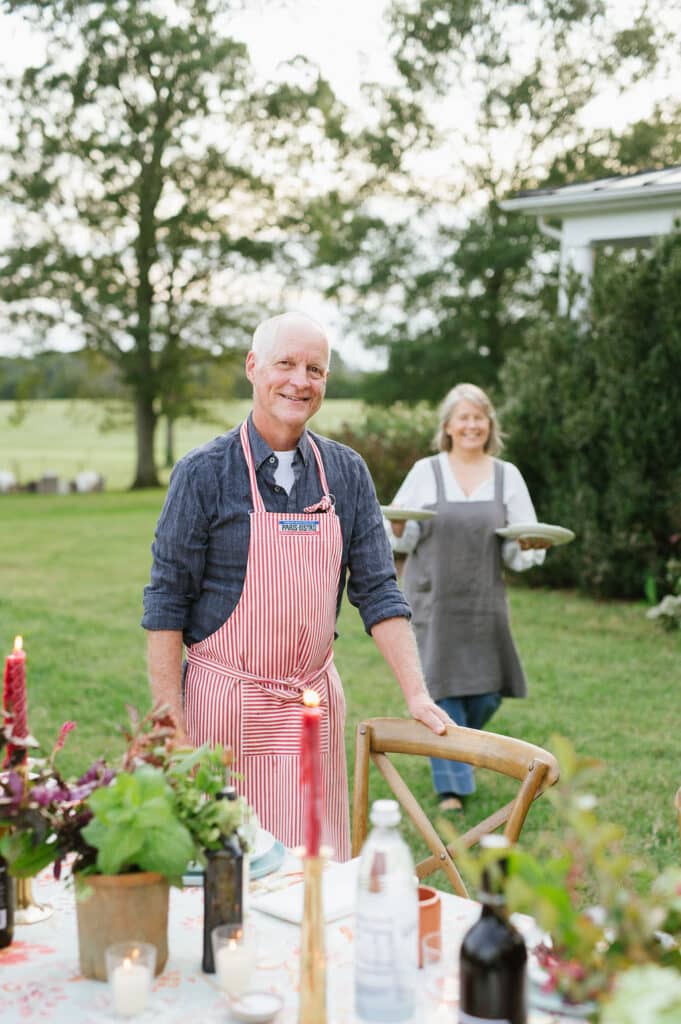 Preparing A Menu for A Farmhouse Dinner
While Shawn was the planner of this and many other sensational gatherings, she is the first to share the credit. Time and again, she is well met in her efforts by her beloved epicurean husband, David Dienner, who lent his talents and shared his "roasted to perfection" potatoes. She is also happy to share the talents of her friends, such as Victoria Dunham, a personal chef who graciously took charge in preparing this evening's sumptuous feast. Lydia Lodge, who works with Shawn in her Charlottesville store, Be Just – Domestic Tools & Home Supplies, also assisted with the cooking and brought with her many of the pieces seen here from the charming shop. Shawn also tied in items from the store's sister company, Beehive Events.
When brainstorming the menu for the evening meal, Shawn, David and Victoria were inspired by Chef Joshua McFadden's James Beard award-winning cookbook Six Seasons: A New Way with Vegetables. Recipes in this vegetable-forward cookbook allow the simple, honest flavors of the Virginia farm-fresh ingredients to shine through.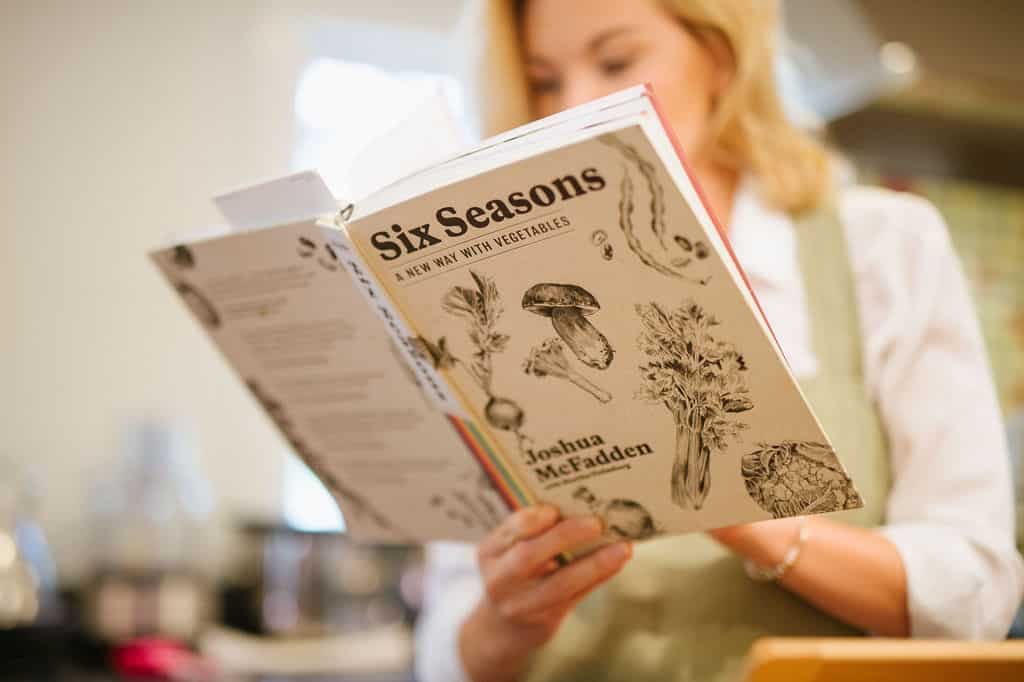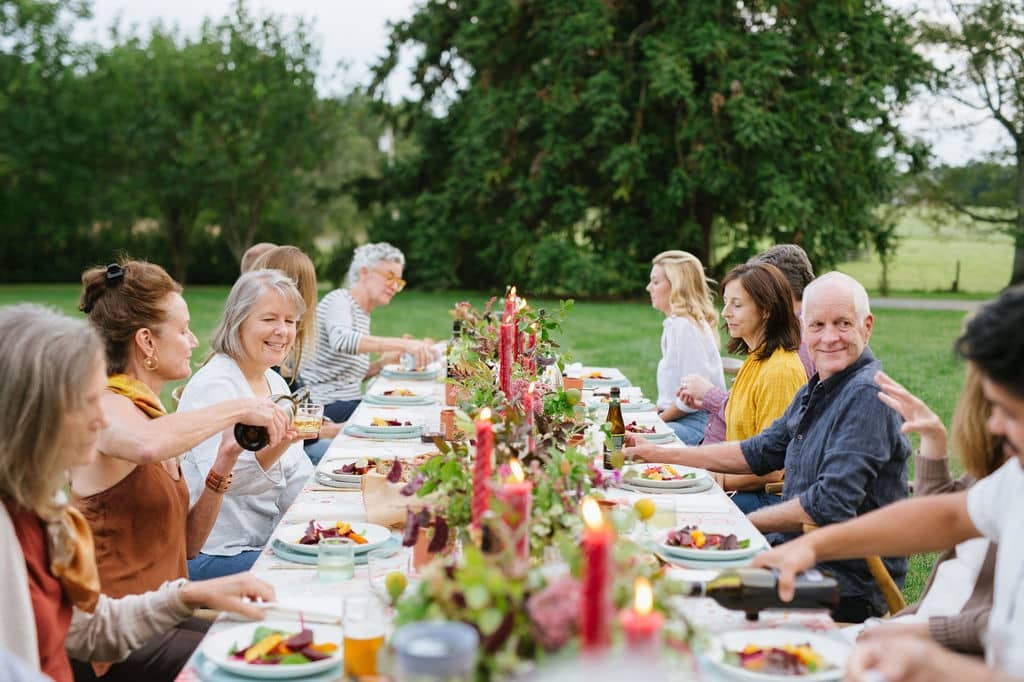 Guests first took their seats at the table to give a toast and to enjoy the lovely first-course salad. They then filled their plates at the buffet station, which was decorated with artfully-arranged platters garnished to perfection with a mix of seasonal herbs and fruits.
The event began on the farmhouse porch, which acted as the perfect pre-dinner gathering spot for friends to chat, nibble hors d'oeuvres and enjoy the beautiful bar stock.
Supporting Local Virginia Businesses Makes Entertaining Easier
Another aspect of Shawn's experienced entertaining skills is her focus on flow, which could be seen in the zones she created to keep guests moving and engaged all evening long. The event began on the farmhouse porch, which acted as the perfect pre-dinner gathering spot for friends to chat, nibble hors d'oeuvres and enjoy the beautiful bar stock. Complete with a pressurized copper growler filled with a craft brew from Random Row Brewing Co. and wines from nearby Blenheim Vineyards, the bar and its bartender charmed guests.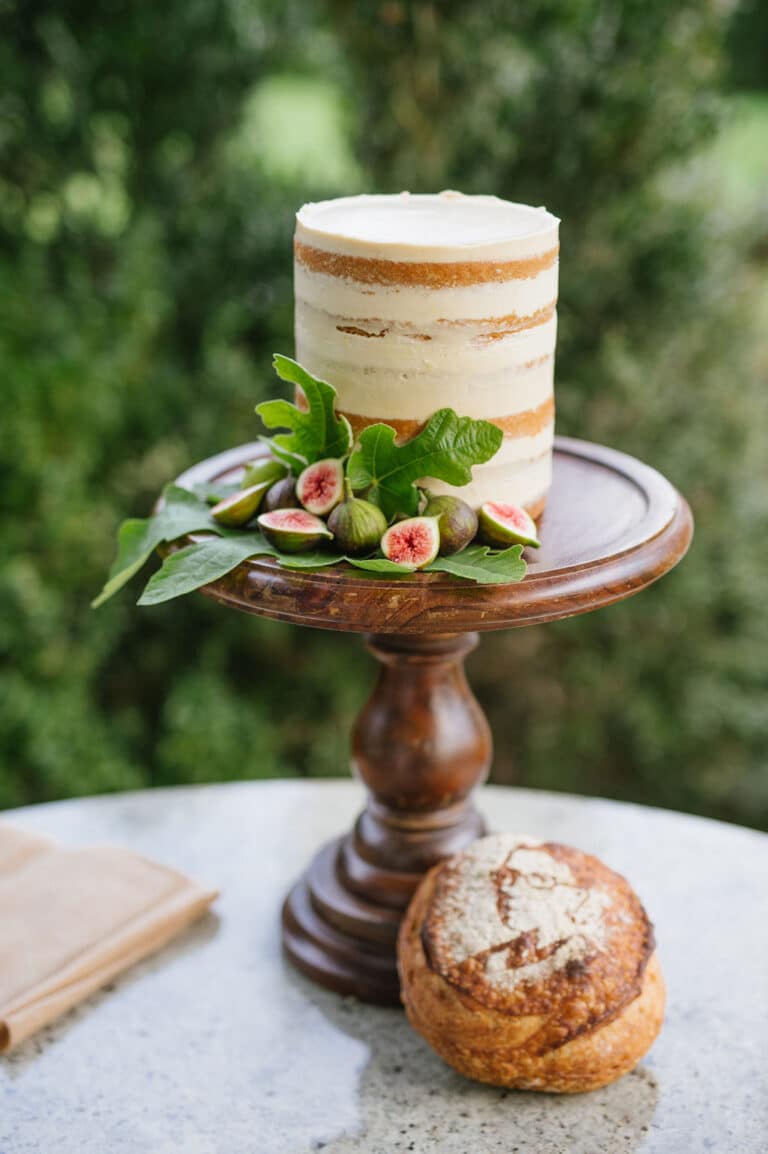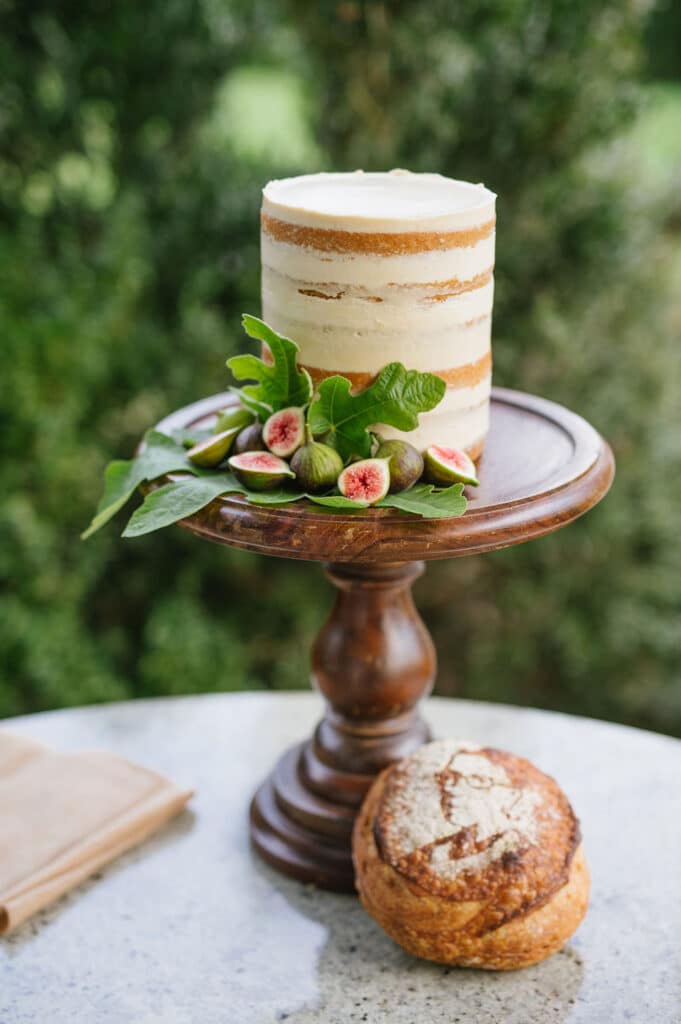 Local bakery Cake Bloom provided one of its signature, almost-naked botanical cakes, which took pride of place on a mahogany pedestal. MarieBette Café & Bakery, another local culinary treasure, provided fresh-baked bread to complement the meal.
As the evening began to wane and guests finished the delicious cuisine, they adjourned, cozy throws in hand, to a nearby fire pit. The locally-crafted fire pit is one of the many beautiful items from this dinner that is available for rent through Beehive Events. Shawn even decorated this space with dozens of pillar candles to entice guests to savor the last golden moments of a perfect meal.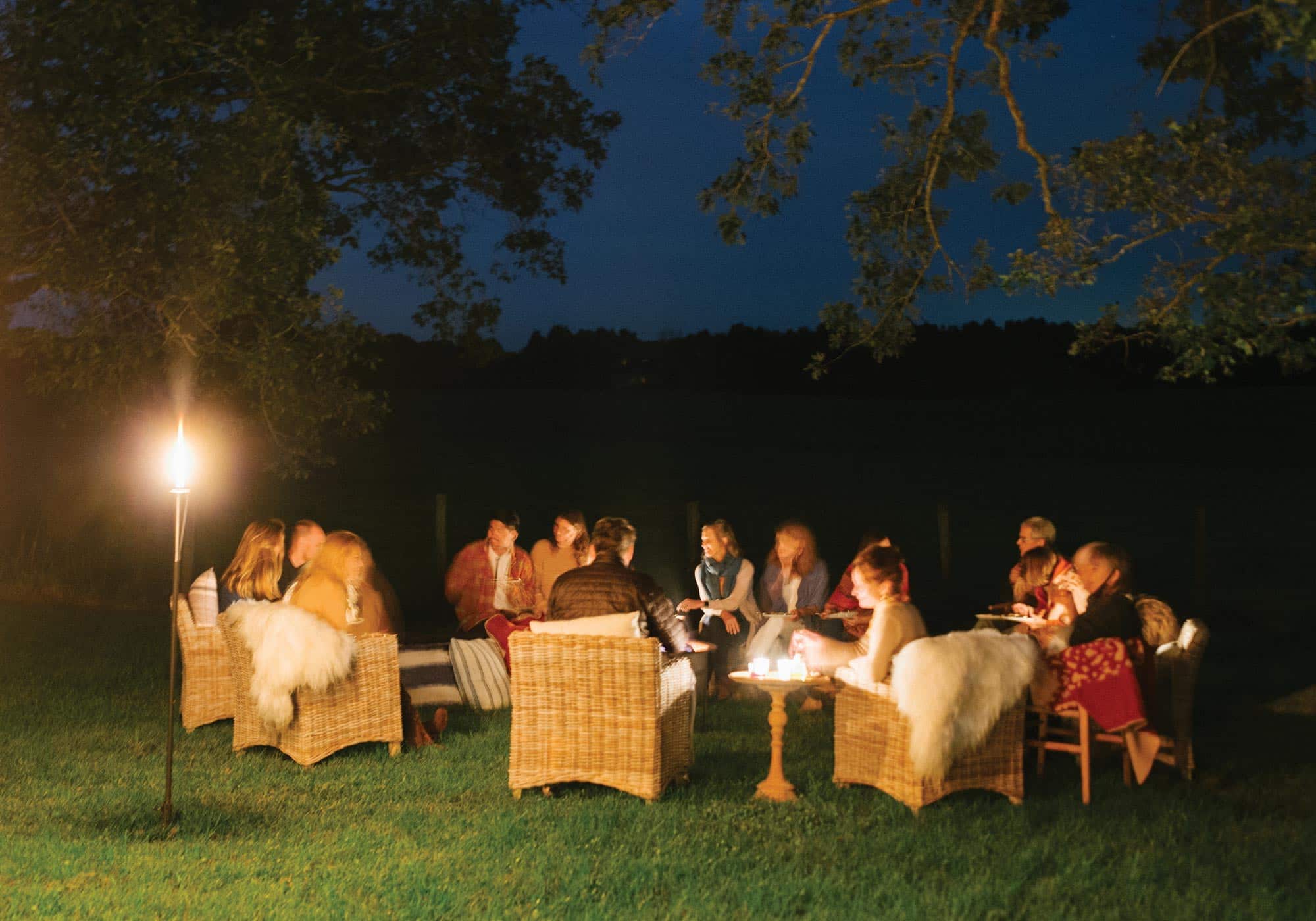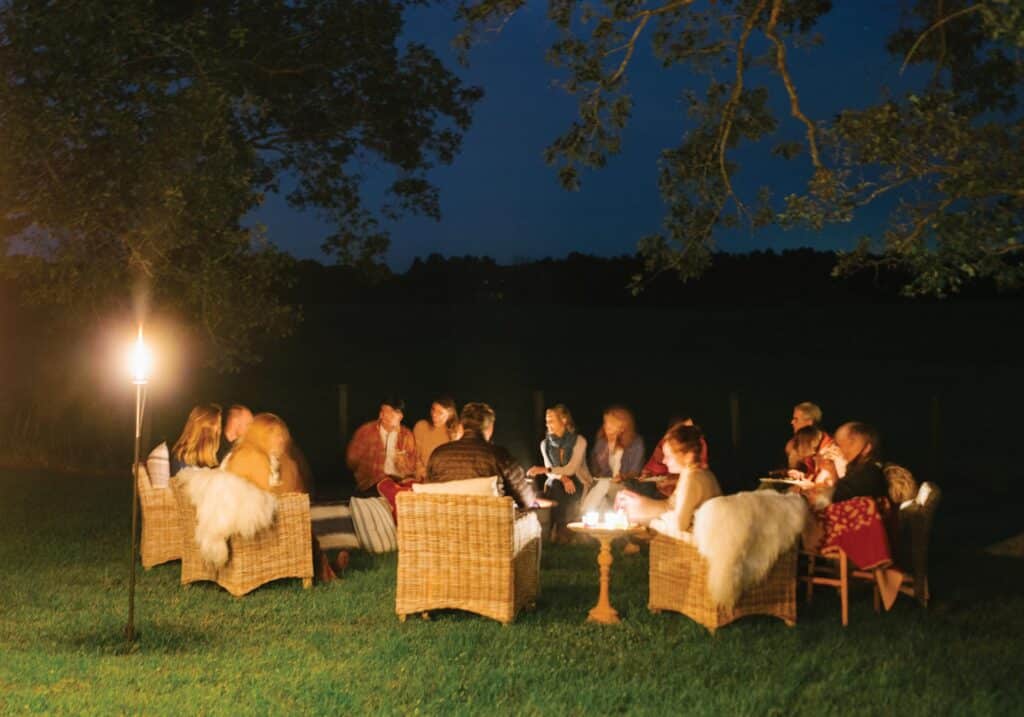 It was an event made richer and more meaningful by the care and joy poured into every detail by all involved. And, it reminded us that time spent creating and sharing hospitality with our friends and loved ones can provide nourishment for our bodies as much as our hearts. ~
To create the farmhouse dinner of your dreams visit the Entertaining section for inspiration and visit the Wine & Country Shop to bring your vision to life. This article originally appeared in Book 11 of Wine & Country Life. Start your subscription here or give a gift subscription here.
Photography: Jen Fariello Photography | Planning, Décor & Flowers: Shawn Marie Cossette of Beehive Events | Dinner: Lead Chef Victoria Dunham with Sous-Chef Lydia Lodge + David Dienner on Potatoes | Products: Be Just – Domestic Tools & Home Supplies and Beehive Events | Cake: Cake Bloom | Liquor: Rosemont of Virginia Vermouth | Wines: Blenheim Vineyards Wines | Bread: MarieBette Café & Bakery | RBG Beer: Random Row Brewing Co.
JENNIFER CARROLL, a Southern gal with an unquenchable thirst for all things creative, wears many hats—a photographer, blogger, designer and home entertainer. From cooking to decorating, no matter what she is doing, she is committed to celebrating everyday life. Visit celebratingeverydaylife.com.
R. L. JOHNSON is our co-publisher and creative director, Robin Johnson Bethke, who began her career as a professional photographer in Los Angeles before moving into graphic design and art direction when she relocated to Charlottesville in 1994. As our company's co-founder and visionary, she enjoys all aspects of the publishing process from story conception to graphic design to photography. Her work is often seen in many of our publications.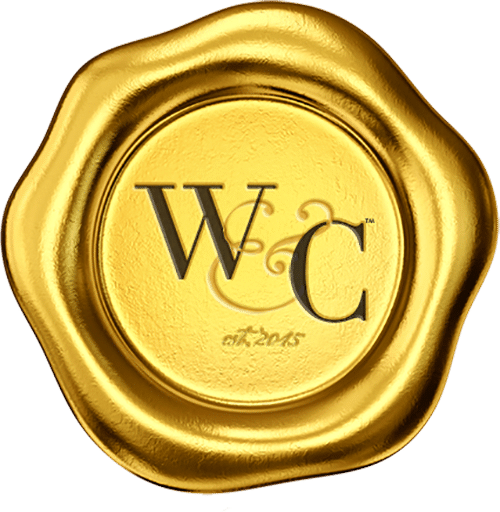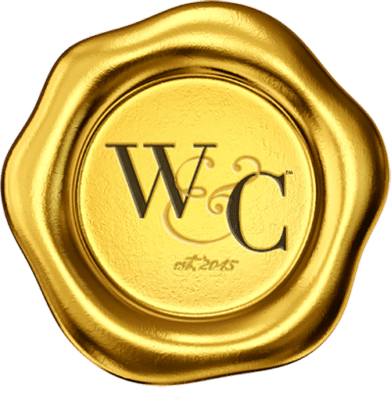 Wine & Country celebrates elevated living in Virginia Wine Country. Wine & Country Life is a semi-annual luxury print magazine with a full digital presence. The annual Wine & Country Wedding Planner is an art book of elegant Virginia weddings. The brand includes the Wine & Country Shop in Ivy, Va. It is a beautiful lifestyle boutique that brings the pages of the magazines to life. Wine & Country tells the stories of Virginia wineries, the farm-to-table movement, luxury travel, entertaining, art and the elegant country lifestyle. Ivy Life & Style Media also provides branding, web design and PR services for the wine industry.