Patio entertaining at home has never been more valued than it is now as we are all spending so much more time at home. These outdoor entertaining tips will help you take the stress levels down and pave the way for good memories, delicious food and fun this summer.
If you've been doing some patio sprucing as we have been, you're going to love these tips below. After all, few things can beat those golden moments of feeling the setting sun on our bare legs while we lounge and chat over small bites and enjoy a crisp glass of Prosecco or a summer cocktail as laughter fills the air.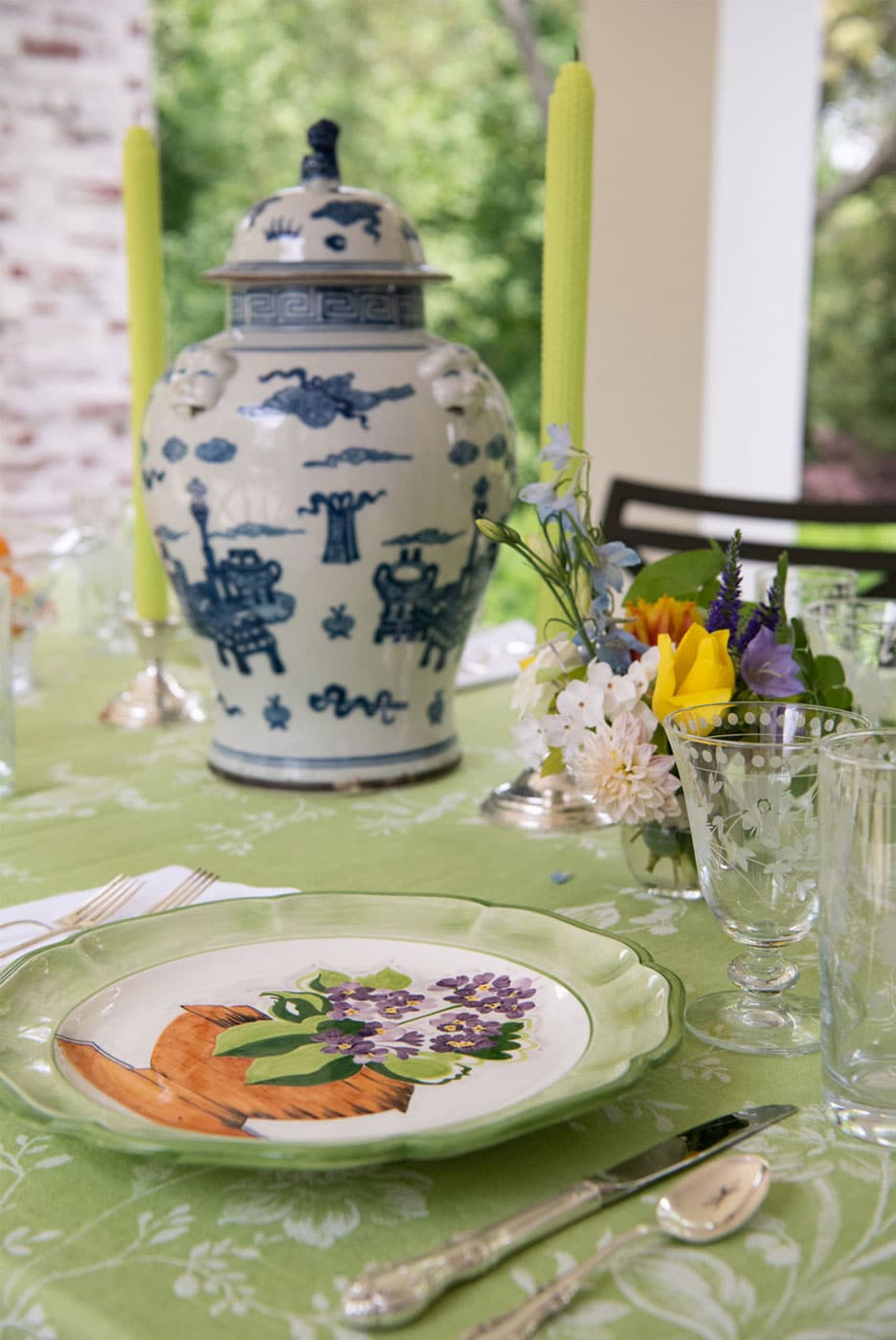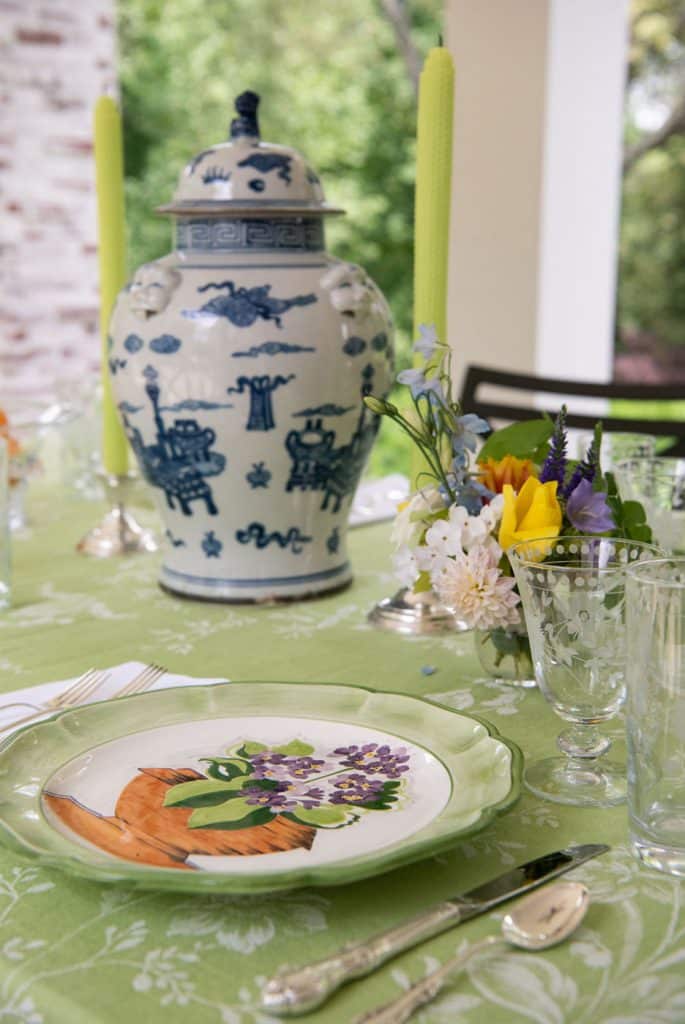 Outdoor Entertaining Tips
Here, the accents on the dishware lend a sunny note to the table, highlighting the cool, pale green tablecloth while details in the cutlery and centerpiece create little surprises that enliven the spread.
The table, embellished with classical elements like the candle setting and centerpiece, stands out while the garden themes are strengthened by the airy feel of the patio setting. Natural elements, such as the simple, sophisticated floral arrangements and the floral details in the tablecloth, harken back to the garden itself.
Use sun and space to create an environment that makes social distancing organic and enjoyable.
We asked Anne Altizer of Anne Altizer Interiors to give us some of her tried-and-true tips for summer patio entertaining in style. While based in the Washington, D.C. area, Altizer recently moved back to Charlottesville to continue her work of creating beautiful spaces with love and care. From keeping things cool to make-ahead menus, we've got everything you need to create an unforgettable get-together in your own backyard. 
Tips to Keep Your Patio Cool
You have a beautiful patio, do you have any special tips for keeping guests comfortable during outside entertaining?
Thank you! We love our patio and use it almost daily year-round. In the heat of the summer, it's nice to have a covered patio with ceiling fans. We frequently have friends and family over for al fresco dining and the fans over both the dining and seating areas make it comfortable even when it's blazing hot out. If you don't have a covered patio, try setting up a fun umbrella and some portable fans. Although those portable fans may not be pretty, your guest will appreciate having a breeze.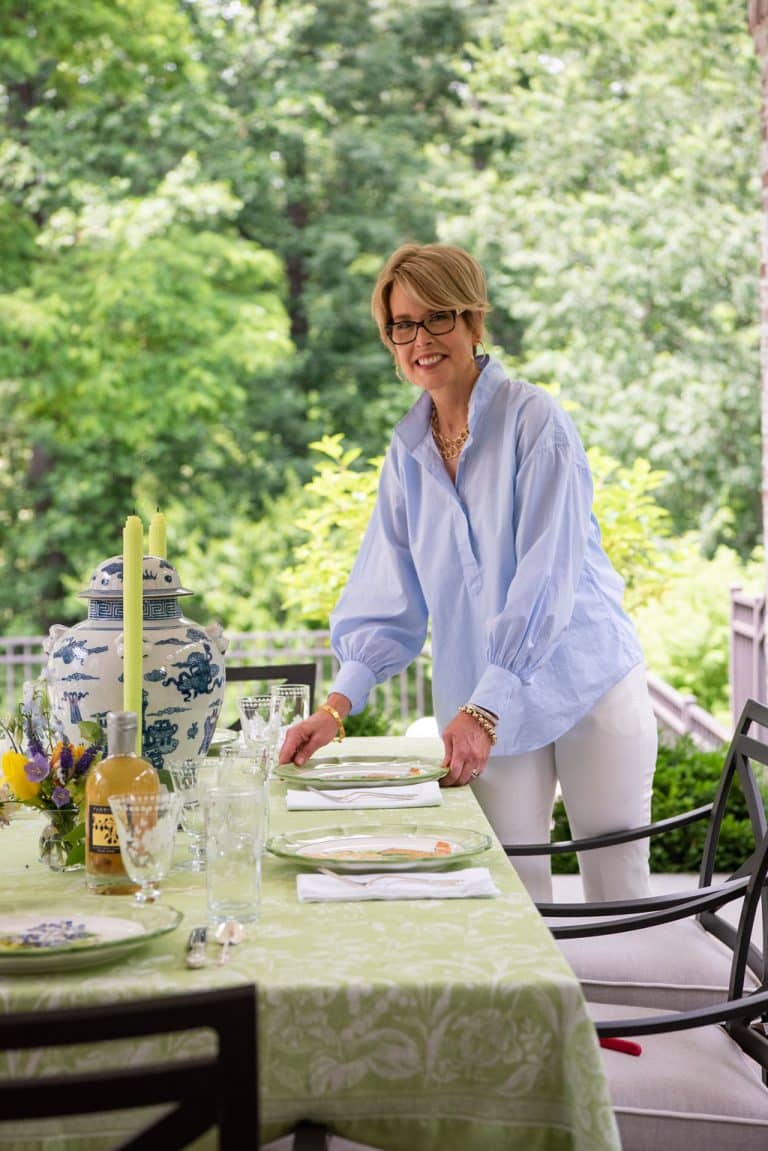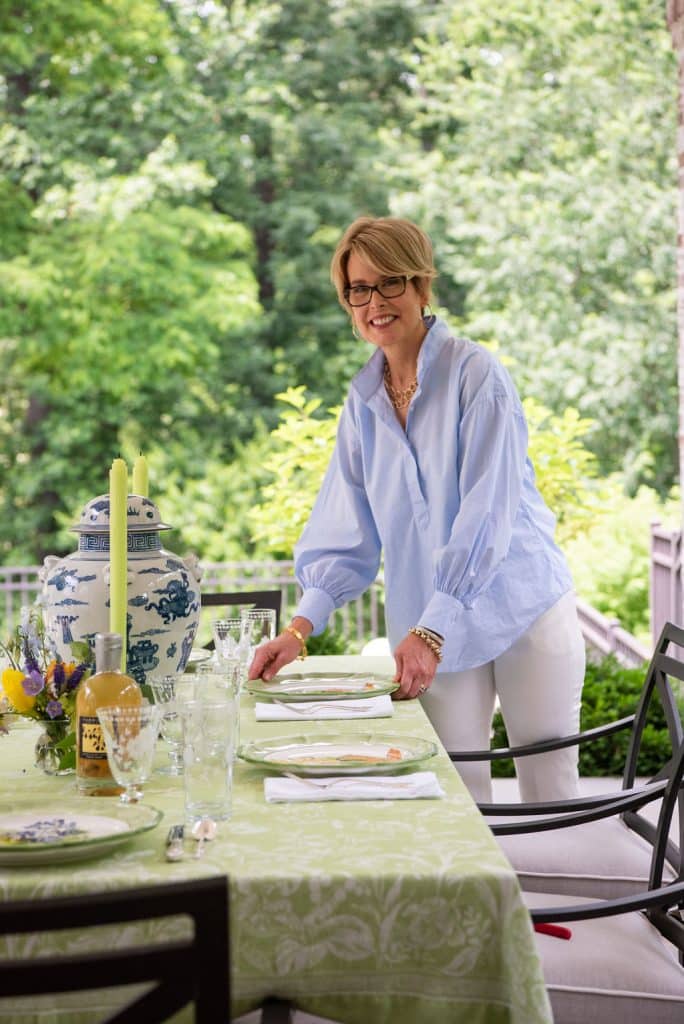 Outdoor Entertaining Style
How would you define your entertaining style?  
Always relaxed but with some special touches. I love to add silver and pretty table linens to an outdoor table setting, even if I am using melamine plates. It just takes everything up a notch. 
Do you like to have a theme to your tablescapes? 
Usually, I don't have a theme for my tablespaces. I really don't know why other than sometimes it seems a little forced. I like a simple table with pretty linens and fresh flowers or greenery clipped from the garden. Although, I must admit that I have been to some pretty amazing themed parties hosted by others. For whatever reason, it's just not in my wheelhouse.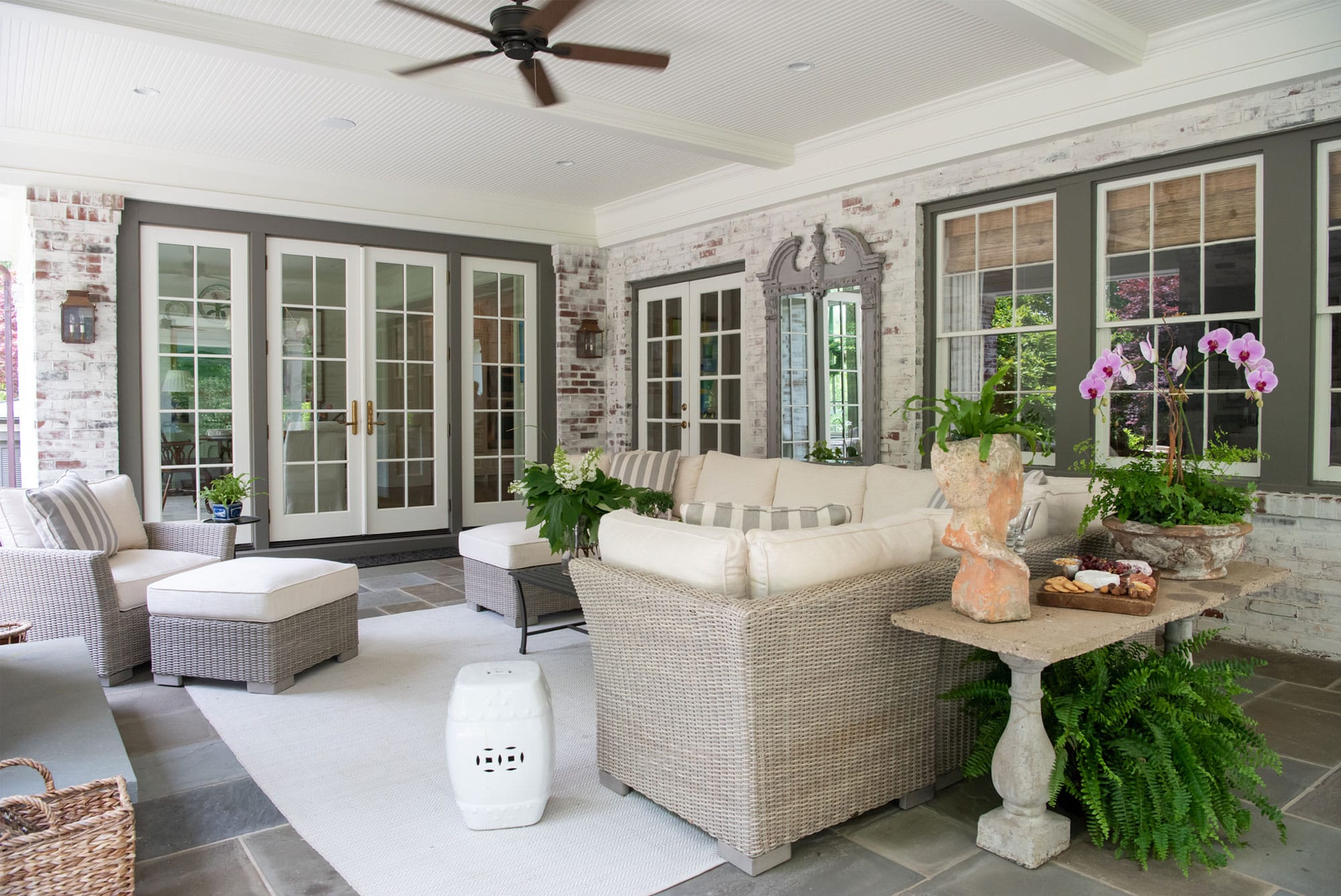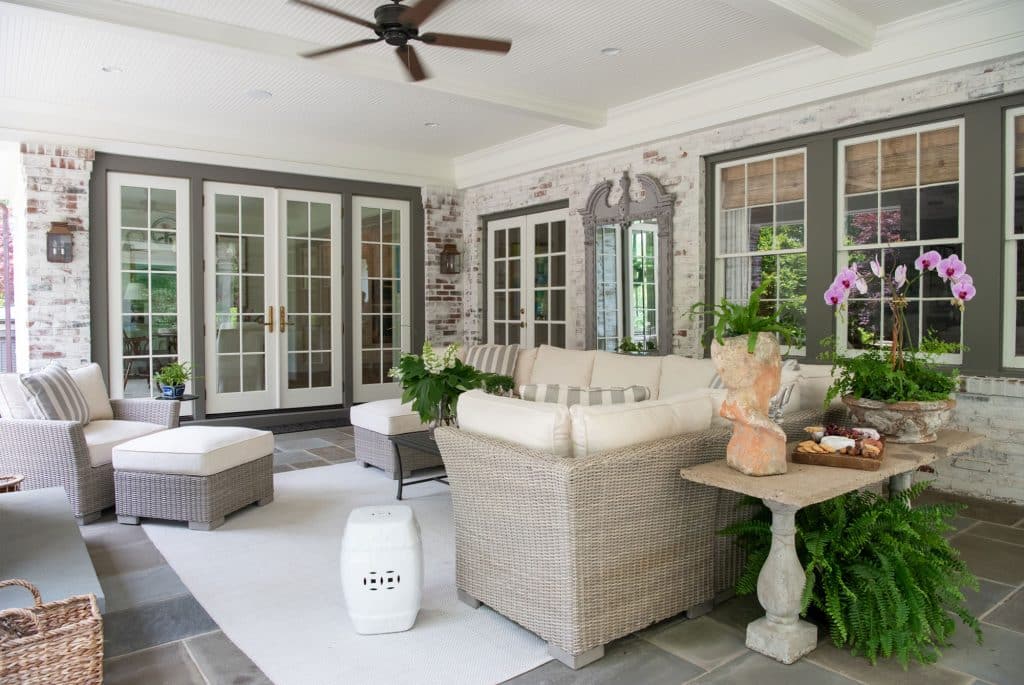 Low-Stress Entertaining Tips
What three things are a must to you for at-home entertaining? 
Make ahead menus, a good playlist and a GREAT guest list.
What's your secret weapon for making entertaining at home low-stress?  
Again, make ahead menus! I am not an overly confident cook, so I don't want to be in the kitchen or standing over the grill once my guests have arrived. I am a true believer that the host sets the tone for the party and if the host is stressed, so are the guests. I also make a list early in the week of the party and assign a day to get each task done ahead of time. I even write down what I am going to wear and when I need to jump in the shower to give myself plenty of time to be relaxed before anyone arrives. 
Easy Menu Ideas for Outdoor Entertaining
Do you have a favorite cocktail, appetizer or dessert that you love to serve in the summer? 
I think keeping summer appetizers simple is the way to go. Fresh fruit and veggies that are in-season are always good and so easy to prepare in advance. As far as a favorite cocktail, I usually make a pitcher of something refreshing ahead of time.  Vodka, freshly squeezed grapefruit juice and a splash of cranberry is always a summer favorite. 
Do you have a go-to playlist for entertaining?  
I have several playlists saved depending on the size of the group and the overall mood for the dinner. I definitely include a mix of genres and songs everyone would know. Some of my playlists tend to get increasingly cranked up after dinner because nothing is more fun than ending the evening with a dance party.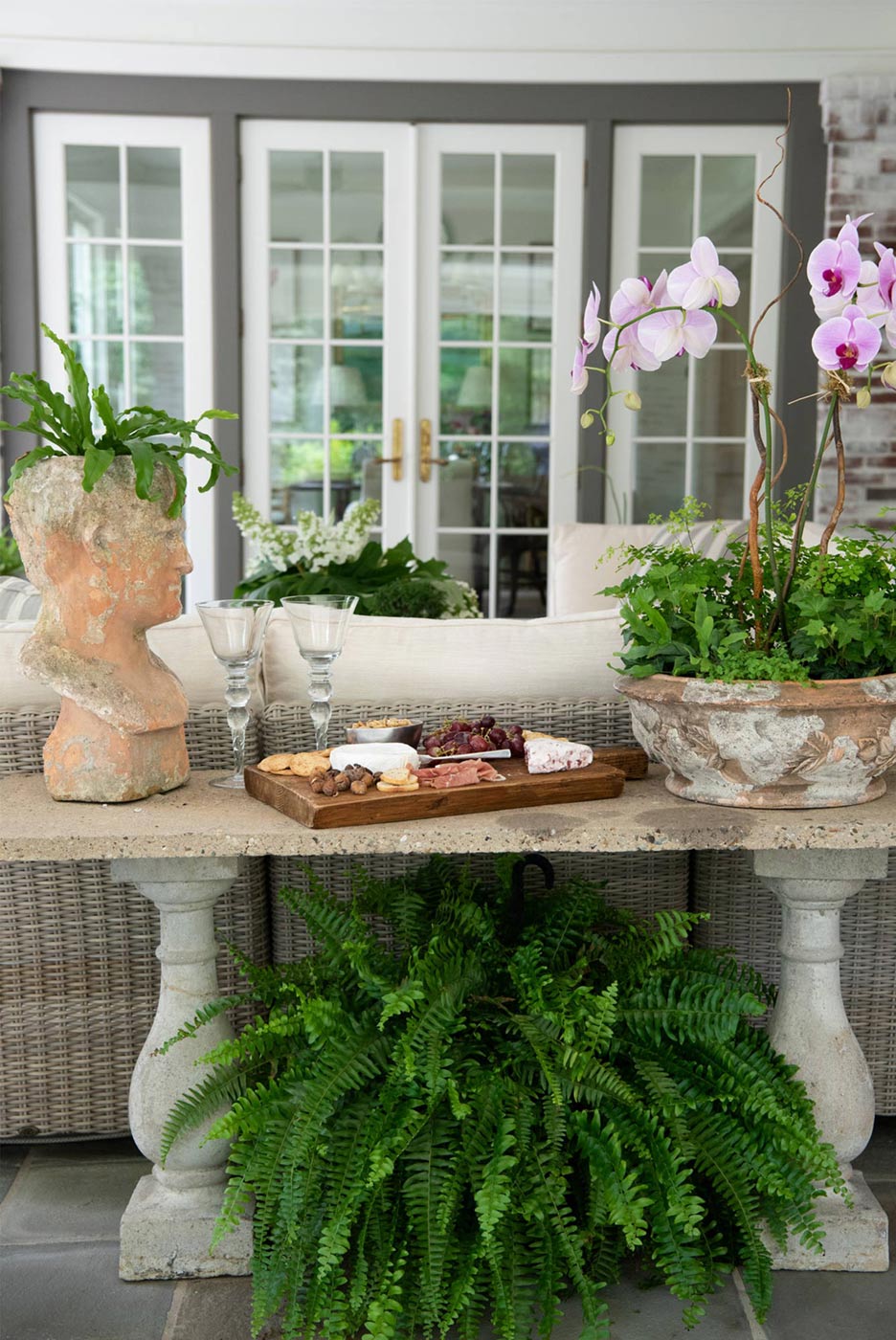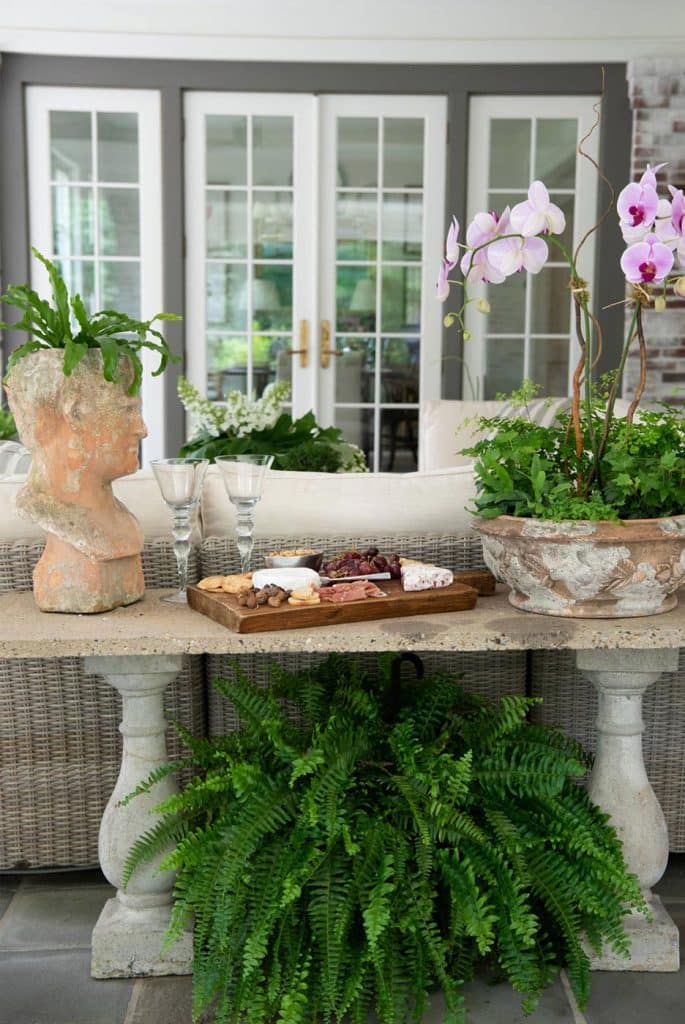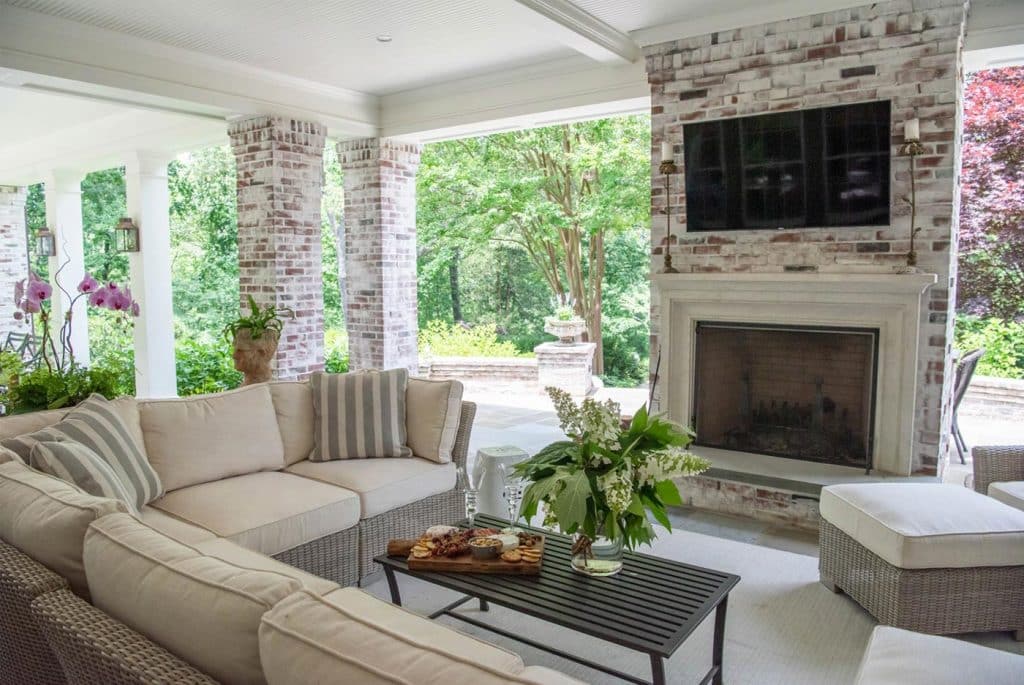 Do you have any other tips you want to share? 
I would suggest, especially for outdoor entertaining, to have the bar set up outside and have your guests make their own cocktails. Keep lots of iced buckets with wine and beer so everyone can self-serve.
Thank you so much to Anne for sharing these patio entertaining at-home tips with us. We're inspired to get right to work refreshing our summer playlists, chilling some wine and gathering around our patio table. Discover more ideas for planning a vineyard-side dinner party for friends here. ~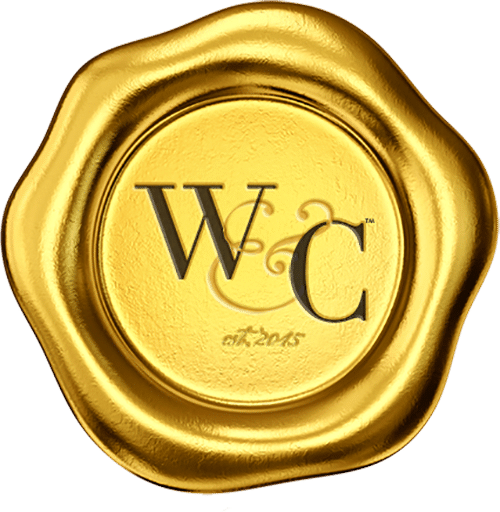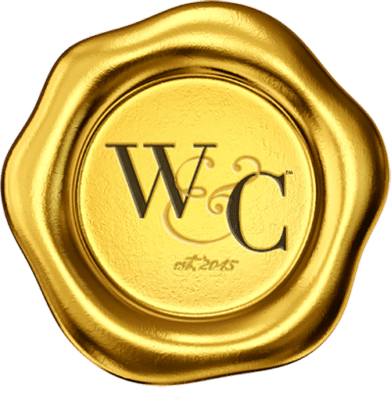 Virginia Wine & Country celebrates elevated living in Virginia Wine Country. Virginia Wine & Country Life is a semi-annual luxury print magazine with a full digital presence. The Virginia Wine & Country Gold Book is an annual guide to the top award-winning wines, wineries and experiences in Virginia Wine Country. The annual Virginia Wine & Country Wedding Planner is an art book of elegant Virginia weddings. The brand includes the Virginia Wine & Country Shop in Ivy, Va. It is a beautiful lifestyle boutique that brings the pages of the magazines to life. Virginia Wine & Country tells the stories of Virginia wineries, the farm-to-table movement, luxury travel, entertaining, art and the elegant country lifestyle. Ivy Life & Style Media also provides branding, web design and PR services for the wine industry.