This beautiful home was on the 2021 Virginia Historic Garden Week tour. It created quite a sensation among guests who found themselves swept away by the romantic beauty of this wisteria-clad porch. An annual Virginia tradition, the tour raises money for historic restoration and conservation projects. Garden lovers from all over the country come for the tour. The largest statewide event of its kind across the entire United States, Historic Garden Week is organized by the Garden Club of Virginia (GCV). Read on for tips on how to grow wisteria in Virginia and the Mid-Atlantic and incorporate the blooms into an elegant garden party.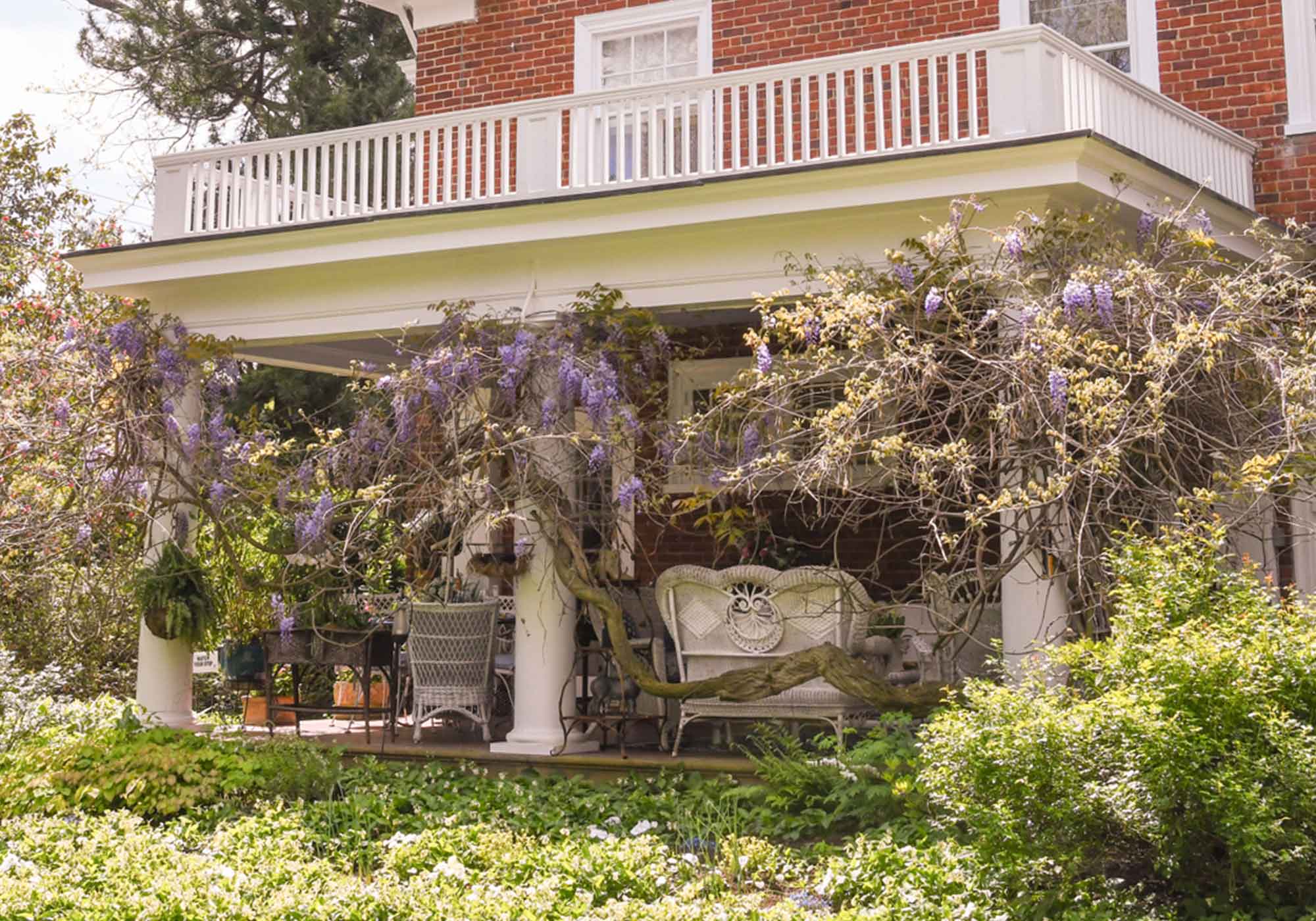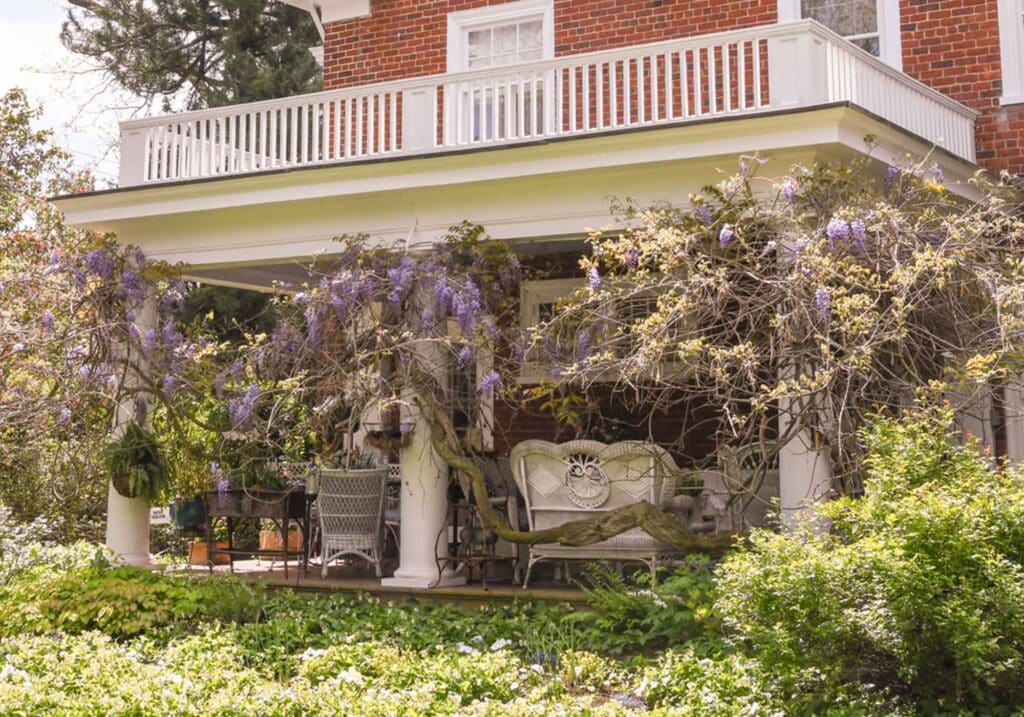 Wisteria's beauty and ornamental appeal are best appreciated in the late spring through summer in the Mid-Atlantic
. That is when its dynamic branches and family of purple-pink flowers shine brightest. This plant grows
quickly
. It pairs best with larger, sturdy structures like pergolas, arbors and porches.
It stretches 30 or more feet, allowing for creative and stunning design additions to the facade of your home and in your garden
. Wisteria plants bloom in April and May in Virginia and throughout the Mid-Atlantic.
It is important to
designate
a space for your beautiful wisteria vine where you can manage its fast-paced growth without causing damage to any nearby plants or structures
. Wisteria can grow up to 10 feet a year.
Fortunately
, the vine is easy to grow and adaptable to most soil types. It is also nitrogen-fixing, meaning it serves to improve the quality of the soil.
The bountiful blooms in shades of pinks and purples also attract bees and butterflies, adding a
pollinator-friendly
nectar source to your garden room
. Choosing to grow wisteria is both ecologically friendly and a lovely addition to your property.
How to Grow Wisteria for an Outdoor Entertaining Room
Wisteria is a long-beloved plant often used in warmer, more southern climates like Virginia. It is important to consider its vigor and strength when choosing a design. It needs the support of a solid arbor, pergola or porch structure. The wisteria will grow into a romantic curtain, creating a sense of walls, or even a ceiling, for your outdoor room. Here, it drapes in soft sweeping curves that are equally beautiful from the garden and from inside the entertaining room. If planted and trained with care, your sun-loving wisteria plant will be a beautiful structural element for your entertaining space. You will enjoy its blooms at seasonal soirees for many years to come.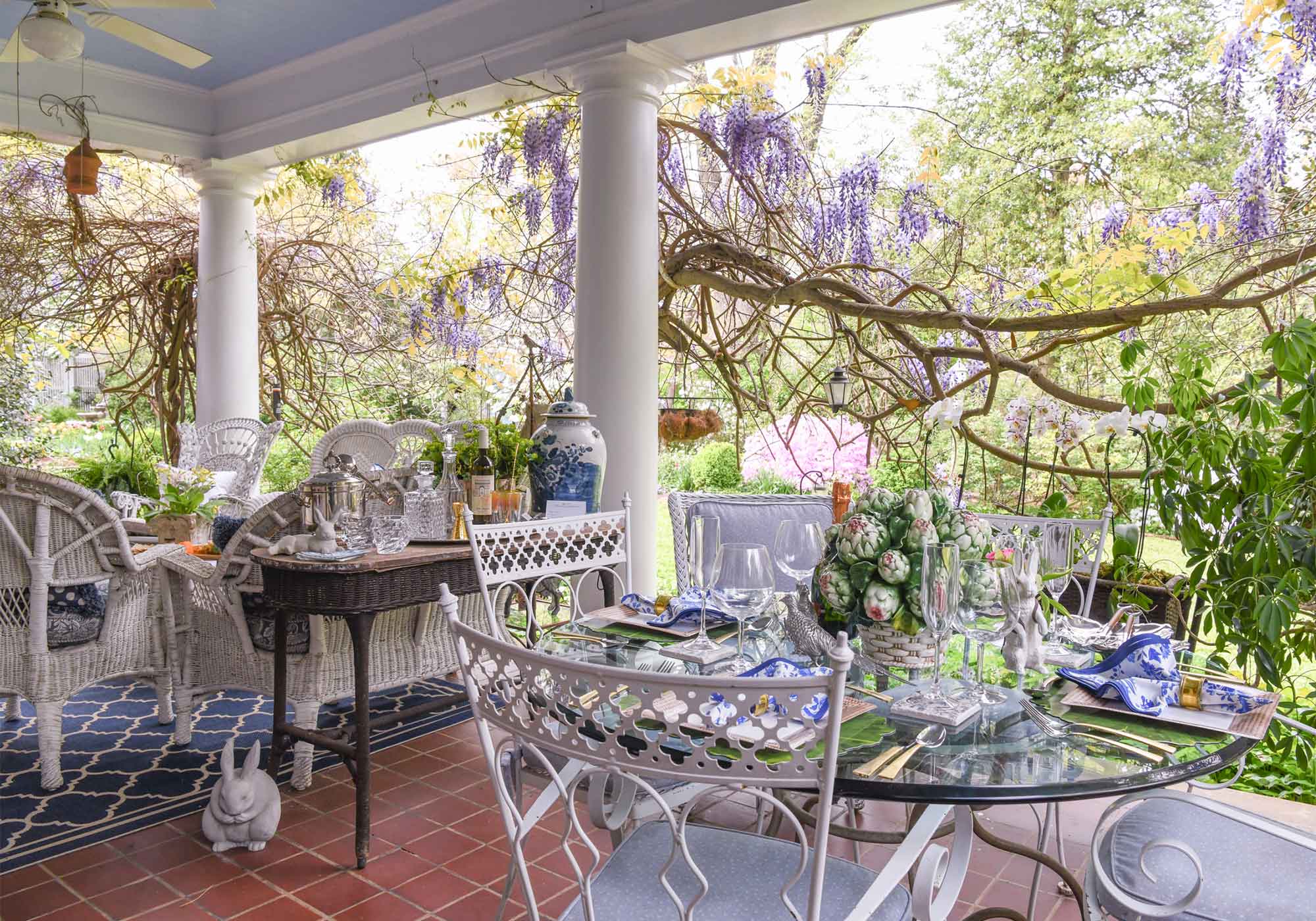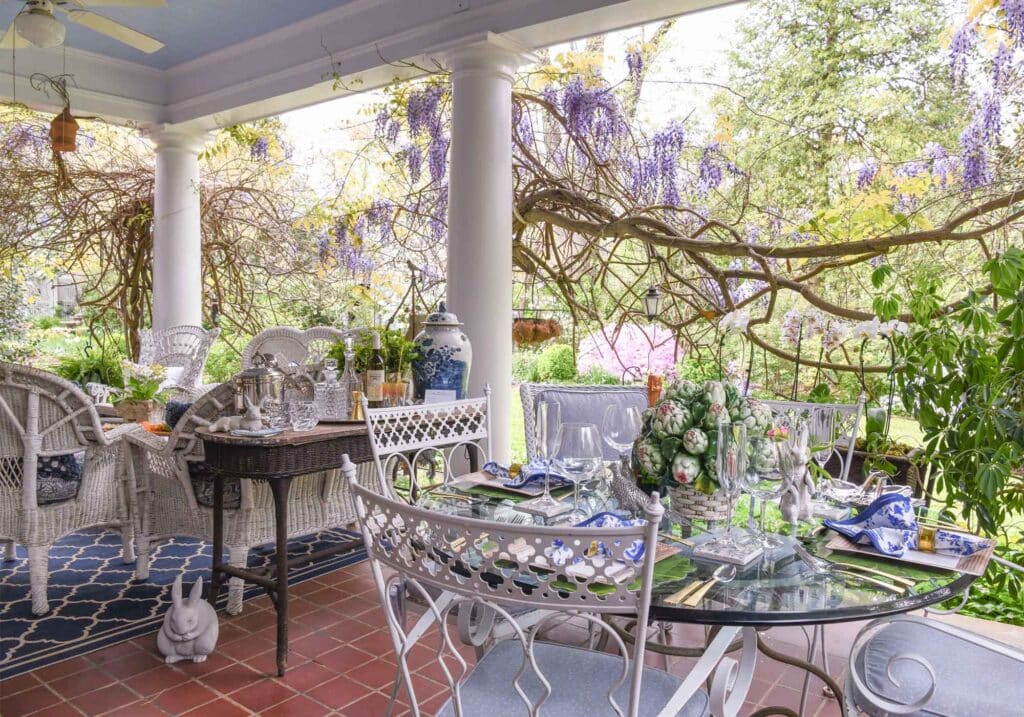 Define Your Outdoor Room's Perimeter
As pictured here, the wisteria's dynamic branches and blooms provide movement throughout the entertaining area. Though the porch boasts two separate seating areas, one for leisure and seating, the other for dining, the vine creates an ongoing conversation between the two spaces. It breaks this separation without threatening to crowd it. The wisteria creates a soft visual enclosure. This makes the outdoor room for entertaining feel quite private and romantic. Like this porch, it is easy to imagine a gazebo or pergola draped in wisteria or a flagstone patio flanked by arbors covered in wisteria for your outdoor room.
Design Your Wisteria Outdoor Room for Entertaining
Romantic wisteria makes a stunning focal point for your garden room decor. To accentuate its beauty, choose complementary furniture and decorative elements to welcome guests to relax. The plant pairs quite well with wicker and glass furniture pieces representative of the classic "Southern porch" style. Though it depends on your particular garden room vision, furniture pieces are typically best kept neutral in order to draw attention to the abundant blooms and greenery. Here, beautiful vintage pieces with sculptural curves and hints of European design mingle with romantic floral cushions in subtle colors highlighting the homeowner's loves for gardening, flowers and travel. Pots with additional plantings are quiet. White orchids and lush green ferns enhance the botanical room without drawing attention from the wisteria. 
The wisteria vine grows even more lovely over time as it ages and takes on sculptural curves and angles. The vine develops a rough patina and a sense of romantic age. Underplant with annuals, herbs and greenery to fill in the quiet spaces. Add sweet touches like garden art or a birdbath for feathered friends. A mature wisteria vine provides ample space for a bird's nest, treating you to moments of awe in your outdoor room.
Create A Bar for Entertaining on Your Porch
A narrow table provides a beautiful division in an outdoor entertaining room.
Set a bar that is convenient to all relaxing on the porch with sparkling vintage crystal decanters on a silver tray
.
Add a hand-blown glass mixing pitcher, gold bar tools and coordinating cocktail napkins designed by Caspari and the table is both practical and beautiful
.
Serve local spirits, craft beverages and wines like this
Virginia Governor's Cup
winner, a Petite Manseng from
Horton Vineyards
.
Add Comfortable Porch Seating & Cushions
Invite guests to relax on your porch with comfortable settees and wicker chairs. These lovely examples are perfectly suited to the historic Virginia home.
Floral pillows, touches of chinoiserie and garden accessories continue the botanical theme of the porch draped in wisteria
.
It is easy to imagine guests mingling out of doors here under the classic haunt-blue painted porch ceiling
.
They can enjoy locally-made cheese and crackers and a drink before repairing to the
beautifully
set table for their al fresco meal
.
How to Create a Romantic Botanical Tablescape
When you are fortunate enough to have a wisteria vine as your focal point, it is best to keep the floral arrangements and ornaments simple on your tabletop. This allows your garden to be the star of the party. By keeping other entertaining elements toned down, you will allow the wisteria and garden to continue to be the focal point of your design. When you have a garden star like this it is best to resist cluttering the area.
On this porch, a striking ceramic sculpture of artichokes made in Italy quietly anchors the scene without competing with the surrounding foliage and blooms. The weave of the basket follows through into the elegant Caspari plates at each seating. To add pops of color and accessorize your botanical entertaining space, choose linens and tableware with complementary colors. Seasonal patterns in the dinnerware serve to re-emphasize the surrounding wisteria vine's growth. 
Here, simple and elegant silver pheasants from the Virginia Wine & Country Shop in Ivy adorn this table, adding quiet interest and continuing the garden theme for the tablescape  A bespoke French linen napkin in floral toile with a gleaning gold napkin ring repeats the botanical theme. Combined with sparkling Virginia wine from Thibaut Jamison and elegant crystal stemware alongside fashionable mixed metal gold and silver flatware, your romantic botanical tablescape is ready for guests. 
How to Grow Wisteria in Virginia and the Mid-Atlantic
How to Plant and Propagate Wisteria Plants
Wisteria can be planted in a number of ways, most commonly from seeds, cuttings, or layering branches. Most experts advise against planting from seed because it greatly increases growing and development time. The two best methods are cutting and layering. Harvesting from existing wisteria branches is best done in the late spring and very early summer. The cuttings should be taken from softwood, or branches that are still noticeably green and have not yet developed woody bark. These cuttings should then be planted in spring or fall months when the plant is dormant for the best results. When choosing wisteria plants, be sure to choose one of the two available native species. Both the Chinese and Japanese varieties are invasive species and can often be difficult to grapple with as well as harmful to your surroundings.
The Best Soil to Grow Wisteria Plants
Though wisteria adapts well to the majority of soil types, it does particularly well in deep, rich and somewhat moist soil. When planting, be certain to choose an area with a great deal of space and light; because the vine grows so vigorously it can overtake other plants grown too close. It also needs a steady and direct source of sunlight to maximize its growth and bloom potential.
How to Get Your Wisteria Plant to Bloom Strongly
After planting, wisteria requires little maintenance. Because it is drought-tolerant and adaptable, the wisteria vine requires little watering and will grow vigorously. However, in order to keep your wisteria plant vivacious and to your liking, the two most important elements are continuous pruning and training. Pruning is the key to beautiful flowering, as wisteria only blooms on new wood.
Sometime in late winter, remove at least half the year's prior growth leaving a few buds per stem on your wisteria plant. If you want your vine to appear more formal, prune again in the late summer after the traditional flowering process occurs. When you first plant wisteria, keep in mind that it will take 3-5 years to establish blooming. You may be able to purchase an older wisteria vine at a nursery if you are eager for the flowers.
How to Prune and Train Wisteria
Beyond pruning, more formal or intentional planting of the wisteria plant requires training. As before-mentioned, wisteria plants are aggressive growers, and therefore their branches can be quite chaotic when left to their own devices. In order to train the branches, select an upright stem and attach the stem to your chosen sturdy support. Remove the side shoots periodically and continue to train the stem upwards until it reaches your desired height. The same can be said when directing the stem in other directions. Side branches can be attached for a fuller and wider plant as needed, but should be kept about eighteen inches apart.
Once the growth of your wisteria plant reaches a desirable height, pinch or cut off the main vine to begin stunting its growth. Training branches in the early and main stages of growth remain relatively simple and straightforward, but come fall and winter seasons will require the removal of large branches and regular maintenance in order to assure it doesn't overtake your space or structure in an undesirable fashion. It is such a strong grower that left unchecked, it can damage buildings and structures.
JENNIFER BRYERTON, our co-publisher, holds a masters degree in education and grew up in a family of farmers and storytellers. She enjoys visiting exquisite gardens and vineyards, cooking, travel and decor and time at home, where beehives and a chicken coop dot the lawn, and borders overflow with roses, peonies and lavender.
R. L. JOHNSON is our Co-Publisher and Creative Director. Bethke studied at the prestigious ArtCenter College of Design and began her career as a professional photographer in Los Angeles. She moved into graphic design and art direction when she relocated to Charlottesville in 1994. As our company's co-founder and visionary, she enjoys all aspects of storytelling.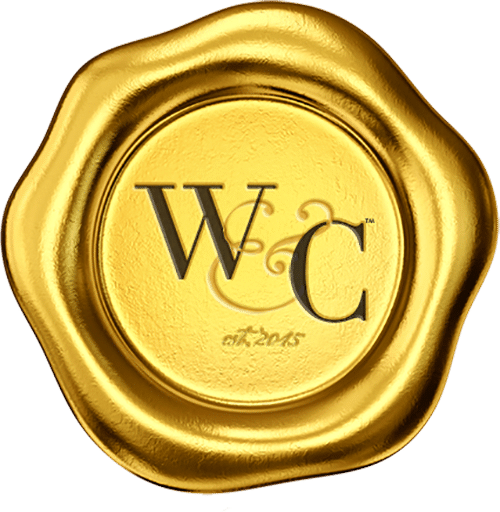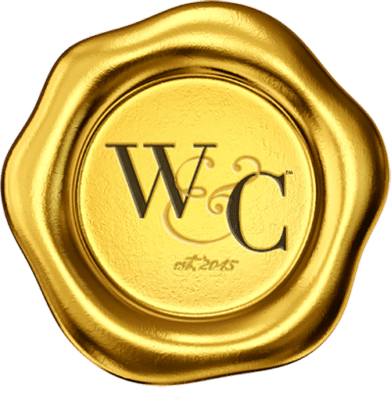 Virginia Wine & Country celebrates elevated living in Virginia Wine Country. Virginia Wine & Country Life is a semi-annual luxury print magazine with a full digital presence. The Virginia Wine & Country Gold Book is an annual guide to the top award-winning wines, wineries and experiences in Virginia Wine Country. The annual Virginia Wine & Country Wedding Planner is an art book of elegant Virginia weddings. The brand includes the Virginia Wine & Country Shop in Ivy, Va. It is a beautiful lifestyle boutique that brings the pages of the magazines to life. Virginia Wine & Country tells the stories of Virginia wineries, the farm-to-table movement, luxury travel, entertaining, art and the elegant country lifestyle. Ivy Life & Style Media also provides branding, web design and PR services for the wine industry.