For centuries, foxhunting has been an honorable hunting pastime of the elite class of Great Britain. Gentleman clad in red coats on horseback chased the ever mischievous fox over hedges, streams and gullies throughout the countryside (even though few foxes ever get caught). These often social hunts lead to the friendly competition of a race between huntsmen to see who could arrive first at the next village—the very beginning of our beloved steeplechase tailgating party tradition.
Church steeples, which rose high in the air, could be seen from many vantage points in British countryside villages, and made a good target for the finish line. The race would likely end with the winner getting a prized drink at the local pub and wagers won amongst fellow huntsmen. These competitions between such skilled horsemen, who were so adept at tackling the many obstacles of the country landscape even at a great speed, were commonly called hunt races. Today, the tradition continues as we head to the race track to watch the steeplechase take place. To accompany the races, spectators often bring tailgate spreads complete with elegant décor, delicious cuisine and elaborate decorations. Read on as we provide inspiration and expert tips to aid in Decorating Your Steeplechase Tailgate Party.
Honoring the Fox in Tailgate Décor
For the steeplechase tailgate, the ever crafty fox will easily find his way into your décor to acknowledge the long standing pastime for the foxhunting sportsman. Loyal steeplechase tailgaters will scour local antique shops and websites for a fox to incorporate somewhere into the ornamentation.
Often used as the focal point for Virginia steeplechase tailgating party spreads, foxes inspire a sense of history and societal glamour. Guests will feel a sense of connection to years past, and the steeped traditions they are now a part of. While some opt for an authentic fox to star in their tailgate, there are many suitable decorative fox collectibles that will work. Ceramic, terracotta, wood and even plastic models of foxes can carry the gravitas and elegance to uphold the time-honored custom. However, whether used prominently or subtly, the fox should always show up somewhere.
Fox Hunt-Inspired Tailgate Décor
The wily fox is cunning, smart and very hard to catch. As most foxhunters will attest, the fox knows every nook and cranny of the countryside far better than any horseback huntsman or hound and is rarely, if ever, caught. We've known local foxhunters to report witnessing foxes who will even wait for the hounds to catch up and appear to even enjoy the ritual of being far more clever than a pack of hounds. This is why you'll find the clever fox depicted ever smarter than the huntsman in charming paintings, tailgate serving ware and even stuffed plush. It has become a staple throughout the fox hunting world to represent a fox, well, very smartly dressed indeed.
You can find prints, figurines, well-dressed statues, table accoutrements, silver pieces and more. The list of available decorative versions is infinite for this foxy character.
Equestrian-Inspired Steeplechase Décor
Where would any race jockey be without his horse! For the steeplechase tailgate party, any kind of equestrian images or objects will enhance the race day theme. Incorporate props like riding helmets, boots, saddles or stirrups to add plenty of character to your tailgate. Equestrian embellishments and decorations keep with the theme of the day, and enhance your tailgate spread. Spectators often represent the steeplechase theme by incorporating equestrian elements and design into their clothing, decor, tailgate food and more! The Wine & Country Shop offers a variety of equestrian themed items both online and in store. Browse our Picnic & Tailgating Supplies for additional items to Decorate Your Steeplechase Tailgate.
And so it is that at every steeplechase you will find the guest of honor for many a tailgate—the ever crafty fox who started it all somewhere in the countryside of Great Britain's fox hunting traditions.
A bridle bit makes a terrific weight for napkins! Add in a model horse or horse-head statue and it will make for the perfect centerpiece. Find equestrian themed napkins, paperware or fabrics. The more unique your accessories are, the more charmed your guests will be. Browse our online guide to shop Virginia Equestrian Items to incorporate into your steeplechase tailgate décor.
The History of the Steeplechase
In the late 1700s the hunt races were so popular amongst local villagers that they became organized. Since they went between the steeple of one village church to the next the races became commonly called steeplechases. By the early 1800s steeplechasing was beginning to take shape in fox hunting circles through formally organized events throughout both Britain and America. As time went on, steeplechasing developed into an official racing sport with a custom designed racetrack to emulate the countryside obstacles of hedges, streams and gullies and offer large cash prizes.
The popular events drew large crowds of spectators who came with picnics in tow to enjoy the social occasion, the racing and some friendly betting. Today, the prizes are substantial and the crowds are larger than ever. There is now a culture of steeplechase tailgating, with parties and horse enthusiasts enjoying the races. And so it is that at every steeplechase you will find the guest of honor for many a tailgate—the ever crafty fox who started it all somewhere in the countryside of Great Britain's fox hunting traditions.
Adding Florals to Your Steeplechase Setting
Whether fresh or faux, no table setting should be without a floral display, and the chic tailgate is certainly no exception. Include seasonal florals in your decor to invoke the spirit of racing time. Since racing is held from spring to fall, use your local florist or backyard to guide your tailgating-scape. Go for options that fit your color scheme, including the red and oranges of a foxes natural coat. The white of cherry blossoms or magnolias work well in early spring. In late summer to autumn, deep yellows and oranges of sunflowers are sure to please.
However, since fresh florals can take up a good deal of packing space, consider asking one of your guests or a co-host to carry them in. More durable greenery, faux or fresh, are good choices when packing space is limited. For the race day theme, boxwood speaks to the traditional English horse jumps, while roses speak to the winners circle and a trophy-style vase will always harken to the winners cup!
Tailgate Layouts for A Virginia Steeplechase
Your choice of steeplechase tailgating layout will begin with the allotted space you reserve and how many guests you expect to host. Try to back in your vehicle—one preferably with loads of hauling space. Use it to not only store valuables and extra items but one with a tailgate you can leave open and turn into another serving space. Trucks, SVUS, and hatchbacks can all serve as an extra bar. Pack food, drinks, tableware and decorations tightly in storage tubs that can then be stored out of sight under the tables skirted with linens to the ground.
Typically, placing your "lounge" of folding chairs nearest to the rails to watch the races, and keeping the food and bar tables to the back helps avoid interruptions for race viewers. How many food tables you need will depend on how large your party is and the number of dishes you expect to offer. Pop-up tents are great to shield both food and guests from the sun or rain but be sure to check with the race track regulations to confirm they are allowed. For some race tracks, tents are not allowed in areas where they will block viewing.
Steeplechase tailgating is a tradition that is steeped in history and customs. Whether you choose to make the fox the centerpiece of your spread or part of the ensemble, your classic tailgate decor will be sure to please guests that are both familiar and new to the chase. We hope you feel inspired to start Decorating Your Steeplechase Tailgate for the upcoming fall races. Read our comprehensive guides for The Montpelier Hunt Races, Foxfield Races and International Gold Cup online. For tailgating supplies, equestrian inspiration and elegant serving ware, visit The Wine & Country Shop. ~
Tailgate Etiquette: Tips for Being a Great Guest
Want a cheatsheet for how to be the ultimate guest at your next tailgate? Download our Wine & Country Guest Guide to the Steeplechase Races by clicking the image below.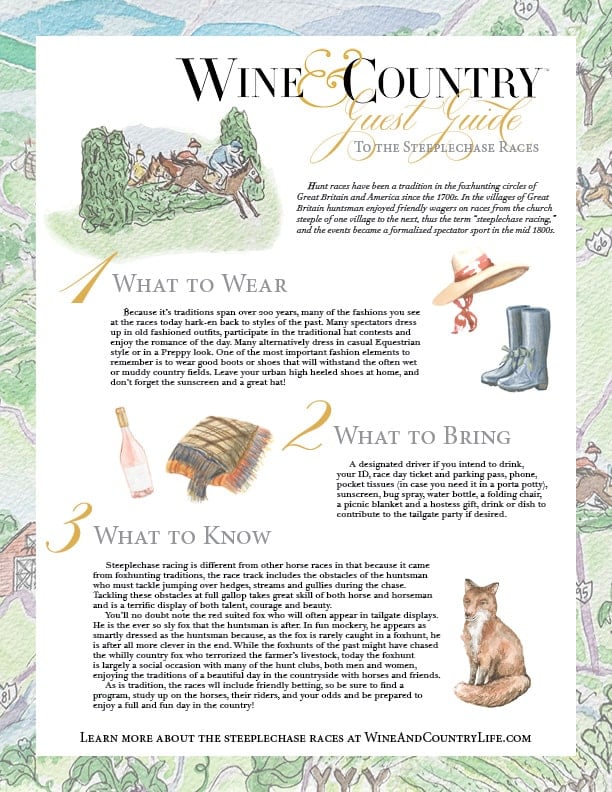 MANDY REYNOLDS, a former press liaison for the Edinburgh International Festival, has a master's in art and history and enjoys local culture especially our delicious farm-to-table cuisine.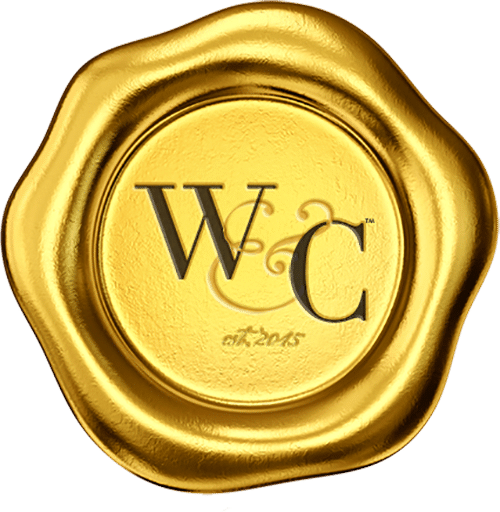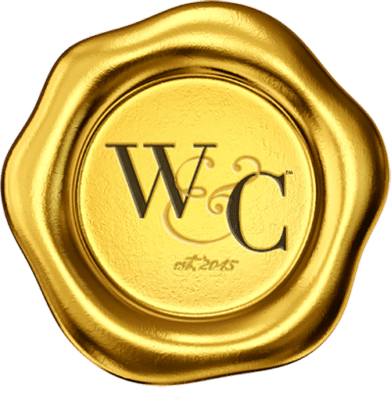 Wine & Country celebrates elevated living in Virginia Wine Country. Wine & Country Life is a semi-annual luxury print magazine with a full digital presence. The annual Wine & Country Wedding Planner is an art book of elegant Virginia weddings. The brand includes the Wine & Country Shop in Ivy, Va. It is a beautiful lifestyle boutique that brings the pages of the magazines to life. Wine & Country tells the stories of Virginia wineries, the farm-to-table movement, luxury travel, entertaining, art and the elegant country lifestyle. Ivy Life & Style Media also provides branding, web design and PR services for the wine industry.