The Starry Nights Winery Concert Series, sponsored by HOT 101.9, is a highlight of the summer. Wine, music and mountain views make this an exceptional experience for lovers of Virginia Wine Country. Gather some good friends and come celebrate summer outdoors at Veritas on Charlottesville's Monticello Wine Trail. You can dance under the stars or lie back on a picnic blanket and enjoy star-gazing while the band plays. Besides award-winning wines, the concert series features popular regional bands. Veritas Winery and Vineyard also has an exceptional dining menu for the popular winery concerts. Veritas Vineyard & Winery's Starry Nights series is held on the second Saturday of every month throughout the summer. They also occasionally host Wintergreen Summer Music performances.
What to Expect at the Starry Nights Summer Concert Series
This popular outdoor winery concert series near Charlottesville is reopening to the public after being reserved for wine club members during the COVID-19 pandemic. The celebrated outdoor wine and music event allows guests to sip local wines, dine al fresco, and spend the evening dancing, and enjoying live music and good company under the stars. There has never been a better time to attend this fun summer event yourself. Here is a quick breakdown of the three different ticketed experiences you can choose from:
General admission includes admission and a Veritas wine glass. This is perfect for those who want to bring their own picnics and enjoy a laid back evening on the lawn.
A buffet ticket Includes admission to not only the event, but also a delicious buffet dinner, as well as access to seating at the tables on the lawn. This is a great option for those who do not want to worry about having to prep food or bring chairs and picnic items to the event.
The plated dinner ticket includes admission, a three-course meal and a seat at a table on the deck overlooking the lawn. This option is reserved for guests over 21 years old and must be reserved in advance. For those who want a more polished experience, perhaps for a date night or celebratory outing, this is the best option.
The Menu for Starry Nights Winery Concerts
The Starry Nights menu upholds Veritas' established reputation for excellence in farm-to-table dining.
The buffet dinner includes summer classics such as barbecued pork ribs, red potato salad and romaine caesar salad
.
Dessert for the buffet is peach drop cake with vanilla icing, a refreshing southern dish sure to pair well with a light Veritas wine
.
The plated dinner, of course, is where
Veritas' Executive Chef Andy Shipman
shines.
The first course
is smoked
summer tomato consomme paired with royal red shrimp and cucumber & red onion salad
.
Following the fresh appetizers, the main course includes a hearty roasted lamb chop served with fregola sarda salad with mushrooms, asparagus, herbs and a refreshing mint jus
.
The plated meal dessert is fresh local peaches with a dulce de leche panna cotta garnished with a caramelized white chocolate crumble
.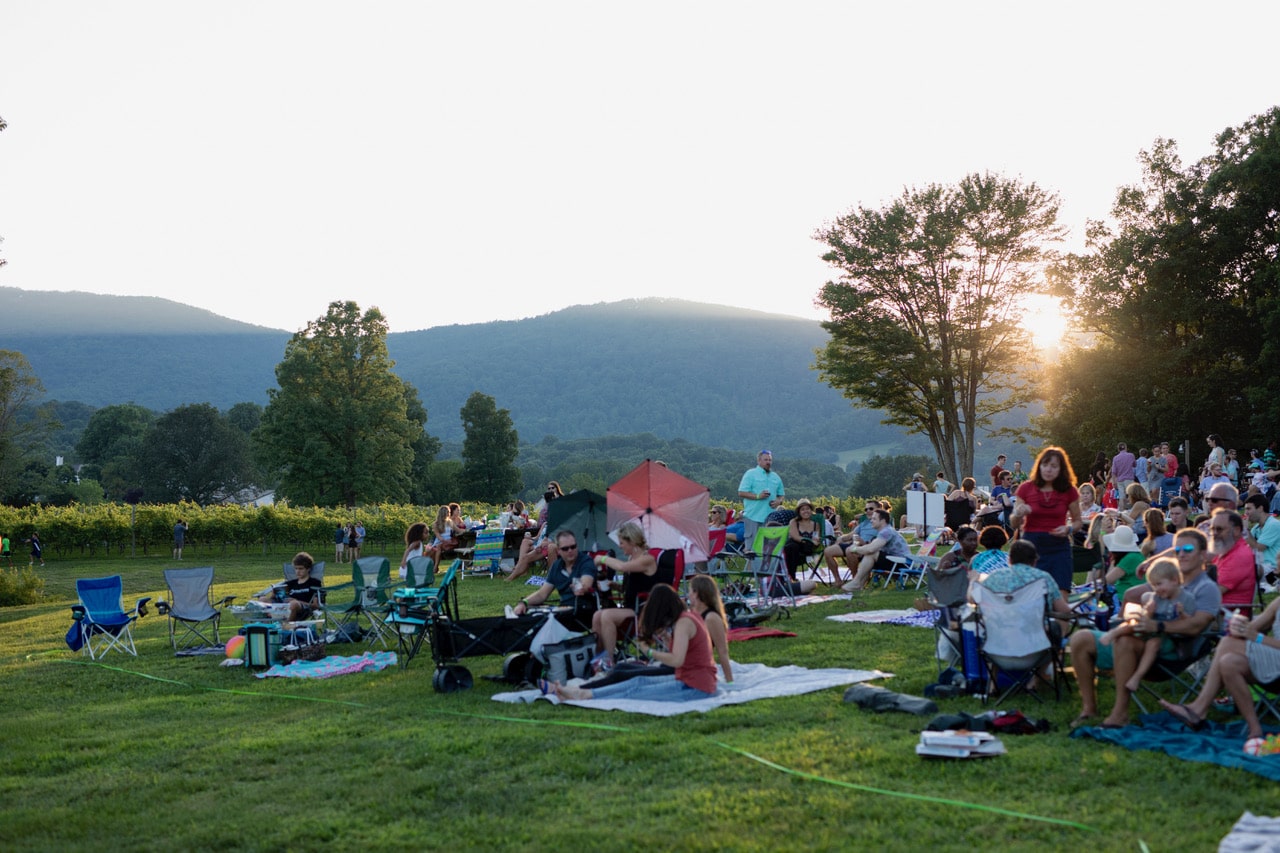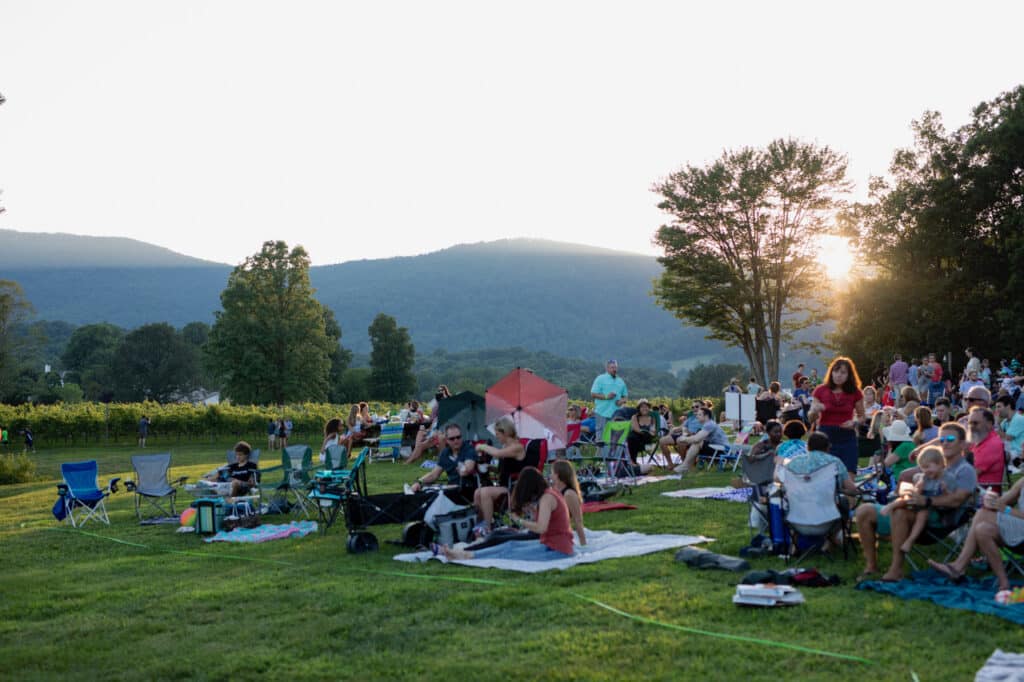 Enjoying Music at the Winery
Whether you prefer to pack a picnic and enjoy an evening on the lawn under the stars or to make the affair more of a foodie outing, this winery concert is a great way to celebrate the season. And, don't forget to bring your dancing shoes, as most attendees find they can't help but move to the great bands that are booked for each event. You can find tickets on Veritas Vineyards & Winery's website. Please note, any tickets for the plated dinner option must be purchased in advance and sells out quickly.
The Starry Nights concert series promises to be an unforgettable experience, with guests enjoying an evening outdoors with live music and award-winning wines. Guests will also have the opportunity to admire Veritas' picturesque vineyards and enjoy the stunning views of the Blue Ridge Mountains.
"Of all the events we have ever done, Starry Nights has been and will always be the most popular by far," said Andrew Hodson, founder of Veritas Winery.
Tickets for all three Starry Nights are now available for purchase on the Veritas Winery website. General admission tickets are $25 per person, with the option to add-on dinner for an additional cost. The buffet dinner add-on includes reserved seating on the brick patio and a catered buffet meal (plus dessert!) The plated dinner add-on grants access to reserved seating on the covered porch, a three-course dinner, and table service.
Tips for Attending A Winery Concert
Tips for Enjoying an Outdoor Winery Concert:
Gates open at 6:00 p.m. The band will play from 7:00 – 10:00 p.m.
Carpooling is much appreciated.
The concerts are held outdoors, rain or shine.
Seating is festival-style, so bring some folding chairs in your vehicle. Veritas Vineyards & Winery has a few extra tables and chairs but most are reserved for ticket holders who purchased food.
Great bands equate to lots of dancing. Wear comfortable shoes for being on the lawn.
Nelson County is a quiet place low on light pollution. Stargazers may enjoy bringing their binoculars.
Bring some warm clothes. It can get chilly near the mountains once the sun goes down.
There's nothing as beautiful as a warm Virginia night, and mosquitoes love them too, so don't forget some insect repellant.
You can bring in food and non-alcoholic beverages only. It is against the law for you to bring in your own alcohol. No smoking, vaping, or marijuana is allowed.
Veritas is a family venue, but concerts are usually 98% adults. Be mindful of that if planning a family outing.
Dogs are not allowed on the concert grounds.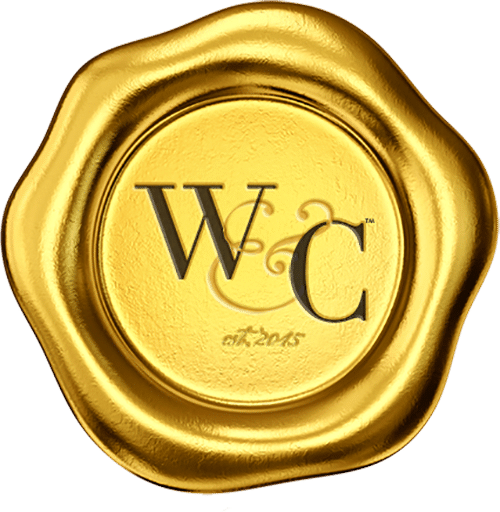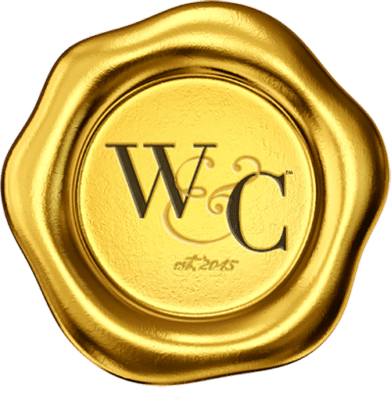 Virginia Wine & Country celebrates elevated living in Virginia Wine Country. Virginia Wine & Country Life is a semi-annual luxury print magazine with a full digital presence. The Virginia Wine & Country Gold Book is an annual guide to the top award-winning wines, wineries and experiences in Virginia Wine Country. The annual Virginia Wine & Country Wedding Planner is an art book of elegant Virginia weddings. The brand includes the Virginia Wine & Country Shop in Ivy, Va. It is a beautiful lifestyle boutique that brings the pages of the magazines to life. Virginia Wine & Country tells the stories of Virginia wineries, the farm-to-table movement, luxury travel, entertaining, art and the elegant country lifestyle. Ivy Life & Style Media also provides branding, web design and PR services for the wine industry.