We watched, captivated, as the team at Afton Mountain Vineyards in Nelson County processed several tons of fruit from their harvest. Deep red Cabernet Sauvignon grapes, stems intact, slid down the sorting table. Owners Elizabeth and Tony Smith helped by removing any remaining leaves before the grapes dropped into the de-stemmer. It was inspiring to see the owners and winemaking team work side-by-side—something you often see at our Virginia wineries.
"During my first harvest with Elizabeth and Tony, I didn't expect them to be hands-on with the harvest." Damien Blanchon, Afton Mountain Vineyards' winemaker, first began creating wines for the Smiths in 2011. "I'm forever grateful for this opportunity to work alongside such wonderful people and for the freedom they allow me to have over the winemaking process."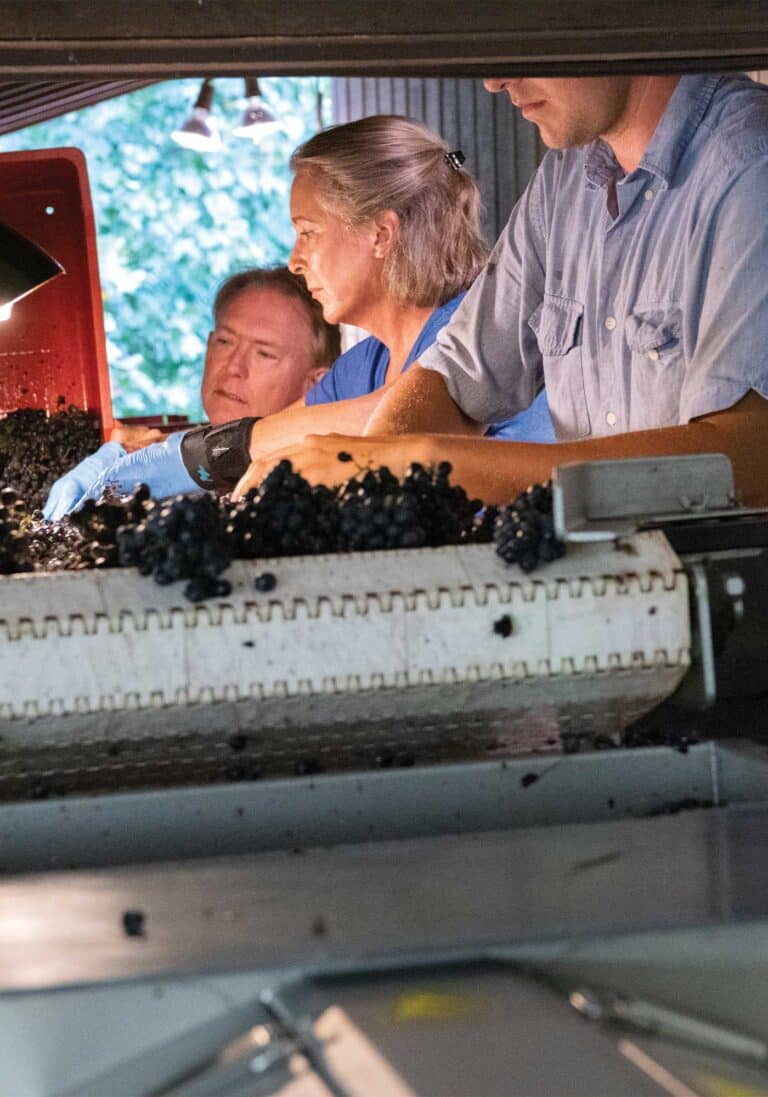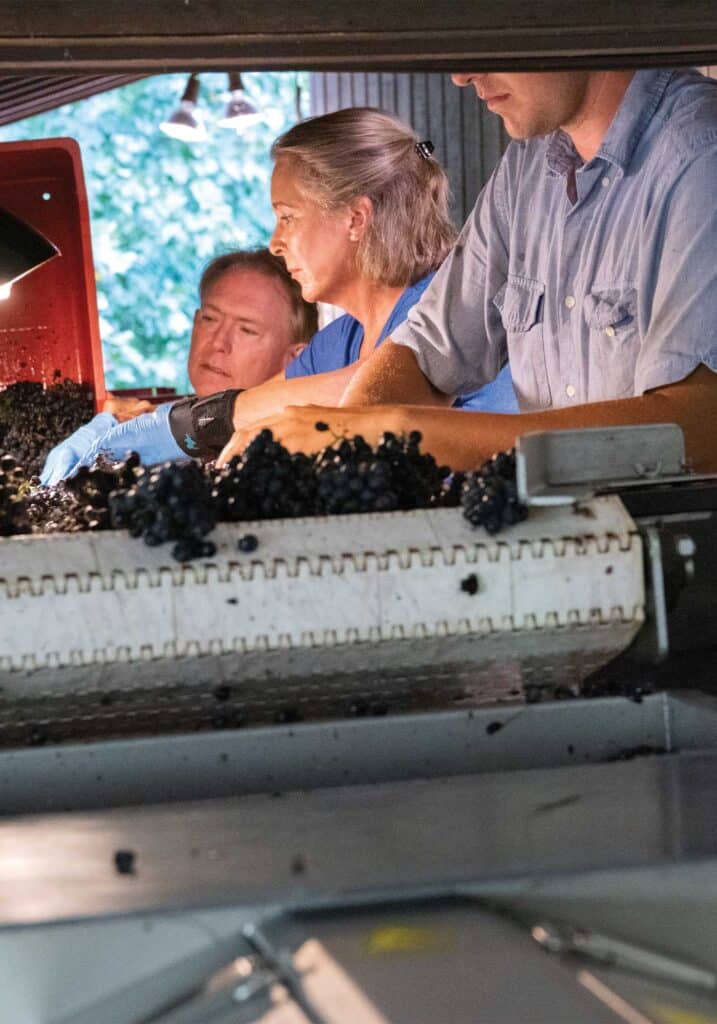 Family at Afton Mountain Winery
It has been this way for over 10 years—an in-sync rhythm between winemaker and owners. Whether it's in the wine cellar processing grapes or the barrel room sampling the current vintages, the team at Afton Mountain Vineyards is a "family."
Elizabeth and Tony started thinking about running a vineyard in the early 2000s. At the time, they lived on the Eastern Shore of Virginia. According to Elizabeth, "We first looked into growing grapes there, but we were too busy at that point to do anything with the idea." A few years later, the couple was splitting their time between Charlottesville and Tidewater. This led to their attending a University of Virginia (UVA) symposium in 2008.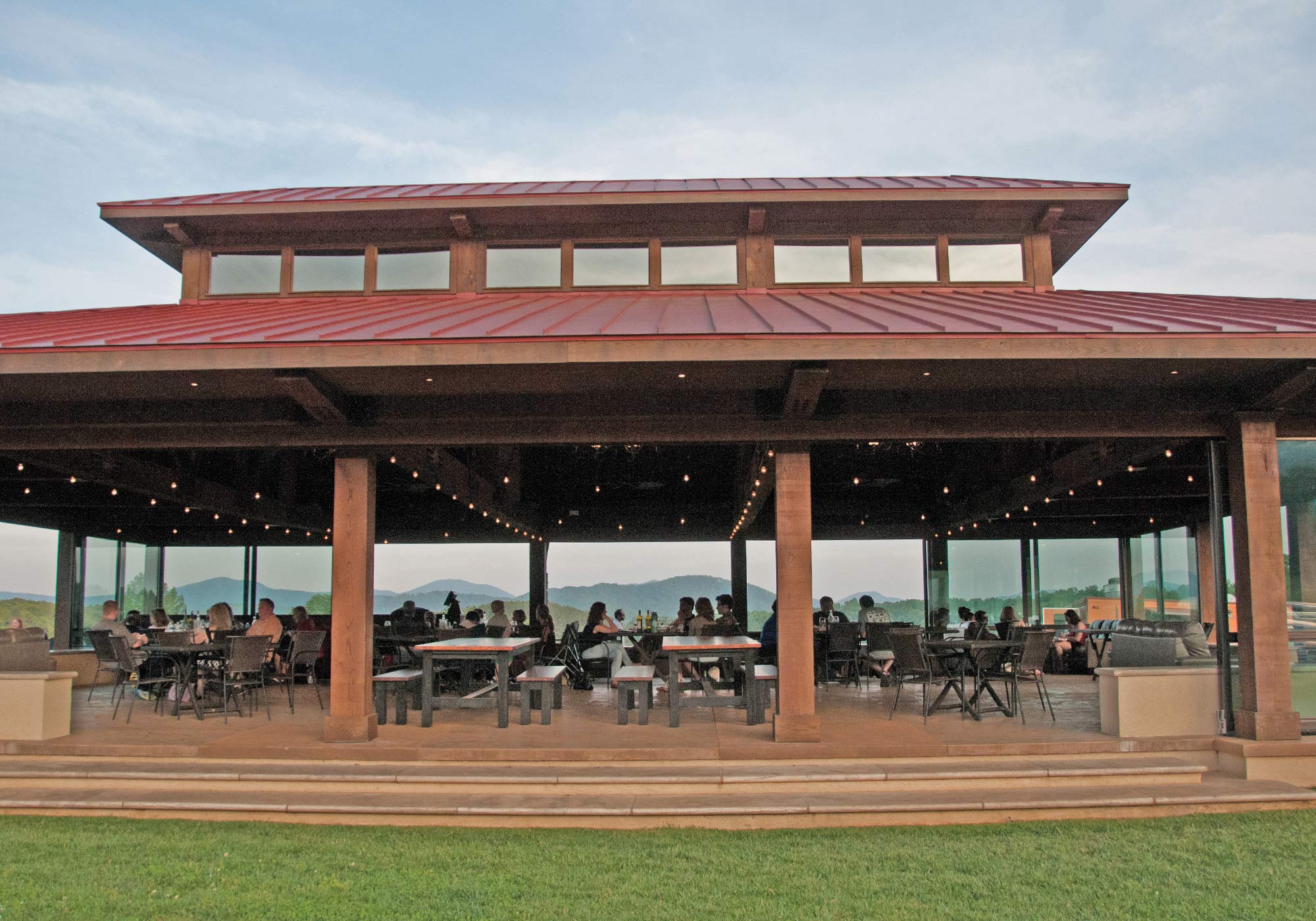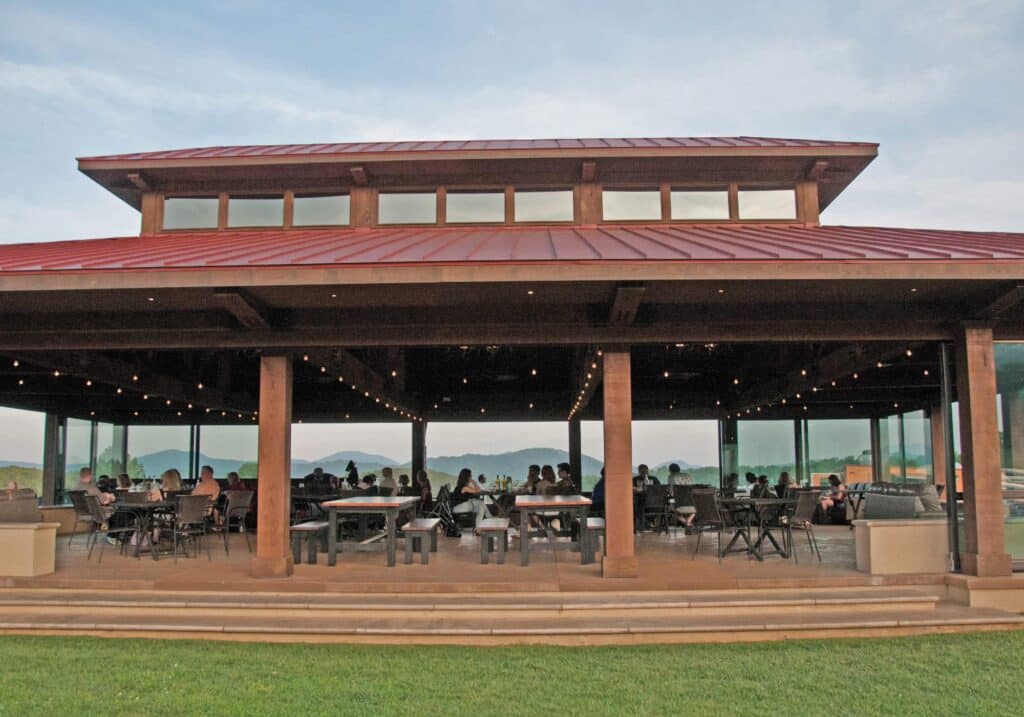 An Historic Afton Mountain Winery Getaway
"I had had knee surgery not too long before that, and I recall that when we visited Afton [winery] as part of that weekend, Shinko—the owner of Afton at the time—offered me ice for my knee. That was our first meeting," Elizabeth continued. "After that weekend, we began taking the enology and viticulture classes at P VCC [Piedmont Virginia Community College]. That's when we became serious about our second careers in the wine industry."
Within a few months, the vision they had expected to take years to achieve suddenly became a reality. The Smiths became the proud new owners of Afton Mountain Vineyards in 2009, taking over the reins from Tom and Shinko Corpora, who had owned the winery since 1988 as well as consulting with Gabrielle Rausse.
Paired with their passion for making wine was the excitement of "coming home." After living away from Charlottesville for 22 years, the Smiths wanted to move back to the beautiful place they grew up in. As graduates of Albemarle High School and UVA, returning to their roots was always part of the plan.
Their dream winery is also home to some of the oldest European vines in Virginia. Planted in 1978 and 1979, Afton Mountain Vineyards is one of the state's first farm wineries. With the acres under vine sitting at just below 1,000 feet elevation on an isthmus between a lake and creeks, the land protects them from serious frost. Constant breezes, because of their location between the Rockfish and Humpback Gaps, also help minimize moisture issues.
Whether it's in the wine cellar processing grapes or the barrel room sampling the current vintages, the team at Afton Mountain Vineyards is a "family."
The Vines at Afton Mountain Vineyard
Since that first transitional year, the Smiths have doubled the acreage to 25 acres under vine and increased production to over 3,000 cases annually, all on 100% estate-grown vinifera grapes. They also recently added several guest cottages and a guesthouse for travelers. With no current plans to increase their acreage or production, the team is instead focusing on its current projects.
The Bollicine, which is Italian for "tiny bubbles," is Afton's dry sparkling blend of Pinot Noir and Chardonnay that gives off "notes of biscuit and apple." "It's aged in our cave for almost two years in the bottle using the traditional méthode champenoise," winemaker Blanchon told us. He hand-riddles the bottles, an old method that includes rotating the bottles in stages, 1/8 or 1/4 of a turn at a time. By doing so, you loosen the sediment that is thrown off during the second fermentation. In riddling, known as "remuage" in France, the sediment collects in the bottle's neck as it prepares for disgorgement—the ejecting of the sediment under pressure to leave the wine perfectly clear.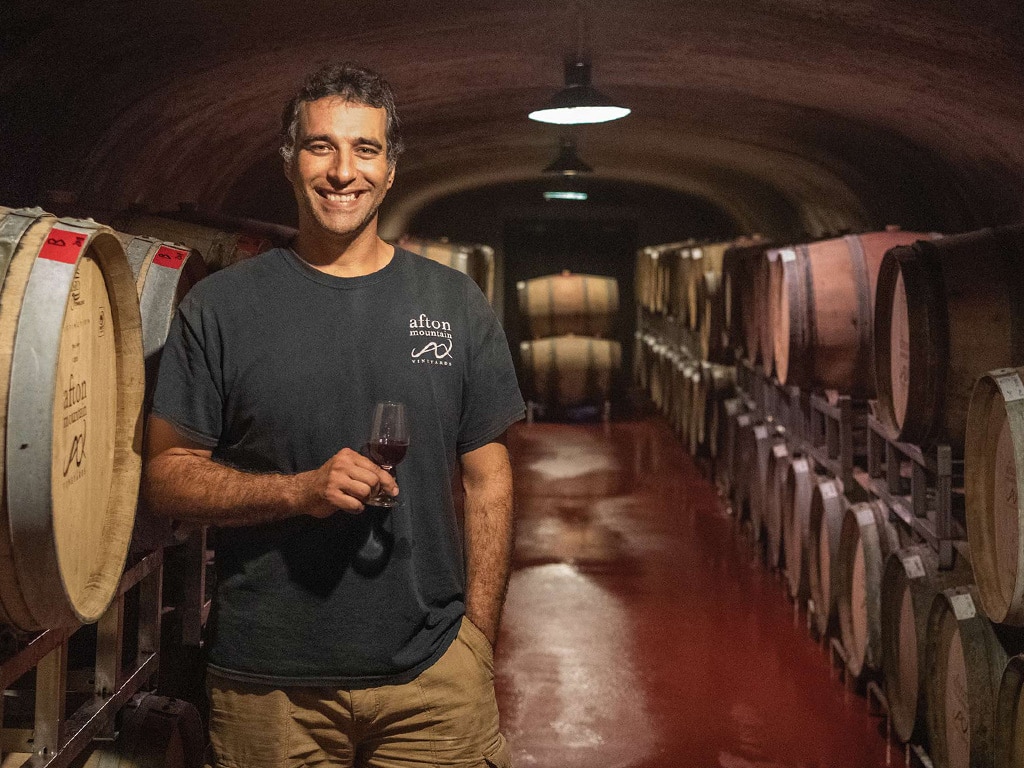 Afton Mountain's Sustainable French-Style Winemaking
That's only one of many practices that Blanchon employs from his French training, however. Each new harvest calls for a new recipe for this Frenchman, something that excites his inner artist. His interest in viticulture stems from his childhood. He grew up working on his uncle's vineyard in Beaujolais, a historical wine-producing French province. After growing up in the wine industry, he stayed in France to study viticulture and enology before moving to the United States.
His practices in the vineyard focus on sustainability, using fungicides sparingly and avoiding the use of insecticides. About five years ago Blanchon introduced an herbal spray practice, where he concocts teas like chamomile and oak bark, along with dandelion, nettle leaf, milfoil grass, and more, and sprays them onto the vines. "This practice is popular in France. It takes a few years to see how the vines will accept the sprays and how they will affect them," Blanchon added. "So far, it's helped us minimize the number of times we had to spray the vines in one season."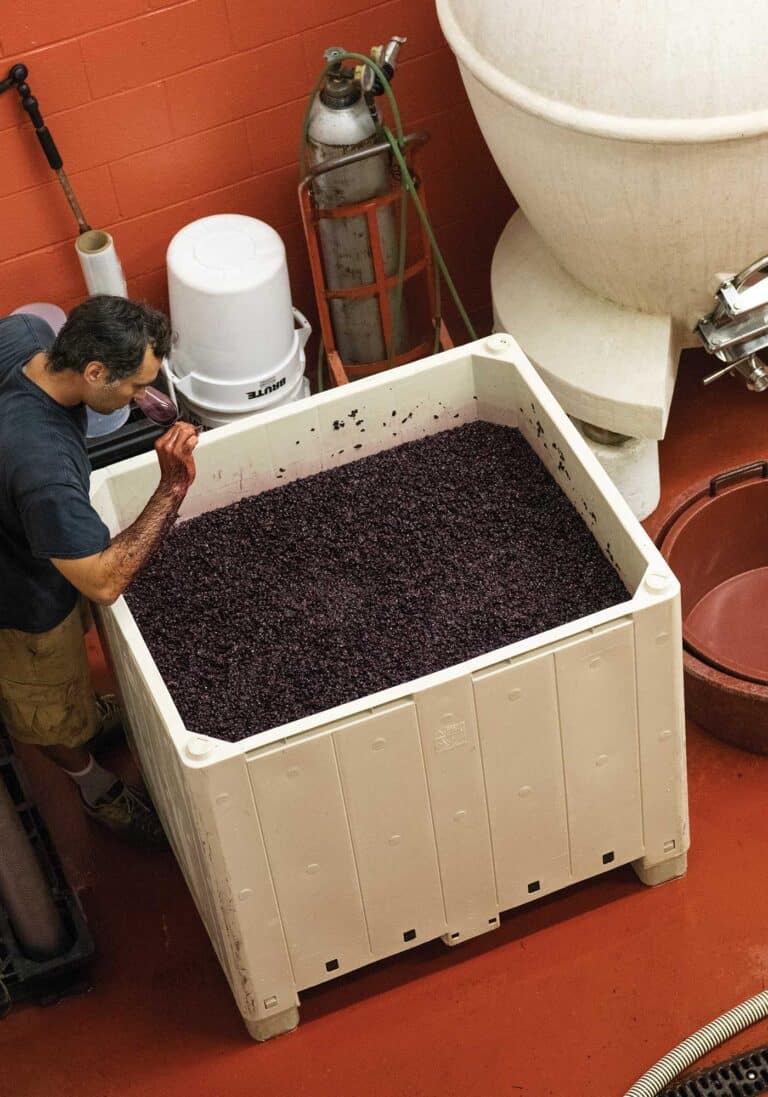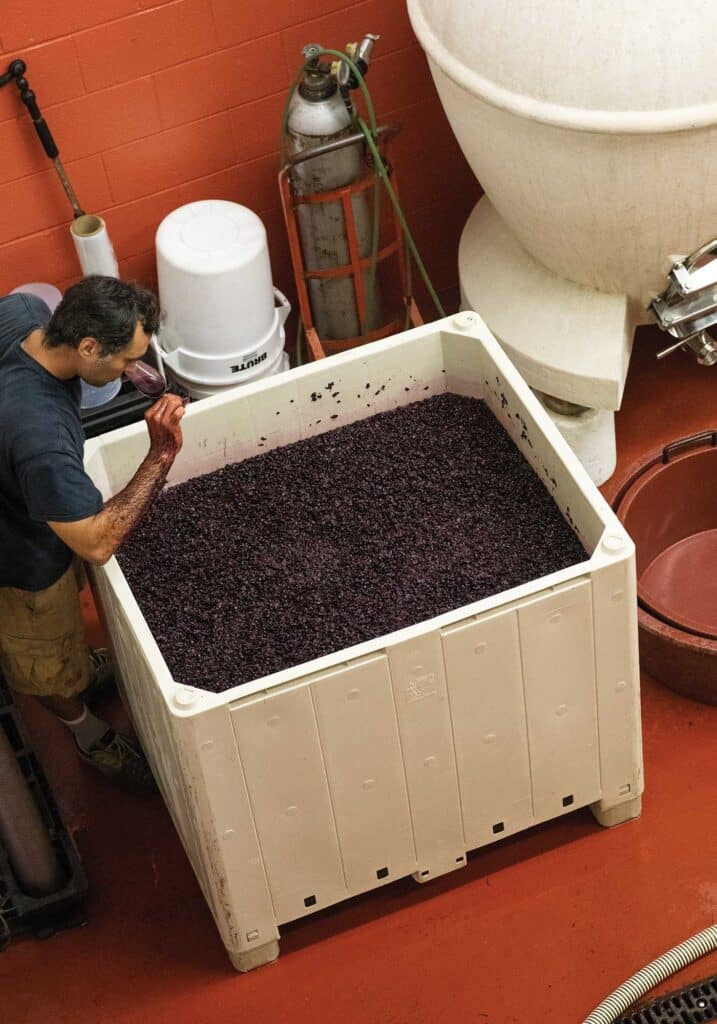 He also believes in letting nature take its course. The team has planted wildflowers to attract bees and spiders around the vines to keep fruit flies away.
As for the winery, Afton Mountain is the state's first gravity-flow facility, constructed on multiple levels built into the hillside. The practice of gravity-flow winemaking isn't as common as you might think. Those that do use it believe the process better preserves the fragrance and flavor, as it allows grapes and wine from the upper levels of a facility to move to the lower ones, while keeping oxygen contact and aeration to a minimum. The lowest point in the facility is a 100-foot-long barrel cave where they age the wines at a naturally constant 58–62 degree temperature with no manufactured heat or air conditioning.
Afton Mountain Vineyards Celebrates Virginia's Wine History
The Smiths use the history and significance of the property as driving forces when creating their wines. For instance, they named their red blend "Bacco" after Bacchanal Vineyards, the original vineyard on the property. "It's about enhancing and sharing the history through the wine," Elizabeth explained. "We found a copy of that original logo in some old files and brought it back to life for the artwork on the first red blend we created."
The wine blend, which contains 27% Sangiovese, 58% Cabernet Sauvignon, 10% Petit Verdot and 5% Tannat, begins with the aging of each varietal wine separately in barrels before blending them and finally bottling.
Producing quality wine at Afton Mountain is no struggle for this team, whose first Governor's Cup gold medal came in 2011 for their 2009 Estate Reserve Cabernet Sauvignon—the Smiths' first vintage. That gold was the only one given to a Sauvignon that year, an impressive feat for the then-new members of the Virginia wine industry.
An Award-Winning Virginia Mountain Vineyard
In the 2019 Governor's Cup awards, Afton Mountain's 2016 Tradition also won a gold and was one of six wines by Afton that medaled. They exceeded this in 2020, with the 2017 Tradition joining the coveted Governer's Cup Case winners. The Tradition is a Bordeaux-style red blend that merges the best of the reds: 1/3 Cabernet Sauvignon, 1/3 Merlot, and 1/3 Petit Verdot. The smooth tannin structure gives a fresh finish and lingering mouthfeel. In subsequent years, Afton Mountain Vineyards continues to earn recognition for their excellence in winemaking. The 2022 Monticello Cup earned them 2 Gold Medals, for their 2017 Bacco and their 2017 Tradition.
Among the 11 varietals they grow, Afton Mountain Winery produces Rosé, Gewurztraminer, Albarino, Chardonnay, Merlot, Petit Verdot, Vin Doux Naturel—a port-style wine made from Malbec and Tannat grapes fortified with brandy distilled from their own grapes—and Cabernet Franc, which is being fermented in concrete tanks for the first time this harvest.
Looking forward, the Smiths and Blanchon are excited about what's next. Just this year, they added goats to the family, who are helping to maintain the property through their grazing and daily habits. Plans may include expanded farming activities and more livestock. For a vineyard already steeped in its historical roots, it's only fitting the Smiths and Blanchon have their sights set on at least another 40 years. ~
SARAH PASTOREK SHORT, our Senior Editor, has degrees in English and journalism and a master's in HR, and her work can be seen in many of our publications.
R. L. JOHNSON is our co-publisher and creative director, Robin Johnson Bethke, who began her career as a professional photographer in Los Angeles before moving into graphic design and art direction when she relocated to Charlottesville in 1994. As our company's co-founder and visionary, she enjoys all aspects of the publishing process from story conception to graphic design to photography. Her work is often seen in many of our publications.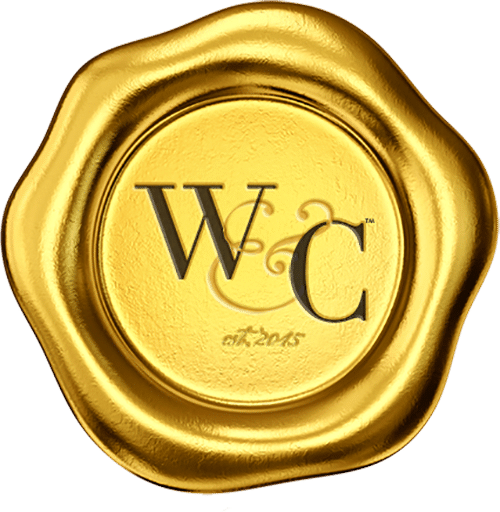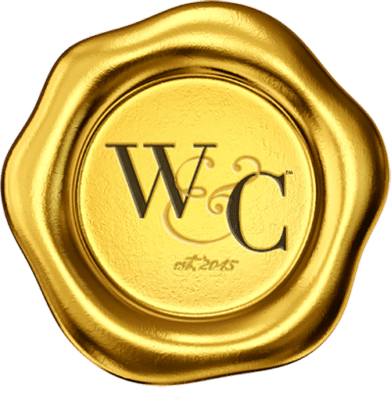 Virginia Wine & Country celebrates elevated living in Virginia Wine Country. Virginia Wine & Country Life is a semi-annual luxury print magazine with a full digital presence. The Virginia Wine & Country Gold Book is an annual guide to the top award-winning wines, wineries and experiences in Virginia Wine Country. The annual Virginia Wine & Country Wedding Planner is an art book of elegant Virginia weddings. The brand includes the Virginia Wine & Country Shop in Ivy, Va. It is a beautiful lifestyle boutique that brings the pages of the magazines to life. Virginia Wine & Country tells the stories of Virginia wineries, the farm-to-table movement, luxury travel, entertaining, art and the elegant country lifestyle. Ivy Life & Style Media also provides branding, web design and PR services for the wine industry.