On 507 acres in a quiet valley of the Blue Ridge Mountains in Crozet sits Our Lady of the Angels Monastery. While known amongst church communities as being the youngest house of the Cistercian Order in the United States, it is their production of gouda that has earned them esteem from enthusiasts both locally and around the country. The rising popularity of such locally-made products is also among a far greater, national movement prioritizing farm-to-table consumption over disingenuous mass-production.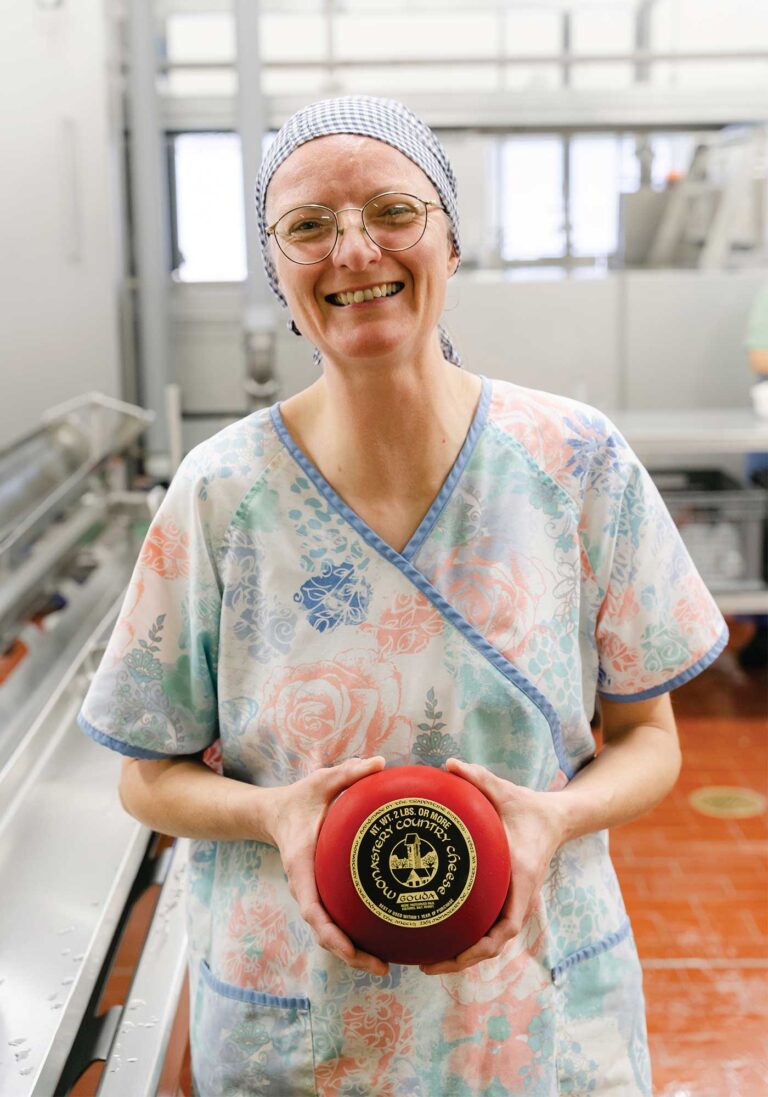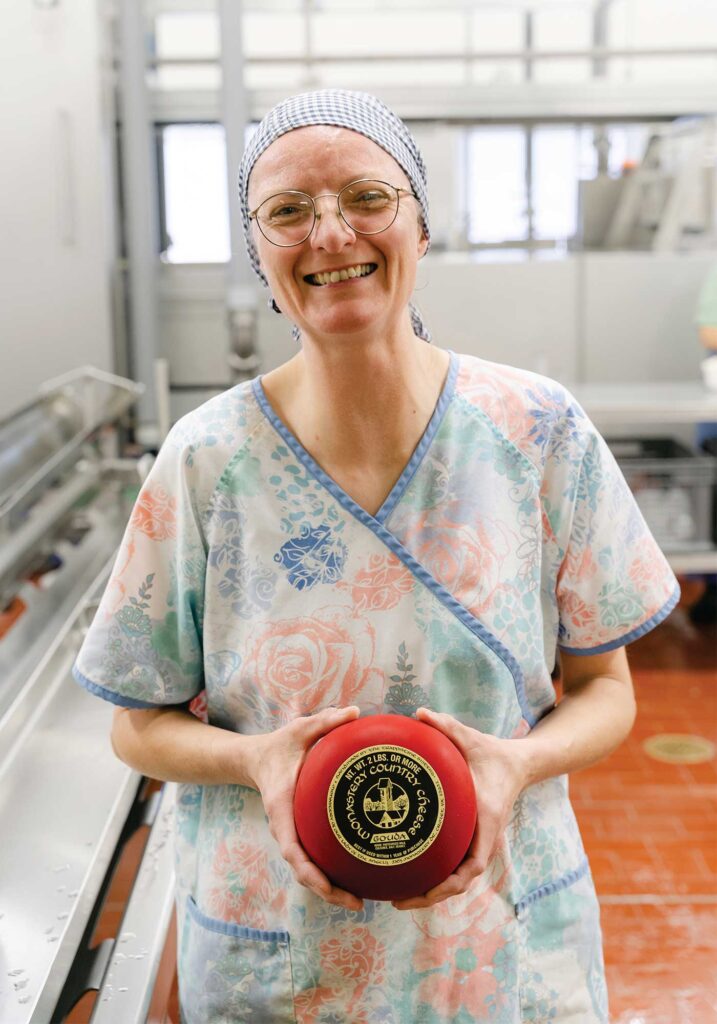 In the late 1980s, Mother House, a monastery in Massachusetts had expanded enough to be able to send some of its sisters to new locations. Bishop Walter Sullivan, the Catholic Bishop of the Catholic Diocese of Richmond, wanted for a colony of sisters to come to Virginia. At the same time, a farm in Crozet conveniently became available and seemed a suitable location for the sisters to settle. Sister (Sr.) Barbara Smickel, along with several other nuns, traveled from their monastery in Massachusetts to the property in Crozet, and there are now 13 members living in prayer and work here.
Initially, the sisters lived in log cabins on the property while seeking to build a monastery. Like others who have adopted the Benedictine tradition of combining "prayerful work with the work of prayer," Sr. Smickel and the other sisters who accompanied her were looking for a means to support themselves and the monastery.
Virginia Cheese Made By Hand and With Love
"Others [monasteries] make fudge or fruitcake, one makes soap, and one has a vineyard and makes wine. One of the drawing cards for this property was the cheesemaking operation," says Sr. Smickel.
With the property already fit with the tools and equipment necessary to make cheese, Sr. Smickel was asked to revive the cheesemaking that the former owner had stopped just five years prior. The previous cheesemaker was unable to be a part of that revival, but Sr. Smickel found help from various community members and was able to get the operation in their small cheese barn running fairly quickly as a sustainable way to support themselves and the monastery.
"Our life is pretty simple; we are here for a life of prayer. Our life is divided between prayer and work. We want to support ourselves and work like the rest of the world," says Sr. Smickel.
Quickly, the cheese became a popular and effective way of doing so. A front page article in the Washington Post in 1991 helped to spread the word about their cheese, and its popularity grew, allowing the sisters to make enough to support their present community while producing the cheese only 25–30 times per year.
A Gift of Cheese from Our Lady of the Angels Monastery
"We've been really fortunate since the beginning," Sr. Smickel adds. "We've made 875 batches since 1990, and there hasn't been a bad one."
Eleven of the original 13 nuns still take part in the cheesemaking process, while two of the oldest nuns, who are 88, contribute by answering the phone, making boxes for the cheese and packing up orders. "Everyone participates in some way," says Sr. Smickel.
While the monastery does not have cows, they pasteurize the milk that they get from a Mennonite farmer in the valley. The approximately 750 gallons delivered the day prior to cheesemaking yields about 848 pounds of cheese once combined with other ingredients, including rennet and culture, as well as curds from a firm in Wisconsin who sources them from Denmark.
"It's a Dutch gouda, a standard recipe. There's no secret about that," says Sr. Smickel of their approach to their cheesemaking. "The secret has to do with the type of rennet and culture and the time. But the secret ingredients—love and prayer—you can't buy that anywhere."
The approximately 750 gallons delivered the day prior to cheesemaking yields about 848 pounds of cheese once combined with other ingredients, including rennet and culture…
While certainly the sisters produce the gouda for sale, they also consume it with their meals. Sr. Smickel recommends eating it as it is to get the full taste. Cheese paired with wine is always a nice treat. 
"It's a mild, mellow cheese, so if you put it into things you likely won't taste it. Just as it is, sliced for breakfast, is a good source of protein since we don't eat meat. Most of us just like it on a grilled cheese sandwich."
Sr. Smickel says that there are numerous types of consumers of the cheese and that sales range throughout the year. From firms that do large corporate orders (particularly at Christmas time) both locally and afar to local enthusiasts, about 70 percent of purchases are by mail and 30 percent are at the monastery.
Cheese Made in Virginia and the Farm-to-Table Movement
"While Christmas season is the largest demand, people who have heard of us one way or another buy it for themselves because they like it or to give it as a gift. At least one out of three orders will have a request for prayer. They want to also support the monastery. We form a friendship/relationship with those who order the cheese, and many give donations; we have a whole network of people across the country."
From late 2020 through early 2021, Our Lady of the Angels Monastery experienced a surge in orders, resulting in a backorder of about 1,000 cheeses. While the monastery has offered curbside pickup, many people preferred to shop online, a trend that Sr. Smickel attributed as a possible reason for the shortage.
"Cheese is a comfort food in a sense, so that may be another reason. Also, in 2013, 'The 700 Club' did a show on us that generated so many orders they contacted us again and wanted to rerun with an update on the community. That aired December 6, 2020, so we got 200 orders in one day!"
While the monastery does not sell the cheese wholesale, Feast and Foods of All Nations (both in Charlottesville) do sell the Monastery Country Cheese. Additionally, there are local bed and breakfasts, as well as vineyards, that buy and resell it.
The sale of the monastery's gouda provides the ability for the sisters to afford all living expenses and to give some alms. However, the sisters also prioritize the community by shopping locally and patronizing local businesses.
"We do our own grocery shopping so people get to know us; we wear our habits when we go out. People will come up and ask for prayer. The sisters are a safe space for people."
In addition to contributing to the community, the sisters of the monastery are proud to be "good stewards of the land." "We have a very large garden for vegetables and some fruit and a greenhouse for planting as well. There is some forest on the land, which provides green space and lots of trees. Many local people are happy we are taking care of it and that it's green space."
Our Lady of the Angels Monastery in  VA Wine Country
In addition, there are two guest cottages where the sisters lived at the very beginning that can be used by people for retreats, though it remains to be seen when they can be reopened due to the pandemic. In typical times, the cottages are often used for private retreats for an individual's own spiritual journey.
Sr. Smickel says that when the church is open to the public, many come to worship with the nuns at the monastery and attend daily mass. "Our main contribution to the community is our life of prayer; we pray for the world and individuals," says Sr. Smickel.
However, they are happy to have the opportunity to serve the community in this other way. To purchase a two-pound wheel of Monastery Country Cheese, either visit the monastery when they are open each day except Sundays, or download an order form from their website, www.olamonastery.org.
Virginia Wine Country is home to a thriving farm-to-table movement. There are so many options to enjoy the bounty of the land from picnics to harvest dinners and award-winning wines to farm fresh produce. ~
JENNIFER WALDERA shares her hunger for, and curiosity about, food, travel and drinks as a freelance writer for numerous mid-Atlantic publications. Her storytelling spans from the importance and fundamentals of local farming to the intricacies of modern mixology. Read more of her work at jenniferwaldera.com.
SERA PETRAS is a wedding and portrait photographer whose classic style captures the honest, in-between moments as well as timeless portraits. She sees the beauty in the everyday and is inspired by her client's love and laughter. Sera's work has been featured in The Knot, Southern Living, The Local Palate Magazine, Wine & Country Weddings and many more.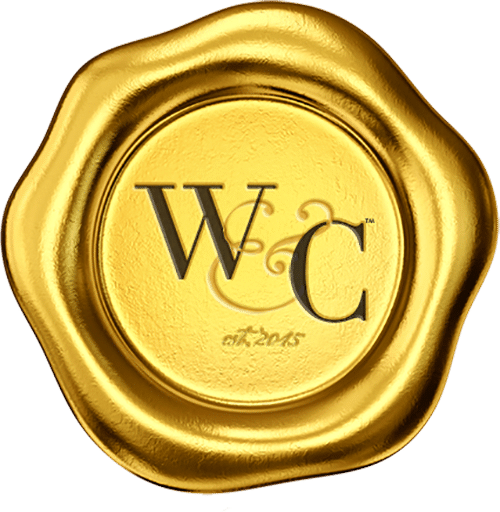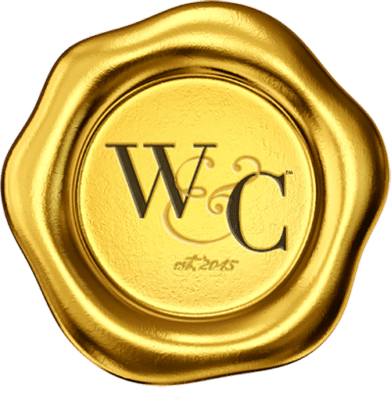 Virginia Wine & Country celebrates elevated living in Virginia Wine Country. Virginia Wine & Country Life is a semi-annual luxury print magazine with a full digital presence. The Virginia Wine & Country Gold Book is an annual guide to the top award-winning wines, wineries and experiences in Virginia Wine Country. The annual Virginia Wine & Country Wedding Planner is an art book of elegant Virginia weddings. The brand includes the Virginia Wine & Country Shop in Ivy, Va. It is a beautiful lifestyle boutique that brings the pages of the magazines to life. Virginia Wine & Country tells the stories of Virginia wineries, the farm-to-table movement, luxury travel, entertaining, art and the elegant country lifestyle. Ivy Life & Style Media also provides branding, web design and PR services for the wine industry.