Whether you're a longtime regular guest or a first-time visitor, coming to The Omni Homestead Resort is like coming home. Driving through the rugged hills of Bath County past cascading waterfalls and thickly forested hills, you experience a sense of discovery and anticipation. The vista opens up to reveal the sprawling Georgian red brick resort. Your eyes will immediately go to the iconic tower—a trademark of the resort since 1929. The rocking chairs on the front porch are a welcoming sight, inviting guests to kick back and relax at their home away from home.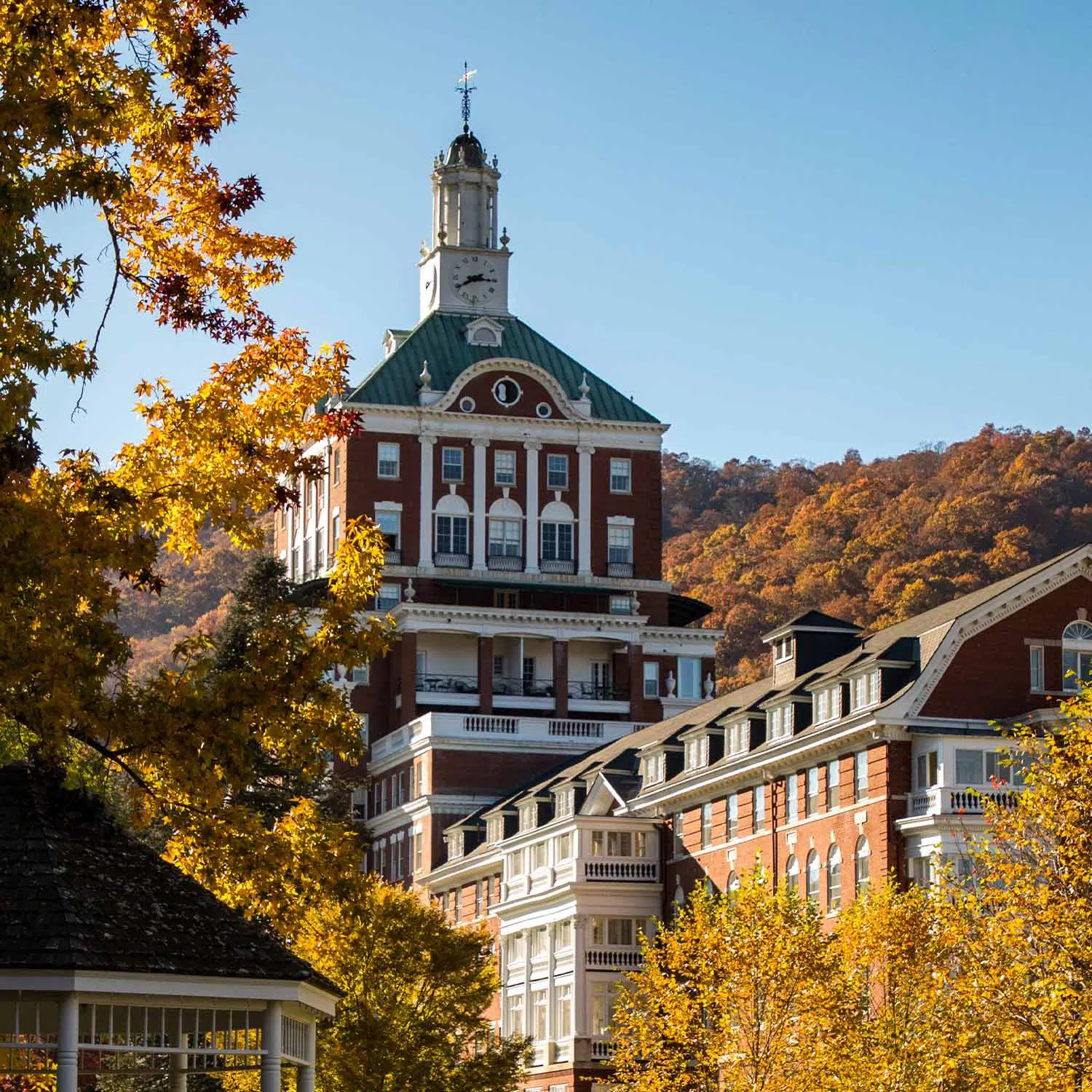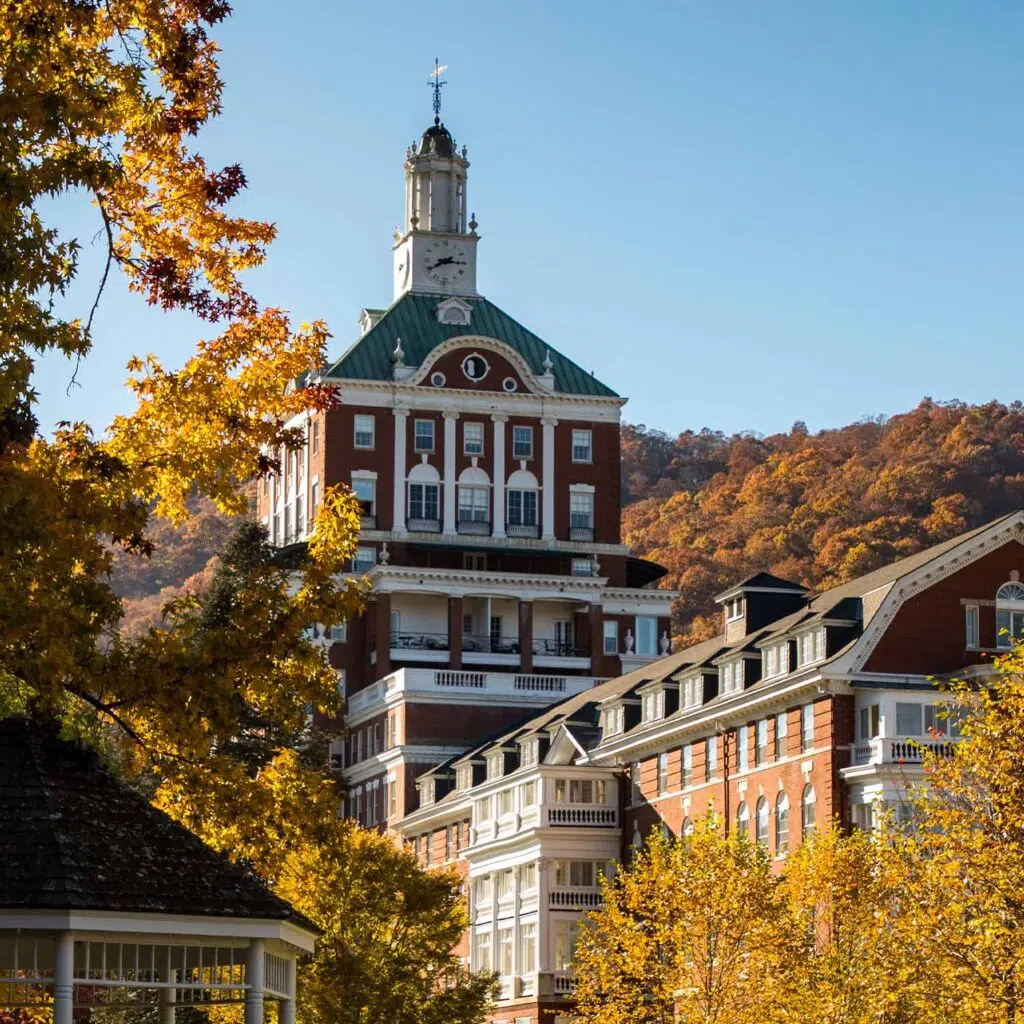 Known as America's first resort destination, The Homestead celebrated more than 250 years of service in 2016. It continues to be a favorite retreat for outdoor enthusiasts. Even more popular are the revitalizing waters of the mineral springs that first made this region famous. Legend has it that Native Americans first discovered Warm Springs. In 1761, Thomas Jefferson designed the octagonal-shaped Gentleman's Pool structure. This opened the way for the American glitterati of that era to seek relief and relaxation in the healing springs.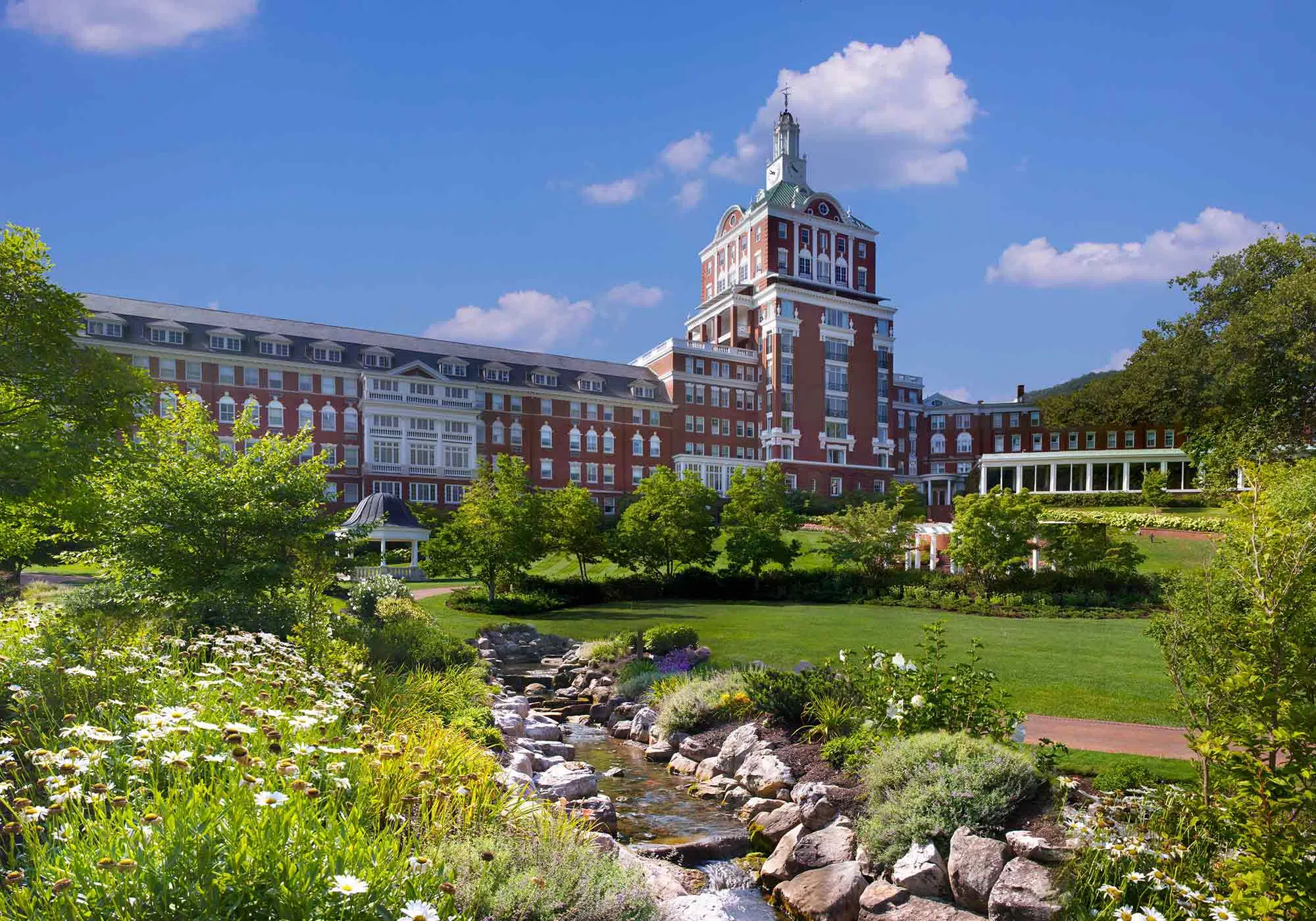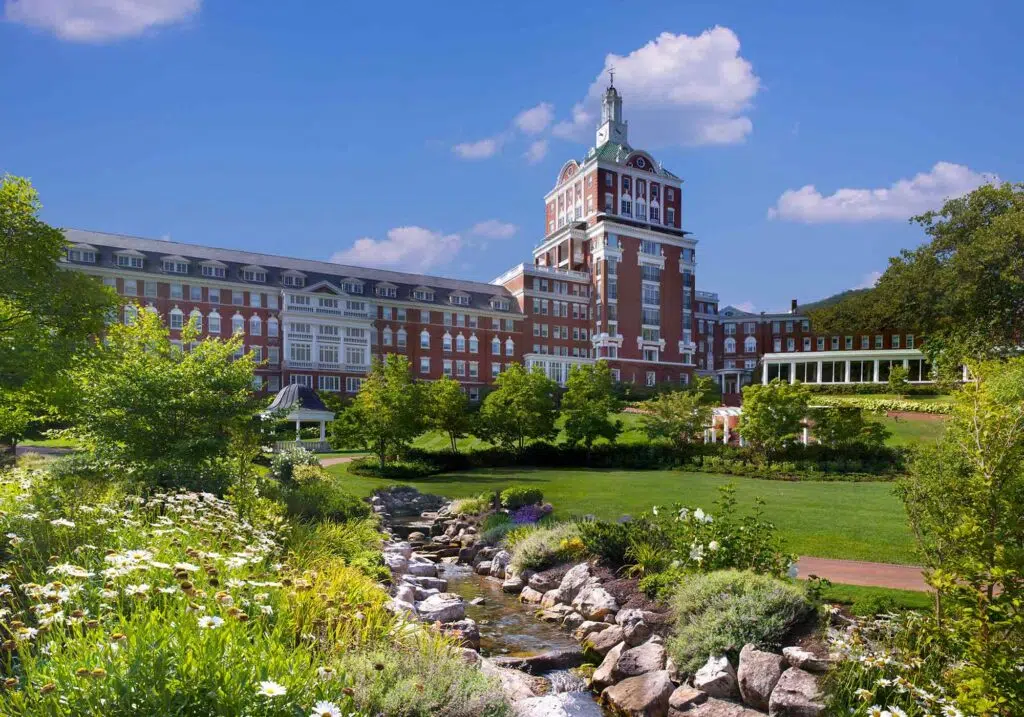 Captain Thomas Bullitt received a land grant for his service in the French and Indian War. In 1766, he opened an 18-room hotel on the site and named it The Homestead in honor of his militia and their families who had relocated with him. Although Bullitt died in the Revolutionary War, his family retained ownership until 1832.
With the advent of the Chesapeake and Ohio Railroad expanding to Bath County, investors like J.P. Morgan pitched in to build a new hotel. In 1901 a fire burned down the hotel and much of the resort. It was rebuilt within a year and reopened in 1902, continuing to expand through the next century. It passed through various owners and management companies, with the Omni Hotels & Resorts group taking over in 2013.
Renovating the Historic Homestead Resort
Today, renovations and expansions continue to build upon the resort. The 2,300 acres create a recreational paradise for visitors in the heart of the Allegheny Highlands.
Don't be surprised if you see scaffolding around the resort buildings when you arrive. The resort is currently undergoing top-to-bottom renovations. Some of them include restoration of the façade and its 978 original wood windows and doors. There are more repairs to the stucco, terracotta, limestone and brick as well as restoration of the balconies and porches. Guest rooms and public spaces will be refreshed with the addition of new amenities.
New construction projects include a 4,000 square foot event pavilion for weddings and special events. The new pavilion will feature historic design elements from the resort's pre-1902 structures, with a capacity of 225 guests. The new venue will offer a bridal suite and prep kitchen and the option of a hybrid indoor/outdoor experience. Also in the works is an associate housing complex in nearby downtown Hot Springs that will offer 50 two-person units. There will include a community living room, dining room, kitchen, laundry, fitness facility and outdoor picnic area. The complex will also sport grills and a half-court basketball area. The complex is slated for completion in 2023.
"Known as America's first resort destination, The Omni Homestead Resort celebrated more than 250 years of service in 2016. "
The Warm Springs Pools used to be the Jefferson Pools, named in homage to the designer of the original Gentleman's Pool. These relaxation features are also undergoing a complete renovation. The hope is to preserve as much of the original building as possible. Repairs include replacing windows, doors, siding and roofing with in-kind materials as needed.
Built in 1761 with Jefferson's octagonal design, the Gentlemen's Pool House is the oldest spa structure in America. Water temperatures range from 77 to 104 degrees Fahrenheit in the 43,000-gallon pool of continuously flowing spring water. The Ladies' Pool dates back to 1836. Both pools are slated to reopen in late 2022.
This $120+ million, property-wide refurbishment—delayed by the pandemic—is ongoing and expected to finish by the fall of 2023.
A Luxury Resort in Virginia Wine Country
In true Southern style, the décor is elegant without being fussy—a country chic that's both comfortable and stylish. The cavernous Grand Lobby with its soaring columns, coffered ceiling and elegant furnishings is a step back in time. Picture the days when America's well-heeled would decamp to the resort for an entire season. Ladies would bring trunks filled with their best gowns and jewels. Gentlemen would bring their sporting equipment for days of fishing, shooting and golf. With intimate seating areas and a lobby bar with a clubby vibe, you'll often find guests enjoying small social gatherings in this grand space. In the winter the coveted spot is in front of the enormous fireplace.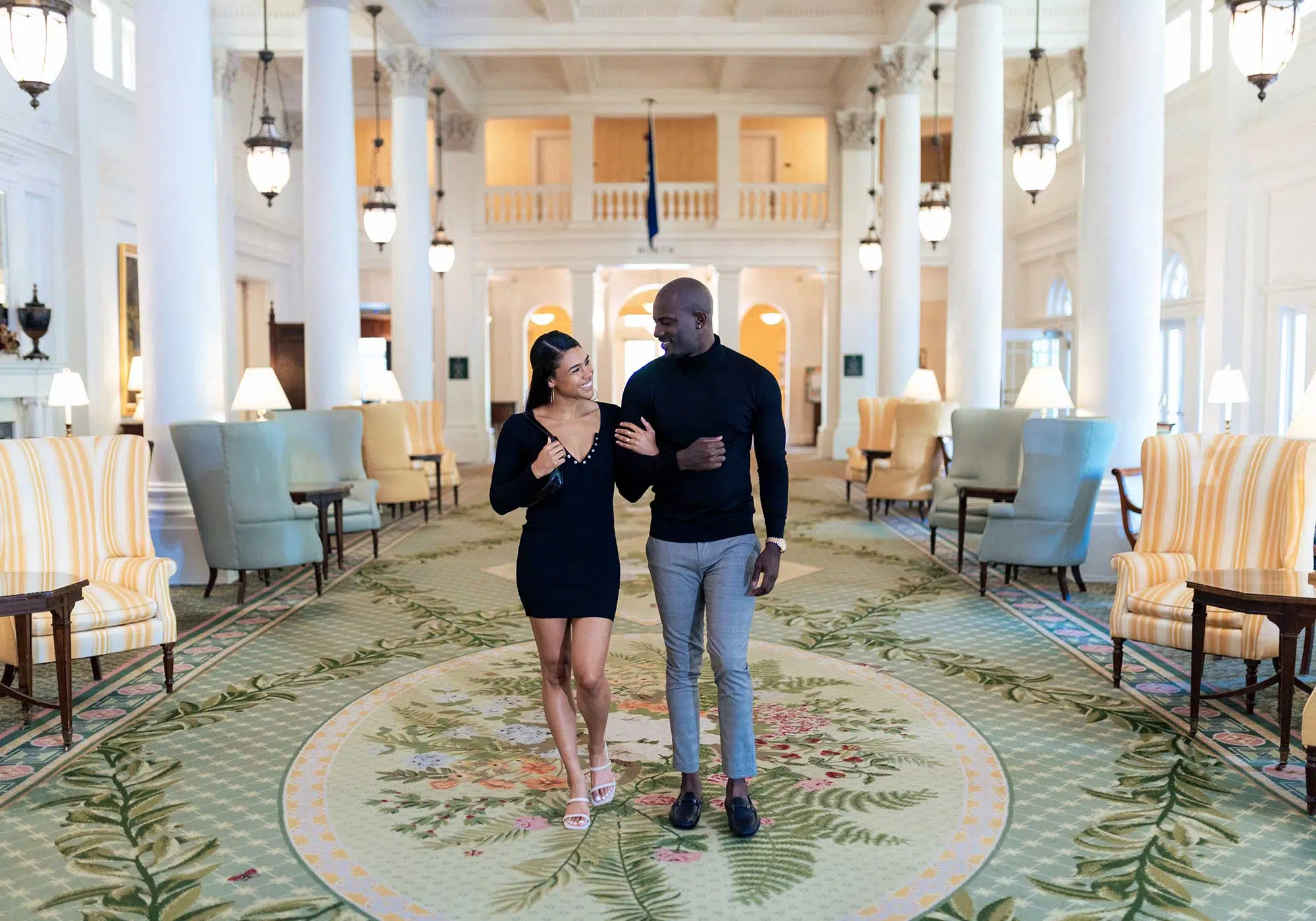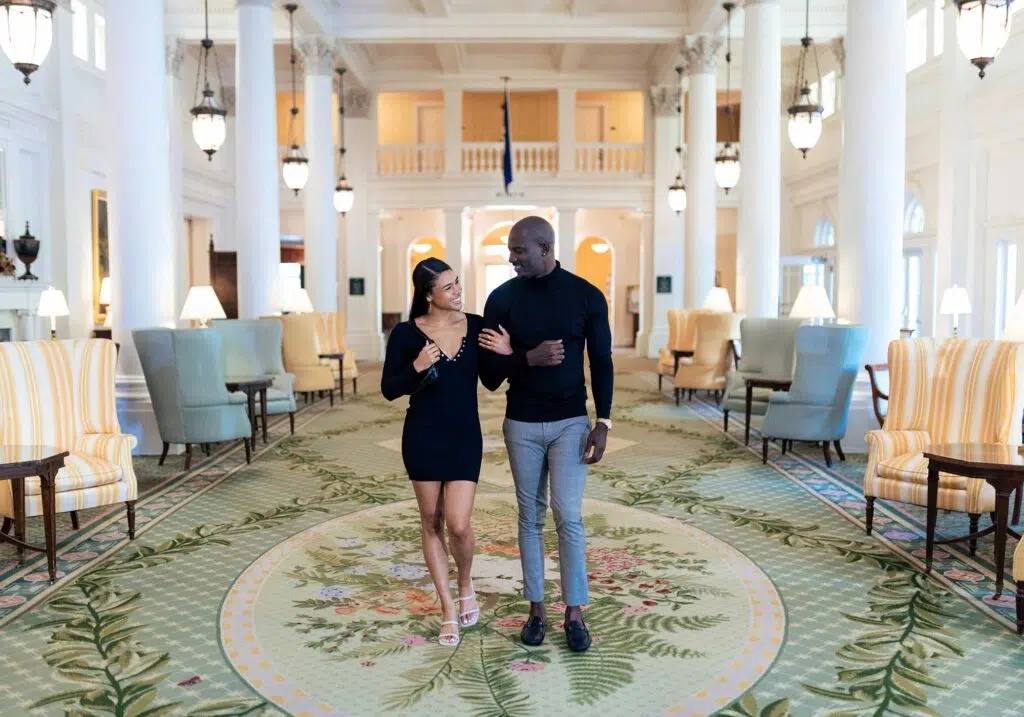 You can envision grand balls held in what is now the main dining room. The lavish room is filled with glittering chandeliers and ornate columns, woodwork and a coffered ceiling. If you want some quiet-time, unwind on a front porch rocker or retreat to the Washington Library with a good book. If you're looking to entertain the kids—especially on a rainy day—head to the Family Game room for some friendly competition.
At the Omni Homestead Resort all the 483 guest rooms, studios and suites feature luxurious traditional Southern décor. In-room amenities including upscale linens, down pillows and feather beds. Keurig coffee makers,flat-screen tv's, on-demand movies and WiFi are also standard. Select rooms and suites feature fireplaces, porches, dining tables or an extra bathroom. Families will enjoy the Luxury Landmark Suite with its two bedrooms, spacious living room and sun porch with mountain views. Since the 18th century, 23 U.S. presidents have stayed at the resort. The five Presidents' Suites are designed and named to honor them. A grand foyer sets the tone of these suites which feature two primary bedrooms and two bathrooms with charming pedestal tubs.
Your furry family—up to two dogs of 60 pounds per guest room—are welcomed with additional cleaning and pet fees and must be registered in advance with the resort. Pets must wear a designated resort identification ribbon showing that they are registered and are not allowed in public areas including shopping and dining outlets and pool areas.
The Omni Homestead Resort Spa
The Spa at The Omni Homestead Resort offers so much more than beauty treatments and massages. This state-of-the-art facility includes a fitness center, an Aqua Thermal Suite and a year-round Serenity Garden. It focuses on complete mind and body wellness activities. More than a century ago, the European-inspired outdoor garden spa was created to harness the healing warm mineral springs. Guests can soak in the spring-fed heated pools throughout the year. Or they can opt to relax in the shade of a luxurious cabana following a spa treatment. The Serenity Garden also features a swimming pool, pressurized Deluge Shower and river reflexology walk, as well as dining and drink service.
Classic European facials, a variety of massages, body treatments and salon services are offered. The Aqua Thermal Suite allows your body to experience a contrast in temperatures through experiential showers. Examples include Arctic Mist, Atlantic Storm and Caribbean Storm, an herbal cocoon, thermal heated lounges and a cold cabin filled with an icy vapor.
Besides the adults-only pool in the Serenity Garden, there is a spring-fed indoor pool next to the spa. For families, Allegheny Springs is a two-acre water park with water slides, play zone, sandy beach, and 400-foot lazy river.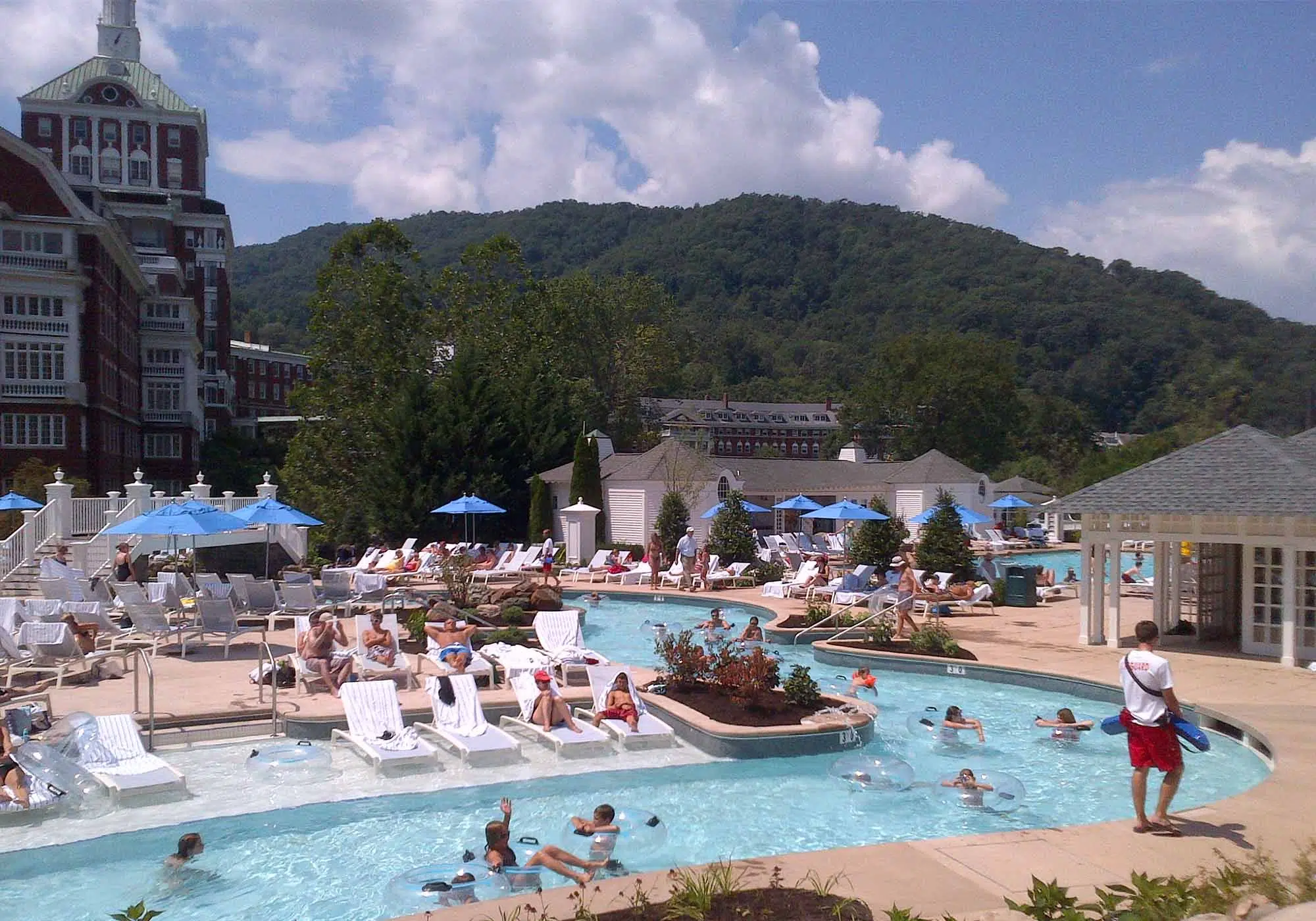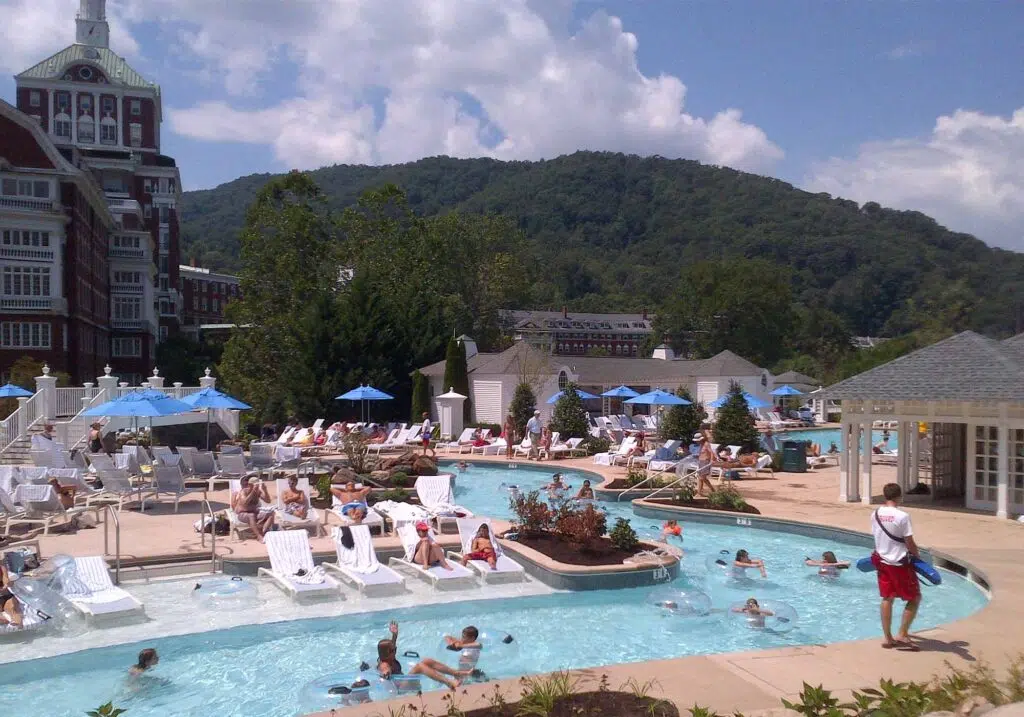 Epicurean Experience & Resort Dining
The resort offers an array of dining options from casual to formal fine dining. Guests can experience a unique Virginia Wine Experience that showcases the state's distinct wines and their growers. Consider starting your day at Martha's Market off the lobby where you can enjoy fresh pastries, Stance Coffee or tea. Martha's also offers a selection of grab-and-go sandwiches, salads and snacks. If you prefer a heartier breakfast, head to the Dining Room for a sumptuous breakfast buffet. Choose from omelet, waffle and pancake stations, a variety of eggs, breakfast meats, fruit and pastries. The Dining Room is open for breakfast, afternoon tea and dinner. The elegant décor and continental cuisine focus on regional and seasonal ingredients. Enjoy selections like Allegheny mountain trout, heirloom tomatoes, Highland county lamb, Chesapeake crab and Virginia grass-fed beef.
Jefferson's Restaurant is a bit more casual, but no less delicious. Featuring farm-to-table fare, it is reminiscent of a modern grill with regional influences. Open for dinner daily, the warm paneled dining area is cozy in the winter. The expansive outdoor terrace offers spectacular views of the Casino Lawn in more temperate weather.
Open for both lunch and dinner, Jefferson's Taproom features pub-style burgers, sandwiches, salads and soups. The taproom features large-screen TVs in a classic pub setting. Peruse the menu of regional craft beers and Virginia wines.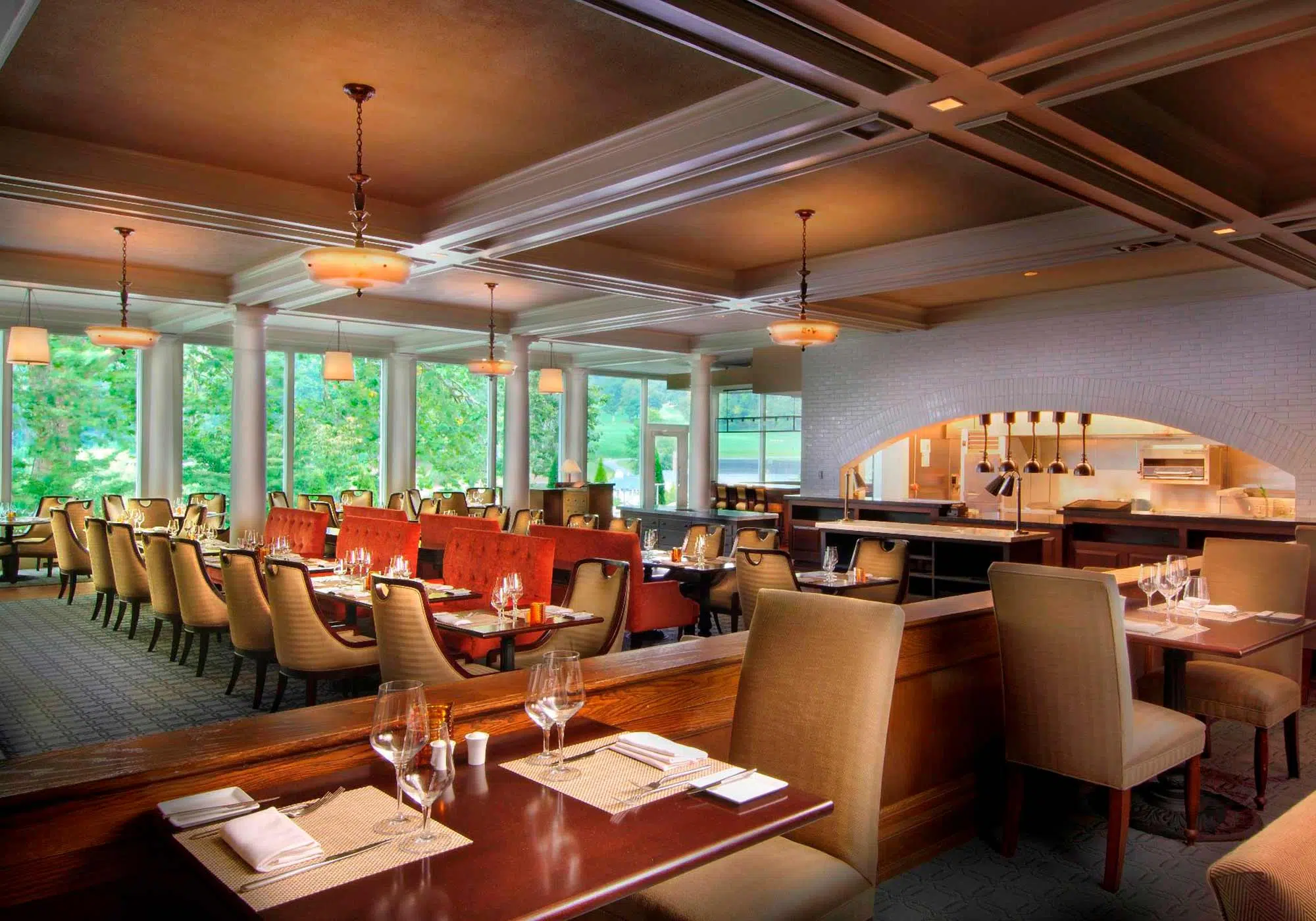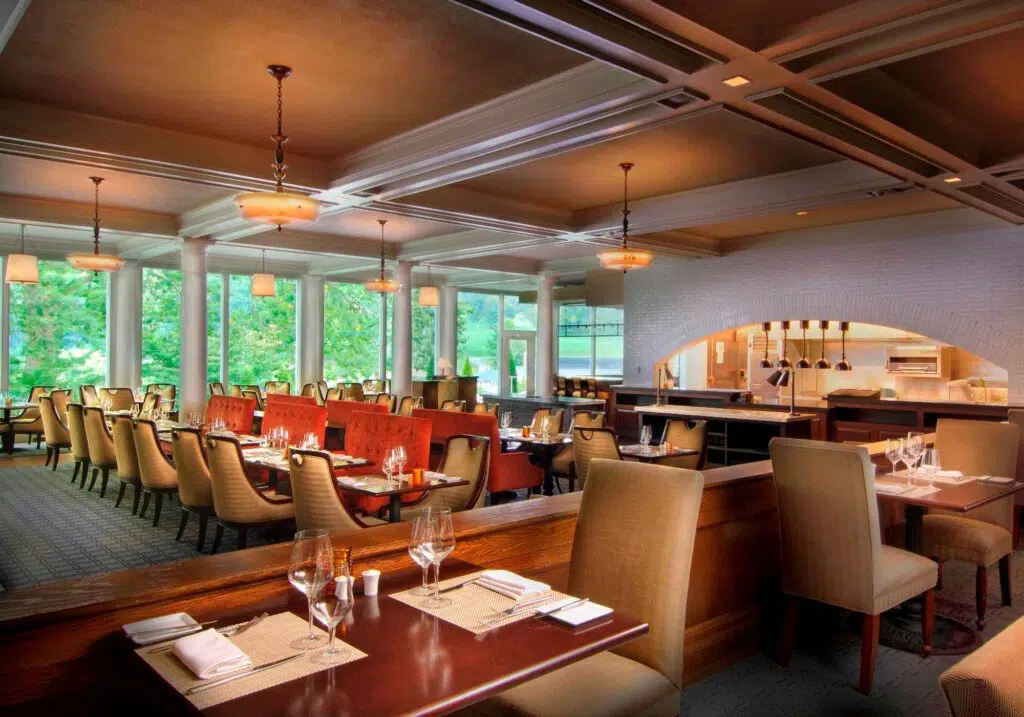 Also serving casual lunches and dinner is Woody's, named after a beloved longtime associate Woodrow "Woody" Pettus. Woody's is in the historic Casino building. It is famous for its Italian-inspired cuisine, particularly its craft pizzas.
Have an early tee time on the Cascades course? Grab breakfast at Rubino's or stop in for lunch after your round of golf. Note that the restaurant is on the second floor of a historic building and is not fully accessible to guests with mobility issues.
Kober's at The Mountain Lodge is only open during the winter season. Namesake Sepp Kober, the director of The Homestead's winter sports program for 40 years, was known as "the father of Southern skiing" . This winter smokehouse restaurant offers slow-smoked barbeque dishes like pulled pork and venison chili. Fill up with robust classic Southern side dishes including mac & cheese, baked beans and coleslaw. You'll find a wide selection of bourbons, beers and wines to accompany your hearty winter meal.
Virginia Wine Experience at the Homestead Resort
The newest renovations and additions to the Omni Homestead Resort are not only physical. The resort has a longstanding reputation for culinary excellence. They recently added the Virginia Wine Experience to its hospitality portfolio. A Tasting Bar located near the main Dining Room shines a spotlight on Virginia wines, their makers and the history of winegrowing in the Old Dominion. Guests can choose distinct wine flights or taste wines by the glass. Reservations for the Tasting Bar are not required. 2022 marked the first annual Omni Homestead Epicurean Classic, a food and wine festival highlighting the best of Virginia and its chefs and wine experts.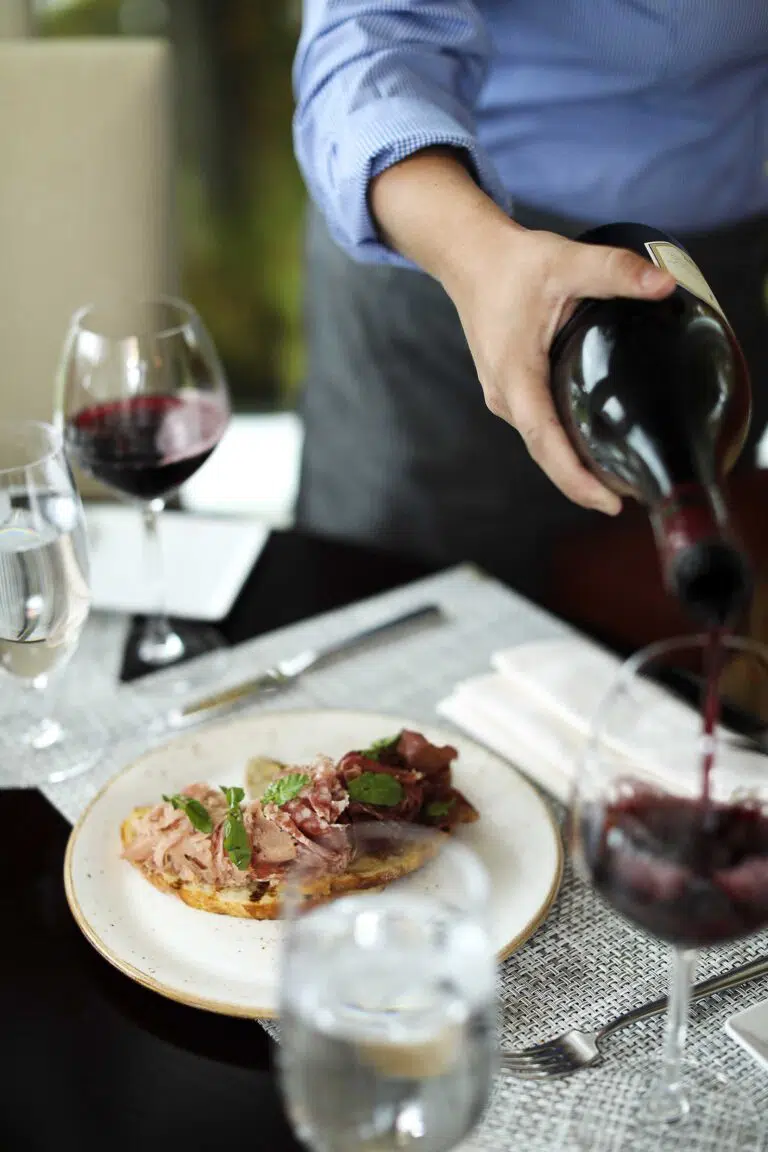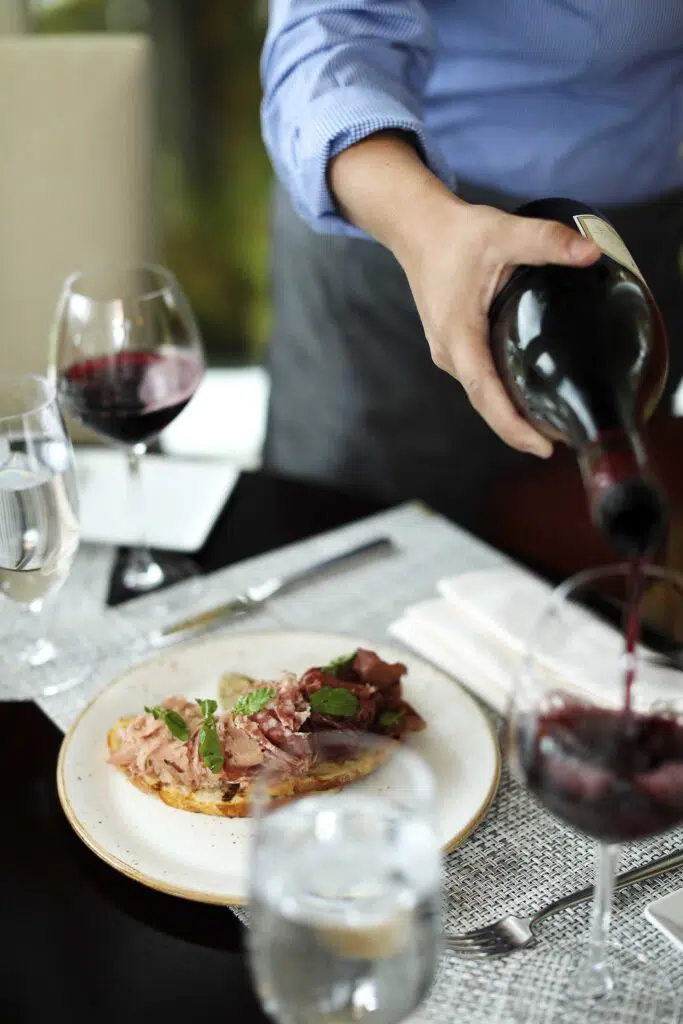 The resort also offers a special package that includes accommodations, breakfast and a wine tasting for two. Wine aficionados will love the special monthly wine weekends. These include meet-and-greets with a Virginia winery owner or vintner, talk and taste seminars with the featured vintner and exclusive private wine dinners. Wine industry executive Fred Reno curates the Virginia Wine Experience program.
Activities at the Homestead Resort
The Homestead Resort has always been a sportsman's paradise, particularly as one of the country's top golf destinations. The Old Course is the home of the nation's oldest continuously used tee. The Cascades—known for launching Sam Snead's career—consistently ranks as one of the best mountain courses in the country. Both courses feature stunning views of the Allegheny mountains and offer clubhouses, practice facilities and driving ranges. Instruction is also available, for both beginners and experienced golfers who want to polish their game.
But the resort offers much more than championship golf. In the winter months, skiers and snowboarders hit the slopes. Warm-weather activities include horseback riding, ziplining, hiking, biking, falconry, fly fishing and a shooting club. Younger guests can enjoy the amazing Allegheny Water Park. There's also a KidsClub for guests between the ages of 5 and 10. KidsClub offers supervised themed Adventure Days and dinner/movie nights. Activities range from arts-and-crafts to archery and mini-golf.
Don't worry if you prefer indoor pursuits. There are plenty of engaging activities from spa treatments and shopping to wine tastings. Southern Social Hours occur each afternoon with a selection of hot and cold teas and special treats from the resort's pastry chef. Head to the Virginia Wine Tasting Bar to enjoy a flight of Virginia's finest vintages. Pick up some gourmet treats and snacks at Martha's Market or the Homestead Market. One must-do is the complimentary history tour of this historic resort (offered daily).
Families will enjoy the game room and the nightly movies. Those in need of some retail therapy can peruse the many upscale resort shops. Guests can find everything from kitchenware to handcrafted items from local artisans. If you need outdoor or sporting gear, Allegheny Outfitters, The Cascades Golf Shop and the Shooting Club have you covered. For children's toys, clothing and gifts, drop by the Hobby Horse. For seasonal and regional gifts, Seasons, The Sparrow's Nest and Maybelle's feature unique gifts, edible treats and souvenirs. To take a bit of The Homestead home with you, the 1766 Shop features custom logoed apparel and gift items, as well as magazines and sundries.
Events and Weddings at the Historic Homestead Resort
The resort offers a wide range of indoor and outdoor meeting and event spaces. They range from intimate gatherings to event spaces that can accommodate up to 650 guests. The new event pavilion will offer a hybrid indoor/outdoor experience including a prep kitchen and bridal suite. The pavilion will accommodate up to 225 guests and incorporate historic design elements from early 20th century resort structures.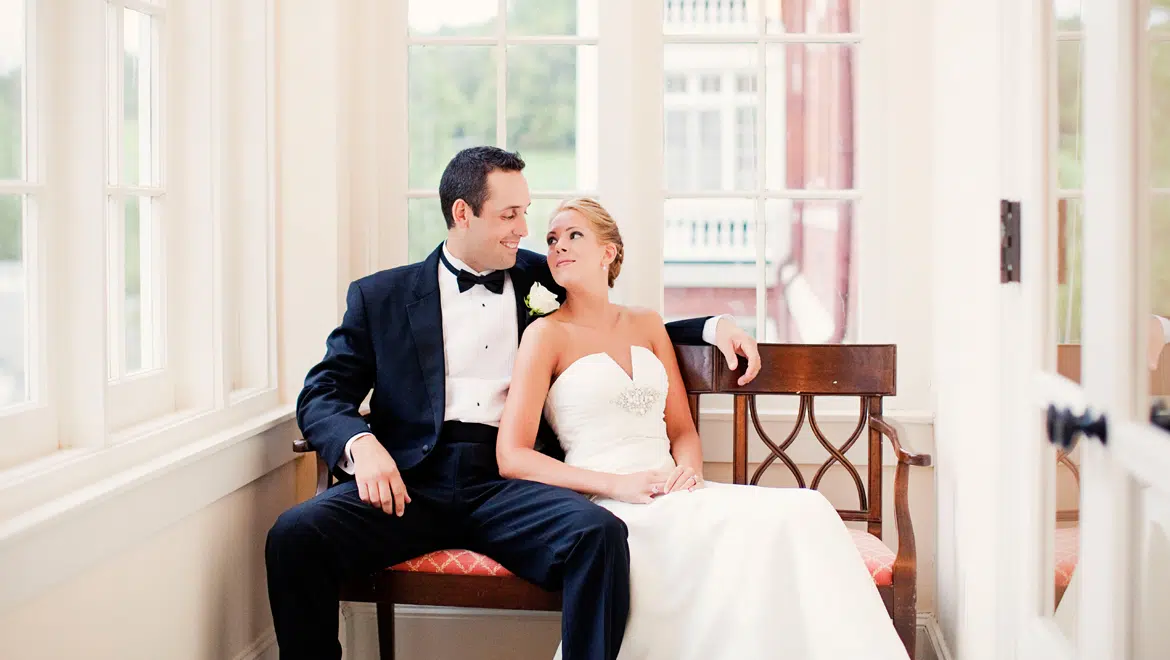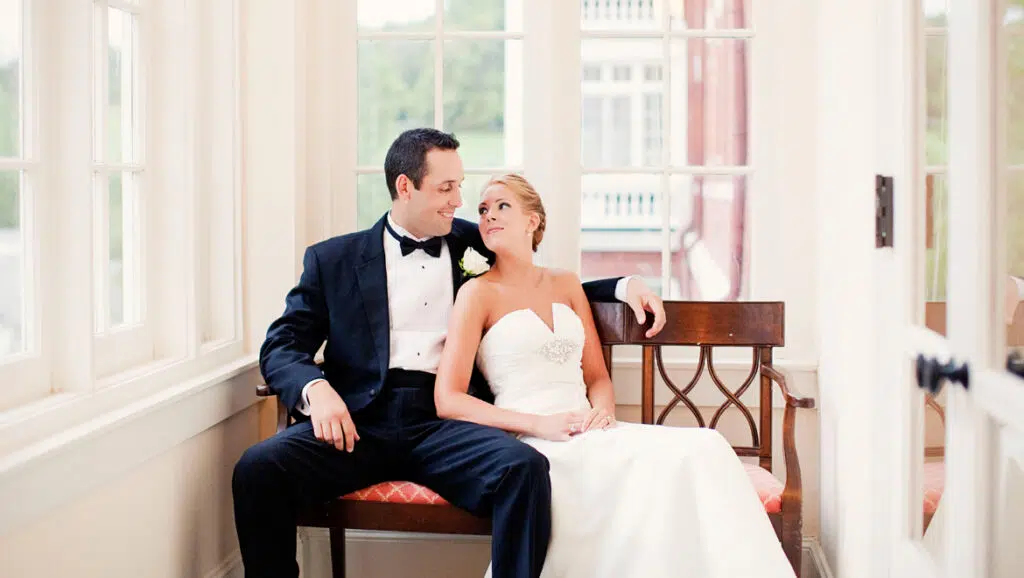 Experience the Nearby Towns
If you can tear yourself away from the resort, there are several interesting attractions a short drive away. Catch a concert at the Garth Newel Music Center a few miles away. Grab a cold craft beer at the family-run Bacova Beer Company less than a mile from the resort. Shop for antiques at Ashwood Station, only two miles down the road. Resort staff can arrange a guided tour of the waterfalls and wildlife on the Cascades Gorge Hike, a visitor favorite. If you're up for a day trip, visit the Allegheny Highlands Arts and Craft Center in Clifton Forge. Or spend a day exploring the trails at Douthat State Park.
Unless you're visiting The Omni Homestead Resort for an entire "season" like the aristocracy did in the previous two centuries, it's almost impossible to explore, see and do everything the resort has to offer. That's one reason guests return year after year. There are always new tastes to savor and new activities to enjoy. But even more important, the warm Southern hospitality of the resort staff will always welcome you home. ~
Discover more luxury resorts in Virginia Wine Country. The iconic Keswick Hall Resort has been recently refurbished with a new spa, a Jean Georges restaurant, guest rooms, golf course & more – a beautiful resort in wine country near Charlottesville Virginia. Closer to Washington DC, you can enjoy a stay at the incredible Salamander Inn, a stunning resort in Virginia's hunt & wine countries. Dining, equestrian activities and more await guests to Middleburg.  
GINGER WARDER is a freelance writer specializing in arts, entertainment, travel with pets, and European destinations. Author of Fido's Virginia and Fido's Florida (both Countryman), she is a member of the Society of American Travel Writers and  lives in Richmond, Virginia with her German Shepherd, Lola, and her cat, Gizmo.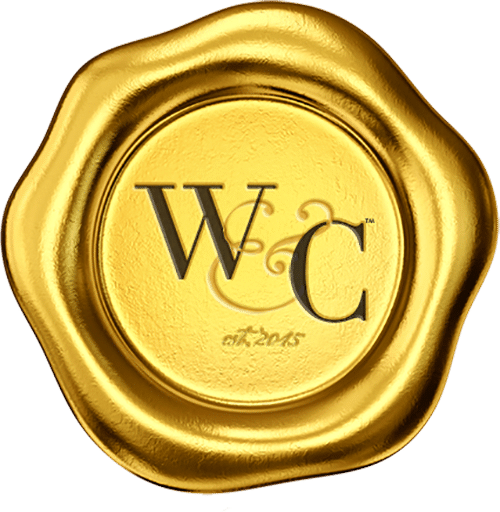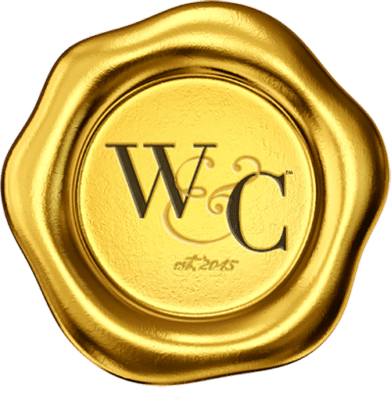 Virginia Wine & Country celebrates elevated living in Virginia Wine Country. Virginia Wine & Country Life is a semi-annual luxury print magazine with a full digital presence. The Virginia Wine & Country Gold Book is an annual guide to the top award-winning wines, wineries and experiences in Virginia Wine Country. The annual Virginia Wine & Country Wedding Planner is an art book of elegant Virginia weddings. The brand includes the Virginia Wine & Country Shop in Ivy, Va. It is a beautiful lifestyle boutique that brings the pages of the magazines to life. Virginia Wine & Country tells the stories of Virginia wineries, the farm-to-table movement, luxury travel, entertaining, art and the elegant country lifestyle. Ivy Life & Style Media also provides branding, web design and PR services for the wine industry.