Stan Driver, a native of Nelson County was the Blue Mountain Brewery's hop master extraordinaire when they were establishing their hop yard. He has a long history of horticultural success. From selling hops in his small retail nursery to growing his own for old-fashioned home brews, Driver has become one of the East Coast's foremost experts on the tangy flowers.
A long-time fan of making and tasting craft brews, Driver was experimenting with hops cultivation when Blue Mountain Brewery burst onto the craft brew scene in 2007. Seeing the value of fresh, local hops, owner Taylor Smack had hops planted on the brewery's property from the get-go. With his mind focused on the brewing and operations, however, tending to the vines proved challenging, as up until this point they had been a largely West Coast luxury.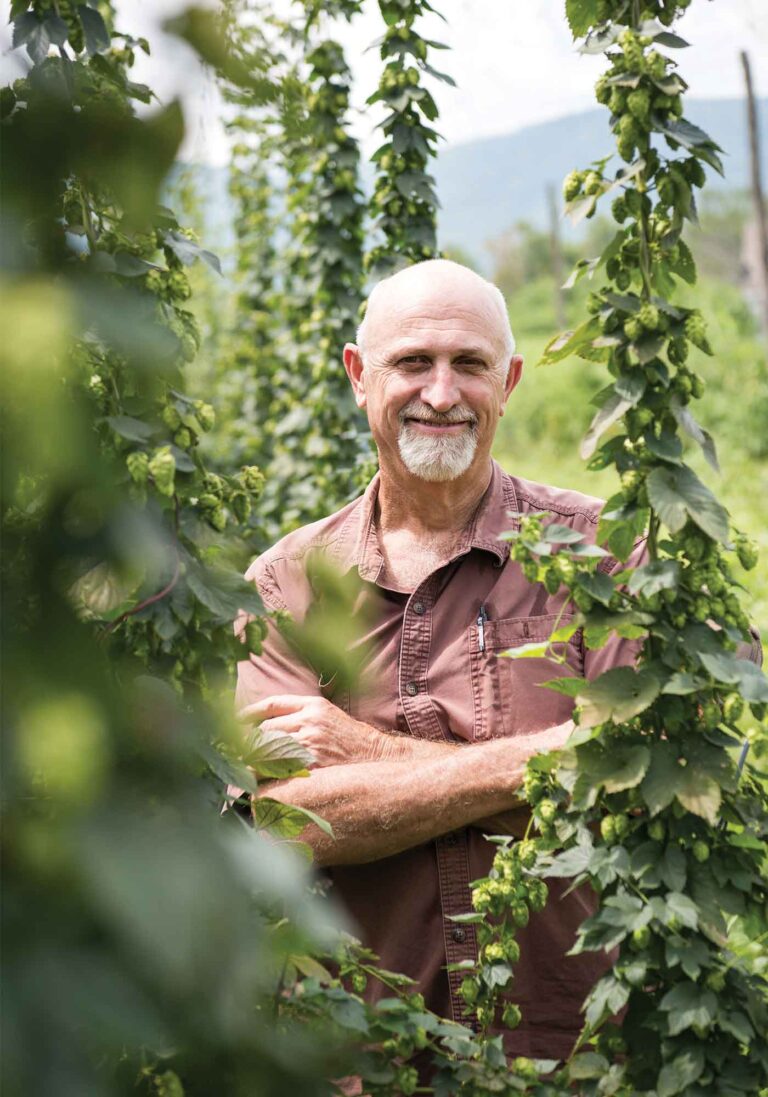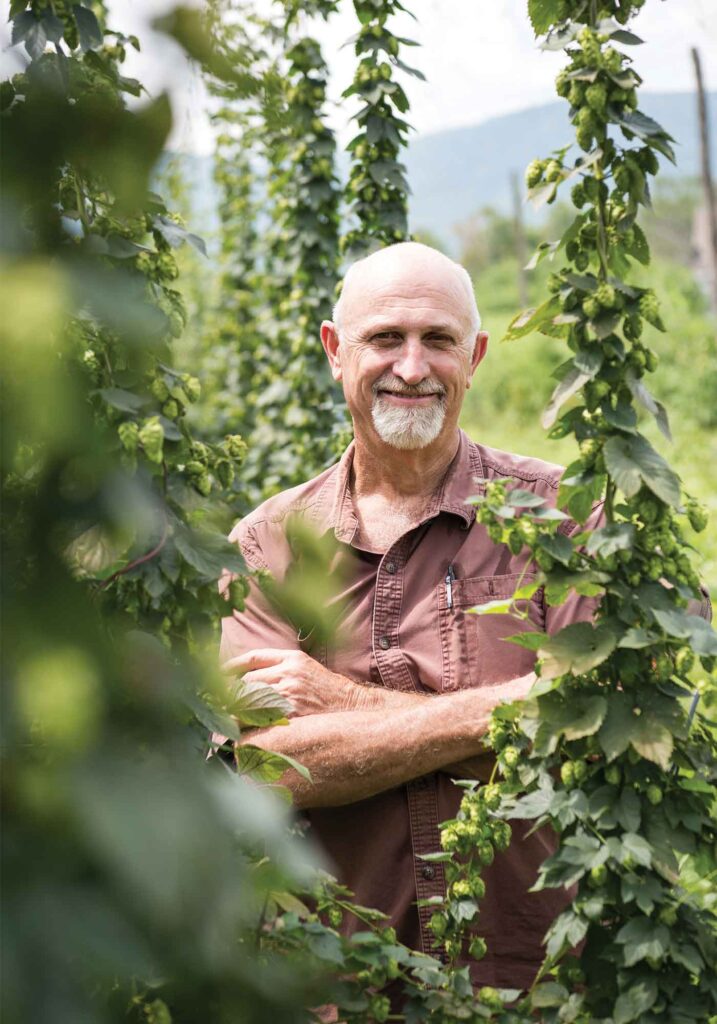 Growing Hops on the East Coast
The attention Blue Mountain Brewery and the Old Dominion Hops Cooperative received stems from the novelty of a successful East Coast hops cultivation. The West Coast has dominated in the use of fresh hops in beers, with East Coast wet hop ales being a recent development. At the heart of it, Driver has been crucial in spreading institutional knowledge on the hops growing process. Still, there are issues with attempting large-scale commercial success in the field in Virginia and on the East Coast. In 2022, Virginia had 314 licensed craft breweries. The craft beer industry is a growing industry with $1.7 billion total economic impact and 14,263 jobs in brewing, distribution, retail and related businesses.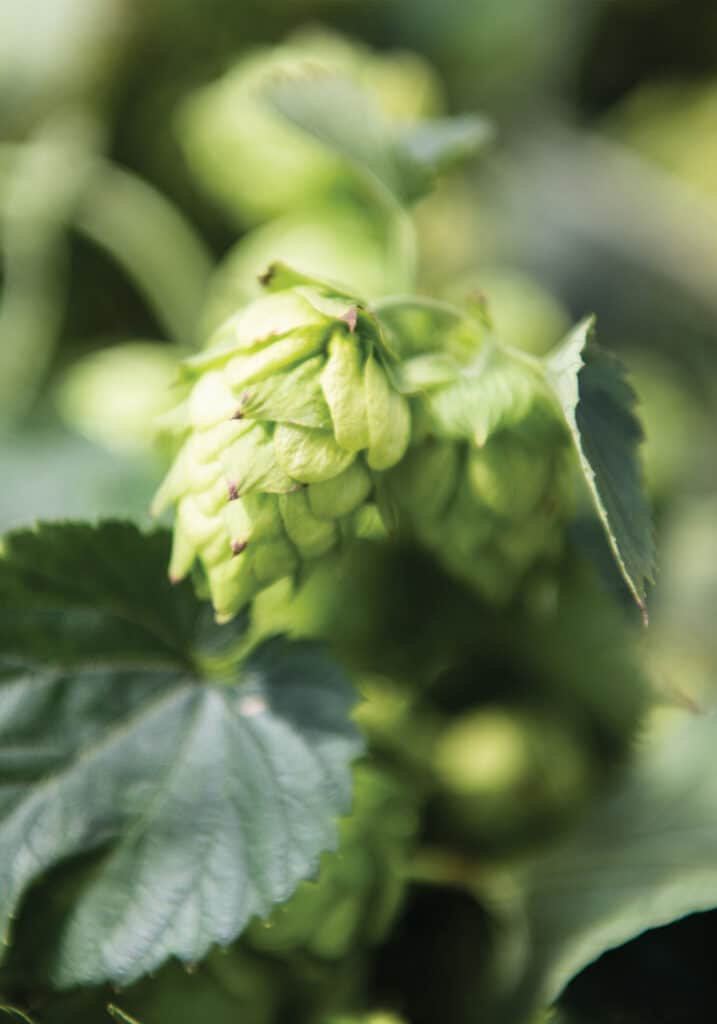 An adept instructor in the art of hop agriculture, Driver explains it in terms of latitude. "We're taking plants that have been hybridized for specific regions of the world and country and bringing them to the South to try to grow here. One of the most difficult aspects of this is latitude—the plants aren't getting enough continuous sunlight in the summer months. They require 15 hours of daylight to bloom and yield well. That's just something we can't change with agricultural method," Driver explains. Hops are sensitive to day length, and produce best between 35 and 55 degree latitudes.
The area is just below the boundary of daylit, which is industry speak for the amount of daylight a crop receives, and hops are very sensitive to that. "That produces very low yields for us—a fifth of what you could expect in the Pacific Northwest," he says.
Craft Brewing in Virginia
Blue Mountain was the first brewery in Nelson County, and word spread of the delicious craft brews and the peculiarity of a Virginia-planted hops yard. Driver remembers the sudden pique in curiosity. "People would visit, see the hops yard and ask if the hops they were drinking came from right there. People started asking how to grow hops, how to see hops. Could they do that?" In 2011, enough interest was swirling that he put out a "cattle-call," as he calls it, for anyone interested in growing hops, hosted right at Blue Mountain Brewery. The result was overwhelmingly positive, with over 75 people in attendance. Thus, the Old Dominion Hops Cooperative was born. From that initial meeting, the Co-op grew in leaps and bounds until people were coming from as far as Maryland, Kentucky and even Tennessee. Virginia is a wonderful place for enjoying craft beers, ciders, spirits, wines and wonderful farm-to-table foods too.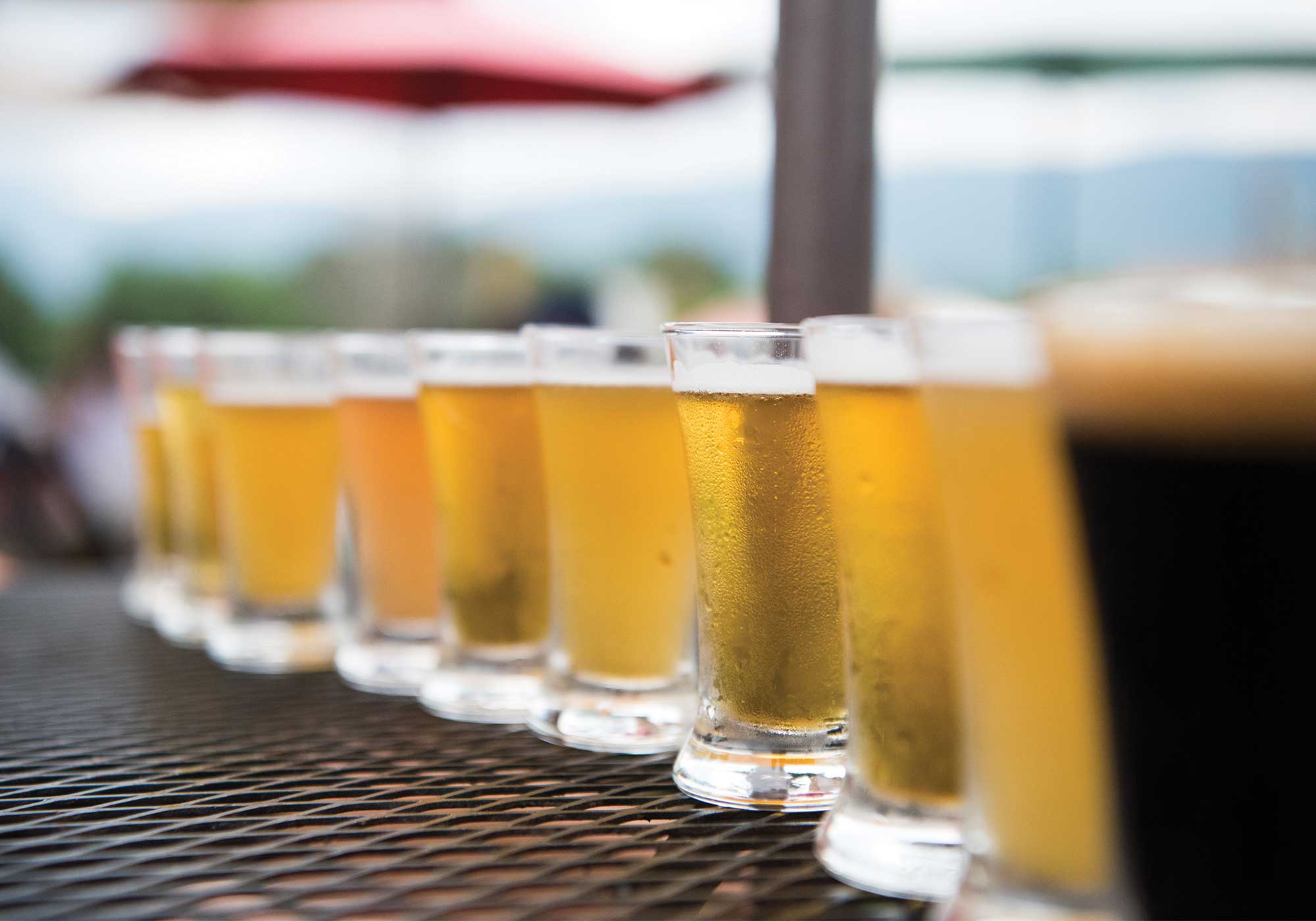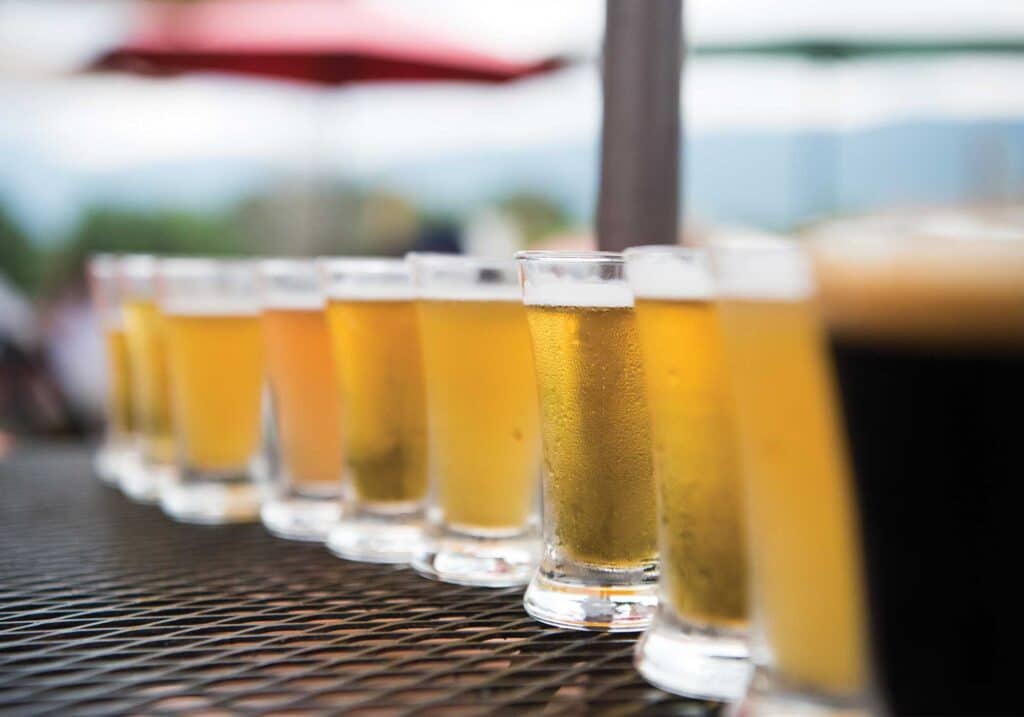 Using Fresh Hops Vs. Dry Hops to Make Craft Beer
Despite his extensive résumé and undeniable success in the hops world, Driver is very humble on the subject of whether fresh or dry hops are better for making craft beer. "It's yet to be determined," he chuckles. The way that East Coast hops growers find sustainability is by cornering a niche, farm-to-table market. Successful hops farmers tend to farm small crops of roughly half-an-acre and sell their products directly to local breweries for a premium price based on weight and freshness, which are the pinnacle components of wet hop ale.
Prized foremost for their citrus notes and crisp aromas, wet hop ales are hard to infuse in other manners without having to tamper with additional ingredients.
Prized foremost for their citrus notes and crisp aromas, wet hop ales are hard to infuse in other manners without having to tamper with additional ingredients. Driver explains, "It's comparable to using a fresh herb to a dry herb. Much more aromatic, wet hop ales are all about the aroma." Patrons of Blue Mountain Brewery seem to agree wholeheartedly, since each year the brewery's seasonal batch of wet hop ale sells out, straight from the tap house each September, never even making it to the bottling stage. Why? The brews are not only delicious — craft beer connoisseurs know that wet hop ales almost always taste best consumed fresh.
You Can Pick Hops in Virginia
Locals are so enthusiastic to ensure the delectable beverage is available each autumn that they come together yearly to volunteer in the hops fields. The Blue Mountain Hop Harvest takes place at both their Nelson County and Afton Mountain locations. Both locations are convenient to Charlottesville, Virginia.
The annual Hops-Picking Party at Blue Mountain Brewery is a great community function. People come and pick hops, and they feel invested in the beer and the brewery and their community, They get to know each other, the brewers and staff in a different way – and they learn more about hops.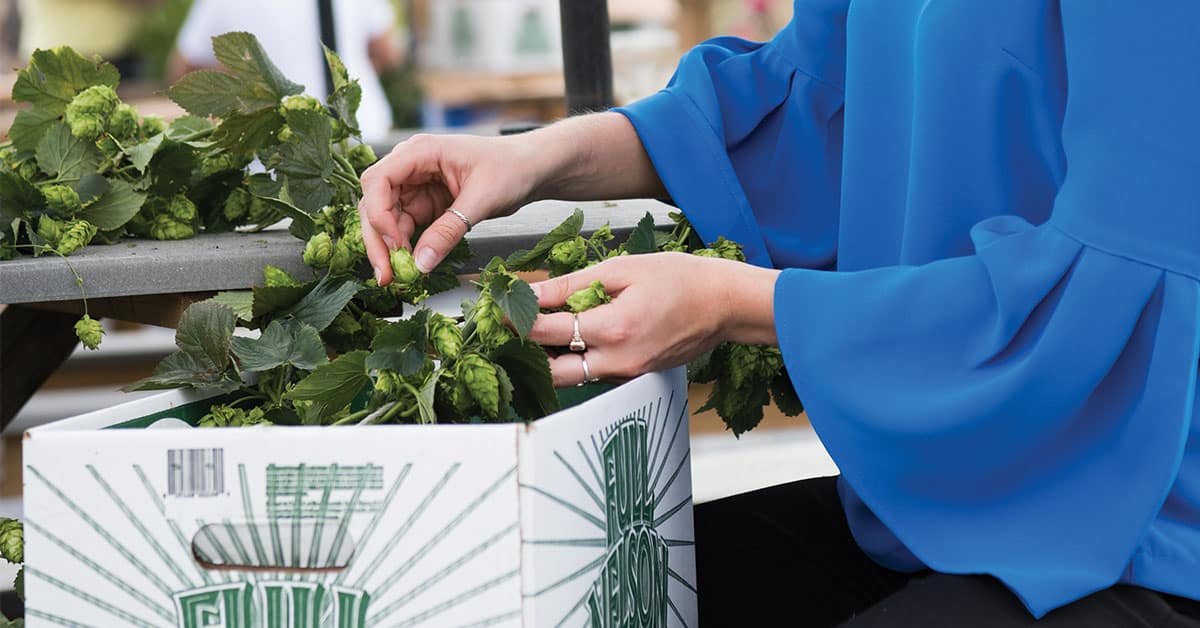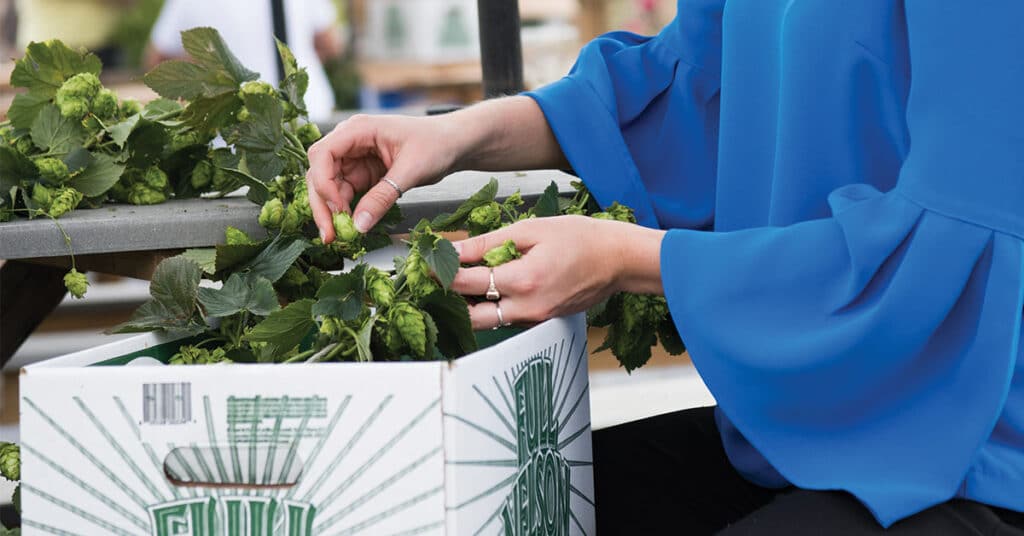 Hop Growing Research in Virginia and North Carolina
Recently, institutions such as Virginia Tech and NC State have taken up the mantle of hops agriculture with enthusiasm. While that may seem ominous to small homegrowers, the implications are actually the opposite. Driver was optimistic about the research resources provided by the schools. "If NC State or Virginia Tech, or someone could breed a variety of hops that yielded well here, comparable to the ones on the West Coast and in demand for the brewers, we would be in business."
There are other businesses who are working towards hop growing success int eh commonwealth. Greenmont Hopworks in nearby Charlottesville, enthuses about a local hop they found growing wild at their property that they've since cultivated into their own unique hop, named Greenmont Mother, They grow a variety of other hops for local brewers as well. Small, family farms may be just the right fit for this crop which requires extra time and attention in our climate compared to field crops for example.
It seems that Virginia and North Carolina are mutually invested in sustainable local hops horticulture. Virginia State University joins Virginia Tech and NC State yearly at an event called the South Atlantic Hops Conference, initially established by Driver in 2013, and sponsored by none other than the Old Dominion Hops Cooperative. Like-minded individuals and experts in the field gather annually to discuss the cultivation of the finicky crop.
Considering the extensive interest and market for local wet hop ales, it seems only a matter of time before a system is created to provide East Coast brewers the opportunity to produce them en masse. ~
This article first appeared in print in Wine & Country Living. You can get W&C Life delivered to your mailbox or inbox by subscribing.
Blue Mountain Brewery is located in Afton Virginia, just outside of Charlottesville, and is open Monday-Saturday from 11am-10pm and Sundays 11am-9pm. The Blue Mountain Hop Harvest takes place in the late summer and will be announced closer to harvest. Keep an eye on the Virginia events Virginia events calendar for this year's dates. For more Virginia brews consider a visit to Devil's Backbone Brewery in Nelson County or Starr Hill Brewery in Crozet.
MANDY REYNOLDS has a master's in arts management and a bachelor's in history, enjoys reading and is an avid traveler. Having grown up in the Shenandoah Valley, she appreciates how much the area has to offer.
R. L. JOHNSON is our Co-Publisher and Creative Director. Bethke studied at the prestigious ArtCenter College of Design and began her career as a professional photographer in Los Angeles. She moved into graphic design and art direction when she relocated to Charlottesville in 1994. As our company's co-founder and visionary, she enjoys all aspects of storytelling.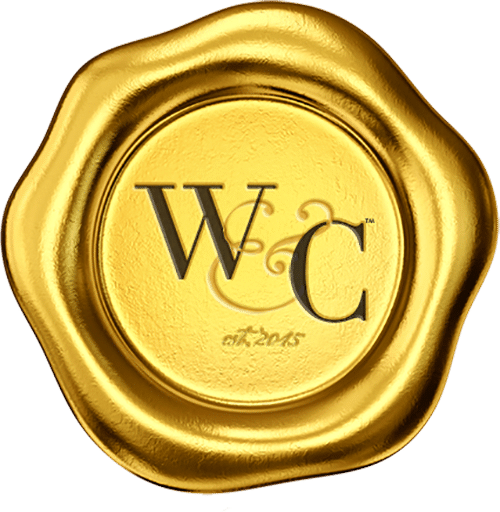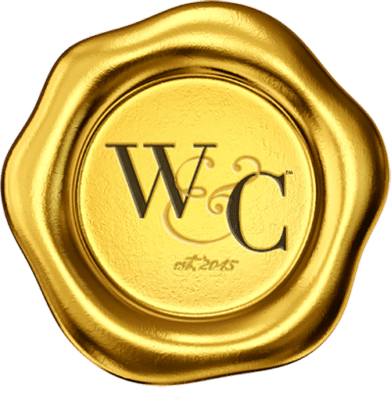 Virginia Wine & Country celebrates elevated living in Virginia Wine Country. Virginia Wine & Country Life is a semi-annual luxury print magazine with a full digital presence. The Virginia Wine & Country Gold Book is an annual guide to the top award-winning wines, wineries and experiences in Virginia Wine Country. The annual Virginia Wine & Country Wedding Planner is an art book of elegant Virginia weddings. The brand includes the Virginia Wine & Country Shop in Ivy, Va. It is a beautiful lifestyle boutique that brings the pages of the magazines to life. Virginia Wine & Country tells the stories of Virginia wineries, the farm-to-table movement, luxury travel, entertaining, art and the elegant country lifestyle. Ivy Life & Style Media also provides branding, web design and PR services for the wine industry.