Winter is the dormant season in the vineyard, and winery visits drop to their lowest in the first quarter of the year. This doesn't mean that nothing is happening there, though, and you might be surprised at how much is still going on during the Winter in Virginia's Vineyards and Wineries.
So, we went behind-the-scenes with Virginia vineyard managers, consultants and winemakers throughout the region to bring you firsthand information and insight on the happenings both in the vineyard and in the winery.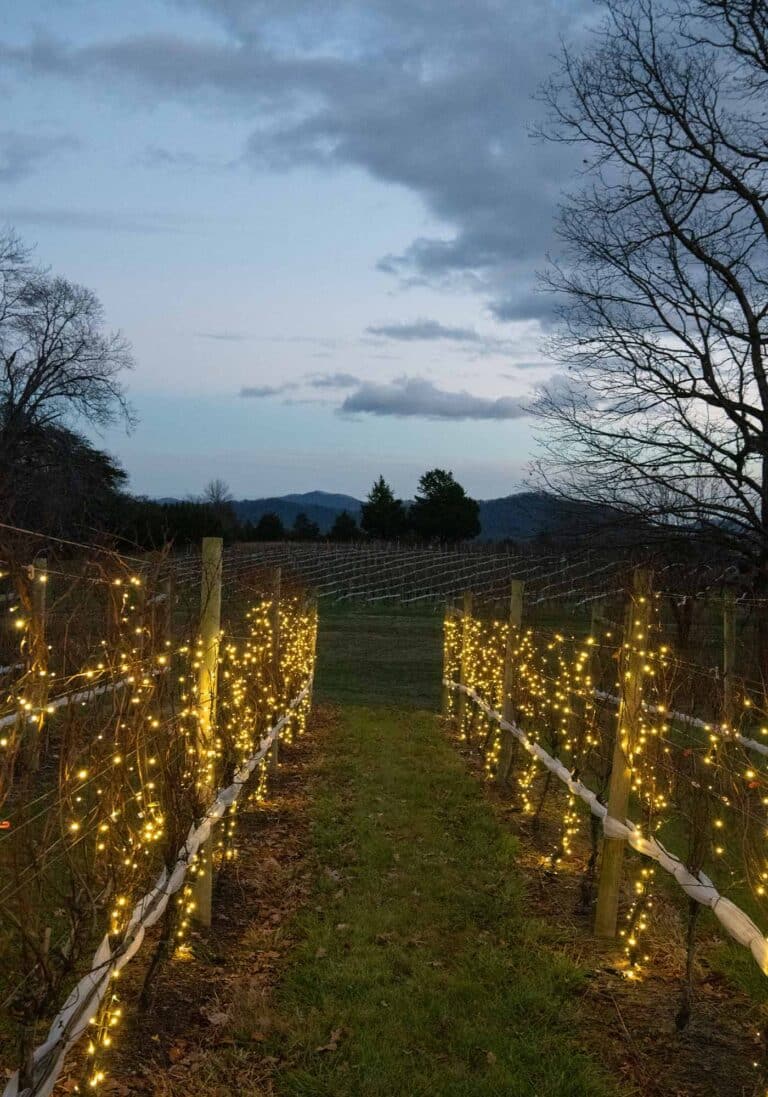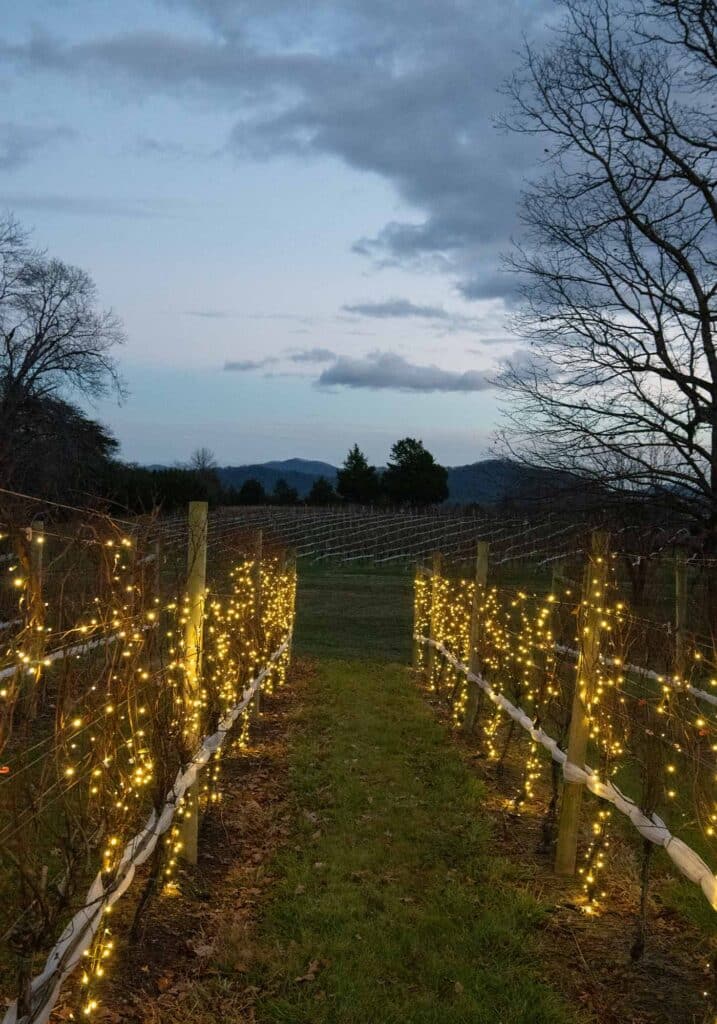 Winter in Virginia's Vineyards
First, let's look at what's going on in the vineyard. The big chore for winter is pruning the previous year's canes back to make space for the new shoots of the upcoming year's growth. It may seem surprising, but up to 90 percent of the previous year's canes need to be cut and removed!
Jeanette Smith is a vineyard manager and consultant based in Mt. Jackson, in the Shenandoah Valley wine region. Come late January, Smith says that grape growers have been pruning for a while now. "I encourage my clients to prune their vineyards in three steps," she says. "They are doing steps one and two now. Step one involves giving the vines a 'haircut,' trimming all the canes back to about 24 inches and pulling out that brush."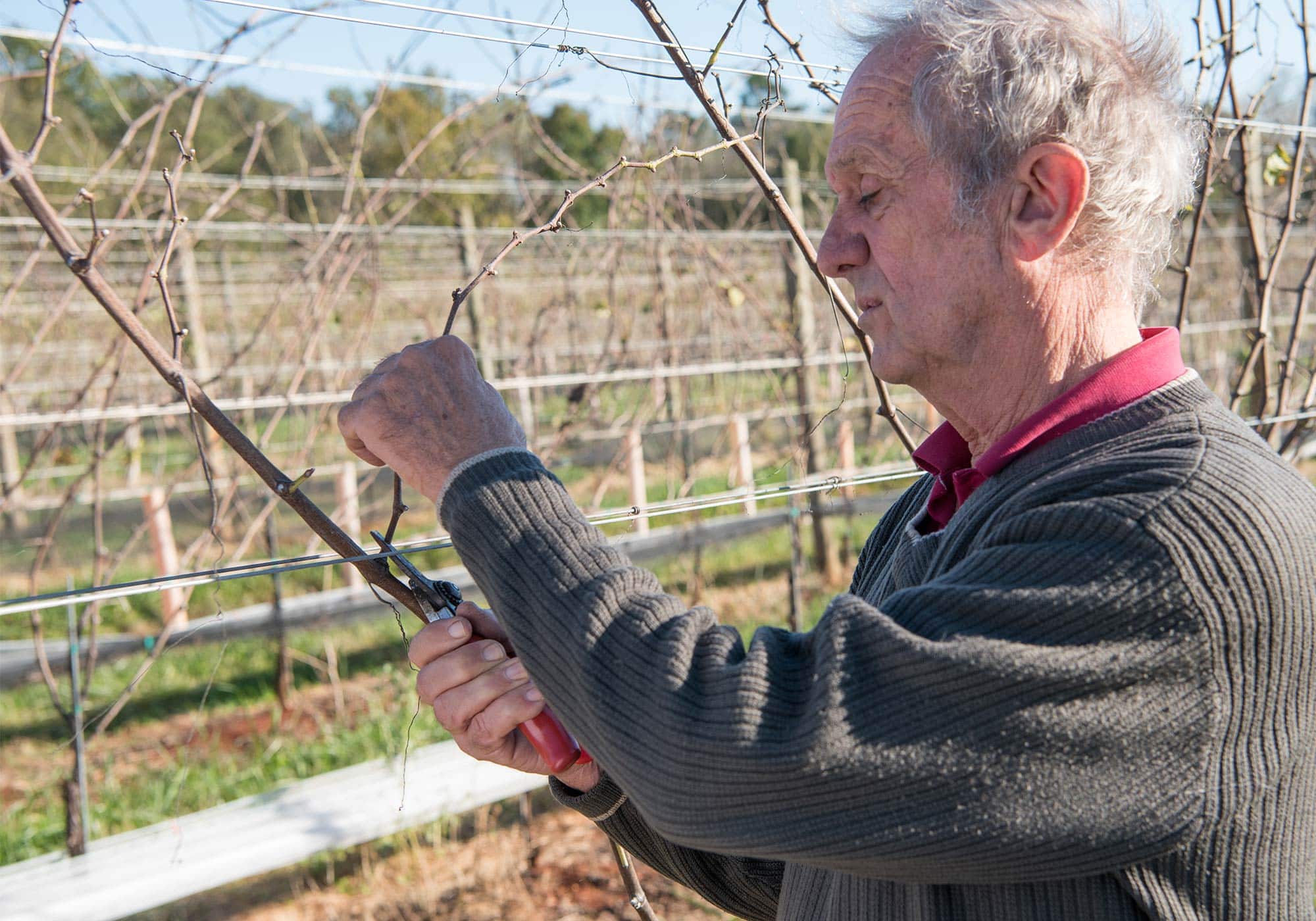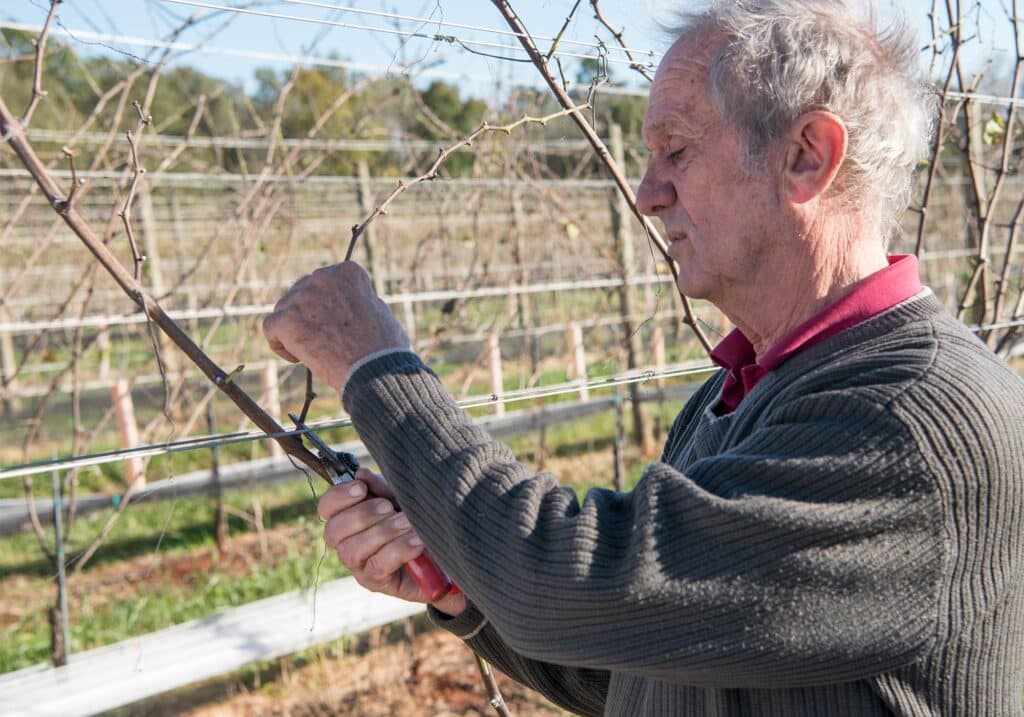 For step two, they select the canes that they want to keep and remove the rest. Smith explains that "step two requires some experience to understand which canes should be selected." Step three will be done in the spring. For growers who use cane-pruning, step three involves tying two canes per vine to the wire and shortening them to the desired length. For growers who use spur-pruning (where the permanent vine wood is T-shaped, with vertical spurs), step three involves shortening the canes to one or two buds.
Smith explains that growers are also using this time—especially days when the weather is too cold, windy or wet to prune—to maintain equipment, order supplies and line up their workers for the growing season. "This is the time of year when I am helping my clients develop their (fungal) pest management plans for the upcoming season."
She points out that once the vines begin growing, it's a race against the clock to keep up with vineyard maintenance tasks that are very time-consuming and time sensitive. "Now, while the vines are dormant, growers are busy but not frantic. It's a pleasant time of year."
Lucie Morton is a renowned viticulturist, ampelographer (can identify grape varieties by examining their leaves and shoots) and has clients in Virginia and elsewhere in the Mid-Atlantic. With winter pruning, she cautions that before it can start, the wood must be well-hardened off and it's been cold. If conditions allow, "people can get going in November. Personally, I recommend doing a first pass, leaving three or four long canes at the head (my clients only do cane pruning) and taking everything else off the wire."
She agrees that winter is a good time for planning ahead for the coming growing season: "Doing nursery orders for 2023 and checking with nurseries about 2022 orders to be sure they had a good take in the vineyard. Also, they should be looking ahead to planning their (fungal disease) spray program and ordering materials, lining up interns and labor, and machine maintenance and purchases if tax deduction makes that attractive."
With winter pruning, Lucie Morton cautions that before it can start, the wood must be well-hardened off and it's been cold.
Tremain Hatch is the viticulture research and extension associate at Virginia Tech. He is also a third-generation farmer and has helped transition the family farm in Loudoun County from dairy production to direct-to-consumer sales of pastured beef/lamb and wine.
"I like to make progress on vineyard trellis projects on warm (winter) days and work in the winery on cold nasty days," he says. "We try to accomplish most of our pruning in March, after we have gone through the coldest part of the winter. That way, we can compensate for cold injury if we need to."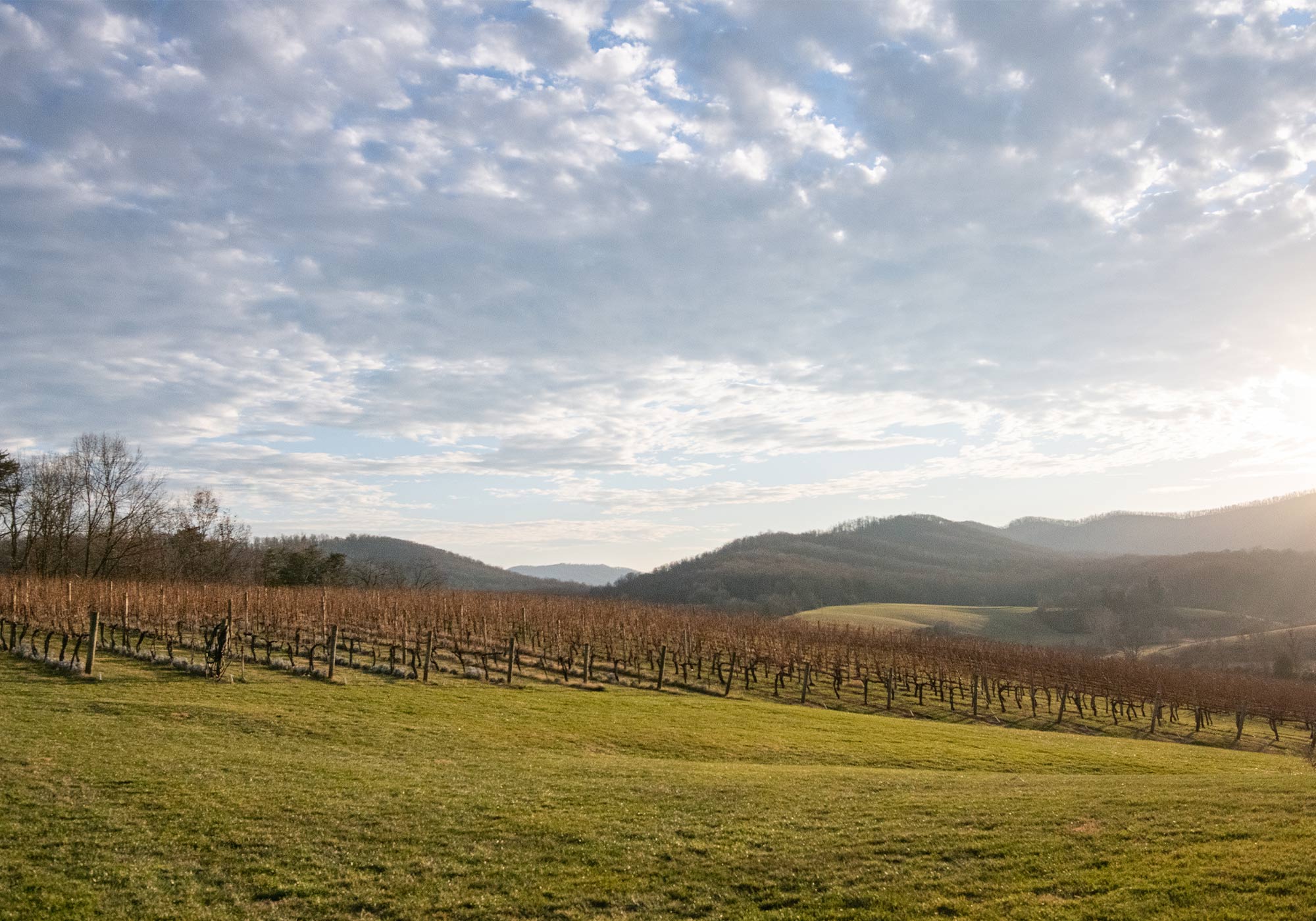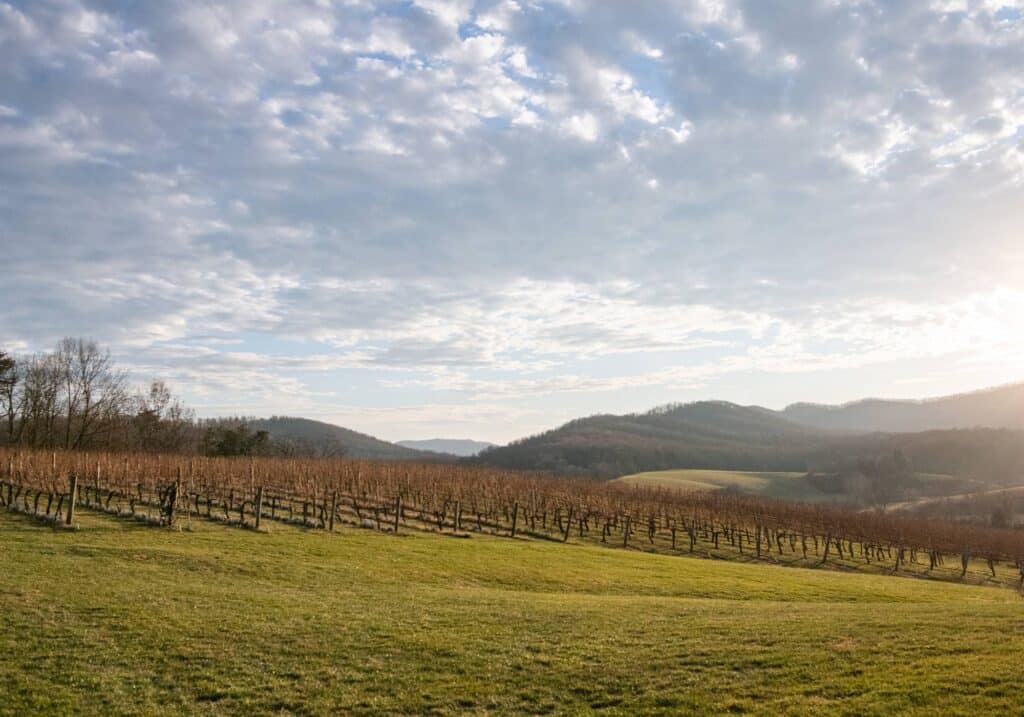 Winter in Virginia's Wineries
Matthieu Finot, the winemaker at King Family Vineyards in Crozet in the Monticello AVA, starts by declaring "Winter is never a quiet time for us. We start bottling our Crosé in December, and with more than 5,000 cases, it takes time to get ready. Then, we bottle everything else with one or two days of bottling per month, so there is always some wine to rack off, blend, filter and get ready for bottling."
While he acknowledges issues with the supply chain, "because we use a bottling truck, my bottling dates are already set up for the year; I know what and when I will bottle." At the end of harvest, he estimates which batches will go in which finished wines. "This gives me a ballpark of what bottling supplies I need to order. By December, all my bottles are already ordered."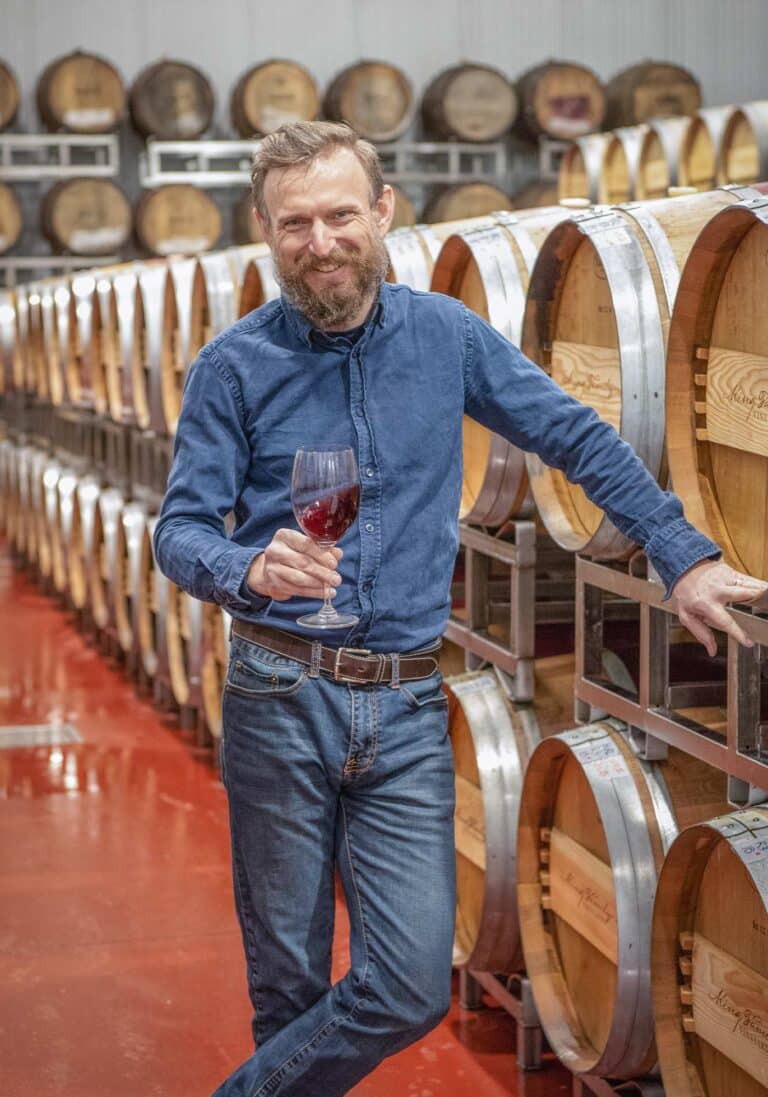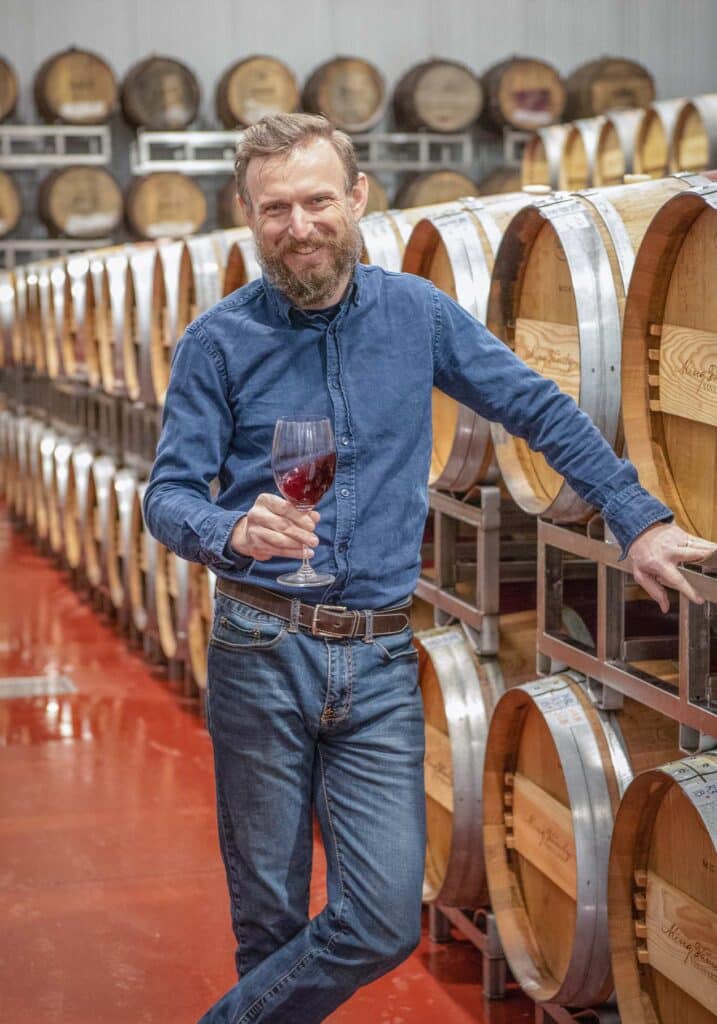 Finot provides a good example of their monthly routine: "This week, I am bottling some wine. As soon as this is done, we are then looking at our next bottling. We will rack the wine into tanks, clean and sanitize barrels, blend what we need to be blended, and get some analysis testing done on each batch. If this is a white wine or a rosé, we need to check protein stability and a fining with bentonite will happen if the wine is unstable. After fining, we will have to do another racking. Then comes filtration, then more analysis to adjust SO2 if needed, and the wine is ready to bottle…then repeat!
Matthew Meyer is the long-time winemaker at Williamsburg Winery. He explains that he bottles the whites in early spring. "I prefer to keep the whites at least eight months in their tanks or barrels before bottling."
During the winter for any whites in barrels, "it's just keeping them topped, stirred (if necessary), and SO2 levels maintained [to prevent microbial spoilage or oxidation]. We will also start looking at cold and protein stabilities for all the whites. If any corrections need to be made, we will take care of it now."
Currently on the red wines, he says "we are blending and filtering the 2020 reds so we can bottle them. "As soon as I have the tanks freed up from bottling the 2020 vintage, I will rack the 2021 red wines back into tanks so I can reset the barrels and put wines into the exact barrels I want." This will be a combination of new, used and neutral oak, predominantly from France along with some Hungarian and American. "Once this takes place, we will become babysitters for another year, simply maintaining SO2 levels and topping. All of this is taking place as we speak, so yes, after harvest this is the second busiest time for us."
Meyer explains, "like everyone else in the world, we are suffering from supply chain issues and price increases, and are also ordering well in advance of what we use to." For instance, he received an email from a barrel manufacturer today stating that he really needs to look at barrel purchases now to insure delivery by harvest. He was also advised that winemaking equipment orders must be in by the end of January to ensure timely delivery. "I am still waiting for a new cross flow filter that was ordered in May of 2021."
Emily Hodson is the winemaker of Veritas Vineyards & Winery and Flying Fox Vineyards in Nelson County and the Monticello AVA. She explains, "The first part of the year is full of early season whites and rosé bottling, so of course that means a lot of blending trials and filtering and checking to make sure the wine is stable to go to bottle."
She would typically also be bottling her higher-end red wines that have been aged longer in barrels from the previous vintage. "That is not the case for me this year because of the frosts that we suffered in 2020 (when they lost their crop). It is kind of nice to have a change, but it is hard to miss a whole vintage of barrel-aged reds."
Like Finot, Hodson ordered her bottles for 2022 last November to be delivered in the next few months. She points out, "You literally cannot do bottling without having bottles. I am now ordering three to four months ahead of bottling, so it is basically a guessing game because for the most part I haven't even finished doing my blending trials yet. It is not an ideal scenario, but I am determined to make it work!" ~
Learn even more about Winter in Virginia Vineyards and Wineries in our Tasting Rooms section, and discover new Virginia vineyards, cozy Virginia wineries, food pairing ideas and more on our Food & Drink page.
RICHARD LEAHY is a wine author and wine industry consultant specializing in regional wines east of the Rockies. He has been reporting on the wines of Virginia and other regional wine states since 1986. Richard works with numerous wineries, associations and state agencies, and is the Conference Manager for the largest wine industry trade show on the East Coast, the Eastern Winery Exposition.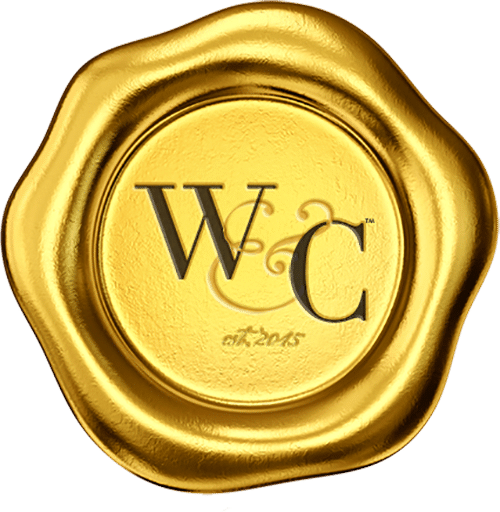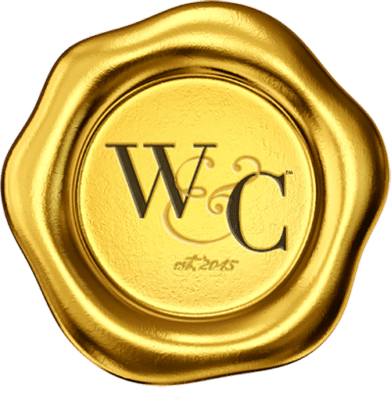 Virginia Wine & Country celebrates elevated living in Virginia Wine Country. Virginia Wine & Country Life is a semi-annual luxury print magazine with a full digital presence. The Virginia Wine & Country Gold Book is an annual guide to the top award-winning wines, wineries and experiences in Virginia Wine Country. The annual Virginia Wine & Country Wedding Planner is an art book of elegant Virginia weddings. The brand includes the Virginia Wine & Country Shop in Ivy, Va. It is a beautiful lifestyle boutique that brings the pages of the magazines to life. Virginia Wine & Country tells the stories of Virginia wineries, the farm-to-table movement, luxury travel, entertaining, art and the elegant country lifestyle. Ivy Life & Style Media also provides branding, web design and PR services for the wine industry.